In "Board Games," learn to level up your Sunday brunch, create a holiday board with all your favorite cookies, or style a cheese board for a night in — we have tips for creating all of them. This Italian-inspired antipasto board from Kylie Mazon-Chambers of Cooking with Cocktail Rings is an easy way to entertain a crowd this summer.
Summer entertaining season is here, and if you're like me, you like to keep hosting quick and easy! A sprawling and colorful board full of Italian fare from Harry & David is my go-to for hosting stress-free summer gatherings or backyard vacations.
Antipasto, an Italian-style hors d'oeuvre, typically contains a variety of cured meats, cheeses, and vegetables. What makes this spread ideal for various crowds is that it can be scaled up to feed more or scaled down for a smaller gathering, depending on how many products you choose. With so many unique flavors to incorporate, most of this comes down to layering the items to showcase all the amazing products in an aesthetically pleasing way.

When building an awe-inspiring board or spread, start by layering the cheeses because their different sizes make a great focal point on the board. Fan the slices of salami around the cheeses to help further draw the eye to them. The next step is to add any dips you plan on serving, like my favorite red pepper and cheese spread, into small, individual bowls. Even when serving a crowd I think it looks nicer and saves space to add dips to small bowls and replenish them when they run out rather than using large serving bowls that can take too much attention from the other food on the board. Grouping the bowls in threes also helps create a more visually appealing board.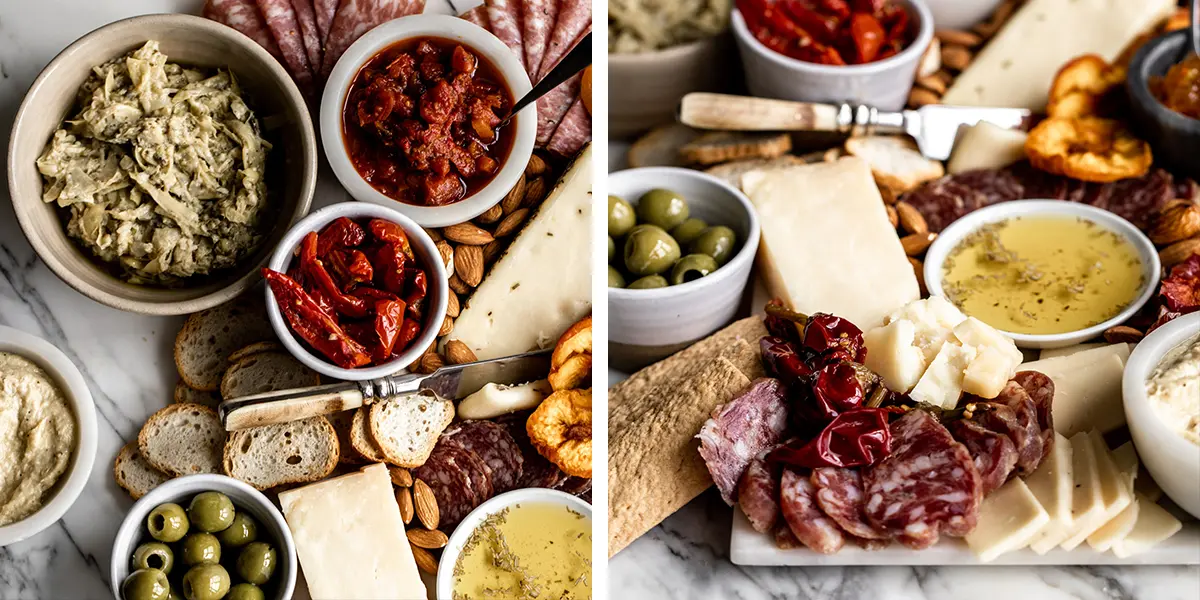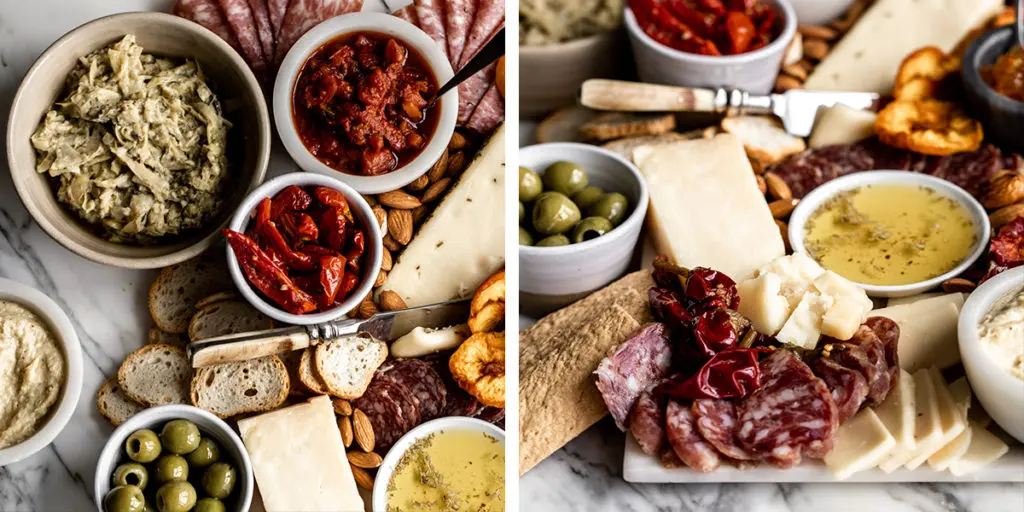 The dried fruit and nuts are smaller, so I use them to fill in the cracks between the ingredients and make the board look plentiful. The finishing touch is the crackers and breads, or what I refer to as the vehicles. They are best left arranged around the outside of the board because it makes it easier to grab them before spreading dips or cheeses on top. It keeps things cleaner and more organized. Don't forget to add small, empty bowls off to the side if serving anything with a pit!
Besides looking beautiful, serving boards like this are great for hosting because they can be assembled ahead of time if you have the space in your refrigerator. Simply wrap the completed board tightly with plastic wrap and either store it until 30 minutes before you're ready to serve the board or to transport it to another destination. If you're transporting the board assembled, I recommend wrapping the dip bowls or leaving them in their jars until just before serving to keep them from spilling.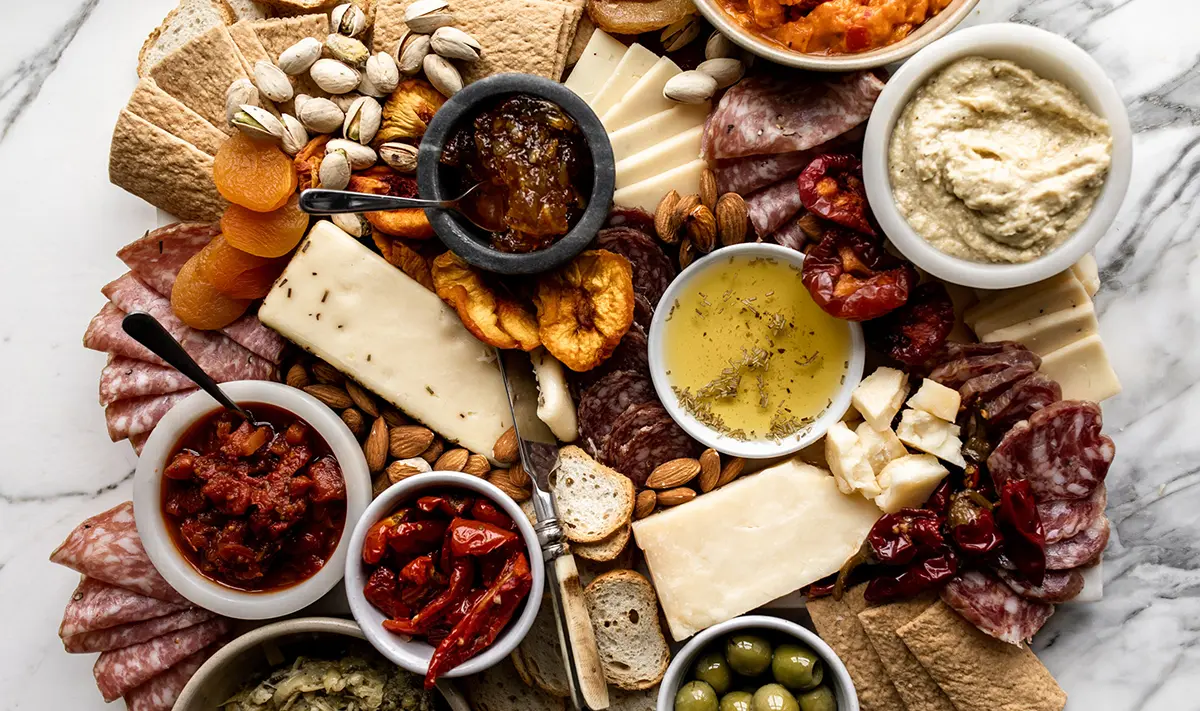 Italian-Inspired Antipasto Board
Ingredients:
Fiscalini Farms Old World Aged Cheddar cheese

(crumbled)

Sartori® Rosemary & Olive Oil Asiago cheese

Wood River Creamery Black Truffle cheese

(cut into slices)

4

ounces

Olli Salumeria® Sopressata salami

(slices folded in half)

6

ounces

Olli Salumeria® Toscano salami

(cut into slices)

5.5

ounces

Creminelli Fine Meats Tartufo salami

(cut into slices)

½

cup

Castelvetrano olives

½

cup

roasted tomatoes

1

Harry & David artichoke lemon pesto

1

Harry & David® Sweet Cherry Pepper Bruschetta Spread

1

Harry & David® Red Pepper and Cheese Spread

1

Harry & David artichoke parmesan tapenade

½

cup

Harry & David® Seville orange and fennel marmalade

¼

cup

Harry & David Garlic & Herbs Extra-Virgin Olive Oil

¼

cup

Calabrian chilies

½

cup

raw almonds

½

cup

pistachios

¼

ounce

dried peaches

¼

ounce

dried Patterson apricots

Olive oil and sea salt crackers

Baguette crisps
Instructions:
Arrange the cheddar cheese, Asiago cheese, and slices of truffle cheese around the board in different areas. Position the soppressata and salami around the board.

Add olives to a small bowl and add to the board. Do the same with the roasted tomatoes, artichoke lemon pesto, bruschetta spread, red pepper and cheese spread, artichoke parmesan tapenade, and marmalade. Add the olive oil to a shallow bowl.

Fill in the board with the Calabrian chilies, almonds, pistachios, dried peaches, and apricots. Arrange the crackers and crisps around the outside of the board.