Summer is synonymous with soaking in the sun and grilling. For the latter, is there anything better than firing up a grill, rubbing down a rack of ribs with a, um, rub, throwing them on the grill, slathering them with a sauce, and then getting down with them to the point where napkins become useless? Is there anything better?
Yes. These ribs!
These ribs step away from the traditional American barbecue sauce, opting for a spicy Korean BBQ flavor. It's a great opportunity to try something new on the grill without sacrificing any tangy, charred perfection.
These Korean BBQ ribs are really easy to make and are perfect for a quick dinner. Marinate the ribs up to a day in advance and just toss them on the grill when you're ready for dinner. You can also marinate the ribs and freeze them up to two months. How's that for planning ahead?
Sweet, spicy, and simply delicious, this recipe can be served with a zesty slaw or keep it simple with a side of white rice sprinkled with sesame seeds.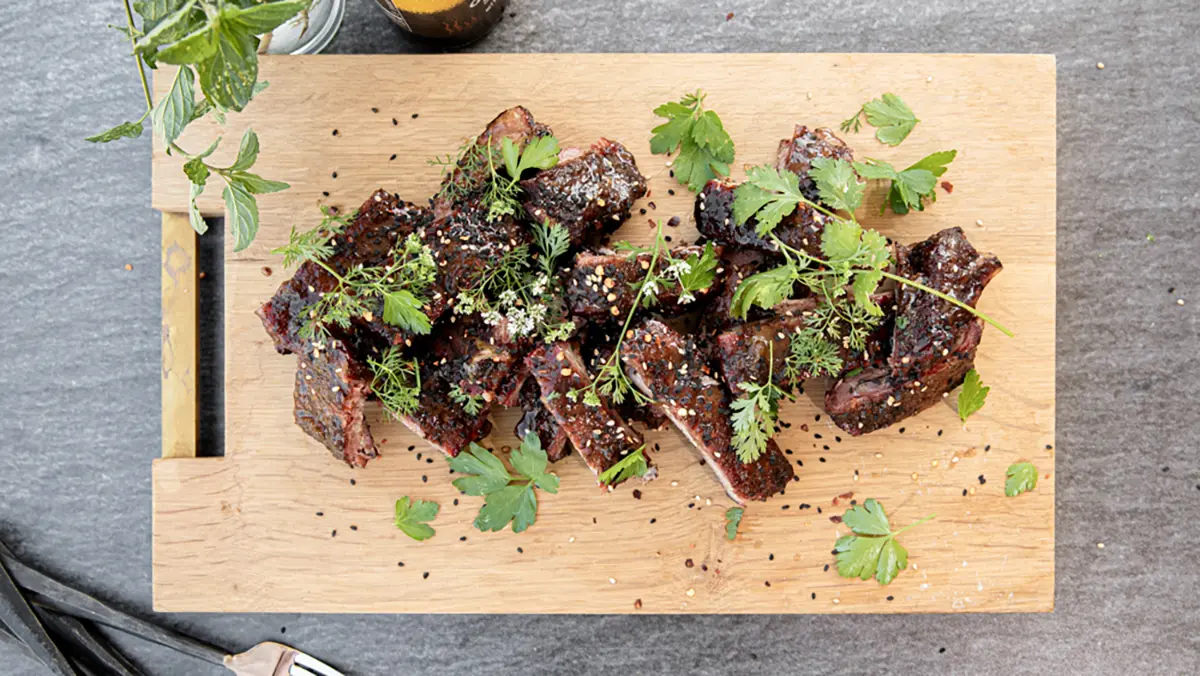 Grilled Korean BBQ Ribs
Ingredients:
⅓

cup

mirin

(sweet rice wine)

3

tablespoons

soy sauce

1

tablespoon

sesame oil

3

garlic cloves

(minced)

2

tablespoons

fresh ginger

(minced)

1 ½

tablespoons

Asian chili garlic paste

1

tablespoon

honey

½

teaspoon

ground black pepper

4-5

pound

rack pork spare ribs

2

tablespoons

Harry & David Charred Pineapple Bourbon Grilling Sauce

Cilantro

(for garnish)

3

tablespoons

sesame seeds

(for garnish)
Instructions:
In a small bowl, whisk together the mirin, soy sauce, sesame oil, garlic, ginger, chili garlic paste, honey, and pepper. Set aside.

Carefully cut the ribs into three equal pieces and place in a resealable bag.

Pour the marinade into the bag and marinate in the refrigerator for 8-24 hours.

Heat the grill on high. Grill ribs for 4-5 minutes over high heat, then flip and grill for an additional 3 minutes.

Turn the heat to low and close the lid, let the ribs cook for another 10-15 minutes.

Brush the ribs with Charred Pineapple Bourbon Grilling Sauce on each side and grill for an additional 2-3 minutes.

Remove ribs from the grill and let sit for 10 minutes.

Cut ribs apart and arrange on a platter.

Sprinkle with cilantro and sesame seeds before serving.
---