This is the time of year I crave something comforting. With the hustle and bustle of the holidays long gone and the post holiday blues in full force, it's a good idea to have a few simple meals at your fingertips that are loaded with vibrant flavor. The gray days of winter can easily be brightened with the glow of a Harry & David Royal Riviera Pear. I love to add my pears to a ton of savory dishes, and they go fabulously with a savory pork tenderloin recipe.
This Manchego and Pear Stuffed Pork Tenderloin recipe makes a gorgeous presentation for entertaining, but is so easy you can whip it up any night of the week. Salty manchego cheese is the perfect addition to the sweet pears along with a handful of fresh baby spinach to brighten up the flavor just a bit. Then, just spoon a large helping of Harry & David Country Cranberry Relish over the rolled pork right before roasting. The result– a spiraled piece of delicious art that will wow your family or friends.
Serve your Stuffed Pork Tenderloin alongside a light green salad or a large helping of freshly steamed green beans for an amazingly cozy dinner that you didn't have to slave all day on.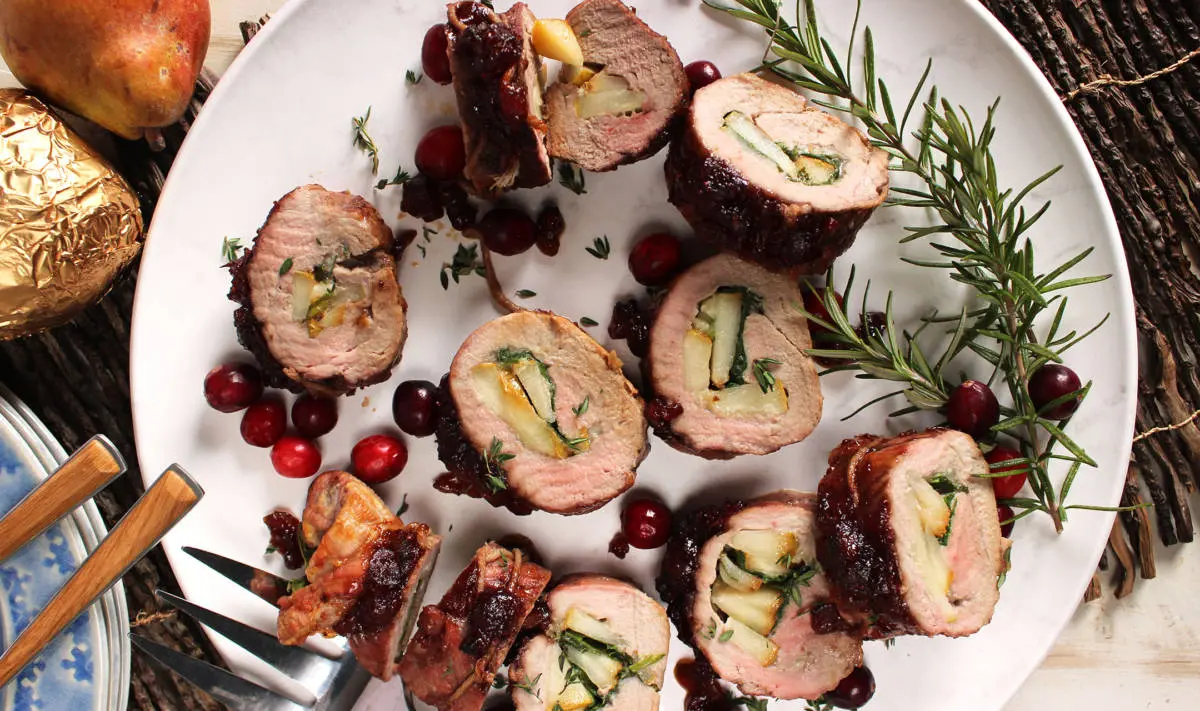 Manchego and Pear Pork Tenderloin
Ingredients:
1

pork tenderloin roast

4

ounces

Manchego cheese

(grated)

1

Harry & David® Royal Riviera Pear

(cored and thinly sliced)

1

cup

fresh baby spinach

Kosher salt and black pepper
Instructions:
Lay the pork tenderloin on a flat work surface and carefully butterfly by cutting lengthwise along the side but not all the way through the tenderloin. Open the tenderloin like a book and cover with a layer of plastic wrap. Using a mallet or heavy skillet, pound the tenderloin until approximately 1/2-inch thick.

Season the tenderloin with salt and pepper. Sprinkle the cheese evenly over the roast and then layer the pears on top of the cheese. Top the cheese with the spinach.

Roll the tenderloin up lengthwise and then tie with kitchen twine. Transfer to a baking sheet lined with foil. Pour the Country Cranberry Relish over the pork to coat and transfer to the oven.

Roast the tenderloin for 30-35 minutes or until cooked through (Internal temperature should be between 145° and 160° F.)

Remove the tenderloin from the oven and allow to rest for 10-15 minutes covered with foil.

Slice the tenderloin into 1-inch pieces. Serve immediately.
---