If you're planning on creating a memorable brunch and are looking for the perfect pancake mix recipe, we have the perfect recipe for you. Dorothy Kern, Crazy for Crust blogger and author of the cookbook Dessert Mashups: Tasty Two-in-One Treats, created a batch of delicious marionberry pancakes.
Breakfast has always been my favorite meal. I love how it's perfectly acceptable to eat a cinnamon roll or a plate of heavenly pancakes in the morning. As much as I love extravagant breakfast foods, pancakes are one of my favorite things to make because they're so easy, versatile, and you can make them ahead of time.
I love a good pancake mix, because it's already hard enough to get me to do anything but drink coffee before 7am, let alone measure out ingredients! To bring these pancakes to a new level of gourmet, I added Harry & David's delicious marionberry preserves to make Marionberry Swirl Pancakes!
These pancakes may look difficult to make, but it's actually an easy recipe. You simply make the pancake mix according to the package directions. Then mix some of the pancake batter with some of the marionberry preserves. While the pancakes are cooking, you simply drizzle the marionberry flavored pancake mix on top of the cooking pancakes. The result? Pretty swirled pancakes with a delicious marionberry flavor. Genius!
And if that wasn't enough, Harry & David has a maple syrup that goes perfectly with these pancakes, especially when you mix the syrup with even more preserves. I simply warmed the syrup and preserves together until they mixed well. Pour the warm syrup over the swirled pancakes for even more delicious flavor.
If you're a morning person (unlike me) feel free to make these fresh. Or, do what I do and make them the day before and reheat them in the microwave. They taste just as good when they've been stored overnight, and you can simply reheat them while you're enjoying a mug of Moose Munch® Coffee. That's what I call a relaxing morning!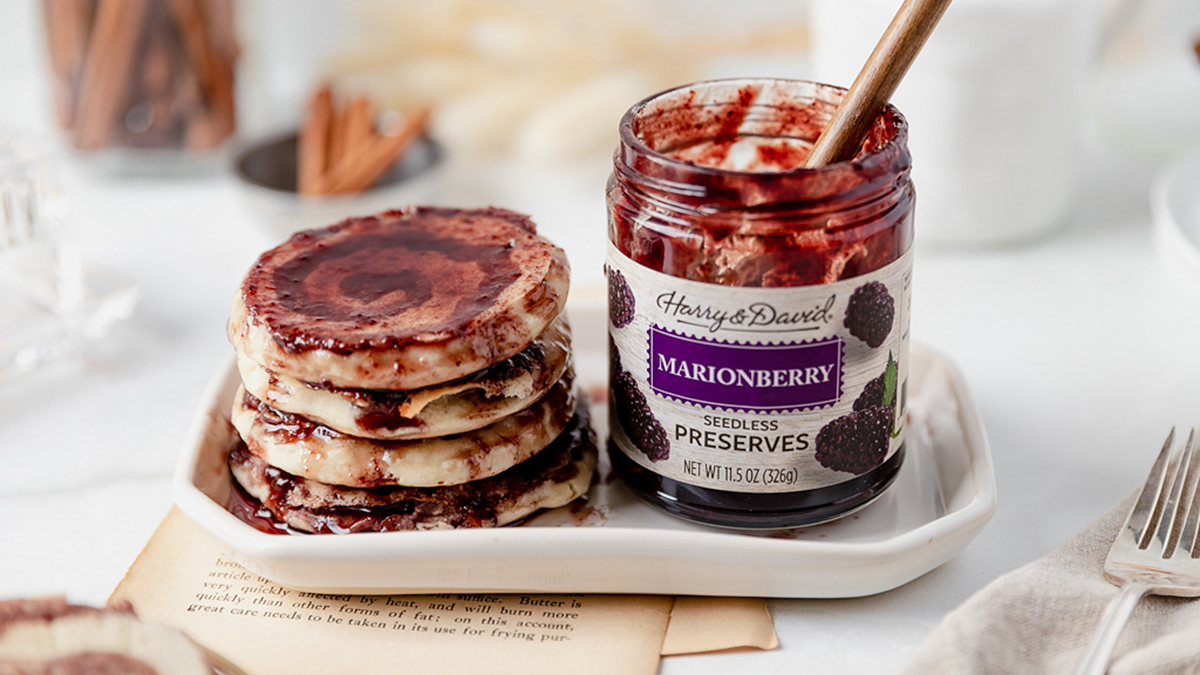 Marionberry Swirl Pancakes
Instructions:
Preheat an electric griddle to 375°F or preheat a large nonstick skillet over medium heat.

Whisk pancake mix and water. Batter will be thick and slightly lumpy. Add up to ¼ cup more water for thinner pancakes.

Place ¼ cup marionberry preserves in a small bowl. Whisk until smooth. Place ½ cup pancake batter into the bowl with the preserves.

Whisk until combined. Pour this mixture into a zip-top sandwich bag.

Spray or grease griddle or pan. Pour pancakes in desired size. Snip one tip off the zip-top sandwich bag. Gently swirl some of the preserve mix onto the top-facing side of the pancake. Place the bag (tip up!) in a drinking glass to wait for the next round of pancakes.

Cook until the pancakes are browned on the bottom, then gently flip and continue cooking until the second side is browned. Remove to serving plate. Continue with this process until you're out of batter.

While pancakes are cooking, place remaining ½ cup of preserves and the maple syrup in a small saucepan. Whisk to combine, then heat over low heat, whisking occasionally, until the mixture is heated through and smooth. Store in a syrup pourer until pancakes are ready to serve.

Serve pancakes with warm marionberry maple syrup.
---