In "Gifting 101," we're bringing you all the best advice on gifting, whether you need advice on what to share for the holidays or tips on how to continuously impress your loved ones with gifts they'll cherish. For more than a hundred years, American Humane has been first in promoting the welfare and safety of animals and strengthening the bond between animals and people. They are first to serve, wherever animals are in need of rescue, shelter, protection, or security. Now through Dec. 31, 2021, we are donating 5% of the net proceeds* from each Max & Milo™ product purchased to American Humane to help them protect animals in times of crisis.
There's something special about the bond we share with our furry friends. From the wildest pup to the smallest fluff ball of a kitten, their fervor for life, steadfast companionship, and downright adorableness are impossible to top.
To show them that they're the absolute best, it's natural to want to give them the best — there's nothing wrong with spoiling your pet, even on a whim sometimes. In fact, we encourage it. Some of the boxes to check in your quest for the ultimate pet gifts are obvious. All-natural ingredients, great taste, and an assurance of safety are all vital when choosing your pet's next treat or toy.
Pet gifts for celebrating year round
These gifts from Max & Milo are purrfect for any occasion — or no occasion at all — and make an unforgettable memory with your furry friend. They'll think you're pawsome.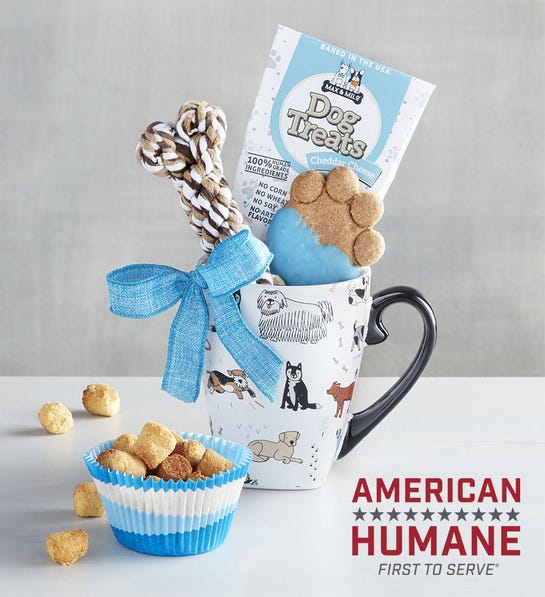 Whether you're a cat person, dog person, or both, picking up a themed gift that spoils your pet and you is not only rewarding — it's downright adorable. The Mug for Pups comes with a mug adorned with depictions
of various canine companions, a rope bone, a decorated cookie treat, and carob chip dog treats.
When it comes to general cuteness and thoughtful pet-friendly gifts, these Max & Milo sets are top notch. The Kitty Mug Gift features a cat-covered mug, cheese cat treats, a burlap cat toy, and a plush mouse
toy.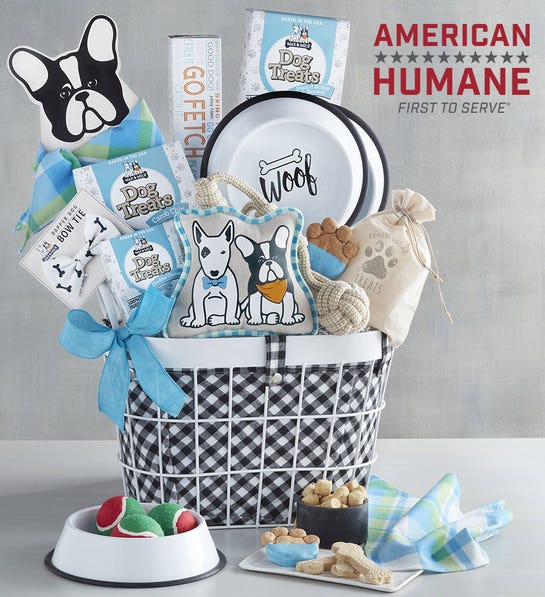 The Max & Milo Best Furfriend Gift Basket is the ultimate way to reward your pup for being the loveable pile of hair and drool and joy that it is. Packed full of treats, toys, accessories, and dog bowls, this endearing collection comes in a reusable metal and fabric bin that is perfect for storing your dog's ever-growing assortment of chew toys.
Festive pet gifts
As the holidays approach, joy fills the air. There's a palpable excitement that makes you cherish your loved ones more intensely than ever — including those with four legs. Picking a holiday-themed gift for your canine or kitty is the ideal way to celebrate them and enjoy the season.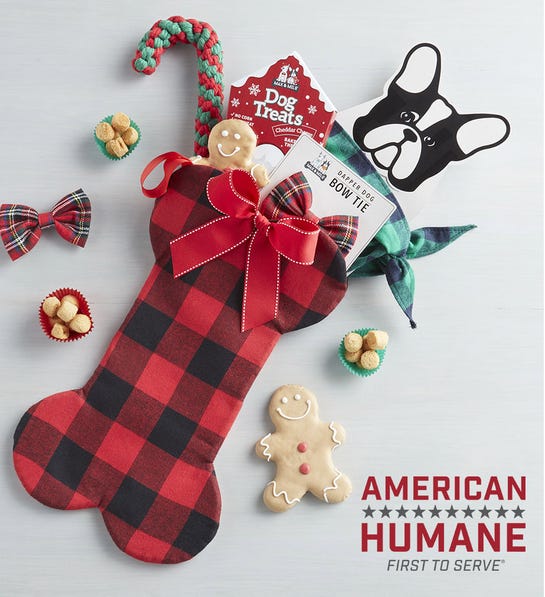 Whether you're cozying up next to the yule log with your four-legged friend or braving the cold to spend Christmas with loved ones, you'll find comfort in the fact that as long as you're together, you're home. This special bond deserves to be celebrated all year long, and especially during the holidays. The Holiday Dog Stocking is stuffed with a bandana, bow tie, treats, and toys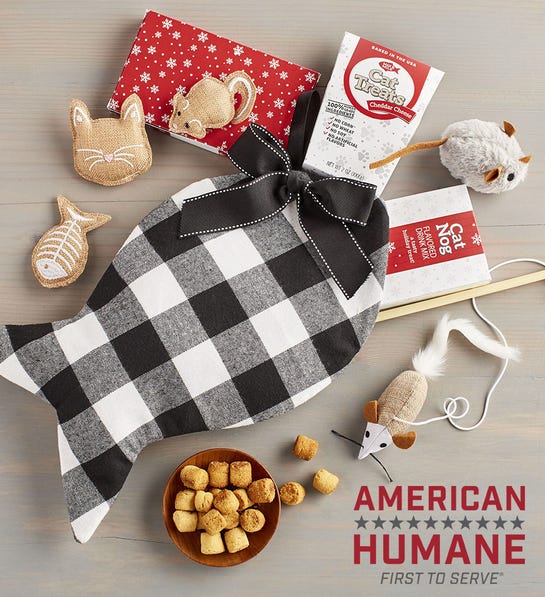 With a bone-shaped stocking for dogs and a fish-shaped stocking for cats, these plaid holiday bundles from Max & Milo are great themed fun. The Holiday Cat Stocking is filled with cat toys and treats galore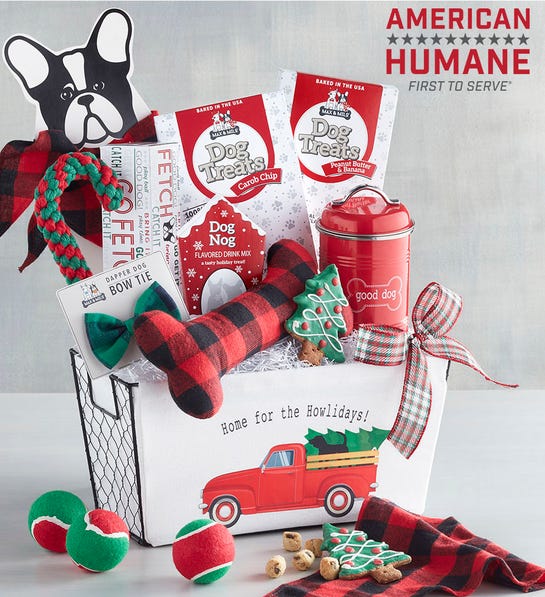 Your canine companion will flip out when it digs into the Max & Milo "Home for the Howlidays" Gift Basket. Packed full of festive clothing, such as bandanas and bowties, tasty treats and dog nog, and even a handful of tantalizing toys, your pup is sure to stay entertained for hours with this thoughtful Christmas gift — and sit by your side all year long.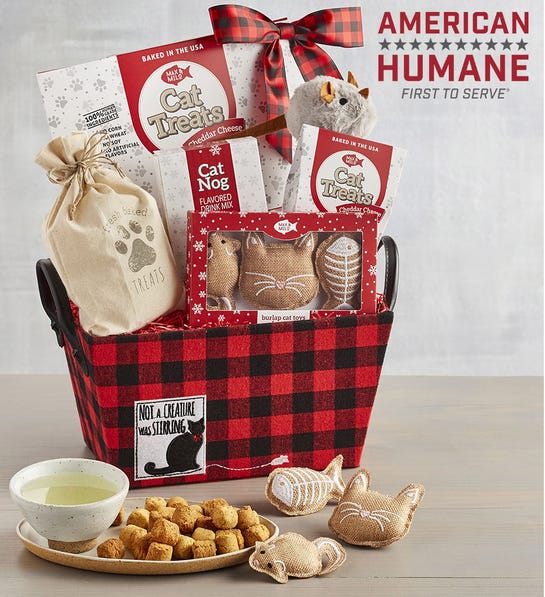 We're all about wordplay, and when that wordplay relates to our beloved kitties, we embrace it even more. Of course, that's not the only reason to love the Max & Milo Meowy Christmas Gift Basket. With cat toys, treats, and even cat nog, this comprehensive cat gift basket is sure to make your kitty's Christmas the best one yet.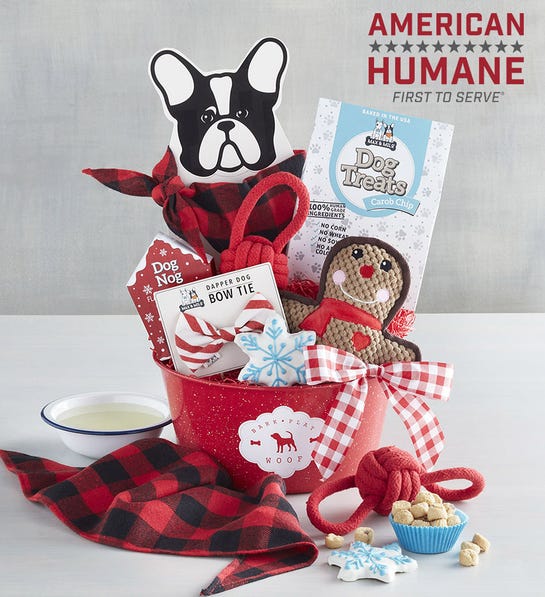 This holiday gift collection is doggone amazing. Not only does the Howliday Treats Dog Bowl include loads of treats, toys, and accessories, but it also comes with a reusable enamelware printed bowl for your pup to use for years to come. Unless, of course, it's one of those dogs who chews everything up…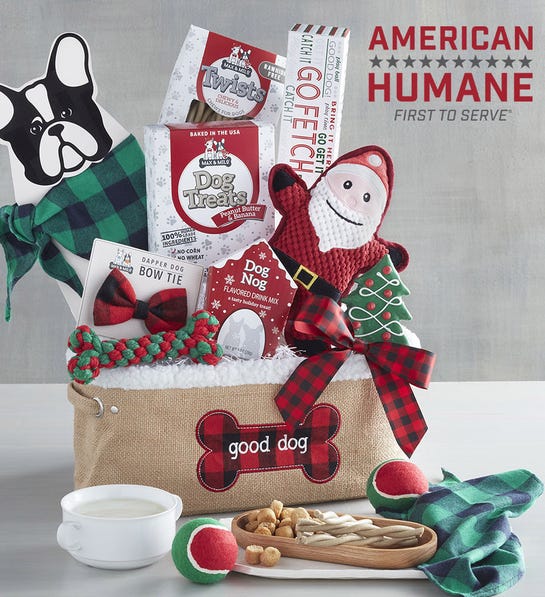 Look, your dog is awesome. You know it, we know it, everyone at the dog run knows it, and your pup certainly knows it. Why not embrace its awesomeness by giving it a Pawsome Holiday Gift Basket from Max & Milo?
While we'd never wish slobber and teeth on the real Santa, the plush St. Nick toy in this gift basket is too cute to ignore. Go ahead, try ignoring it — hope you enjoy waking up to a stocking full of coal. This jolly dog toy is accompanied by a holiday-themed bandana and bow tie, delectable dog treats, dog nog, and a smattering of additional toys.
---
*"Net Proceeds" is defined as the gross sales price of the product less any and all taxes, service charges, shipping and handling charges, discounts, gift certificates, promotional gift certificates, promotional offers (e.g. airline miles, points, e-money, etc.) credits, rebates, chargebacks, refunds, credit card processing fees and gift certificate cancellations. Minimum donation of $10,000.