Pineapples will be arriving soon to Fruit of the Month Club members. These tropical favorites come from the season's first crop, which yields the sweetest, most flavorful fruit. They are tender enough that you can peel, slice and enjoy the whole fruit. Pineapples contain a natural tenderizing enzyme that makes them ideal to pair with meat and poultry. Baking, grilling and roasting pineapples bring out the sweetness and mellow the acidity, making them highly versatile.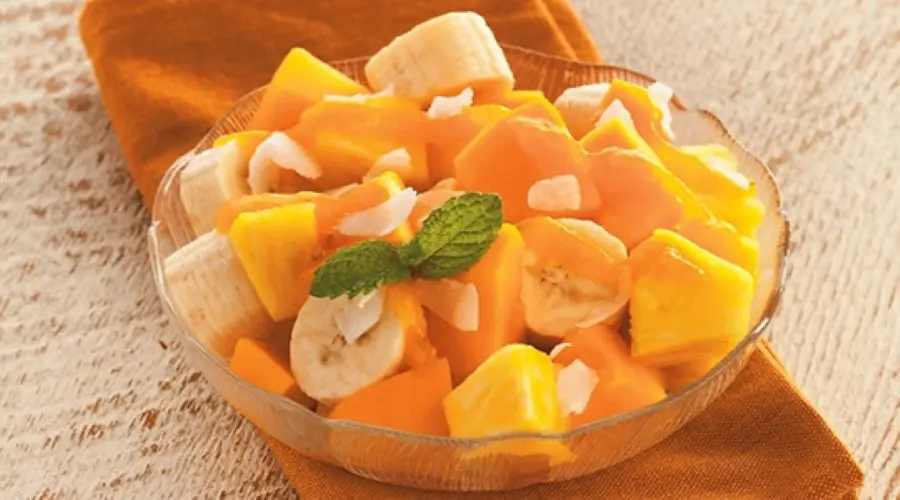 Tropical Fruit Salad Recipe
To prepare your pineapple, cut off the crown and cut about an inch from the bottom. Stand the pineapple upright and slice away the rough outer skin, one strip at a time. Remove the "eyes" with the tip of the knife. Slice or cube as desired.
Ingredients:
For fruit salad:
½

golden pineapple

(peeled and cut into 1/2-inch pieces)

1

papaya

(peeled, seeded and cut into 1/2-inch pieces)

2

bananas

(peeled and cut into 1/2-inch pieces)

shredded coconut for garnish
For papaya mint sauce:
1

papaya

(peeled, seeded and coarsely chopped)

5

Tbsp.

sugar

3

Tbsp.

lime juice

2-3

fresh mint leaves
Instructions:
Puree sauce ingredients until smooth. Cover and refrigerate.

Mix fruit in a large bowl.

Spoon into goblets and drizzle with mint sauce.

Garnish with shredded coconut.
Notes:
Ripening and storage:
Pineapples do not continue to ripen after harvest. They will keep well in the refrigerator for up to 10 days.