At Harry & David, great consideration and creativity has always gone into how we craft our gourmet snacks, from our smooth and decadent chocolate truffles to our soft and buttery raspberry galettes. We take great care to ensure that all of the items we ship have the qualities our customers have come to expect, and those qualities are reflected in the look and feel of the packaging our products arrive in.
Over time, the Harry & David brand has changed and evolved, keeping in step with the shifting needs and values of our customers. Our skilled team of package designers has ever been on top of these changing needs, working tirelessly to make sure that our products always look as good as they taste when they come out of the shipping box. One of the best examples of their work, and one that highlights the recent changes to our brand, is the packaging for our Moose Munch® Gourmet Popcorn.
Harry & David began offering Moose Munch® Gourmet Popcorn in 1995, and since then, it has been one of our most popular creations. Because of the vast potential we saw in the success of our caramel and chocolate-covered popcorn, we moved through designs quickly. Our first logo and package designs focused on the name, "Moose Munch," as stylized text on a simple blue background and swiftly evolved to be playful—including representative artwork, such as an adorable winking moose and a moose licking his lips over candy popcorn. Some packaging even came with a stuffed moose plush wearing a green sweater to set the mood for giving Moose Munch® Gourmet Popcorn as a popcorn gift.
These designs persisted until about 2004, when we temporarily settled on yet another playful-looking moose, though this time more regal, on a simple background. This moose, whom some would dub "Max," though he never had an official name, cheekily smiled at customers and made "moosteriously" clever puns until about 2006, when we moved to a (then) popular Art Deco-style design. Art Deco Moose, looming in the background of the design on chocolate Moose Munch® Bars and arching over all kinds of bags, remained with us until about 2010.
After Art Deco Moose made his exit from our popcorn, and so did the word, "confection." The most recent moose, prior to our new brand, was our final playful moose—a line-drawn, almost anthropomorphic moose munching on the contents of the package he appeared on, complete with falling crumbs and a whimsical smirk. This jovial moose graced the surfaces of lunch pail-style tins that came in a myriad of colors, ranging from red and green to brown and yellow, and popcorn tins with polka dots, stripes, circles, and confetti-style patterns.
As of mid-2014, our package designers took a step back and reevaluated the way Moose Munch® Gourmet Popcorn was represented by its packaging. No longer did they feel that a whimsical smile or cheeky sideways glance represented what Moose Munch® Gourmet Popcorn had become. Because it is now presented in gifts along with elegant Royal Riviera® Pears, award-winning cheeses, spectacular chocolate truffles, and a newly available assortment of high-quality wines, the designers decided that the packaging needed to be adapted to the more sophisticated style that our customers have demanded.
The first question the designers asked was whether we should keep the moose, and unanimously, the designers decided that he needed to stay. The moose represents a sense of place that is inseparable from Harry & David, one that is widely recognized and appreciated by our customers: the Pacific Northwest.
But what to do with him was a more difficult question. After much brainstorming, they presented to each other six concepts for our as-yet-unnamed moose, as can be seen in the image below. The first two were in a representative style, as opposed to realistic, and presented a less whimsical moose than had previously been chosen. The remaining four were more realistic, presented in three different styles.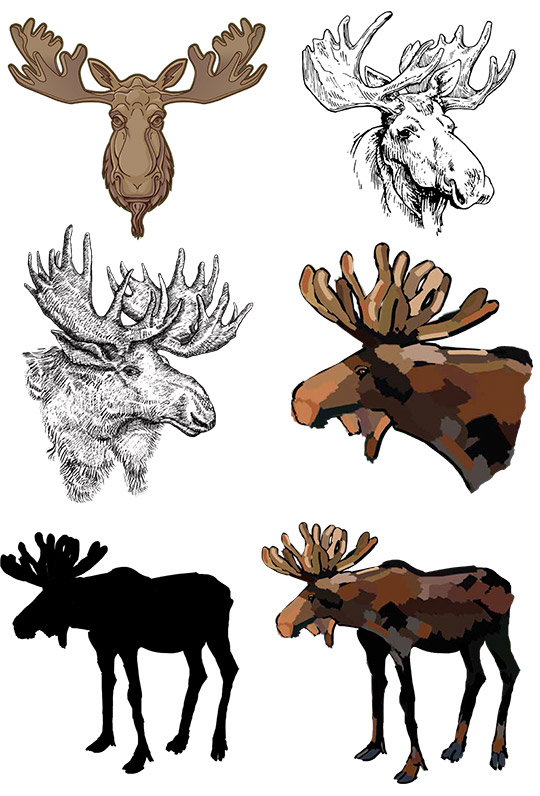 Those four immediately caught most of the designers' eyes and were highly regarded by directors of concept as well. They were carefully examined and compared. Designers and directors asked questions such as, "How does this represent Harry & David?" and "Does this capture our customers' perceptions of who we are?" And they determined that only two images successfully represented the new brand.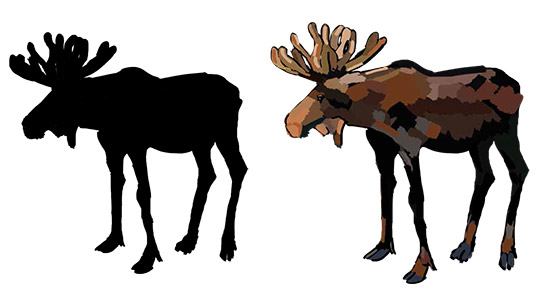 The two images that were selected were of the moose's full profile, which could easily become iconic and recognizable. The remaining decision was whether to go with color—a simple yet classy color palette—or with a silhouette; the silhouette was chosen for its elegance and the way it meshed with additional concepts that had arisen during the brainstorming sessions.
What we have now, we think, is a package design that, through the moose silhouette, is elegant in appearance and represents the long ties Harry & David has to the Pacific Northwest, while the beautifully designed map further identifies our home in Southern Oregon. The rich browns of the packaging speak of creamy chocolate, a staple among our products, and present a handsome container that wouldn't look out of place either on the banquet dessert table or in the living room. The motif is natural rather than bright, representing the Harry & David commitment to quality that is also exemplified by the real butter and chocolate from which Moose Munch® Gourmet Popcorn is made.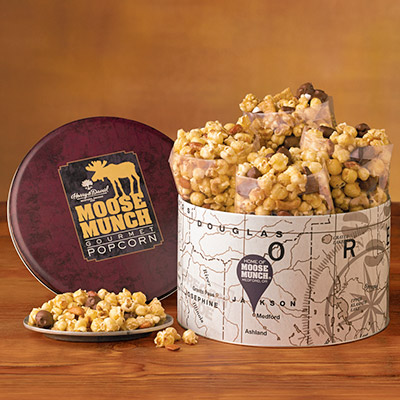 The new Harry & David brand and the Moose Munch® Gourmet Popcorn package design represent not just caramel popcorn, but the Harry & David lifestyle. This is no grocery brand of popcorn, and our amazing designers have guaranteed it won't be mistaken for such.
---
What To Do Next…
What do you think of the new design? Please let us know in the comments. We'd love to hear from you.
Order your Moose Munch® Gourmet Popcorn today.