Since December 2019, Olivia Carney — also known as That Charcuterie Chick — has been sharing mouthwatering displays of cured meats, rich cheeses, and other flavorful foods on Instagram. In fall 2022, the north New Jersey-based social media influencer's first book, The Art of the Board, hit shelves, offering dozens of board ideas ranging from a dinner-themed Taco Tuesday display to one fashioned from Thanksgiving leftovers.
We spoke with Carney about her passion for creating captivating meat-and-cheese presentations, some of her favorite items to include on boards, and other elements that can help turn any gathering into a next-level event.
What led you to specialize in creative charcuterie boards?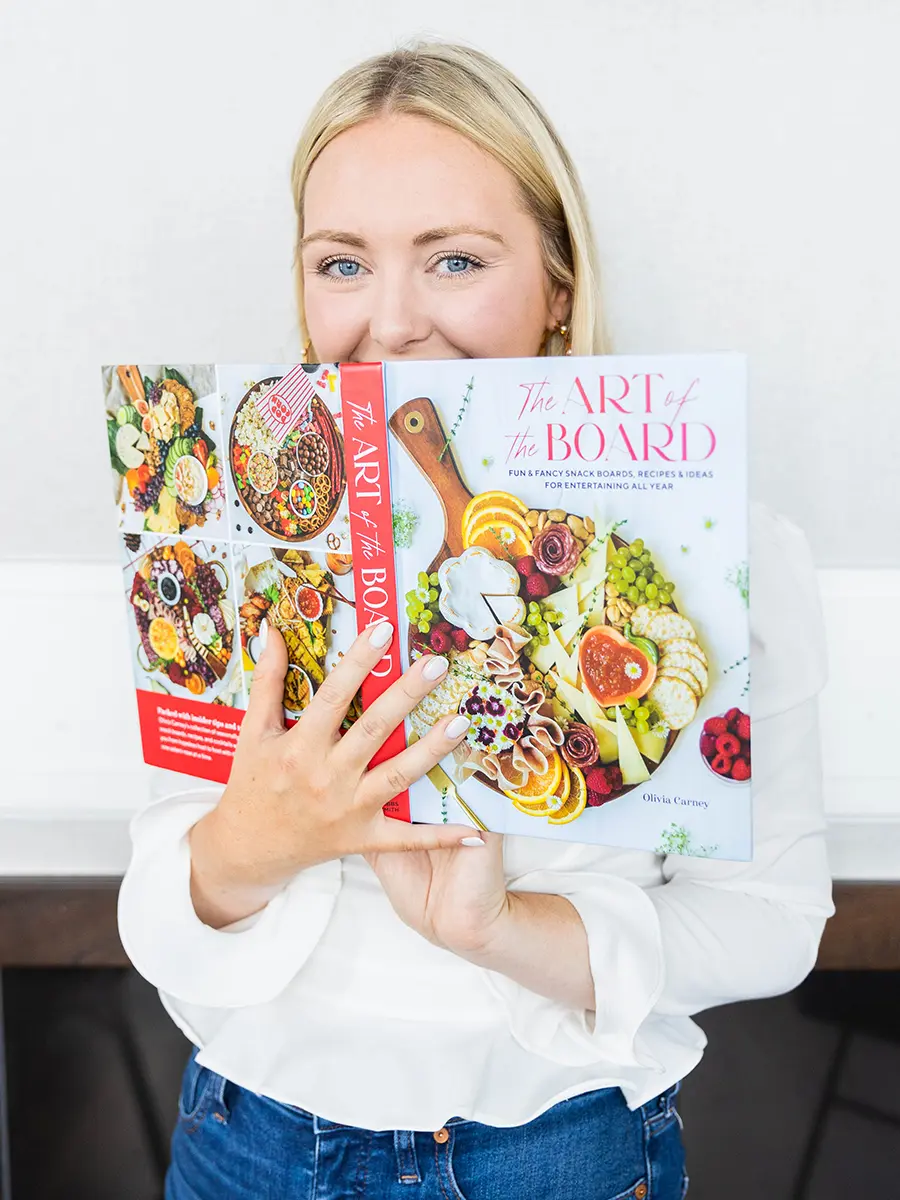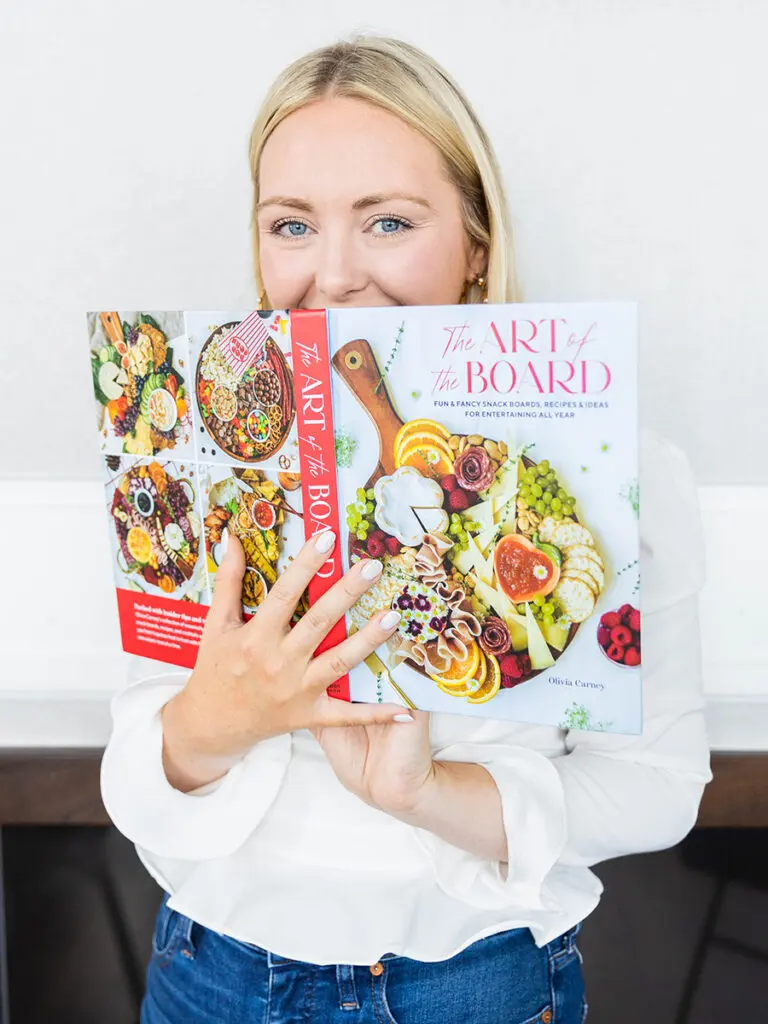 It stems from my childhood and special times I spent with my family growing up. It was always a staple of Friday nights in our home — before we'd either head out to dinner or do stuff with our friends, we would throw some crackers and cheese on a board and just laugh and enjoy ourselves.
As I've gotten older, I started seeing some incredibly artistic boards featured online, like heavily thematic holiday boards and abundant, self-serve grazing tables, and I was so inspired to share some of my own — and experiences my family and I have shared over the years. That's how That Charcuterie Chick was born.
What did writing The Art of the Board involve?
It was about a year-and-a-half process. I cared so deeply about making sure this book not only provided innovative and artistically stimulating recipes but also ones that felt approachable to people who don't have all the time in the world.
It's 75 seasonally inspired snack boards, and it also has recipes and cocktails; it's really everything you need for stress-free entertaining year-round.
What specific types of boards are featured in it?
I have an amazing board called the Harry & David Gift Basket Board that is based off their Grand Signature Gift Basket. It's always so wonderful to receive these beautiful gift baskets, full of crackers and cheeses and charcuterie. I tell you how to build a perfect board from just what is in the basket, step by step — how to take the different jams and relishes, the cheese, and create this beautiful piece of food art.
What is your favorite holiday, and what board would you serve for it?
I love Halloween, and one of my absolute favorite boards in the book is Halloween inspired. For that board, I hand-carved a skull into a round of brie cheese. Then, I took tiny eyeball candies and put them in the olives. I also candied some blueberries and put them in a small witches cauldron to make it look bubbly. The holidays create the perfect opportunity to get creative and try something new with boards.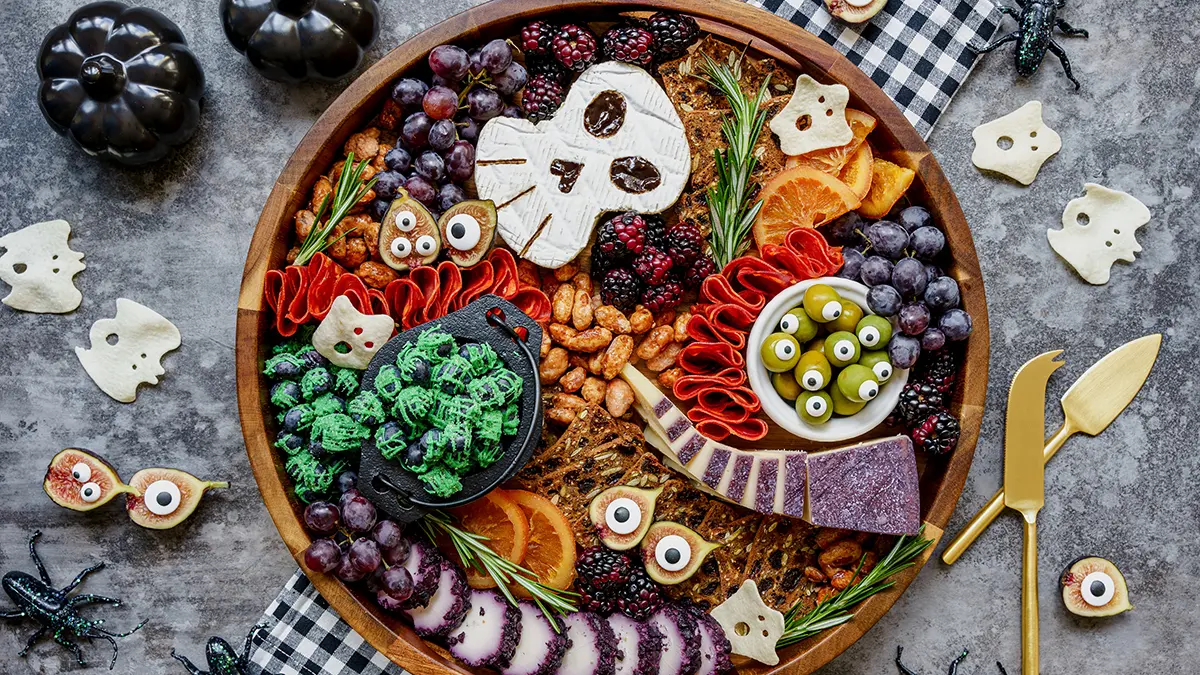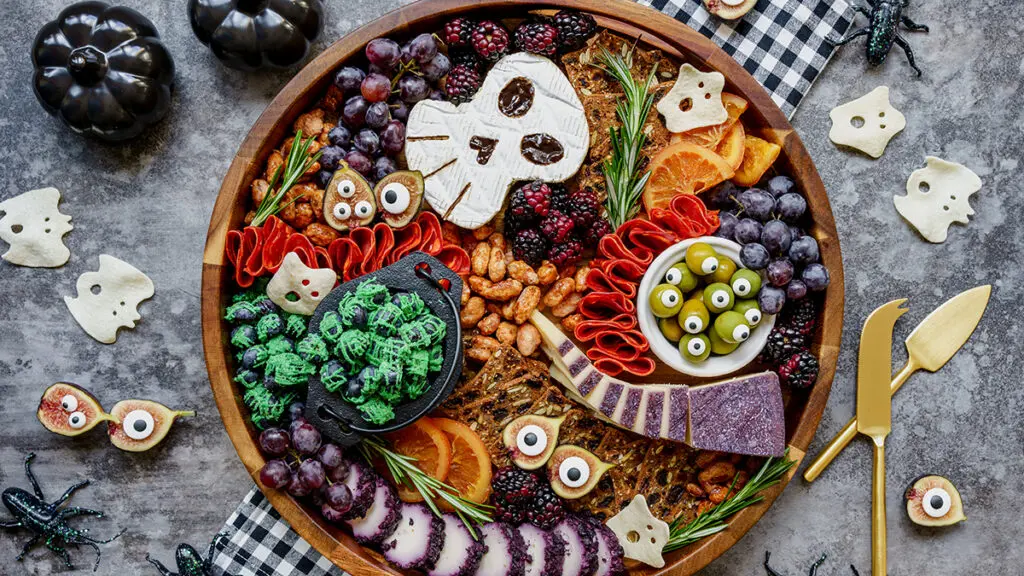 Are there any unique international elements you like to include on boards?
One type of charcuterie I use fairly often is soppressata, a very fatty, dry cured pork salami of Italian origin. It's super flavorful and very delicious, almost decadent.
One that is underappreciated, at least here in the States, is jamón Ibérico. I tried it when I was visiting Barcelona with my sister a few years back, and it was incredible. It comes from farm-raised pigs in Spain, and it's unique to that region.
For something that's palatable to a large audience, I love Parmigiano Reggiano. It's aged for such a long time that it starts to form these protein crystals that add an extra special crunch.
In addition to putting out a sensational charcuterie board, how can people successfully entertain guests at a dinner party or during the holidays?
If you're hosting people and you're creating this beautiful spread, bring in other elements to create an environment that feels really exciting and immersive. Think about other things that might add a special touch, outside of what you're serving as food.
For example, people will appreciate a specialty cocktail crafted specifically for that holiday or your theme. In my book, I have a smoked rosemary and Riviera pear bourbon spritzer, using Harry & David Royal Riviera pears, which is really fun. It's really simple; you just make a pear simple syrup and then add some bourbon and ginger ale.
Cured meats have been around since the 15th century. Will we ever get bored of displaying them on boards?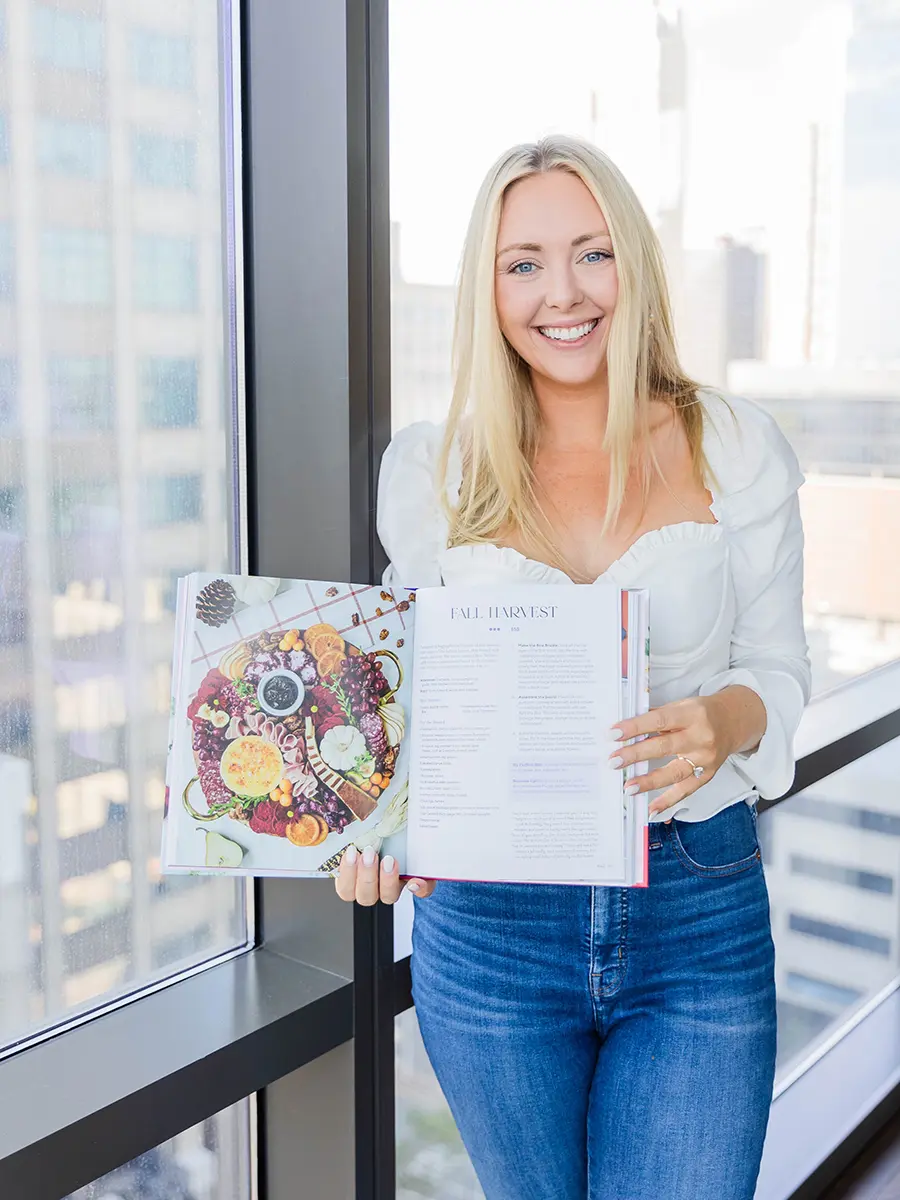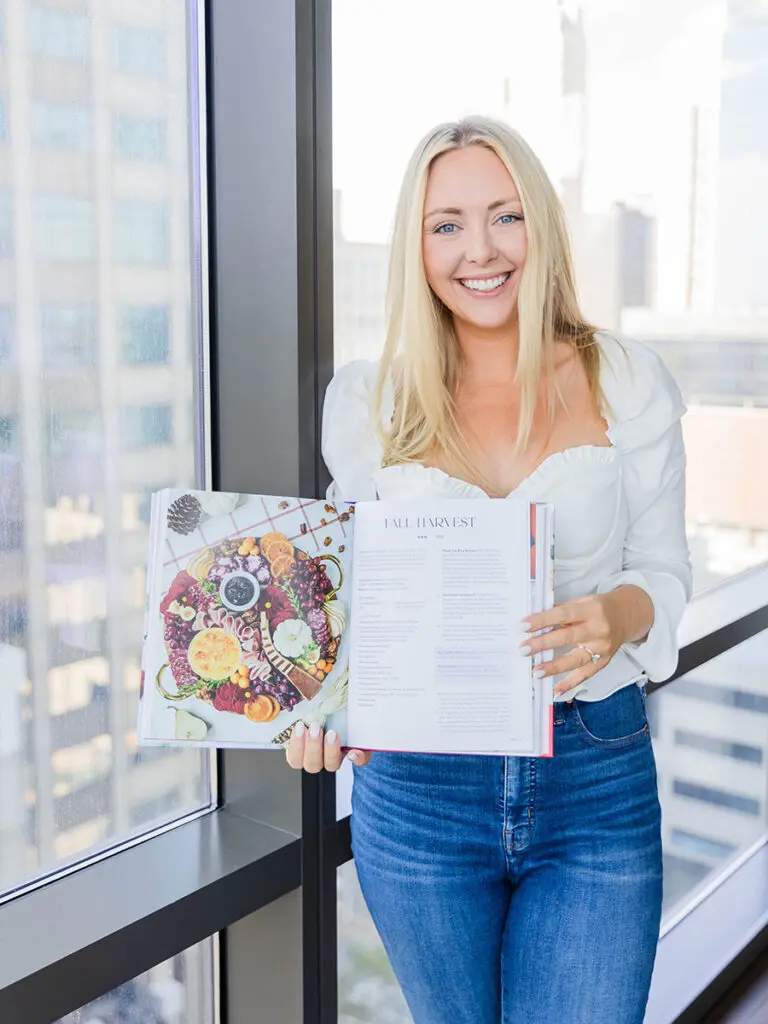 We can if we don't introduce ourselves to new flavors or change things up a bit. But if you incorporate interesting foods — [such as] Roquefort, a French blue cheese that's incredibly decadent and pungent, in the best way — they will continue to be really special and an awesome way of serving food. It's about thinking, "How can I introduce myself to new textures, flavors, international foods?" That creates this really cool experience for your guests.
What advice would you give people who hope to build a brand like That Charcuterie Chick?
The strategy behind creating a beautiful aesthetic varies across social media platforms. Instagram is very aspirational. The content you find on there is more sophisticated and purposeful. I talk a little bit in the book about finding your natural light and arranging your food to tell a story. What's important with food photography is making sure it feels natural and not overly processed looking and edited, because food is beautiful on its own.
Social media has changed so much over the past couple of years. Consumers are more interested in authenticity and originality than the idolized perfectionism of the past. It's so important for you to just be who you are and share what you're good at, and if people find value in that, or find that relatable, they will want to be a part of that. Gone are the days when we look at this perfect representation of what your day might look like or what your food might look like, because that's not really achievable. Show your authentic self, and people will gravitate to that.
---