A delicious bowl of pasta at the end of the day will warm the cockles of your heart, but it gets even better when there's only one pot to wash when it's cleanup time. A one-pot pasta meal is something we all need in our arsenal, and it's the answer to those busy weeknights when you want something delicious without the pile of dishes.
The benefit of cooking pasta this way isn't only to save a pan to wash. Pasta is next-level delicious when it cooks and absorbs the flavors from the sauce. In fact, you might never want to cook pasta in boring salted boiling water again. Why would you, when you could allow the noodles to soak up the flavors of cherry tomatoes, garlic, and the spices from salami?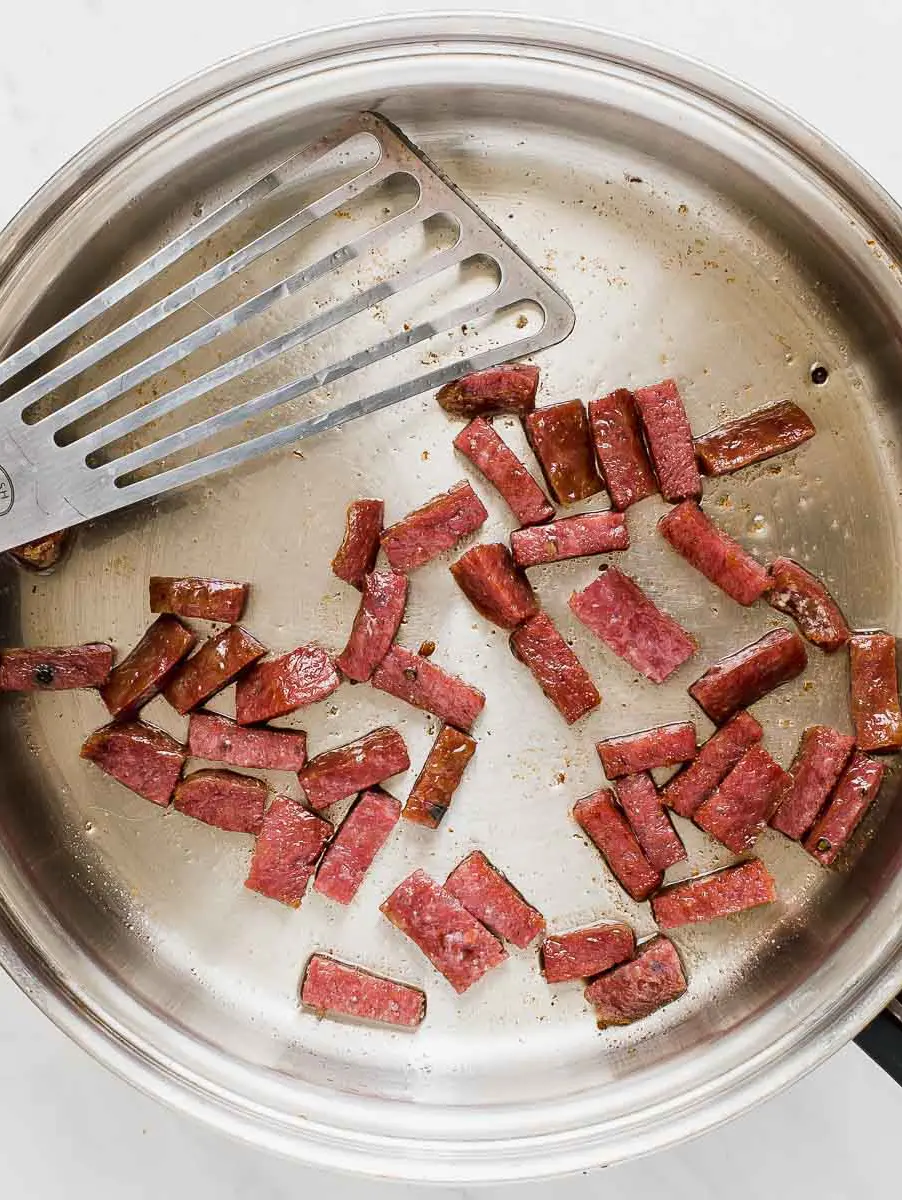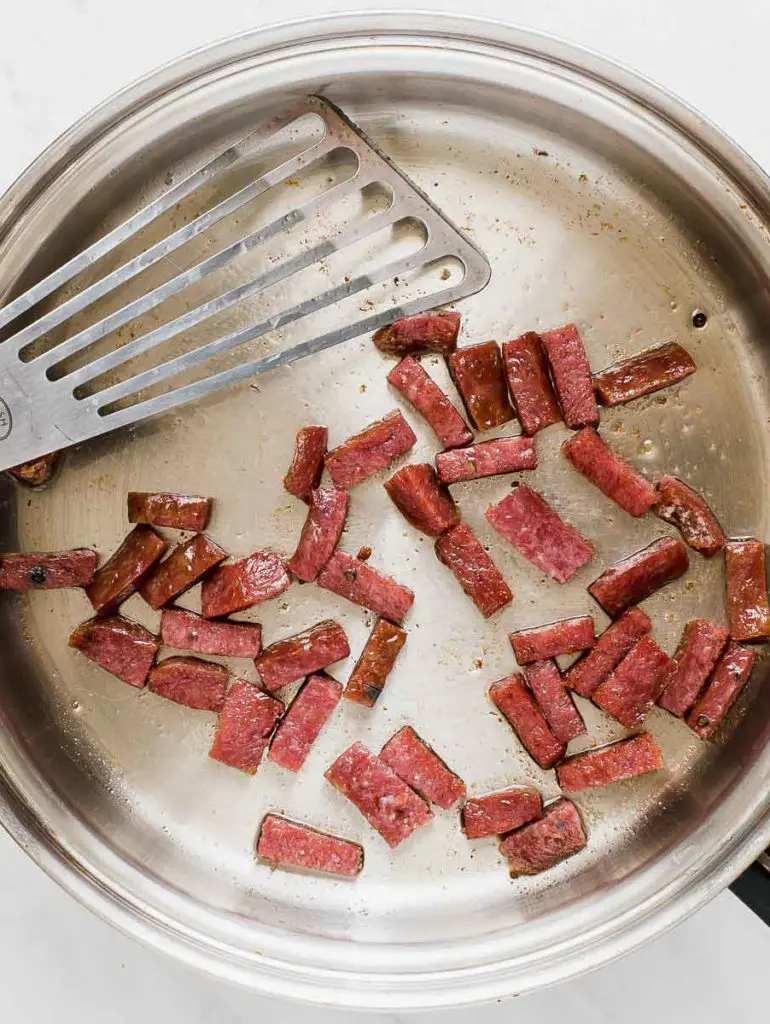 When it comes to salami, the Olli Salumeria Soppressata Salami flavored with pepper and garlic is perfect for this recipe. You can see the peppercorns in the salami, and the aroma of garlic hits you as you slice it up. This recipe calls for only four ounces of salami, so you'll have a few slices leftover to snack on.
Any of the sticks of salami that come in the Charcuterie Assortment will work with this recipe. The Toscano salami with fennel pollen is lovely, and so is the Napoli applewood smoked salami.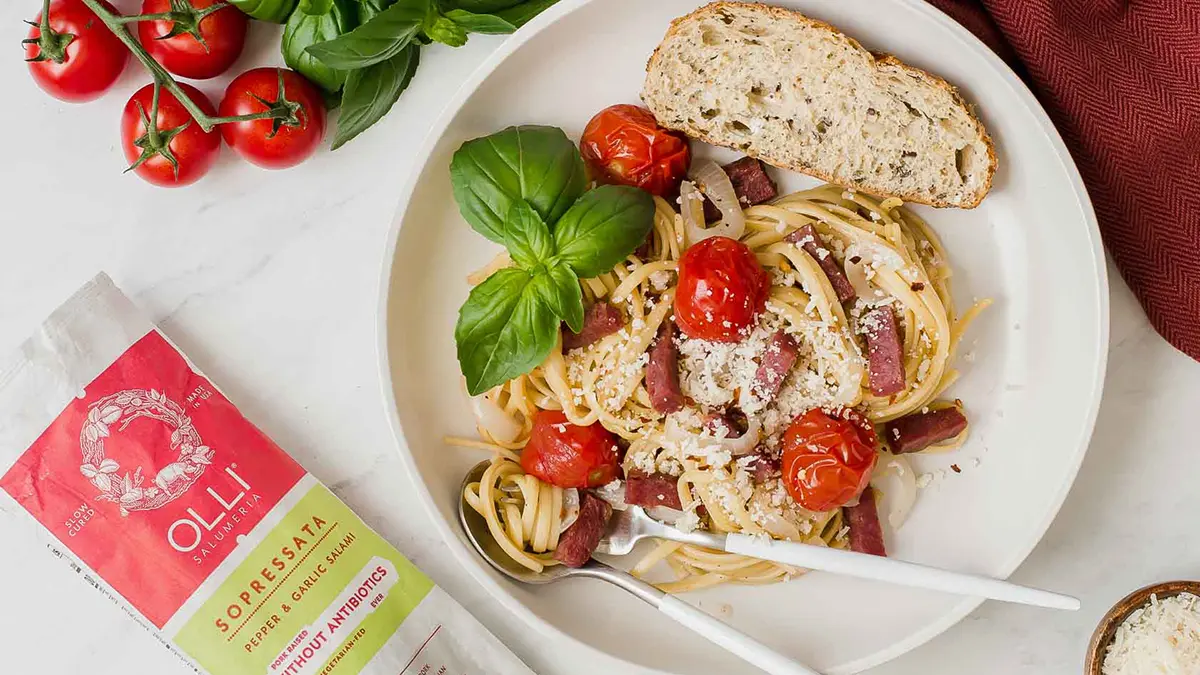 One Post Pasta with Tomatoes and Salami Chips
Ingredients:
4

ounces

Olli Salumeria Salami

(thinly sliced)

1

tablespoon

Olive oil

8

ounces

tomatoes

(halved)

1

small

onion

(sliced into half-moon shapes)

2

garlic cloves

(sliced)

¼

teaspoon

red pepper flakes

(optional)

1

teaspoon

salt

½

teaspoon

freshly ground black pepper

8

ounces

linguine pasta

2

cups

water

¼

cup

white wine

½

cup

fresh basil

(torn)
Instructions:
Place the sliced salami into a dry pan over medium heat. Cook, until the salami releases some of its fat and starts to crisp. Stir frequently. When the salami is golden brown and crisp, remove it from the pan using a slotted spoon and set aside.

In the same pan, add the olive oil, tomatoes, onion, garlic, red pepper flakes, salt, and pepper. Sauté for about 1 minute, just to wake up the spices.

Add the linguine, water and white wine. Stir to combine.

Lower the heat to medium-low, and cook uncovered, for about 10 minutes. Stir every few minutes, just to break up the pasta and ensure it's not sticking to the bottom.

After 10 minutes, taste to make sure the pasta is al dente. If it's not, add another splash of water and continue to cook for 1-2 more minutes.

Turn off the heat, and then add the basil and stir back in the salami chips.

Divide between 2 plates and serve.