For Mother's Day, the 1-800-Flowers.com family of brands is sharing the inspirational stories of Amazing Moms in our workplace and community. In this article, we profile the talents of two Amazing Moms — and sisters-in-law — at Harry & David's packing facility in Medford, Oregon.
Creating a show-stopping gourmet gift is no easy feat, and it takes a number of key players to bring an idea from conception to creation. One of the final — and most crucial — steps is the hand-packing of the gift itself. Yes, the gifts are hand-packed! And when it comes to this important job, Harry & David gifts are in no better hands than those of sisters-in-law Maria Cuevas and Gloria Jacuinde.
The work they do is meticulous; every gift is carefully packed, and attention to detail is paramount. So is speed: On an average day during the holiday season, each person on the production team can assemble as many as 500 gifts. And though Maria and Gloria have become known for their relentless pursuit of perfection, it's their reputations as graceful leaders that make them exceptional.
Experience is the best teacher
With careers spanning more than three decades, Maria and Gloria have played a number of vital roles within the packing house and have become known as the fastest packers in the company's near 90-year history.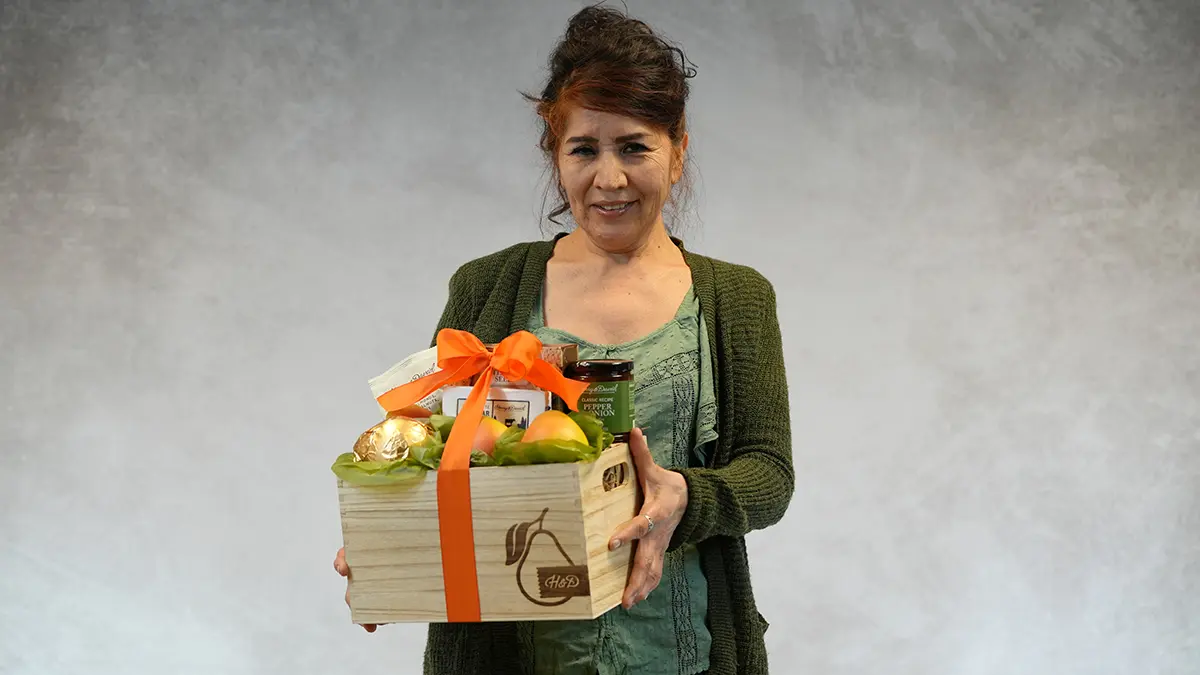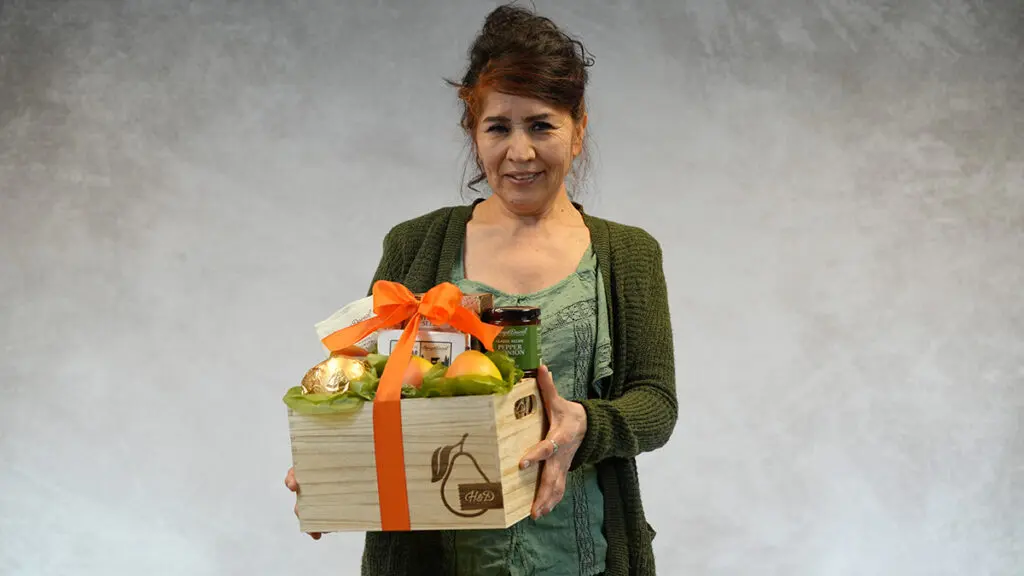 Their expertise has been built through their long and storied careers, and much has changed since they first joined the packing crew. Gloria got her start in 1977 folding box lids, and she's also packed pears, woven baskets by hand, and made bows over the duration of her tenure in Medford, Oregon. Some of the jobs she's held no longer exist. The baskets, for example, no longer require weaving, arriving fully constructed and ready to be packed. She's been stationed in the basket area since 1991 and still enjoys the work after all these years.
"I have worked with Gloria the past 40 years," says Paula Moody, supervisor to both Gloria and Maria. "As a skilled basket packer, Gloria has always been very competitive and quality conscious."
Maria started with the company in 1987, taking a seasonal position at the encouragement of Gloria and other family members. Initially, she counted and cut cellophane, but her supervisor observed how quickly she learned and asked if she'd like to move to a more challenging area. So, she began packing baskets and her career took off from there.
"Maria was a great basket packer and worked her way up to leadership," Moody says. "She is very quality conscious and has great communication skills. I feel honored to have her on my team."
Back when she first started, Maria recalls, the cellophane was cut manually, and baskets were packed on flat tables. Now, a machine helps with precise measuring and cutting, and baskets are hand-packed on moving conveyor belts. She notes that changes like these have made the job easier.
Sharing with others
Their production line prowess has become legendary across the Harry & David campus. Unsurprisingly, the two have picked up a few tips and tricks to improve their speed over the years. For example, Gloria makes a point of grabbing multiple basket components at the same time so she can distribute them faster. Maria has developed a special way of lining up fruit into rows in each box to make counting easier.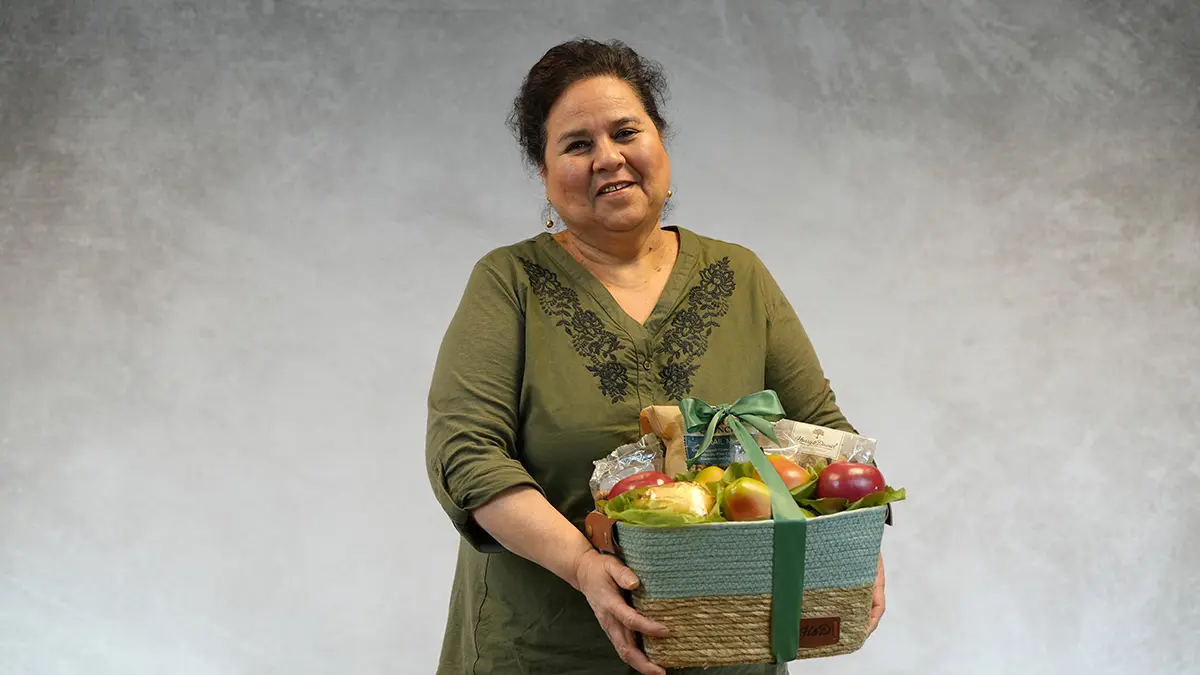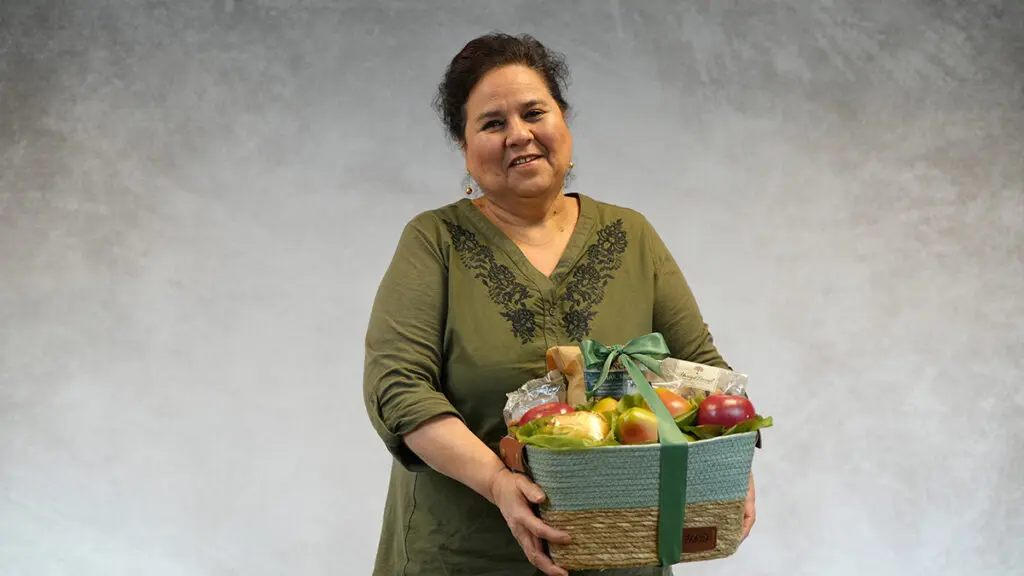 They don't keep these trade secrets to themselves; they're eager to share their advice with others. They understand what it takes to be a part of a team, and they take the lead by setting a strong example and helping to guide those around them.
"They're very inspiring to others, always willing to help others achieve their goals," Moody says.
The qualities of a leader
"My role has changed over the years, and I have learned so much," Maria says. After packing baskets for 22 years, Maria eventually moved to a trainer position and now leads a team of 15 people. She's well-suited to her current responsibilities, explaining that she likes working with people from different cultures and she gets along well with others.
"I do enjoy what I am doing now and continue to learn in my role," she says. Even so, she still manages to fill in as a basket packer a few times a year and says she's always willing to help where she's needed.
She admits to having perfectionist tendencies, taking extra care to inspect every basket and making sure it's packed correctly. It's important to her all gifts meet Harry & David's high standards, and she makes a point of showing new employees the proper techniques to ensure they also pack their baskets flawlessly.
---

---
Gloria also loves to pass on her knowledge to new team members. "I am very patient when teaching others," she says.
It's this patience and kindness that make these sisters-in-law stand out, as well as a quiet authenticity that has made them beloved figures throughout the entire organization. Though they've grown and changed over the course of their careers, these vital qualities have always been there, making them natural-born leaders from the very beginning.