I have sipped on many Bellinis in my life, but in the past, I gravitated towards using a pre-made mix from the grocery store. Well, all that ends today. Making your own peach purée for homemade Bellinis couldn't be any easier and it's even more delicious with Oregold peaches.
A Bellini is a very basic, two-ingredient drink: peach puree and Prosecco. If you had to, you can use another type of sparkling wine. We won't tell anyone. This refreshing libation was created in the summer of 1948 by Giuseppe Cipriani, the renowned founder of the famed Harry's Bar in Venice, Italy, thanks in large part to peaches being in season during this time of year.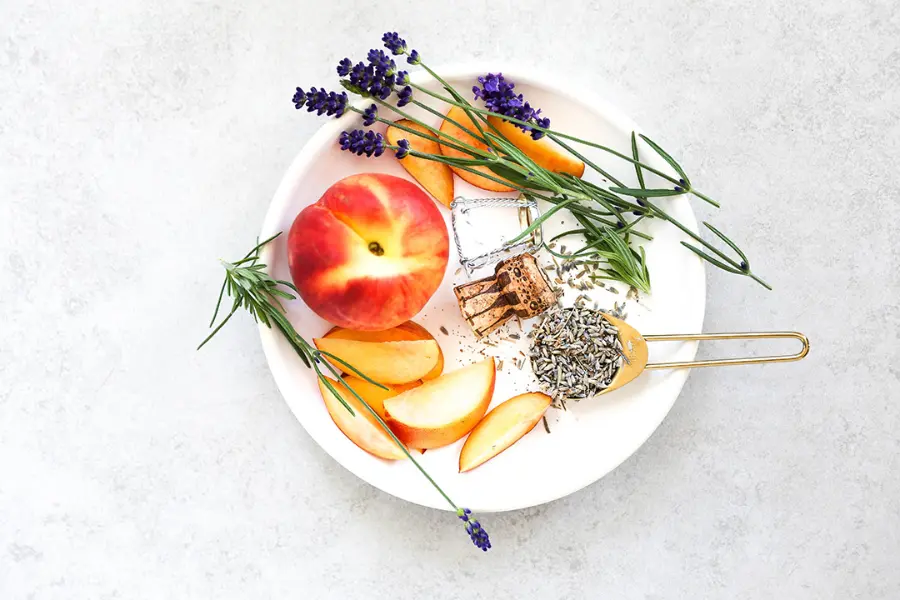 The story of how the drink got its name, as told by Cipriani's son Arrigo in his book, Harry's Bar: The Life and Times of the Legendary Venice Landmark, goes like this: His father admired the 15th century Venetian painter Giovanni Bellini, and the drink's sunset shade hue reminded the elder Cipriani of one of Bellini's paintings. And like that, a classic cocktail was born!
When making a Bellini, in its simplest form, all you have to do is just blend ripe, juicy peaches with a touch of sweetener and call it a day. But, if you want to go a little extra, make it more special, try adding in some additional flavorings. I chose lavender because I was feeling like a few subtle floral notes would be perfect for summer sipping. Rosemary or thyme are two other aromatic options, if you're looking for more variety.
A small amount of dried culinary lavender goes a long way (the flavor can be overpowering if you use too much), so you don't need a lot for this Bellini recipe. Not all lavender is culinary grade, so be sure to double check that you're selecting lavender that's safe for consumption. And if you're lucky enough to have fresh lavender, it's the perfect garnish for your glasses.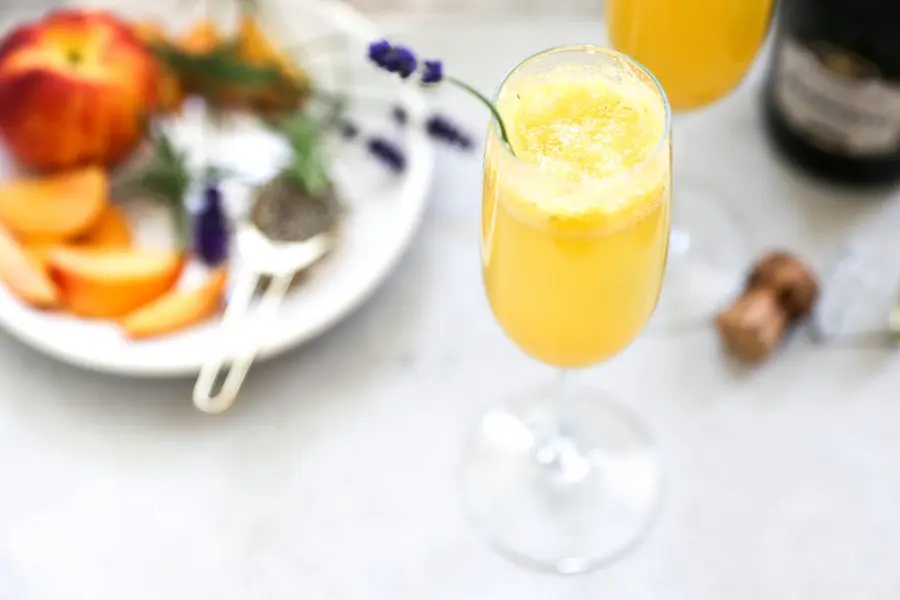 Lavender Bellini
Ingredients:
For the peach-lavender purée
For the Bellinis
Chilled prosecco

Fresh lavender

(for garnish)
Instructions:
For the peach-lavender purée
In a small saucepan over medium heat, combine the sugar, water and lavender.

Simmer the mixture while stirring until the sugar is dissolved, about 2-3 minutes.

Then, remove the saucepan from the heat and let the lavender steep in the liquid for about 15 minutes. Strain the liquid into a clean container, collecting and discarding the lavender solids.

Add the chopped peaches and lavender simple syrup to your blender and blend on high until completely smooth. Transfer the purée to a clean container and refrigerate until chilled. Makes about 1 cup of peach-lavender purée
For the Bellinis
Place 2 tablespoons of the chilled purée into flute glasses. Slowly fill with prosecco.

Garnish with a sprig of fresh lavender, if desired. Enjoy immediately.
---