Impress your friends this summer by whipping up this homemade peach bellini! This delicious recipe from Elizabeth Harris of Floating Kitchen, which includes Harry & David Oregold Peaches, will quickly become your favorite summer beverage.
I have sipped on many peach bellinis in my life. But until my friends here at Harry & David asked me to create a peach bellini recipe featuring their amazing Oregold Peaches, I had never actually made one completely from scratch.
I know, right!? Seems silly that I had never made a homemade peach bellini before. Especially now that I know how easy they are to whip up. In the past, I had always just gravitated towards grabbing one of those bottles of pre-made mixes from the grocery store. Well, all that ends today. Because making your own peach purée for homemade bellinis couldn't be any easier!
In its simplest form, you can certainly just blend up some ripe, juicy peaches with a touch of sweetener and call it a day. But, if you want to go a little extra, you can try adding in some additional flavorings. Today, I chose lavender because I was feeling like a few subtle floral notes would be perfect for late Summer sipping. But rosemary or thyme would be two other great options, if you're looking for more variety.
A small amount of dried culinary lavender goes a long way (the flavor can be overpowering if you use too much), so you don't need a lot for this recipe. Not all lavender is culinary grade, so be sure to double check that you're selecting lavender that's safe for consumption. And if you're lucky enough to have fresh lavender left over from your summer lavender farm adventures, it's the perfect garnish for your glasses of bubbly. Cheers!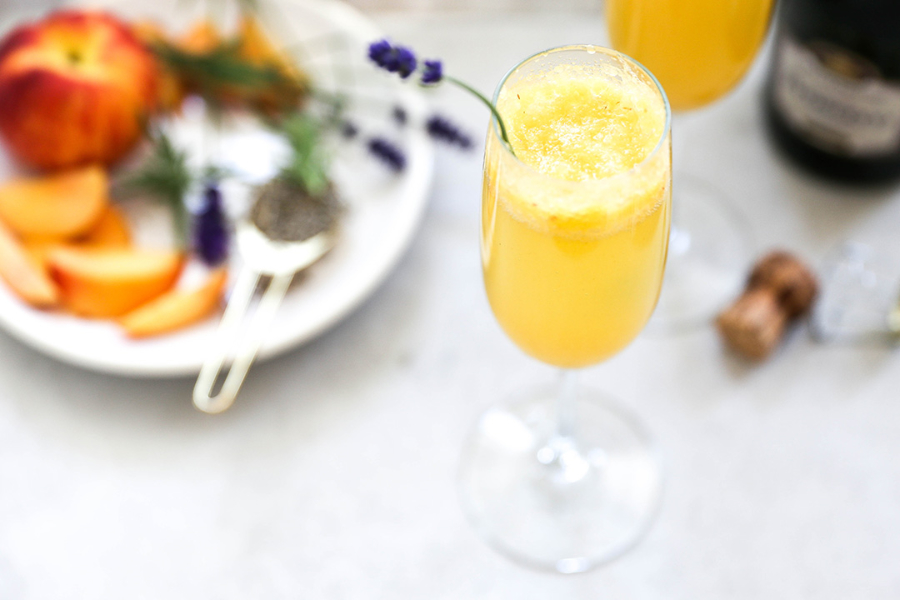 Lavender Peach Bellini Recipe
Ingredients:
For the Peach-Lavender Purée:
¼

cup

granulated sugar

¼

cup

water

1

tablespoon

dried culinary lavender

4

Harry & David Oregold Peaches

(pitted, peeled and chopped)

Makes about 1 cup of peach-lavender purée
For the Bellinis:
Chilled Prosecco

Fresh lavender

(for garnish)
Instructions:
In a small saucepan over medium heat, combine the sugar, water and lavender.

Simmer the mixture while stirring until the sugar is dissolved, about 2-3 minutes.

Then, remove the saucepan from the heat and let the lavender steep in the liquid for about 15 minutes. Strain the liquid into a clean container, collecting and discarding the lavender solids.

Add the chopped peaches and lavender simple syrup to your blender and blend on high until completely smooth. Transfer the purée to a clean container and refrigerate until chilled.

For the bellinis, place about 2 tablespoons of the chilled peach-lavender purée into champagne flutes. Slowly fill with Prosecco.

Garnish with a sprig of fresh lavender, if desired. Enjoy immediately.