It's late in the summer, and that can only mean one thing: It's fruit pie season, ya'll. (Okay, admittedly, it means more than that, but fruit pies are one thing I get especially excited for this time of year.) These baked delights truly are an indication that the "dog days of summer" have arrived. Even as temperatures soar and the sun's rays become unrelenting, I'm more than happy to turn on my oven so that I can indulge in as much buttery, flaky crust and sweet, sticky filling as I can get my hands on and into my belly.
The only thing better than a big ol' fruit pie is a mini version of said pie. Say hello to my latest obsession: peach blueberry hand pies with thyme and vanilla glaze.
Can we all just agree that miniature everything is the best? Great! Now, let's all stop and admire how adorable these pies are. And because of their size, you don't have to share them, which is a serious bonus. You get a whole peach blueberry pie all to yourself!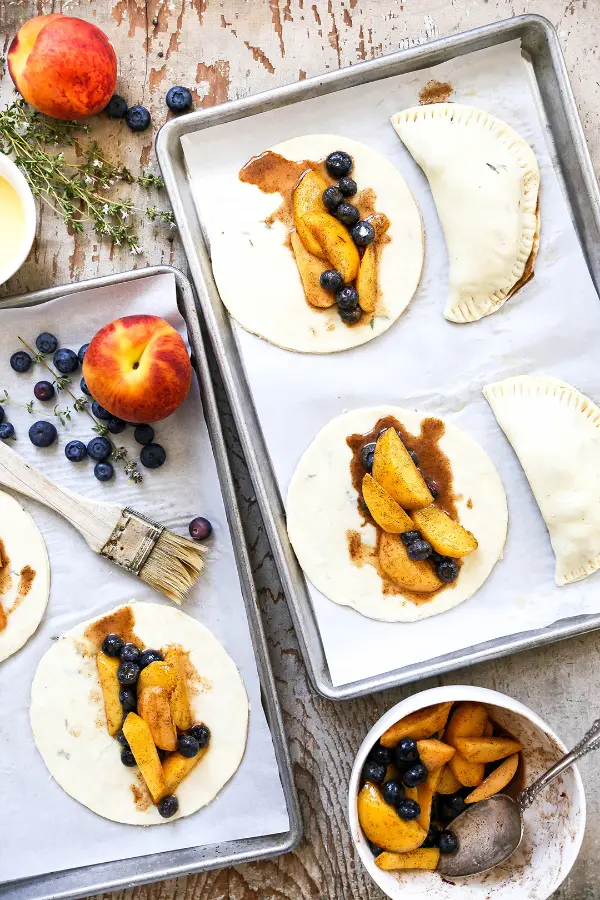 This all-butter pie crust recipe has been my go-to recipe for years, and it's not hard to master. Just keep the dough cold and don't overwork the ingredients, and it will turn out great! I add fresh thyme leaves, which play nicely with both peaches and blueberries, to the dough. They're also sturdy enough to withstand being rolled and baked into the crust.
This recipe makes enough dough for about eight hand pies using a 6-inch cutter. But you can certainly use a larger or smaller cutter (or just free-hand some shapes!), or skip the whole hand pie idea and make a full-size pie with a double crust.
The filling is very simple and not overly sweet, which allows the flavors of the fruit to really shine. I like to finish each peach blueberry pie with a quick vanilla bean glaze and a few additional thyme flower/leaves. But a scoop of ice cream is always welcome, too.
These peach blueberry hand pies with thyme and vanilla glaze have a bit of a rustic quality to them, so there's need to make them all perfect or identical! They are, however, the perfect addition to any Summer gathering!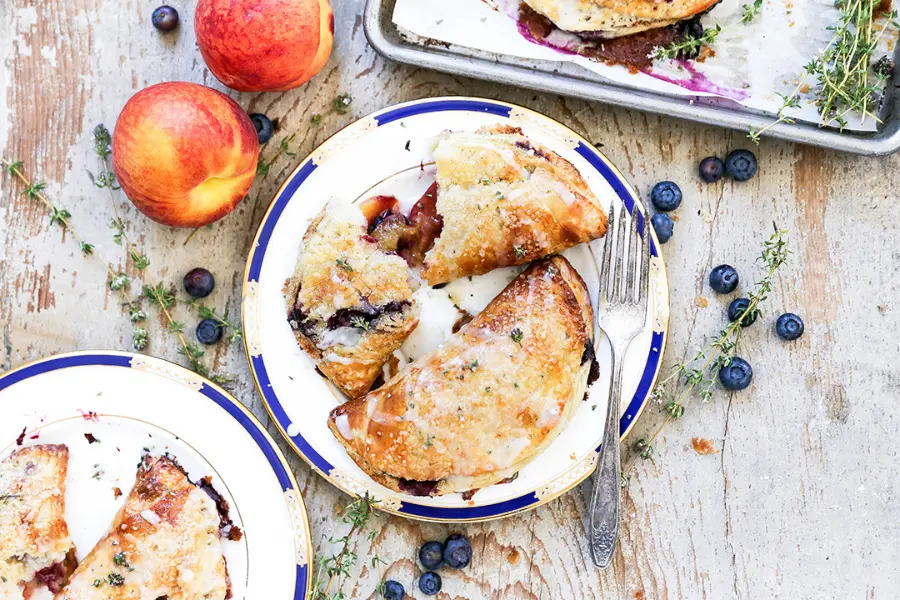 Peach Blueberry Pie Recipe
Ingredients:
For the Pie Crust:
2 ½

cups

all-purpose flour

2

tablespoons

granulated sugar

2

tablespoons

fresh thyme

¾

teaspoon

salt

16

oz

unsalted butter

(cubed and chilled)

1

cup

Buttermilk
For the Filling:
3

Harry & David® Oregold® Peaches

(peeled, pitted and sliced into wedges)

1

cup

blueberries

(fresh )

1

tablespoon

lemon juice

⅓

cup

granulated sugar

2

tablespoons

cornstarch

1

teaspoon

ground cinnamon

½

teaspoon

ground ginger

⅛

teaspoon

salt
For the Glaze:
½

cup

powdered sugar

1-2

tablespoons

milk

1

vanilla bean

(scraped for the beans)
For Assembly:
1

egg

2

teaspoons

water

2-3

tablespoons

demerara sugar
Instructions:
Prepare the crust
To make the pie crust, combine the flour, granulated sugar, salt and thyme in a large bowl. Add the cubed butter and toss to coat the butter in the dry ingredients.

Then, using your hands, work the butter into the dry ingredients by squeezing it between your fingers. Try to work quickly so the butter doesn't get too warm.

Once the butter pieces are about kidney bean-sized, make a well in the center of the flour mixture. Add about 1/2 cup of the buttermilk and use a fork to incorporate the flour mixture into the buttermilk. Add more buttermilk as necessary, 1/4 cup at a time, to make sure all the flour is moistened. The dough will be a bit shaggy at this point, but shouldn't look dry.

Dump the dough out onto a floured work surface and using your hands, knead and shape the dough together into a ball. Divide the dough ball in half and shape each half into a disk. Then wrap the disks with plastic wrap and chill them in your refrigerator for at least 1 hour or up to 24 hours.

Line two baking sheets with parchment paper and set them aside.

Remove the dough disks from your refrigerator and unwrap them. Working with one dough disk at a time, roll it out onto a well-floured work surface until it's about 1/8-inch thick.

As you're rolling the dough, occasionally rotate it a quarter of a turn to ensure it's not sticking to your work surface. Once the dough is rolled out, use a 6-inch round cutter to cut out circles.

Place the dough circles on one of your parchment paper lined baking sheets (it's okay to stack them). Re-shape and re-roll the scraps, continuing to cut out as many circles as possible.

Repeat the same process with the second dough disk. You should get approximately 8 dough circles. Place the baking sheet with the dough circles in your refrigerator to chill for 15 minutes.
Prepare the pies
Meanwhile, add the sliced peaches, blueberries and lemon juice to a medium bowl. In a separate bowl, combine the sugar, cornstarch, cinnamon, ginger and salt. Then sprinkle this over the fruit, tossing gently until all the fruit is well coated. Set aside.

In a small bowl, beat the egg with the water.

Remove the dough circles from your refrigerator and spread them out onto your two baking sheets. Place a couple tablespoons of the fruit filling slightly off-center in each of the dough circles.

Brush the outer edges with some of the egg wash and then fold the dough circles over to create a half-moon shape, lightly pressing the edges together with your fingers. Then use the tines of a fork to press more firmly and seal the edges.

Transfer the baking sheets to your refrigerator to chill the pies for 10-15 minutes.

Pre-heat your oven to 425° F.

Remove the baking sheets from your refrigerator. Use the tines of a fork to poke a couple vents in the top of each pie.

Then brush the tops of each peach blueberry pie with some of the remaining egg wash and sprinkle with the turbinado sugar.

Transfer the baking sheets to your pre-heated oven and bake for 25-30 minutes, or until golden brown. Remove from the oven and allow the pies to cool slightly.

While the pies cool, combine all the ingredients for the glaze in a small bowl.

Drizzle the glaze over each peach blueberry pie before serving. If desired, top with a few small thyme flowers (if you have them) or additional thyme leaves. Enjoy!
Notes:
Pies are best when enjoyed on the day they are baked. But they can be stored in an airtight container in your refrigerator for up to 2 days and re-heated before serving.
---