Summertime is the perfect time to entertain. Wouldn't it be amazing to entertain your family and dinner guests by taking them on a trip to Italy all season long? And all you truly need is some stale bread?
Say hello to panzanella!
Panzanella is a classic and simple Tuscan chopped salad loaded with tomatoes, cucumbers, onions, and olive oil-and-vinegar-soaked bread. The latter ingredient is the reason this dish was invented hundreds of years ago as a way to use up stale bread. You can add anything you want to this salad, like olives or tuna, but we're going in a more seasonal direction with the addition of berries and Oregold peaches.
This peach panzanella salad is a feast for your eyes and your stomach. The vibrant colors from the fresh peaches and berries, crisp cucumbers, and basil, are always a stunner at summer get-togethers. And the homemade croutons, which are made using a mixture of honey and olive oil, will make you balk at throwing away stale bread ever again.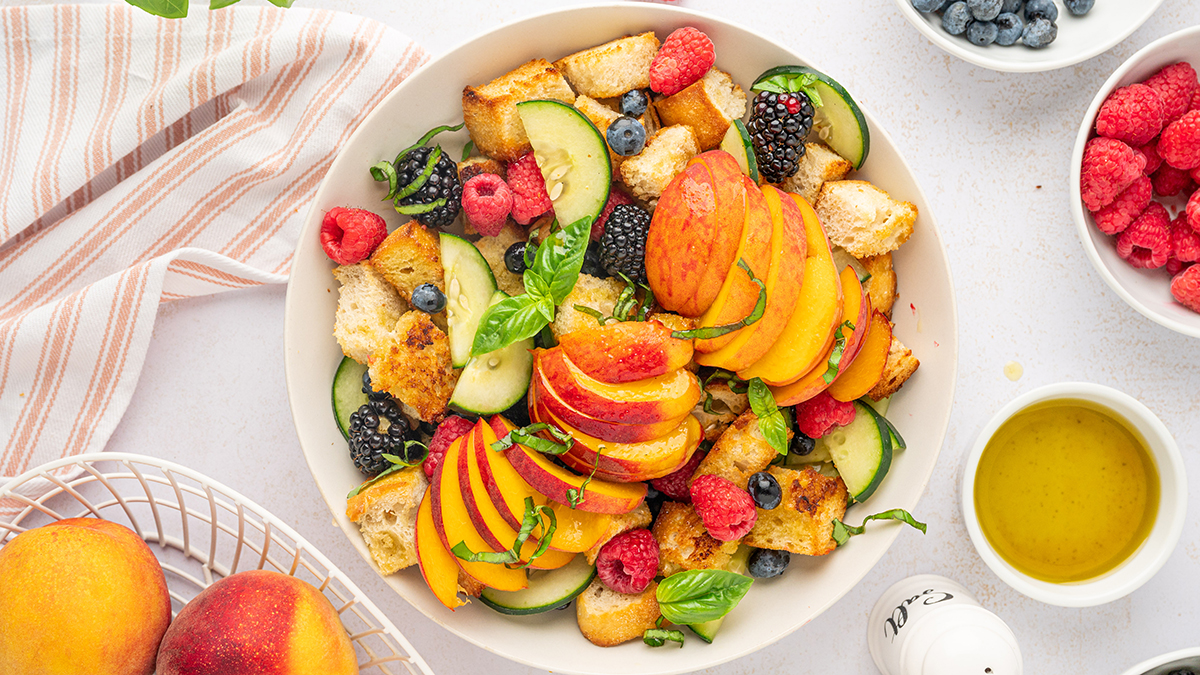 Peach Panzanella Salad with Berries and Cucumbers
Ingredients:
1

pound

day old bread

(cut into bite sized cubes)

¼

cup

honey

½

cup

olive oil

½

teaspoon

kosher salt

½

teaspoon

fresh ground pepper

3

Oregold Peaches

(pitted and sliced)

1

English cucumber

(sliced)

1

cup

raspberries

1

cup

blackberries

1

cup

blueberries

½

cup

thinly sliced basil
Instructions:
Preheat oven to 425˚ F.

Place the cubed bread into a large mixing bowl.

In a small bowl, whisk together the honey, olive oil, salt, and pepper.

Pour half of the olive oil mixture over the bread and toss to coat.

Spread the bread in an even layer on a baking sheet and bake for 6-7 minutes.

Stir bread cubes and cook for an additional 7-8 minutes or until golden brown and crispy.

Remove from the oven and let cool to room temperature.

Place croutons in a large mixing bowl. Add the peaches, cucumber, raspberries, blackberries, blueberries, and basil.

Pour in the remaining olive oil mixture and toss to coat. Add additional salt and pepper if needed. Serve immediately.
---