In "Cooking up Comfort," we're walking you through all the classics, whether you want to curl up with soup on a rainy afternoon or bake something delicious to celebrate the weekend. Pineapples put a sweet and tropical twist on a fried rice recipe from Nick Evans at Macheesmo that's easy to prepare with just a few other pantry staples.
Fried rice is one of my favorite easy weeknight meals, as it's great for using up random leftover vegetables or protein you have in your fridge. This pineapple fried rice contains diced ham and frozen peas, but the star of the dish is the chunks of Harry & David pineapples. They add the perfect amount of sweetness to complement the salty ham.
It's really important to use fresh pineapple for this recipe since canned pineapple would have too much juice or It's really important to use fresh pineapple for this recipe; the canned version has too much juice or syrup, which will make your fried rice soggy. For the rice, whether you're cooking fresh rice or using leftovers, be sure to give it enough time to cool completely before frying it. Not doing so will result in the rice clumping together and the dish turning out subpar — and the only time subpar is acceptable is when you're playing golf.
Besides being a great weeknight dinner, this fried rice is also the perfect quick lunch. It reheats beautifully in the microwave and is easy to eat while you're juggling different tasks…like, say, watching the kids. Speaking of them, they'll also love this dish because of its sweet flavor and the standard ingredients it uses that they already enjoy.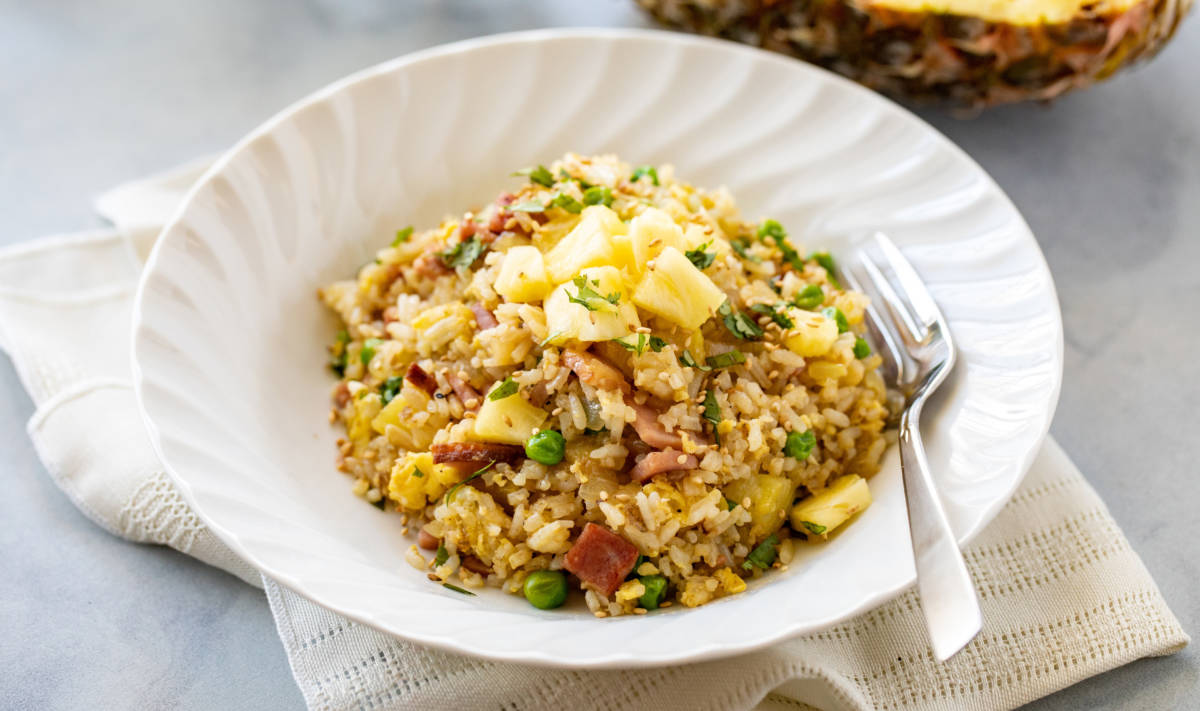 Pineapple Fried Rice
Ingredients:
¼

cup

olive oil

(divided)

1

cup

fresh pineapple

(chopped)

1

cup

chopped ham

½

yellow onion

(diced)

2

cloves

garlic

(minced)

1

cup

frozen peas

3

cups

cooked and cooled long grain white rice

3

large eggs

(scrambled)

1

tablespoon

soy sauce

salt and pepper

(to taste)

Sesame seeds

(to garnish)

Fresh cilantro

(to garnish)
Instructions:
Cook rice according to the directions on the package.

Chop all your ingredients and set them aside in separate bowls.

Heat a large wok or skillet over high heat, and add 1 tablespoon of olive oil.

Once the oil is shimmering, add pineapple, ham, and onion.

Cook, stirring occasionally, until the onions soften and the pineapple starts to take on some color, about 3 to 4 minutes.

Add the garlic and frozen peas, and toss for 1 minute to combine flavors.

Remove ham and pineapple mixture from the wok. Add 2 tablespoons of olive oil and the cooked rice. It's important that the rice is cooled completely and dry to the touch before you add it.

Stir fry the rice for 2 to 3 minutes. Let the rice sit for the first 60 to 90 seconds so it starts to get a bit crispy on one side, and then stir vigorously to scrape up any stuck bits.

Once the rice is cooked, make a well in the center of the rice by pushing it to the sides of the skillet.

Add the last of the oil to the center of the skillet and pour in the eggs. Let them cook for a minute in the center until they are mostly set, and then stir the eggs into the rice.

Pour in the pineapple, ham, and onion mixture, and stir everything together. Season the fried rice with soy sauce and season with salt and pepper.

Serve the fried rice garnished with sesame seeds and fresh cilantro.
Notes:
Store leftover fried rice in the fridge for 3 to 4 days. Reheat it in the microwave in 30-second bursts or in a skillet over low heat until warmed through.