"Seasonal Cooking" brings you delicious home-cooked recipes with the freshest ingredients of the season. This plum jam recipe from Liz Harris at Floating Kitchen features delicious Harry & David plums complemented by vanilla and cardamom for a mouthwatering flavor.
Have you avoided making homemade jam or marmalade because it seemed too intimidating? I'm right there with you. I used to feel the exact same way, but not anymore. Now, I regularly make small-batch refrigerator jams with full confidence. This plum jam recipe is quick, simple, and totally foolproof.
This easy plum jam with cardamom and vanilla is the perfect recipe to kickstart your homemade jam obsession. You only need four ingredients: Harry & David plums, sugar, cardamom, and vanilla. It doesn't require any fancy equipment (unless you count cheesecloth as fancy equipment), and you don't need to learn any technically challenging tricks to make it.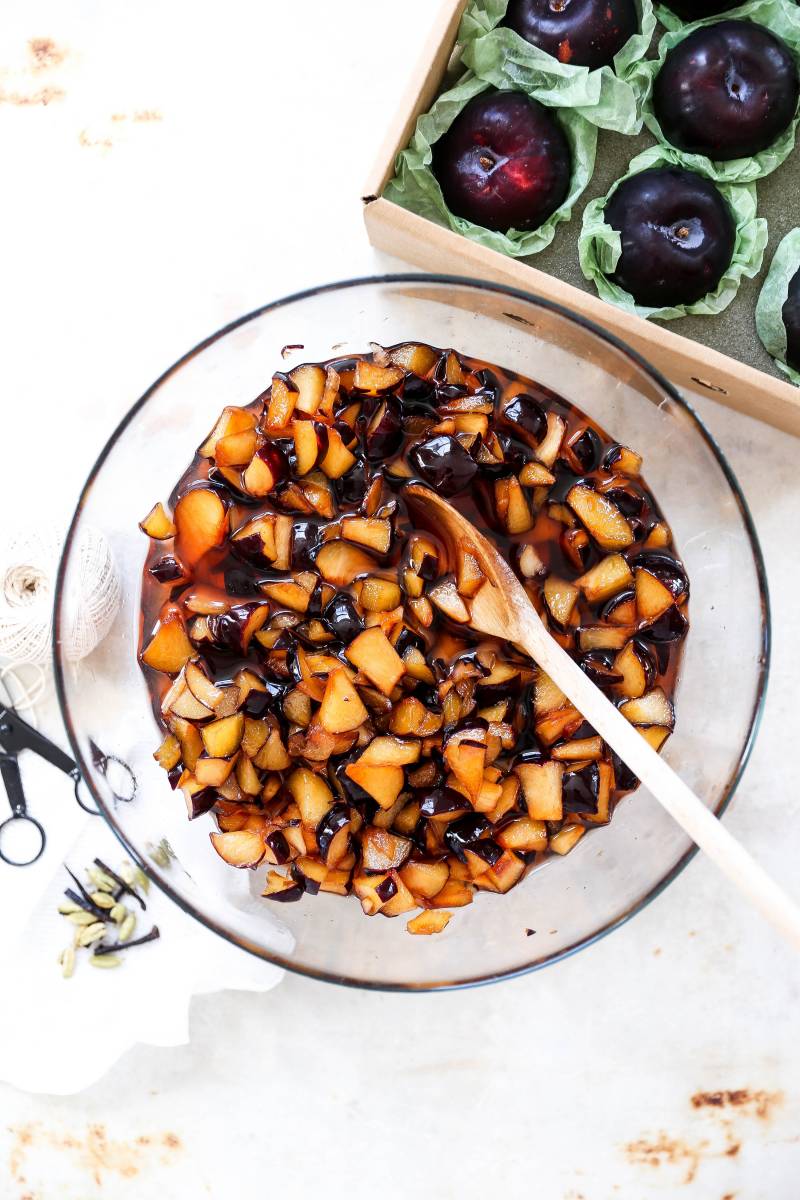 How to make jam
To start, you'll want some super ripe Harry & David plums…the riper, the better! Pit them, chop them (no need to peel them), and then let them macerate overnight with some granulated sugar. If you like your jam really sweet, use the full two cups of sugar listed in the recipe. If not, use a little less. The following morning, the plum mixture will be extra juicy and soupy, which means it's time to make jam.
Add the cardamom and vanilla bean pods to the macerated plum mixture for flavoring, and cook everything down until it's thick and glossy. Let the jam cool to room temperature (it will thicken up a little more as it cools). Then transfer it to clean containers for storage in either your refrigerator or freezer.
For this recipe, we don't have to add pectin, a thickener used in making jams. That's because plums have naturally high levels of pectin.
When it's done, this plum jam is perfect on toasted Wolferman's English Muffins. I also like to swirl some into my Greek yogurt. You can add it to a cheeseboard; the plum goes particularly well with sharp cheddar and goat cheese. And, if you're grilling chicken or pork, try mixing some of the jam with balsamic vinegar, olive oil, salt, and black pepper, and use this to baste the meat during grilling. I promise you won't run out of ways to use this delicious jam.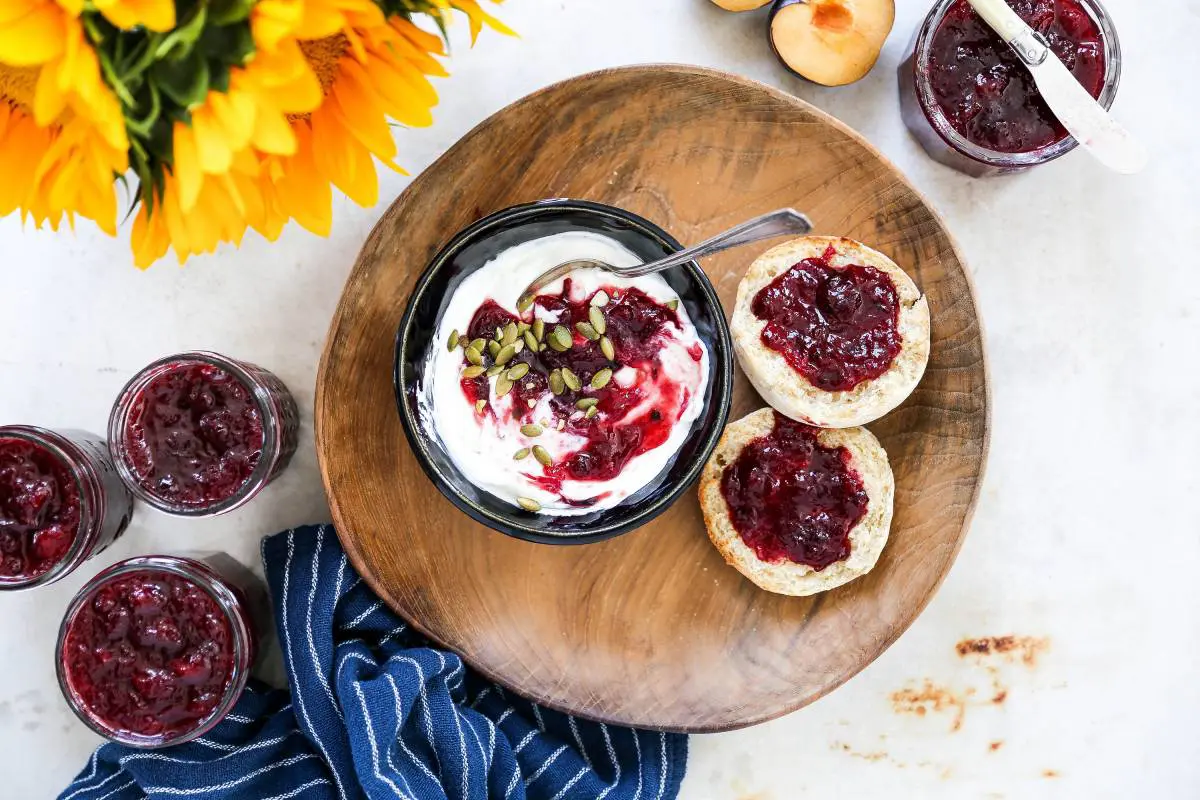 Plum Jam with Cardamom and Vanilla
Instructions:
Wash the plums. Slice them in half, and remove and discard the pits and any stems.

Chop the plums into 1-inch pieces and place them in a large, non-reactive bowl (e.g. glass or plastic). Stir in the sugar.

Cover and refrigerate the plum mixture for 12-24 hours, stirring the mixture once or twice during this time.

Transfer the plum mixture (including all the accumulated juices) to a large, heavy-bottomed saucepan.

Cut a 4- to 5-inch square of cheesecloth.

Using the back of a spoon or side of a knife, crush the cardamom pods to expose the seeds inside. Then, place the crushed pods/seeds in the center of the cheesecloth.

Using a small paring knife, slice the vanilla bean in half lengthwise. Scrape out the seeds and add them to the saucepan with the plum mixture.

Chop the spent vanilla bean pod into smaller pieces and add it to the cheesecloth with the cardamom.

Gather up the corners of the cheesecloth to create a pouch. Then, securely tie it off with a piece of kitchen string or twine. Add the pouch to the plum mixture.

Place the saucepan over medium-high heat and bring the mixture to a simmer, stirring occasionally.

As the mixture thickens, reduce the heat and stir more frequently to prevent the bottom from scorching. As you stir, use your spoon to mash some of the larger plum pieces up against the side of the saucepan to help break them down.

Cook jam until it's thick and glossy, about 75-90 minutes. Remove the saucepan from the heat and set it aside to cool.

The jam will thicken slightly more as it cools. Remove and discard the cheesecloth pouch.

Once cooled, transfer the jam to clean re-sealable containers and store in your refrigerator for 2-4 weeks, or in your freezer for several months.