"Seasonal Cooking" brings you delicious home-cooked recipes with the freshest ingredients of the season. This fruit popsicle recipe from Liz Harris at Floating Kitchen combines sweet Harry & David nectarines and Greek yogurt into a delicious frozen treat, complete with a crunchy almond layer.
There are plenty of ways to stay cool during the summer months, but my all-time favorite involves digging into some frozen treats! These nectarine yogurt popsicles with an almond crunch, made with Harry & David's sweet, juicy summer nectarines, are my new favorite.
---

---
The nectarines are so irresistibly sweet on their own that this popsicle recipe doesn't require a lot of sugar, which makes them very "fruit forward." They're a great treat on a sunny afternoon, but I've even been known to enjoy one for breakfast on a really hot day! They're also a fun homemade dessert to bring to a BBQ or picnic.
Making the fruit popsicles
If you're new to making popsicles at home, don't sweat it––this recipe couldn't be any easier. To make the popsicle filling, you'll start by cooking down chopped nectarines with brown sugar, water, and almond extract. You don't even have to peel the nectarines for this step. Plus I love the added flavor and color that the bright nectarine peels give to the finished popsicles. You'll blend this mixture with some Greek yogurt, and that's it! You're ready to fill the popsicle molds.
If you have popsicle molds, that's perfect. This is the time of year to put them to good use! If you don't have popsicle molds though, that's not a problem. Any small plastic cups can be used to freeze the nectarine-yogurt mixture into individual popsicles.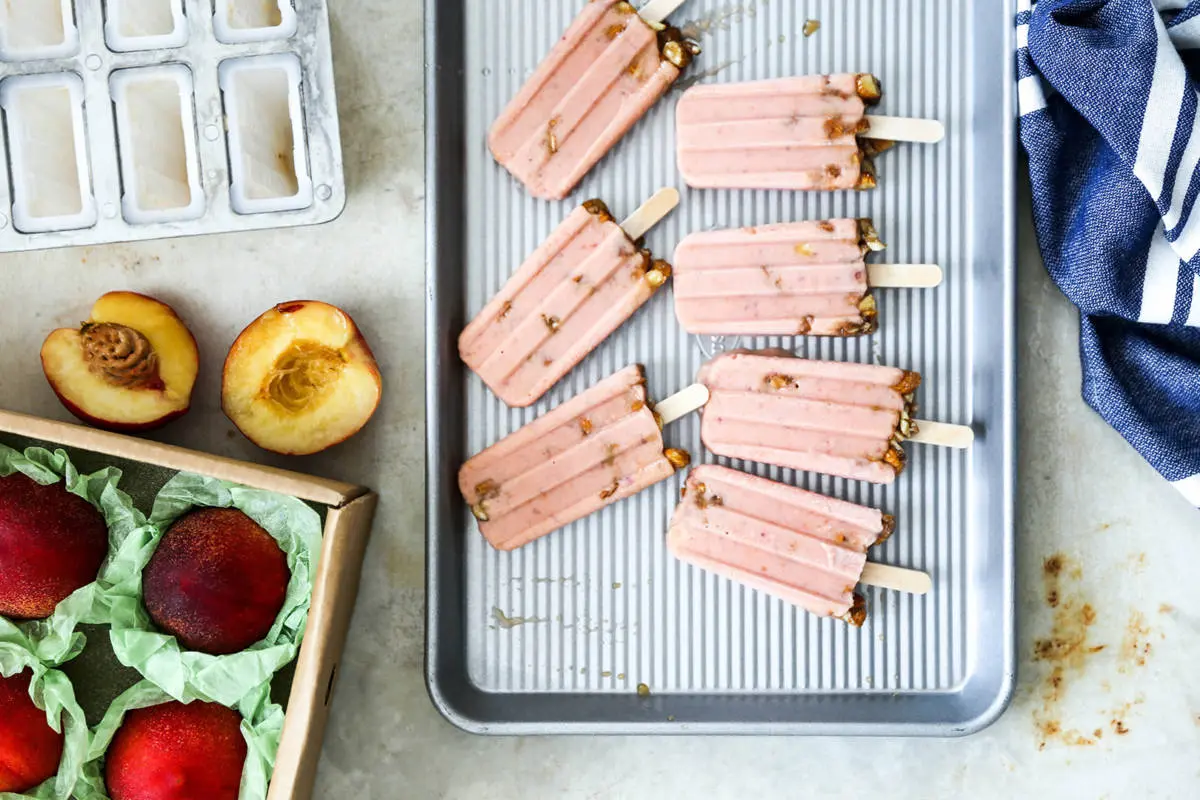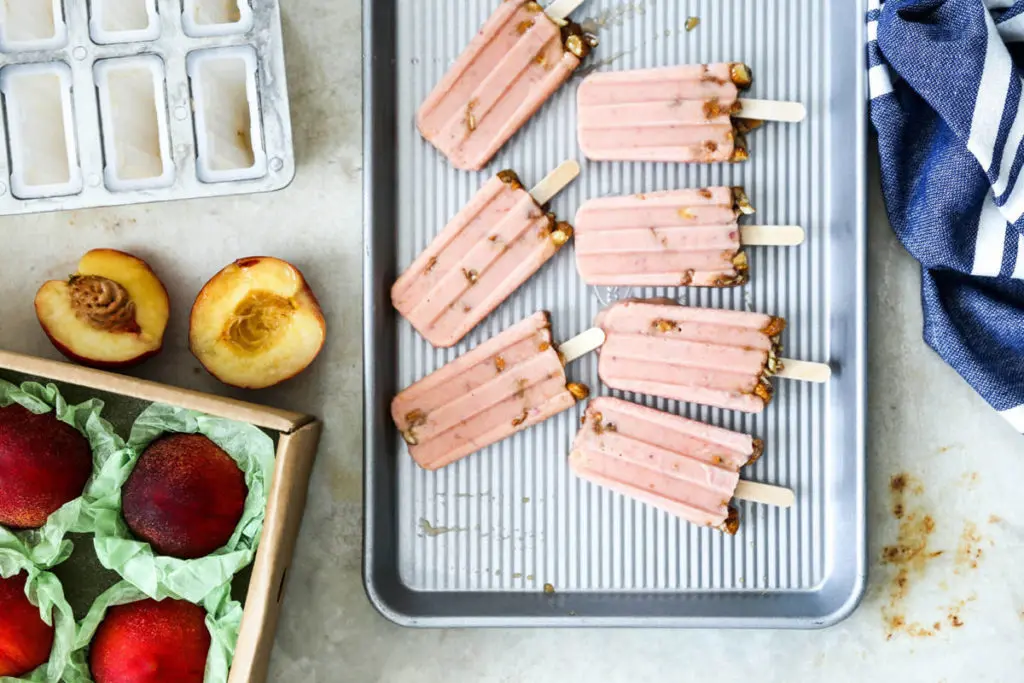 Before inserting the popsicle sticks, there's one more step to perfect this summer treat. To contrast the cool, creamy popsicle filling, I whipped up some sweet and sticky almonds to create a crunchy layer. You'll add the almonds into the tops of the molds after they've been filled, pushing them into the filling a bit so they freeze into the popsicles. The almonds provide just the right amount of crunch to complement the creamy frozen treat. They help bring out the almond flavor in the filling as well!
Looking for even more popsicle flavors? This recipe works with Harry & David plums and peaches, too. I don't know about you, but I'll be filling my freezer with a multitude of colors and flavors this summer!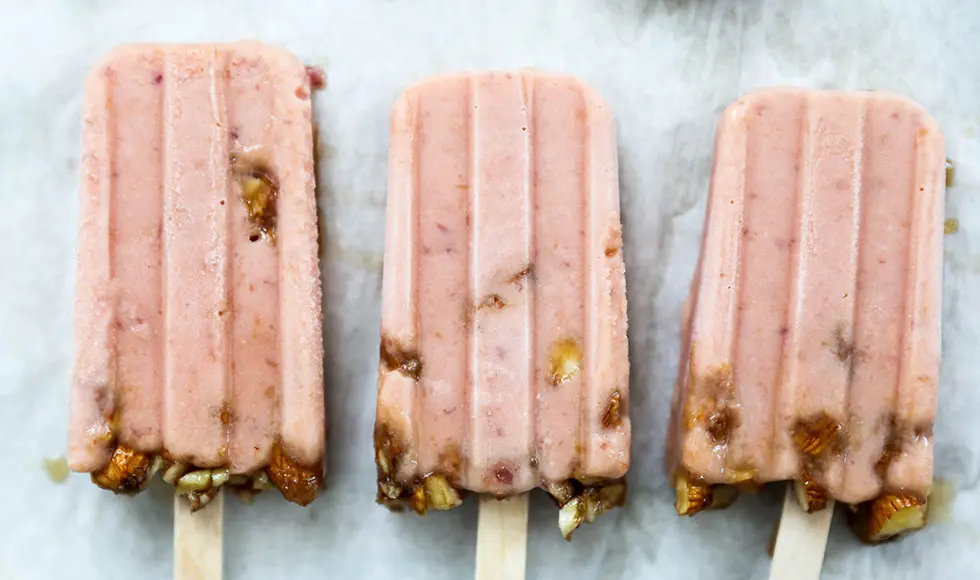 Nectarine Popsicles with an Almond Crunch
Ingredients:
For the Almond Crunch:
¾

cup

raw almonds

(roughly chopped)

¼

cup

brown sugar

1

tbs

water

¼

tsp

salt
For the Popsicle Filling:
3

cups

Harry & David® Nectarines

(pitted and chopped, about 4 nectarines)

¼

cup

brown sugar

2

tbs

water

½

tsp

almond extract

½

cup

Greek yogurt
Instructions:
In a small skillet over medium heat, prepare the almond crunch layer by combining the chopped almonds, brown sugar, water, and salt.

Cook, stirring continuously, until the brown sugar is dissolved and the almonds are well coated, about 2 minutes.

Scrape the almond mixture out onto a piece of parchment paper and spread it into a single layer.

Let it cool completely, then break up any larger chunks into smaller pieces.

Meanwhile, combine the chopped nectarines, brown sugar, water, and almond extract in a medium saucepan over medium-high heat.

Bring the mixture to a simmer and cook, stirring occasionally, until the nectarines are soft and almost broken down, about 10-12 minutes.

Remove the saucepan from the heat and set it aside to cool.

Once the nectarine mixture has cooled, transfer it along with any accumulated cooking liquid to your blender.

Add the Greek yogurt and pulse everything together 4-5 minutes, stopping to scrape down the sides of your blender as necessary. You want the mixture to be mostly smooth, but still have some "flecks" of nectarine remaining.

Divide the nectarine-yogurt mixture between your popsicle molds, filling each mold about 2/3 the way full.

Add some of the almond mixture into the top of each mold, pushing it down slightly.

Insert your popsicle sticks and place your popsicle molds in the freezer.

Freeze until the popsicles are completely firm, about 6-8 hours.

Once completely frozen, the popsicles can be removed from their molds and enjoyed.