Red wine-poached pears are a sophisticated dessert perfect for the fall and wintertime. When in season, pears shine: They are simple to prepare and true showstoppers as accompaniments for your next meal.
One of the best parts about preparing this dessert is the fragrant aroma that fills the entire house as the pears poach in the spice-infused wine mixture. The pale flesh of the fruit transforms to a deep ruby-red hue, and combining vanilla, citrus, and wine really enhances the fruit's natural sweetness.
Pears poached in red wine are a classically French dessert, originating in the eastern regions of Lyon and Burgundy. This dish became popular because it was a great way to utilize fruit that was slightly less than ripe and is not overly complex. Serve these with a generous scoop of vanilla ice cream and the poaching liquid, which reduces to a thick, luscious syrup perfect for spooning over the pears. Seriously, you will want to eat this syrup with a spoon, all on its own — it is that delicious.
Pears are perfect for poaching when they are still slightly firm. Do not aim for ripe pears here, as they will not hold up as well in the poaching liquid. Additionally, when peeling the pears, be sure to keep the shape of the pear by peeling in long strokes (a vegetable peeler works best for this). You can also prepare this dish in advance by poaching the pears the day before and reserving the syrup (just be sure to warm the syrup slightly before serving).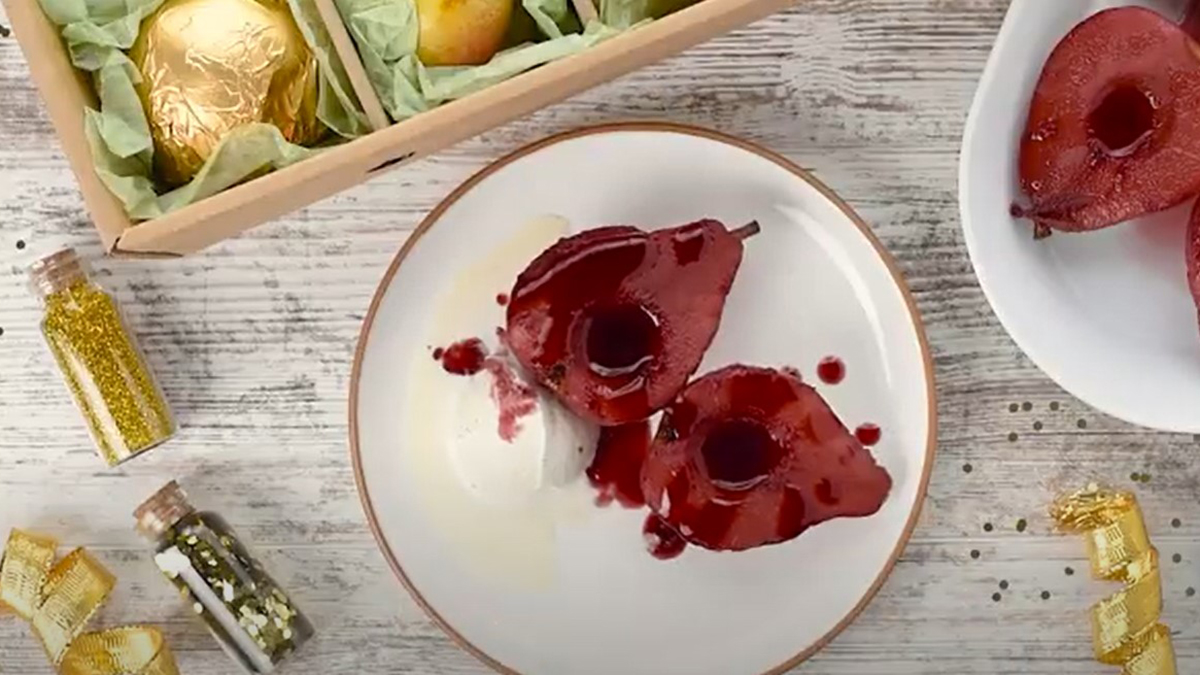 Poached Pears in Red Wine
Ingredients:
2

cups

Merlot red wine

½

cup

sugar

1

vanilla bean

2

tablespoons

orange peels

1

cinnamon stick

Vanilla ice cream

(for serving)
Instructions:
In a Dutch oven combine wine, sugar, vanilla bean, orange peels and cinnamon stick. Bring it to a rolling boil and reduce the flame to low.

Meanwhile, peel the pear skin and cut them lengthwise. Scope the core out with a help of a melon scooper or teaspoon.

Gently add the pears to the poaching liquid and let it simmer for 15-20 minutes. Turn the pears for every 5 minutes with the help of a spatula to get an even color on the pears.

Once done, remove the pear halves out and allow the poaching liquid to simmer for 20 minutes until it reaches syrupy consistency.

To serve, arrange the pear halves on a plate along with a scoop of ice cream and drizzle the red wine syrup on top. Enjoy.
---