With a focus on fine meats and how to cook them, our series "A Cut Above" will guide you to become the ultimate grill master.
Barbecue is a uniquely American culinary tradition with strong roots in North Carolina, among other places in the South. Indigenous people of the region traditionally cooked whole animals over indirect, low heat for a long time.
What we know today as barbecue evolved and was later perfected by enslaved people, who marked the late-summer tobacco harvest with a celebratory gathering to feed large crowds. Eventually whole hogs became the animal of choice for these community events, and North Carolina barbecue became synonymous with succulent, fork-tender pork dressed in a vinegar-based sauce.

Award-winning chef Elizabeth Karmel is known for her North Carolina-Style Pulled Pork Sandwich — and complementary coleslaw. These sandwiches pack a ton of flavor and are a lot of fun to make, and they'll guarantee you an incredible summer meal. (Don't worry: Whole hogs are not required.)
"Grill Girl"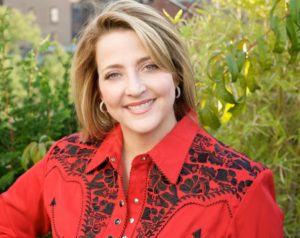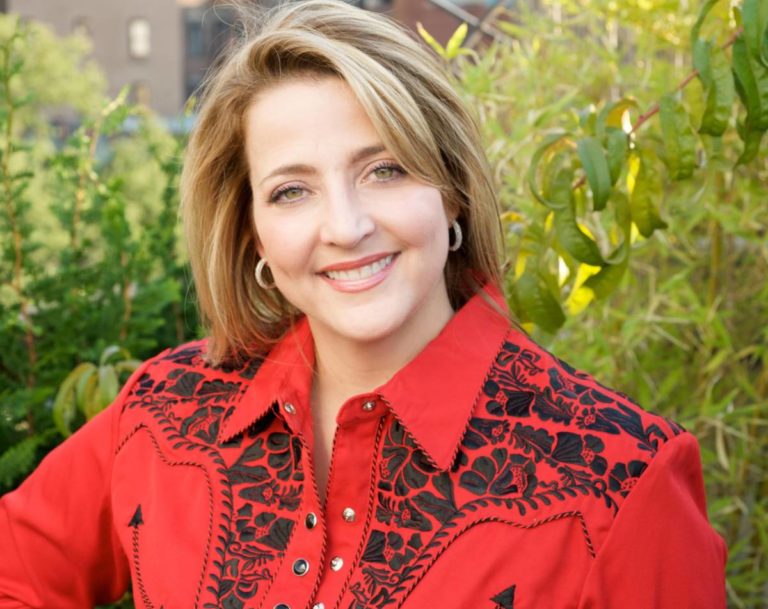 Karmel, a North Carolina native who goes by the moniker "Grill Girl," is a national authority on grilling, barbecue, and Southern foods. She's also the acclaimed author of the cookbook Steak and Cake: More Than 100 Recipes to Make Any Meal a Smash Hit. When it comes to bringing loved ones together for a summer feast, she naturally takes her cue (ahem) from her home state: "When you have a lot of people to feed, there is nothing like making your own North Carolina-style pulled pork."
Backyard barbecue
In the Tar Heel State, Elizabeth says, "Pulled pork is generally made with a pork shoulder or bone-in Boston butt, which also comes from the shoulder, and it's slow-cooked with a kiss of smoke for hours and hours until it's so meltingly tender that you literally can pull it apart with two forks."
But the traditional vinegar sauce used to dress the pulled pork differs depending on where you're from. "I grew up with the western-style sauce, which is from Lexington, North Carolina," Elizabeth says. "That style is red because there is ketchup added to it, and you also dress coleslaw, which is plain old chopped-up green cabbage, with the same sauce. You put that on top of the pulled pork to make a sandwich using a very classic white hamburger bun."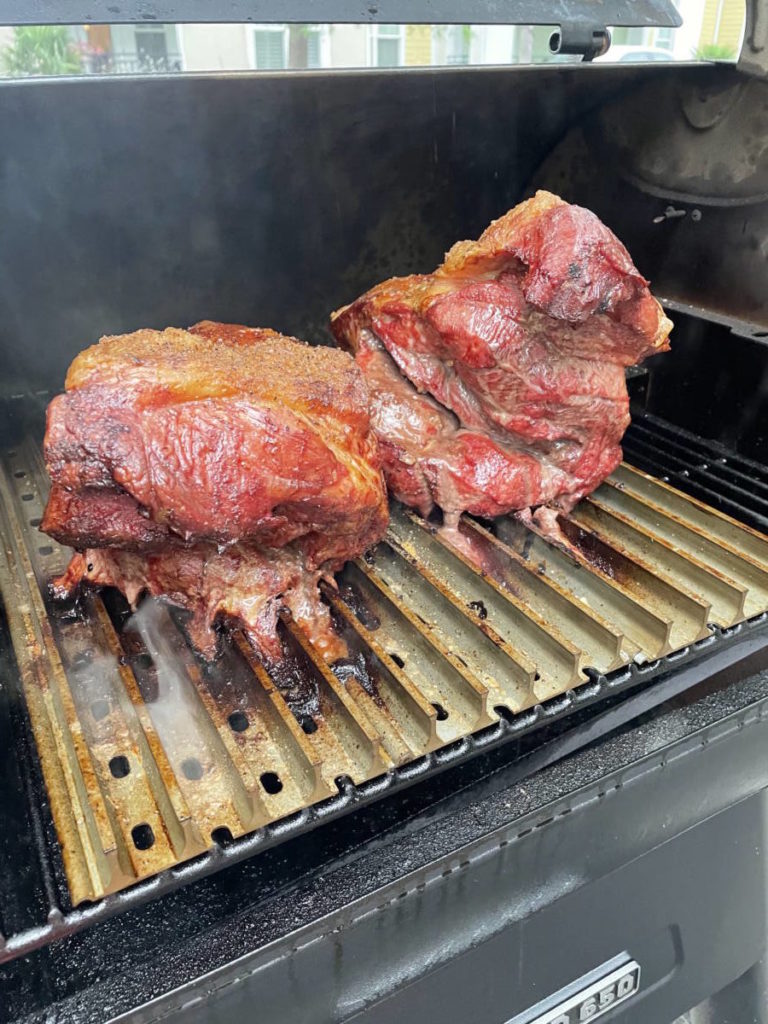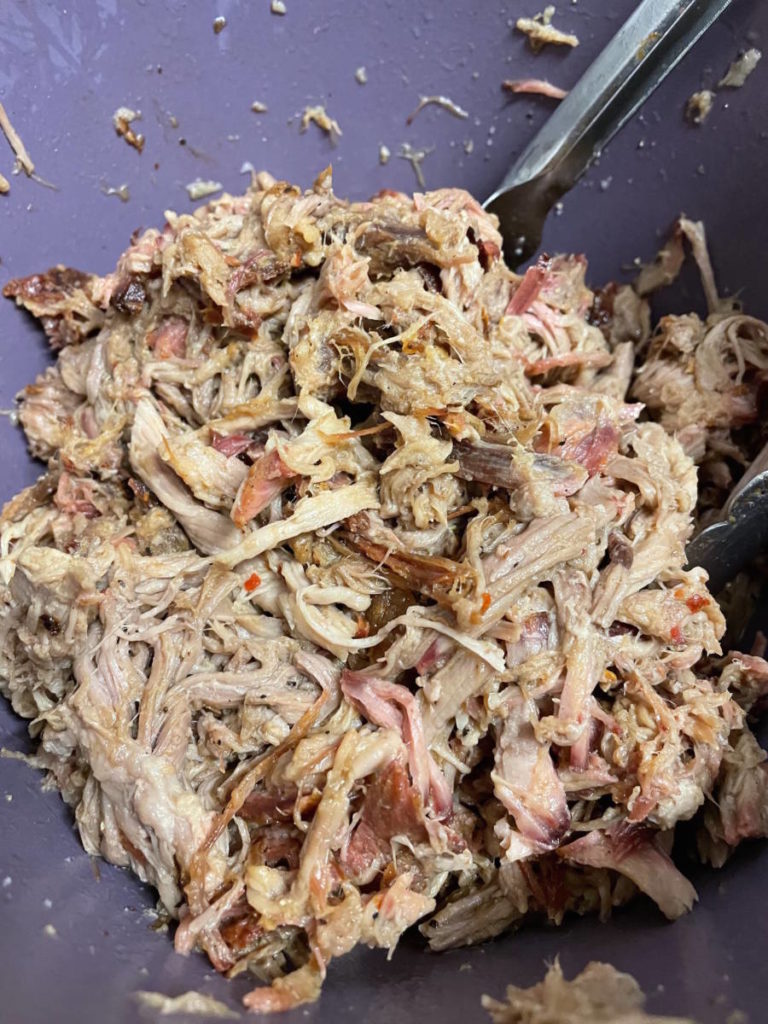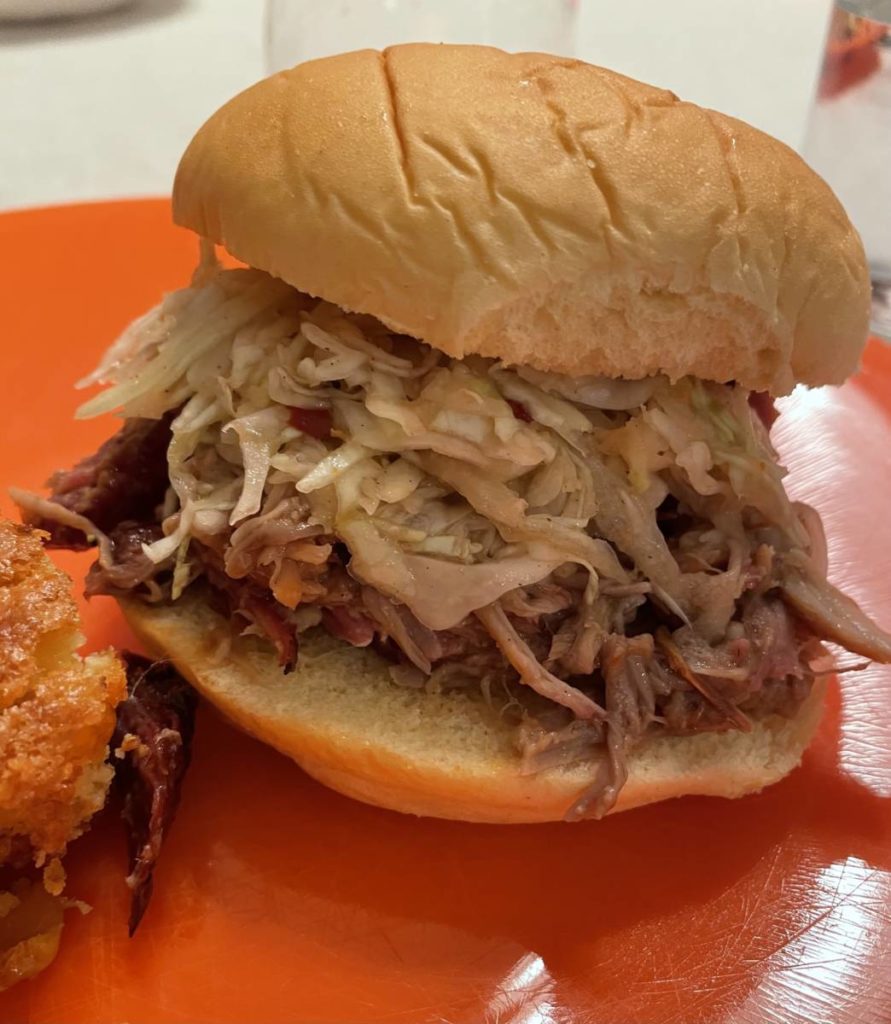 According to Elizabeth, it's become common for people in North Carolina to smoke meat such as ribs, pulled pork, and brisket in their backyards. "It's a relatively new phenomenon within the last 15 to 20 years," she says. "Before that, you would make a pilgrimage to a barbecue joint or a barbecue pit restaurant, and you would buy it and reheat it at home or eat it at the barbecue joint."
But nothing beats barbecue made at home. "Everybody wants to hang out by the grill — it's the focal point of [your] get-together," she says.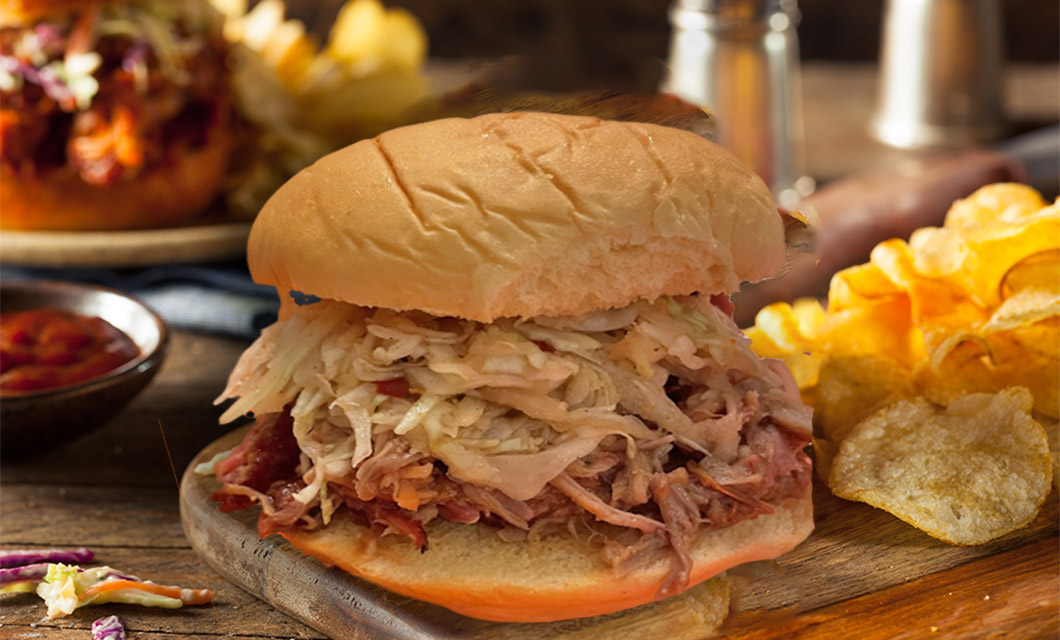 Elizabeth Karmel's North Carolina-Style Pulled Pork with Lexington Coleslaw
"In my recipe, the pork is seasoned with a western North Carolina-style barbecue sauce popularized by the Lexington, North Carolina, barbecue joints. I make mine with a fruity apple cider vinegar, three kinds of pepper, and two kinds of sugar to add dimension to the tangy vinegar-based sauce."
Equipment:
Hickory wood chips, soaked in water for 30 minutes

Nitrile food service gloves (available on Amazon.com and at stores that sell disposable gloves. Look for FDA and HACCP, which means the gloves are safe for food handling)
Ingredients:
Ingredients for pork
1 7- to 9-

pound

pork butt, Boston butt, or untrimmed end-cut pork shoulder roast

Olive oil

(or peanut oil)

Kosher salt and black pepper

(or your favorite barbecue rub)

1

package

plain white hamburger

(or potato buns)

Lexington-Style BBQ Sauce

North Carolina Coleslaw

(optional)
Ingredients for BBQ sauce
2

cups

apple cider vinegar

1

tablespoon

kosher salt and white ground pepper

½ – 1

tablespoon

red pepper flakes

((the more flakes, the hotter the sauce*))

2

tablespoons

sugar

¼ 

cup

brown sugar

½

cup

Ketchup
Ingredients for coleslaw
1½

cups

Lexington-Style BBQ Sauce

1

medium

green cabbage

(chopped fine)
Instructions:
Instructions for pork
Prepare either a charcoal or gas grill for indirect cooking.

Remove pork from wrapper. Do not trim off any excess fat — it will naturally baste the meat and keep it moist during the long cooking time. Brush pork with a thin coating of oil. Season with salt and pepper or barbecue rub. Set aside on a clean tray until ready to cook.

Before placing the meat on the grill, put the soaked wood chips directly on white-gray ash briquettes or in the smoking box of your gas grill. If using a charcoal grill, you will need to add charcoal every hour to maintain the heat. If using a pellet smoker, smoke at 220° F for 2 hours to get maximum smoke on the meat and then raise the temperature to between 280° F and 325° F to finish cooking and render the fat.

Place pork in the center of the cooking grate, fat side up. Cook slowly for 4 to 5 hours at between 325° F and 350° F or until an instant-read meat thermometer inserted into the middle of the pork registers 190° F to 200° F.

At this point, the meat should be very tender and falling apart. If there is a bone in the meat, it should come out smooth and clean, with no meat clinging to it. (This is the real test for doneness on the barbecue circuit.) Note: there is no need to rotate the meat during cooking. If using a mop (the term for both a brush for basting and a vinegar-based sauce used to keep meat moist), begin basting the pork after it has been cooking for 2 hours and continue to do so every 40 minutes until it is done.

Refrain from basting during the last 20 minutes of cooking time. This will ensure that the crust is dry, caramelized, and crisp when you remove the pork from the grill.

Let the meat rest for 20 minutes or until cool enough to handle. Wearing nitrile food-service gloves, pull meat from the skin, bones, and fat. Set aside any crispy bits (fat) that have been completely rendered and look almost burned. Working quickly, shred the chunks of meat with two forks by crossing the forks and "pulling" the meat into small pieces.

Chop the reserved crispy bits and mix into the pulled pork. While the meat is still warm, mix with enough barbecue sauce (see recipe) to moisten and season the meat, about ¾ cup.

To reheat: Place pork in a pan covered tightly with aluminum foil with about ¼ cup additional barbecue sauce in oven at 250° F; remove the pan from the oven and stir the pork occasionally. It will take about 40 to 60 minutes to reheat, depending on the quantity of pork. Once it's hot, stir well and re-season with a little more sauce.

Serve sandwich style on a hamburger bun and top with Lexington Coleslaw (recipe follows). Serve additional sauce on the side, if desired.
Instructions for BBQ sauce
Mix all ingredients together and let sit at least 10 minutes or almost indefinitely in the refrigerator.

2 cups apple cider vinegar,

1 tablespoon kosher salt and white ground pepper,

½ – 1 tablespoon red pepper flakes,

¼  cup brown sugar,

½ cup Ketchup,

2 tablespoons sugar
Instructions for coleslaw
Mix together and refrigerate for at least 2 hours to allow flavors to meld and cabbage to macerate. Serve with barbecue.

1 medium green cabbage,

Lexington-Style BBQ Sauce
Notes:
This sauce is a sweetened-up version of the eastern North Carolina sauce. It is traditionally used to dress pulled pork from Lexington, North Carolina.
This sauce can be made while the pork is cooking; keep refrigerated until ready to use.
*The longer the sauce sits, the hotter it gets, since the heat from the red pepper flakes is brought out by the vinegar. Start with a 1/2 tablespoon of red pepper flakes then add more to taste.