This warm holiday appetizer adds a bit of warmth to your usual cheese platter. And it's not just a tasty treat, this baked brie is also a harvest-themed centerpiece.
The baked brie is enveloped in buttery pastry dough and topped with sweet pumpkin butter and crunchy walnuts. For the stem? A very seasonal cinnamon stick, of course. And it comes together in mere minutes.
But the best part will be all the gasps when you put this pumpkin-shaped treat on the appetizer table — or any table for that matter. In fact, just buy a whole bunch of small tables, spread them throughout the entire house and place one of these baked bries on each one.
It may look fancy, but shaping the puff pastry (store-bought, I might add) only requires some oven-safe twine. Serve this creamy, sweet and savory baked brie with crackers or slices of baguette.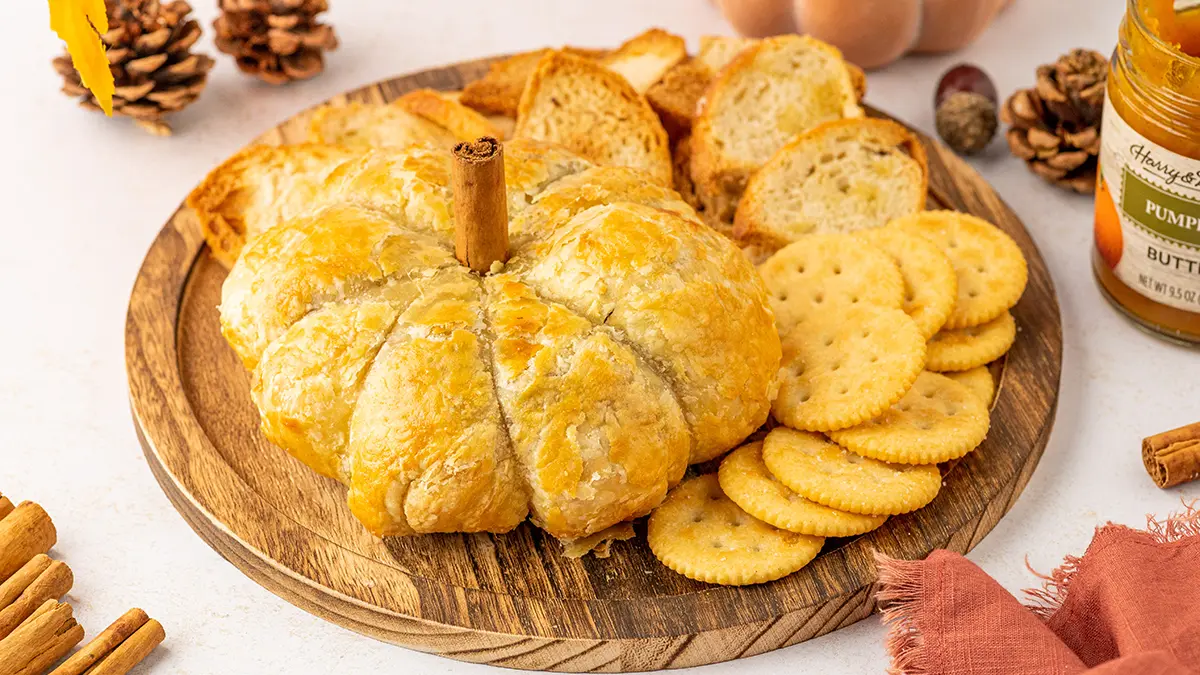 Pumpkin Butter Baked Brie
Equipment:
Baker's or butcher's twine
Ingredients:
1

sheet puff pastry

(thawed)

¼

cup

candied walnuts

(or regular walnuts, chopped)

1

8-ounce

brie cheese wheel

(removed from packaging and rind in tact)

1

egg

(lightly beaten)

Cinnamon stick

(for the stem)
Instructions:
Preheat oven to 350° F.

On a lightly floured surface, roll out the puff pastry to an approximately 11-inch square.

Spread the pumpkin butter evenly in the center of the pastry to form a 4-inch circle.

Sprinkle the walnuts evenly over the pumpkin butter and top with the brie.

Fold the corners of the pastry up over the brie and pinch to seal.

Cut 6 pieces of baker's twine or butcher's twine. Tie each individual piece of twine around the pastry, spacing them evenly apart. Keep the knotted side on the bottom, opposite the smooth pastry side.

Place the pastry-wrapped brie on a baking sheet lined with parchment and brush the top and sides of the pastry with the egg.

Bake for 25-30 minutes or until the pastry is puffed and golden brown.

Remove from the oven and allow to rest for 5 minutes.

Remove the baker's twine and carefully slide the cinnamon stick halfway into the top of the pastry so it sticks out like a pumpkin stem at the top.

Serve warm or at room temperature.
---