Fall is my favorite season, mostly because of my love affair with autumn flavors. Once September rolls around, I fully embrace anything and everything pumpkin. To me, truffles are the perfect bite-sized dessert. They are small enough to avoid consumption guilt, yet just the right size to satisfy a sweet tooth. Combining two favorites, pumpkin pie and truffles, makes this aptly named pumpkin pie truffle recipe ideal for fall entertaining.
Pumpkin pie is a classic fall dessert, one I make every year. Yet, for some crazy reason, we always end up with leftovers. These truffles come to the rescue. They use up leftover slices of pumpkin pie and require very little prep time. Packed with seasonal pumpkin spice flavor and rolled in two different kinds of chocolate, these pumpkin pie truffles are a phenomenal autumn treat.
As an extra bonus, you can make them ahead of time, and they require no baking — two qualities which, around the busy holiday season, make them a most welcome addition to any party menu. Simply mix, roll, dip, and then store them in an airtight container in the refrigerator. I'd tell you to reserve them for your guests, but you may not have any left by the time they arrive. They are that good!
Now, there is an art to dipping truffles. The secret to keeping the truffle mixture firm enough to dip and not fall apart in the melted chocolate or cookie crumbs is chilling it before scooping it into balls. After scooping, chill the balls an additional 15 minutes. Overchilling the balls will cause the truffles to crack once dipped in the chocolate.
In addition to getting dipped, the balls also get a chocolate bath. Simply drop each ball into the chocolate — use the best-quality chocolate chips you can find, you really can taste the difference! — and then use a fork to lift it out, scraping the bottom of the truffle slightly along the edge of the bowl to remove excess chocolate. Use a toothpick or another fork to help guide the truffle onto the parchment-prepared baking sheet. Let them dry and voila! A perfect bite-size dessert bursting with autumn flavors.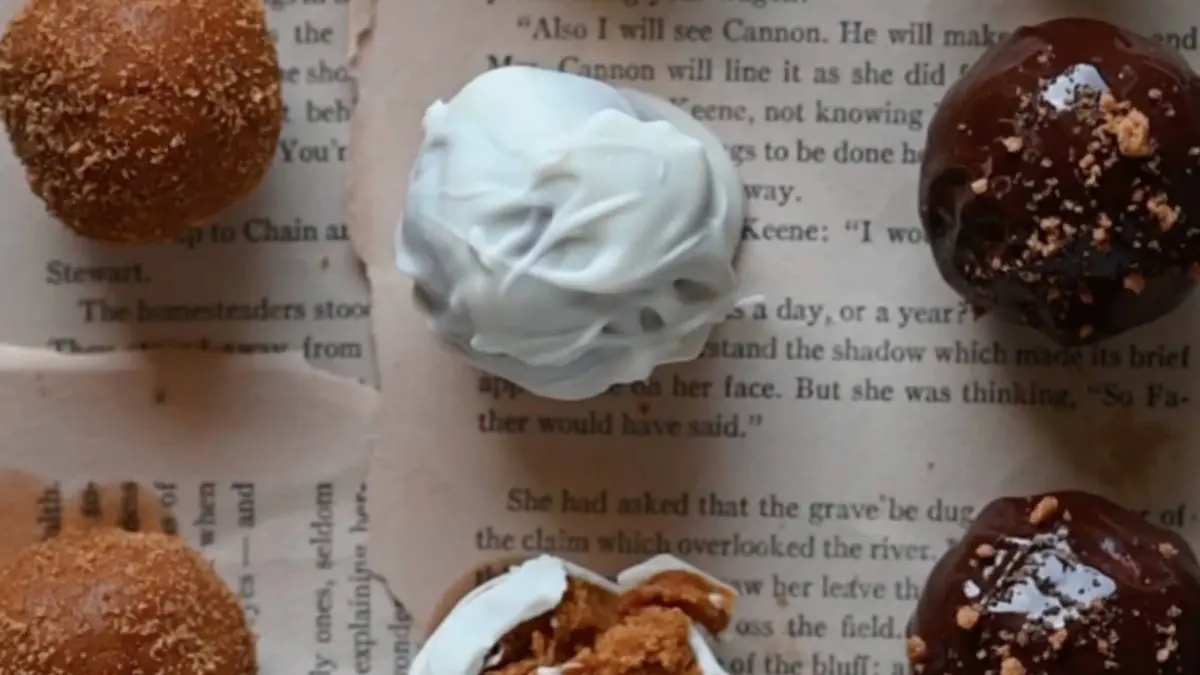 Pumpkin Pie Truffles 3 Ways
Ingredients:
2

slices

pumpkin pie

140

grams

pumpkin spiced cookies

(about 20 cookies)

¼

cup

dark chocolate chips

¼

cup

white chocolate chips

2

teaspoons

coconut oil

coconut flour

(optional)
Instructions:
In a food processor, blend the pumpkin pie slices and all but 3 of the pumpkin spiced cookies until the batter is smooth. If the batter seems too sticky, add more pumpkin pie crust or 1-2 tablespoons of coconut flour.

Chill the batter in the fridge for 15 minutes.

Transfer batter to a bowl and use a cookie scoop to roll batter into uniform balls.

In a microwave safe bowl, add the dark chocolate chips and one teaspoon of coconut oil. In 20 second intervals, melt the chocolate until smooth.

Repeat the same process with the white chocolate chips.

Cover 4 truffles in dark chocolate and 4 truffles in white chocolate.

Crush the remaining 3 pumpkin spiced cookies until they become a fine dust. Cover the remaining 4 truffles in the pumpkin spice dust.
Notes:
Store truffles in an airtight container in the fridge for up to 4 days.
---