The holiday season has no shortage of festive sweet treats, from fruitcakes and Yule logs to candy canes and Hanukkah gelt. But the prettiest confection out there might just be ribbon candy.
For those unaffiliated, this hard candy is about an inch wide and curled in delicate swoops, as the name suggests, like beautiful strands of ribbon used to wrap presents. No wonder it's become a seasonal favorite!
History of the ribbon candy
Much like those of a candy cane, traditional colors for ribbon candy were red and white because of their association with Santa Claus. But the treat can be made in any color or combination of colors, and is available shiny or matte. Mint and citrus are two of the most popular flavors; other options include vanilla, cinnamon, chocolate, and even bubblegum.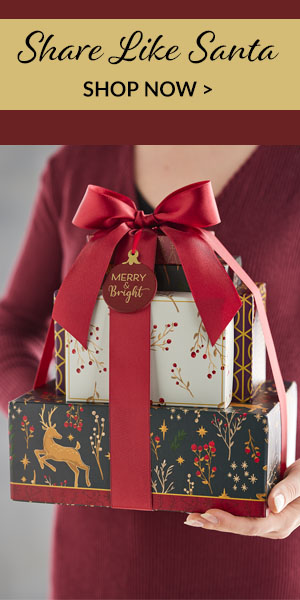 Though some evidence exists that a similar sweet may have been developed centuries ago in China, most candy-philes place the confection's origins in Europe in the 1800s.
Seeing as this was the pre-machine age, the whole process had to be done by hand, with the maker shaping the candy around his or her thumb. That was until, of all people, a dentist named Dr. Philip Benjamin Laskey invented the first mechanical candy crimper in Massachusetts in 1886. The hand-cranked device allowed confectioners to produce more ribbons without losing the beautiful shape of the candy. Laskey patented the device, and his son manufactured them.
With confectioners able to buy their own crimper, the candy's popularity exploded in New England. (More candy equals more cavities, which equals more patients, right???)
"The process was still toilful, whereby the candy maker makes the candy and another spins off a ribbon and feeds it onto a crimper, which is then turned by hand," says Colleen Colodany, CEO of KidsWiKi, a website that reviews children's gifts. "Finally, the ribbon was cut with scissors to desired lengths."
Because the process was very labor intensive, ribbon candies were never made in large scale until the 1940s, says Colodany, when a single spinning wheel was created. "With careful tending of the candy batch, the hand spinner could be avoided and the automated machine could do the job efficiently. An air-activated cutter was also invented, which helped cutting the candy instead of the scissors."
That's essentially the method that's still used today — unless you're lucky enough to find a confectioner who still does things the old-fashioned way.
Enter Harry & David. In addition to the company's oodles of other holiday treats, it taps into the nostalgia of this holiday tradition with a delicious assortment of handmade ribbon candy. The signature box comes with a sample of five drool-worthy flavors: cinnamon, lemon, cherry, clove, and peppermint.
As beautiful as it is delicious, ribbon candy gives a holiday pop to any candy dish or as a decoration on your tree, and young and old alike would be happy to find it as a stocking stuffer, too.