Our series "From Scratch" features baking recipes that are easy as pie.
Rosewater may sound like something you might find in your grandma's perfume collection, but this fragrant liquid has been used for thousands of years for its medicinal purposes. Today it is found in beauty products and used for cooking, adding a burst of flavor to everything with which it's made, including ice cream — and we owe it all to the Persian Empire.
History distilled
Rosewater, a clean and delicate floral distillate of roses, has its roots in antiquity. From as far back as the 6th century, rosewater was traded throughout the Middle East, Asia, and Europe along the Silk Road. This network of trade routes, which originated in China and wended across 4,000 miles, connected goods, culture, and religious and political ideas from the Far East to the Roman Empire in the West. Historians credit Avicenna, a 10th-century Persian scientist and philosopher, with elevating the rosewater distillation process from a crude soaking and boiling method to one that involves steaming to capture the potent essence of roses — a process that is still used today.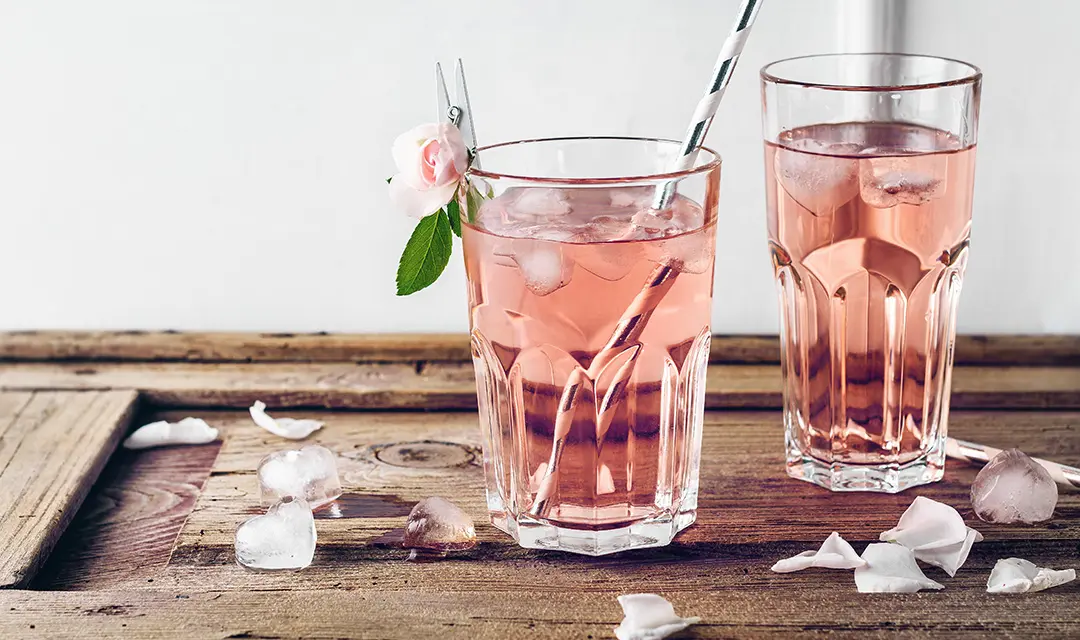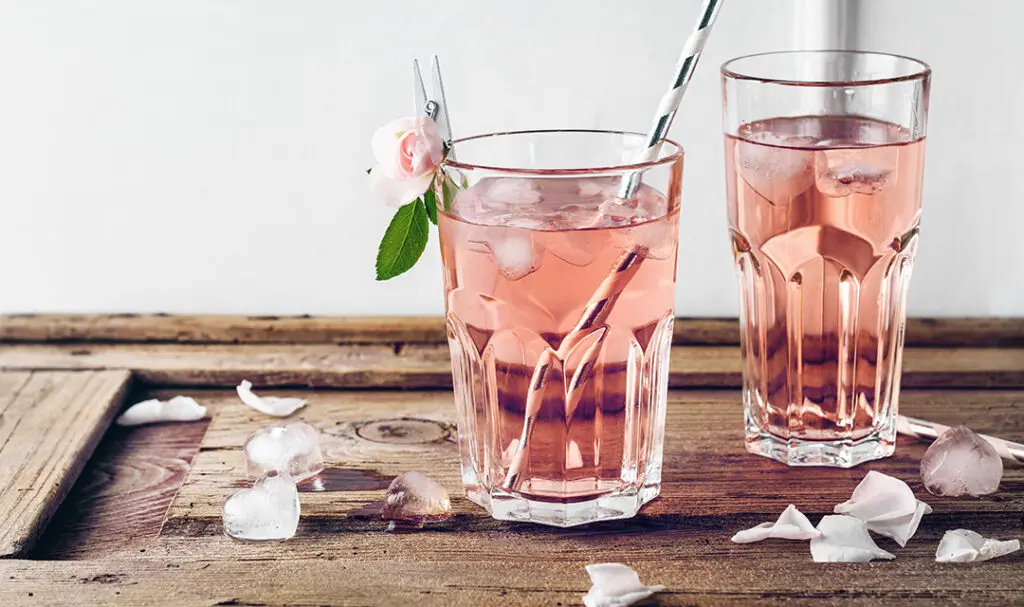 Rosewater in cooking
We owe the use of rosewater in Middle Eastern and European cooking to the Persian Empire. Before the Arab conquest of Persia in the 7th century, the Persians had been adding rosewater to desserts. Ancient recipes for faloodeh (a frozen dessert with rice noodles, rosewater, and lime juice), as well as saffron- and rosewater-scented halvah (a soft, sweet paste of flour, butter, and sugar), are still a part of modern-day Persian cuisine. The use of rosewater in confections spread throughout Europe, the Middle East, and, later, America. Recipes for puddings, cakes, and custards from the late 18th and early 19th century call for the use of rosewater.
However, rosewater fell out of favor with home cooks in the early 20th century when advances in the cultivation and distillation of vanilla beans allowed for the mass production of vanilla extract. But today, thanks to the rising popularity of Middle Eastern and Persian cuisines, rosewater, along with other Middle Eastern staples such as pomegranate molasses and orange blossom water, has once again become a pantry favorite. You'll find rosewater used in savory Persian dishes as a floral counterpoint to more pungent spices like citrusy saffron and earthy turmeric. But it is most widely known as an integral ingredient in Middle Eastern and Persian sweets, particularly rosewater ice cream.
Persian rosewater ice cream
In traditional Persian ice cream, called bastani, rosewater, saffron, and pistachio are added to a rich custard base with a chewy, deeply satisfying texture. The addition of salep, a cornstarch-like powder derived from the tubers of orchids, accounts for Persian rosewater ice cream's stretchy, satisfying mouthfeel.

Although salep is not as readily accessible in the United States, you can find rosewater virtually anywhere Middle Eastern groceries are sold, as well as in specialty stores and online. This summer, you can capture the intoxicating essence of Persian rosewater ice cream at home in this version of the delicious, ultra-creamy dessert. Along with rosewater, the addition of pistachios offers this ice cream a slightly crunchy and salty counterpoint to the sweet cream and floral notes.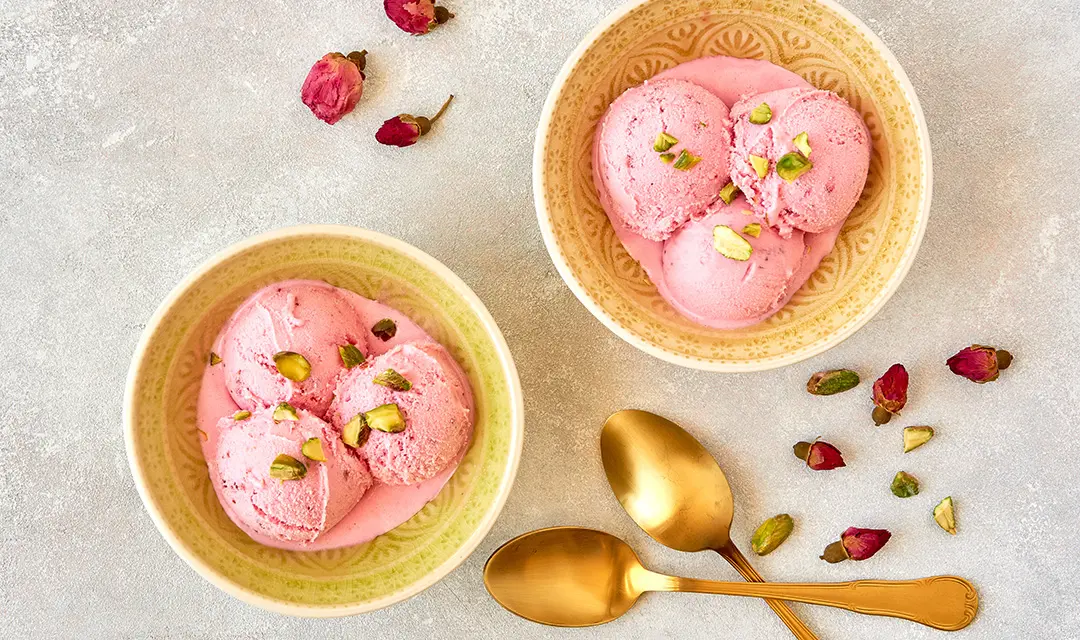 Rosewater Ice Cream
This easy-to-make rosewater ice cream incorporates rosewater and chopped pistachios. Take a cue from traditional Persian bastani and, if you like, add a half teaspoon of saffron powder to give your ice cream a golden hue and a hint of earthy sweetness. Or replace the rosewater with orange blossom water and add a half teaspoon of ground cardamom for yet another variation on this delightful summer treat.
Ingredients:
3

cups

heavy cream

1

cup

Milk

½–¾

cup

sugar

3

egg yolks

2-3

saffron threads

(ground into a powder with a mortar and pestle (optional))

2-3

tablespoons

rosewater

½

cup

salted pistachios

(chopped)
Instructions:
Combine the cream, milk, and sugar in a medium saucepan and place it over medium-low heat, stirring occasionally, until the sugar dissolves and the mixture is hot. (Do not boil).

Remove from the heat. Whisk the egg yolks in a bowl and slowly stir in a cup of the hot cream mixture to temper it (this keeps the eggs from curdling). Stir the egg-cream mixture into the saucepan with the rest of the cream and return the pan to the heat.

Stir constantly over medium heat until the mixture thickens, about 10 minutes. (It will not be as thick as a pudding; it's more like a crème anglaise — a French custard sauce.) Remove from the heat (if using the saffron threads, dissolve them in the rosewater before adding), and stir in the rosewater and taste. Add a little at a time until it has the flavor you want.

Freezing modifies the flavor of ice cream — once it's frozen, it will not taste as sweet — so if you like a sweeter ice cream, use the greater amount of sugar; if you prefer the flavor of rosewater, add a little more of that.

Strain the custard into a bowl to get a nice smooth consistency. Chill the custard (if you are in a hurry, place the bowl of custard over an ice bath and stir it until it's cold; if you have more time, just put the bowl in the refrigerator). Once the custard is cold, process it according to the instructions on your ice cream maker.

Garnish with sprinkles of pistachio before serving.