Our series "From Scratch" features baking recipes that are easy as pie. This delicious salted caramel ice cream recipe comes from Bianca Dodson of Lenox Bakery.
The weather is warming up so of course we are making all our favorite summer treats. One of my preferred treats to make and eat during summer is ice cream, specifically no churn ice cream. It's ready in half the time and doesn't require any special machine (like an ice cream maker). Plus, you only need three ingredients.
This Salted Caramel Pretzel Ice Cream is loaded with chocolate-covered pretzels and a homemade caramel sauce. Talk about delicious! The pretzels hold their shape and texture in the airy ice cream and offer the perfect balance of smooth and crunchy.
How to make no churn ice cream
The first thing you need to know about no churn ice cream is the obvious: there's no churning! All that means is an ice cream maker is not required.
To make sure your ice cream comes out perfect every time, be sure your whipping cream is cold before starting. I recommend pulling it out of the fridge last. The colder the better — but do not put it in the freezer, Sure, it will get colder, but you risk it freezing. Cold cream ensure that it doubles in volume and will whip up quickly — without an ice cream maker!
Before making the ice cream, start the salted caramel. This will allow the caramel enough time to cool before adding it to the ice cream. (Did we mention this is no churn ice cream, and an ice cream maker is not needed? Oh, okay, just making sure.)
When making the caramel sauce, keep an eye on the sugar. Sugar can burn easily and you'll have to start the caramel sauce over again. Nobody wants to do that. Well, maybe there are folks who do, but I'm not one of them. Cook the caramel over medium heat, stirring occasionally to ensure it cooks evenly. Use softened butter and room temperature cream to bring the caramel together quickly.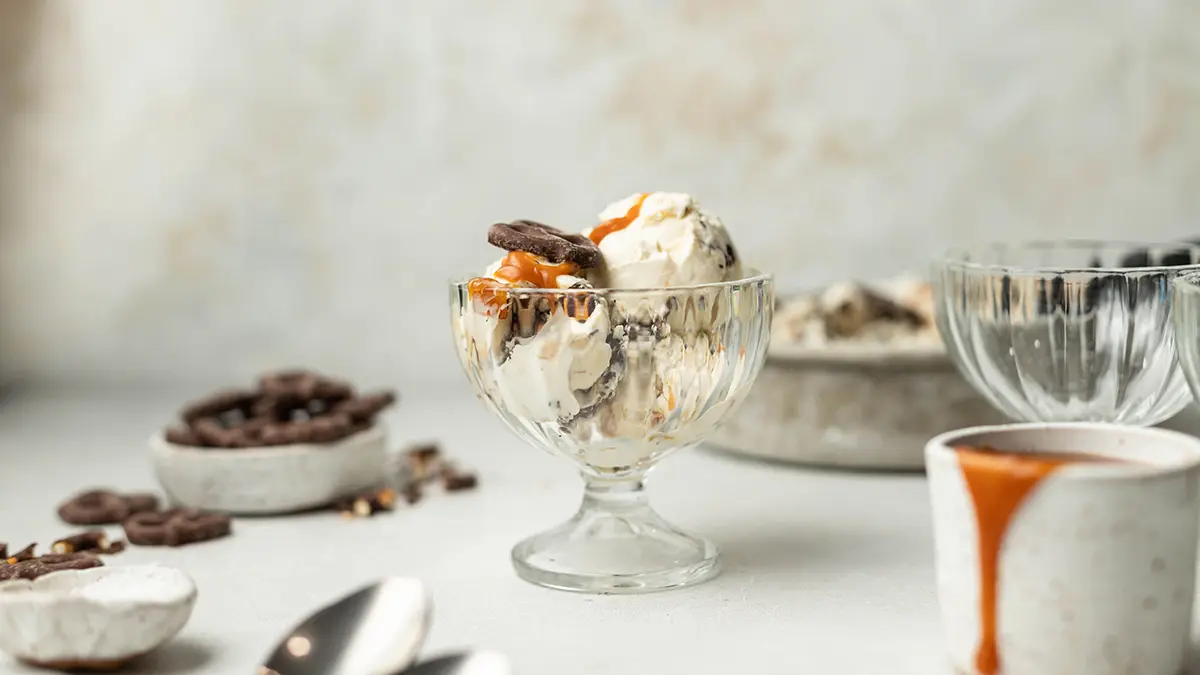 Salted Caramel Ice Cream with Chocolate Covered Pretzels
Equipment:
1 Large 8-inch container (for ice cream to freeze)
Ingredients:
For the caramel sauce
1

cup

sugar

6

tablespoons

butter

(room temperature)

½

cup

heavy cream

(room temperature)

1

teaspoon

sea salt
Instructions:
For the caramel sauce
In a heavy bottomed sauce pot, bring sugar to a boil over medium heat. Once the sugar reaches an amber color, remove the pot from the heat. Add in the butter and heavy cream and whisk together until fully combined. Sprinkle with sea salt and set aside until cool.
For the ice cream
In a medium bowl, add in cold heavy cream, condensed milk, and vanilla extract. Using a hand mixer or stand mixer, whisk until stiff peaks form. Gently fold in a ¼ cup of crushed chocolate-covered pretzels and cooled caramel.

Pour enough ice cream batter into a large 8-inch container to cover the bottom. Add a few spoonfuls of the caramel mixture and the pretzels. Spoon in another layer of ice cream followed by more caramel and pretzels. Repeat until container is full. Sprinkle top layer of ice cream with sea salt.

Freeze ice cream for at least 4 hours, but overnight is best.