With a focus on fine meats and seafood, and how to cook them, our series "A Cut Above" will guide you to become the ultimate grill master. Grill up these blue cheese burgers for a weekend treat, gourmet BBQ, or Father's Day surprise.
Whether you're getting ready to grill for a backyard party or cooking up a special Father's Day dinner, Wagyu beef patties topped with a special smoky blue cheese are a delicious twist on your classic barbecue favorite.



With pre-made burgers, you cut down on prep time. While they're on the grill, you just need to toast the buns, stir together the blue cheese sauce, and get your favorite fixings ready.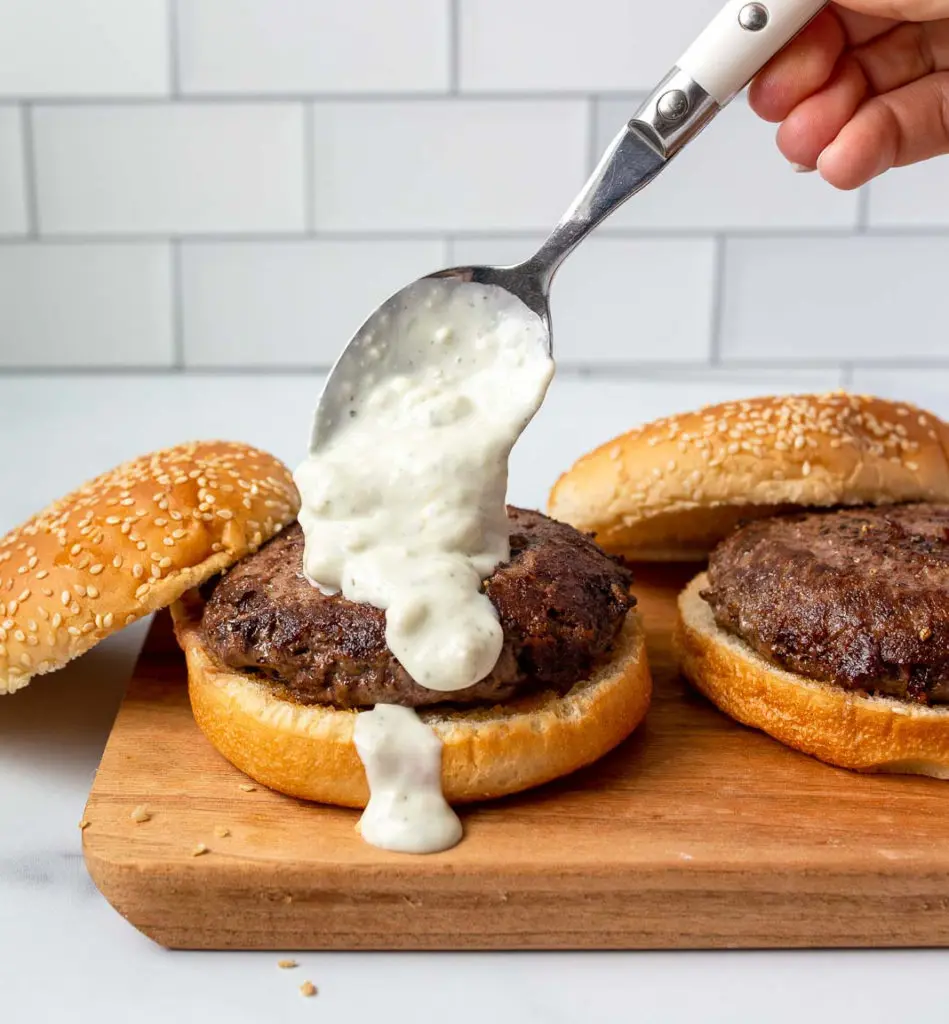 You can defrost these beef patties overnight in the fridge, and then only take about 10 minutes to cook if they're completely thawed. The beauty of Wagyu beef is that it's nicely marbled with fat, keeping the burger juicy no matter how you cook it. Any type of bun, like sesame seed (my favorite) or brioche, will work. The only thing you need to do while the burgers cook is sprinkle salt and pepper on each side -and be generous with your seasoning. Use a meat thermometer to cook to your desired doneness — 120-125° for rare, 130-135° for medium-rare, 150-155° for medium-well, and 160-165° for well done.
To make the smoky blue cheese sauce, start with a block of Rogue Creamery's Smokey Blue Cheese. You'll need the whole block (about 3.5 ounces) to make enough sauce for 4-5 burgers. Crumble the blue cheese with a fork, and add a touch of mayonnaise to help it cling together. I like to thin it out with a splash of heavy cream, and a touch of salt and freshly ground black pepper to accentuate the flavors.
The sauce can easily be doubled (or tripled) for a larger party or to use as a dip for your side dishes, like fries or veggies. It's also great with potato chips.
Blue Cheese Burgers
Ingredients:
For the Burgers
4

Harry & David Wagyu beef burgers

(defrosted overnight in the fridge)

canola oil

(vegetable oil for cooking)

salt

freshly ground black pepper

4

hamburger buns

(toasted)

Lettuce

Tomato
For the Smokey Blue Cheese Sauce
3.5

ounces

Rogue Creamery Smokey Blue Cheese

3

tablespoons

mayonnaise

1

tablespoon

heavy cream

(plus extra if needed)

¼

teaspoon

salt

¼

teaspoon

freshly ground black pepper
Instructions:
Defrost the patties in the fridge overnight.

When ready to cook the burgers, use the cooking oil to grease the grill grates of a gas grill (or oil a cast-iron skillet for cooking the burgers indoors). Turn the heat to medium-high and get the grill grates or skillet hot.

Place the burger patties on the grill or skillet, and sprinkle the first side of each patty with salt and pepper. Flip the patties and cook the first side over medium-low heat for about 5-6 minutes. Flip, and sprinkle the opposite side of each patty with salt and pepper. Cook the second side for 4-5 minutes. Use a meat thermometer to ensure the patties reach the desired internal temperature.

Remove the burgers from the grill, and cover to keep warm.

Meanwhile, prepare the burger fixings: Toast the buns, slice the lettuce and tomato, and have them ready on the side.

Make the smoky blue cheese sauce: Crumble the blue cheese with a fork into a small bowl.

Stir the mayonnaise, heavy cream, salt, and pepper into the crumbled blue cheese until a sauce forms. Add a splash more of heavy cream if you think it needs it.

To assemble the burgers, place a burger patty on top of each toasted bottom bun.

Divide the blue cheese sauce evenly over each burger.

Top each burger with desired fixings, then place the top bun on top. Serve immediately.