Fall brings the harvest, cold weather, and pumpkin spice. It also brings the holiday season, and you know what that means: You have to spend large amounts of time with your family. To help you get through yet another year of Uncle Larry go on and on about refusing to get that much-needed hearing aid, try this refreshing Pear Bellini with Rosemary and Cinnamon.
Bellinis are my new favorite cocktail for both fall and winter, not only because they're delectable, but they're so simple to make. Although they're traditionally made with peach juice, I've chosen to go with the season. And the flavors of Harry & David Royal Riviera® Pears really shine while being complemented by the herbaceous rosemary and warming cinnamon. It's a great way to showcase these premium sweet and juicy pears.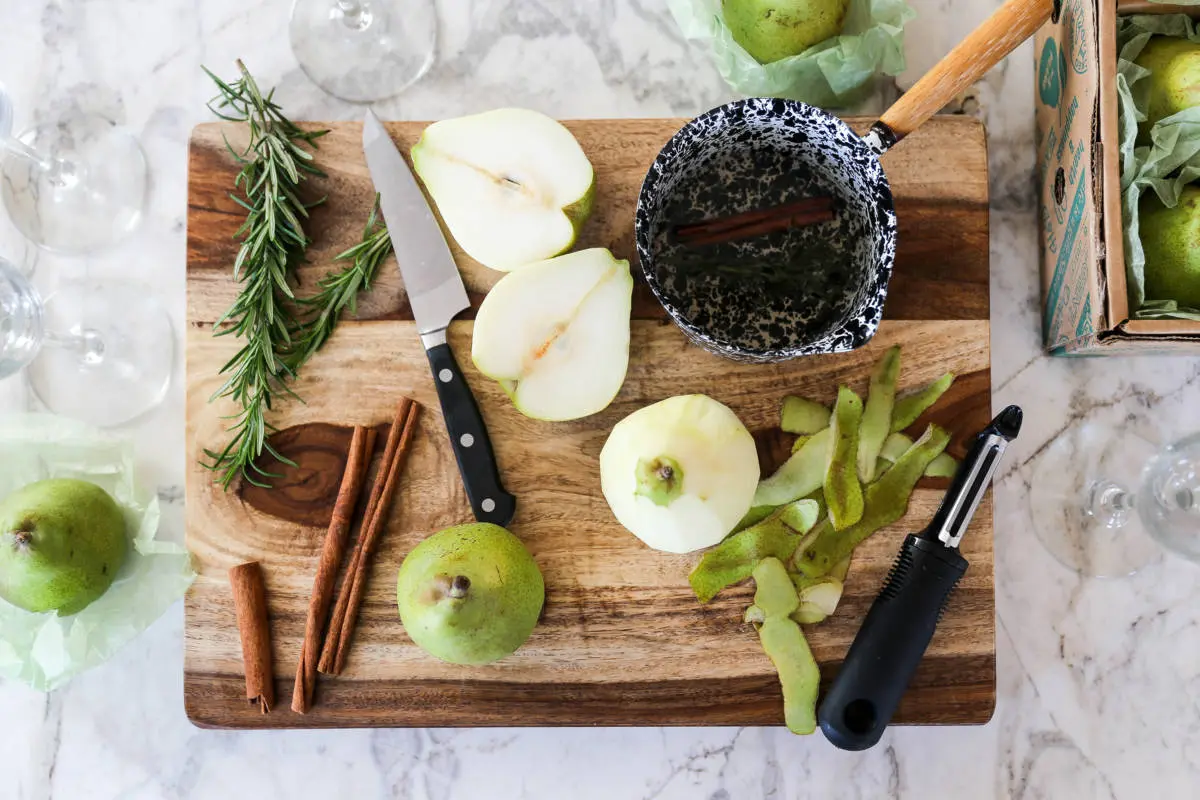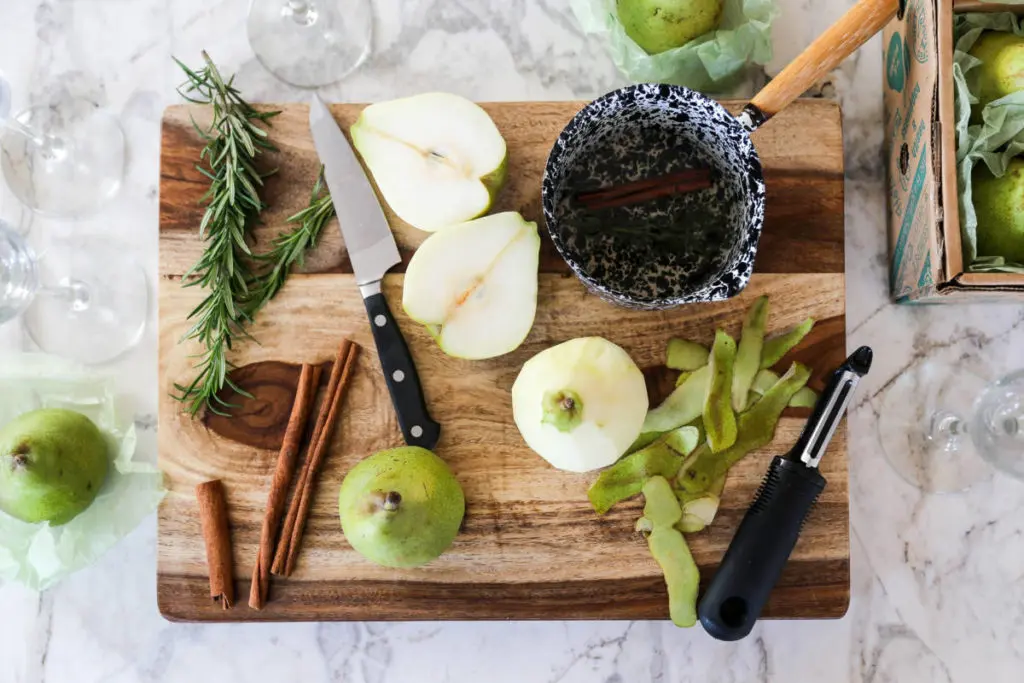 I like to use pears that are very ripe (or even overripe) for this bellini recipe. They'll have more flavor and juice at this stage, which will only make the pear purée even tastier.
To start, make a simple syrup by simmering water, granulated sugar, fresh rosemary and cinnamon under medium heat until the sugar has dissolved. While it cools, prep the pears by peeling, coring and chopping them into pieces. You don't have to be very precise here, because we're going to let our blender do all the hard work for us.
Blend your pears and spices until a smooth purée is formed, and you're ready for the party!
I like my bellinis to be cool and refreshing, so I refrigerate the pear purée before mixing any drinks. Once it's fully chilled, spoon about 2 tablespoons of the pear purée into the bottom of your champagne flutes. Then slowly fill them with chilled prosecco, garnish with fresh rosemary and serve immediately.
These bellini are the perfect cocktail for any fall or winter party and it's so easy to make the pear purée in advance and keep it stored in your fridge. Then when it's party time, you can make as many cocktails as needed.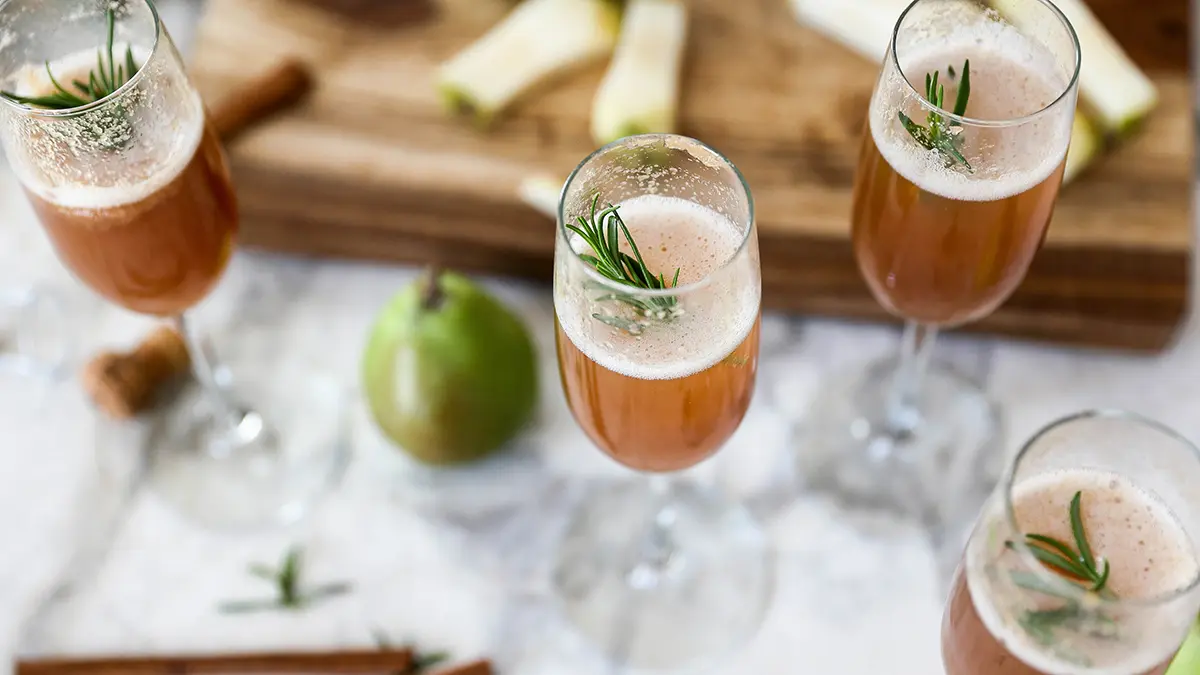 Pear Bellini With Rosemary and Cinnamon
Ingredients:
For the bellini
3

bottles

Prosecco

(chilled)

fresh rosemary

(for garnish)
Instructions:
In a small saucepan over medium heat, combine the sugar, water, rosemary, and cinnamon stick. Simmer the mixture until the sugar is dissolved and the rosemary and cinnamon start to smell fragrant, about 3 to 5 minutes. Remove the saucepan from the heat and let the rosemary and cinnamon steep in the liquid for about 15 minutes.

Add the chopped pears to your blender. Then strain the rosemary-cinnamon simple syrup directly into your blender, collecting and discarding the rosemary and cinnamon stick.

Blend on high until completely smooth. Transfer the pear purée to a clean container and refrigerate it until chilled.

For the bellinis, place about 2 tablespoons of the chilled pear purée into champagne flutes. Slowly fill with prosecco. Garnish with a sprig of fresh rosemary, if desired. Enjoy immediately.
Notes:
This recipe yields about 2 cups of pear purée, which will be enough to make about 12-16 cocktails. One bottle of Prosecco will be good for about 5 bellinis, depending on the size of your champagne flutes.
---