Our series "From Scratch" features baking recipes that are easy as pie. These heart-shaped hand pies from Abi Gunasekaran feature a sweet center of strawberry preserves and come together in minutes. They're the perfect dessert (or breakfast!) for an anniversary, Valentine's Day, or any romantic occasion.
If you grew up in the South, you're probably familiar with the term "hand pie." For those who don't recognize this term or are wondering "Have I ever eaten one?" think about this: If you've ever burned your mouth on a McDonald's apple pie or traded a Hostess cherry fruit pie for a Twinkie in grade school, you've encountered a hand pie.
Hand pies first arrived on the shores of America in the 19th century, when Cornish meat pies called "pasties" arrived along with British immigrants. Pasties were the "OG" hand pie, developed in Cornwall in the 1800s as a portable, savory lunch item that could be packed in a lunch pail.
Fast-forward a few years and the sweet hand pie had become a staple of Southern kitchens. One big difference, though: The meat and vegetables were swapped out for local dried fruit reconstituted to make a jammy filling. Fresh fruit was, and still is, avoided, as it contains too much moisture, resulting in a soggy mess instead of a crispy, golden-crusted treat.
Today's hand pies are simple yet delicious, requiring very few ingredients and very little time. Many home cooks start with a biscuit dough, as it's heartier and stands up better to deep frying or skillet frying. But for those looking to save on calories and cholesterol, you can make a baked hand pie with traditional homemade or ready-to-bake pie crust.
The secrets to a perfect fruit hand pie are as follows:
Roll the dough thin.
Use fruit preserves or jams and mix in dried fruit for a textural contrast.
Don't overfill the pie; a dollop will do.
Crimp tightly to prevent filling leakage.
X marks the spot…meaning, you need to make an X in the dough on top so that the steam releases during baking and you achieve a perfectly crunchy crust.
While chef and food photographer Abi Gunasekaran prefers the balanced sweetness of a strawberry preserve filling, you can't go wrong with tart cherry, red raspberry, or peach preserves. Choose any of these and you're on your way to whipping up a personalized, modern take on an old-fashioned, portable dessert that says "I love you."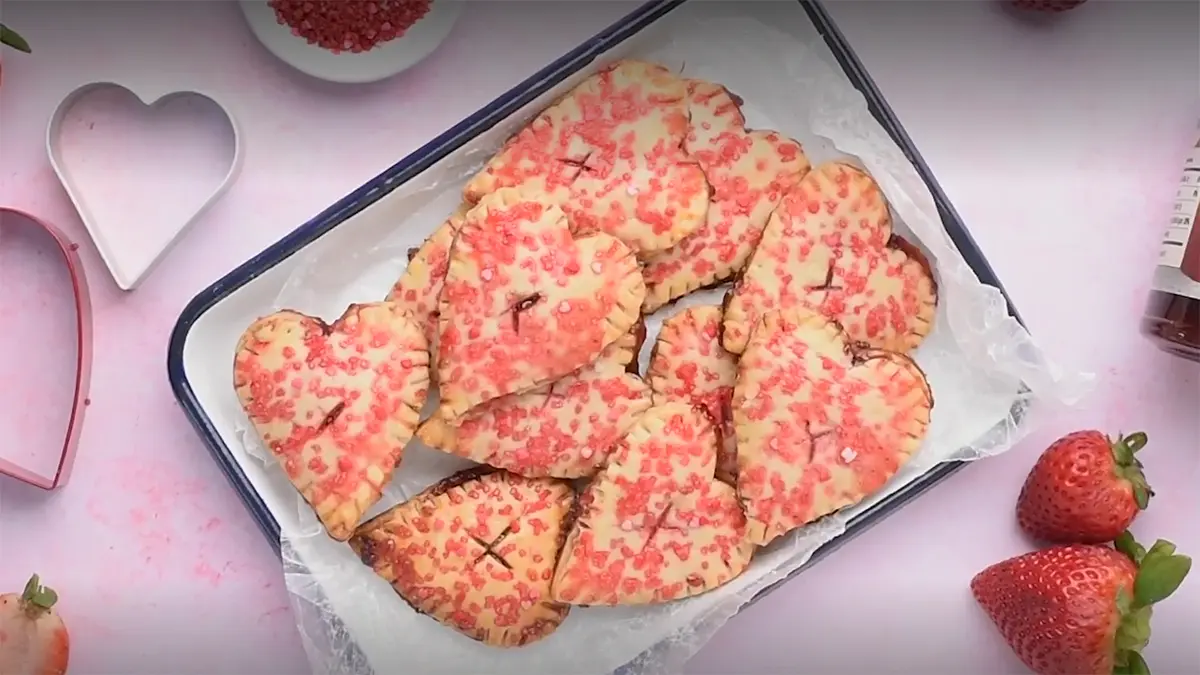 Heart-Shaped Strawberry Hand Pies
Ingredients:
2

frozen pie crust rounds

(thawed, at room temperature)

14

teaspoons

Harry & David strawberry preserves

1

egg

(room temperature)

1

tablespoon

Whole milk

Sparkling red sugar crystals
Instructions:
Preheat oven to 375° F. Line a baking tray with parchment paper and set it aside.

Unroll the pie crust rounds and thin them out with a rolling pin.

Using a heart shaped cookie cutter, cut out to 28 hearts. Place 14 hearts on the prepared baking tray as a base.

Place a teaspoon of strawberry preserve at the center of each heart-shaped base.  

Cover each base with another heart-shaped cutout and repeat the process with the remaining pies. Seal the edges of the heart with the help of a fork. 

Put a "X" at the center of the hand pie and place the baking tray in the freezer for at least 5 minutes.

Meanwhile, in a small bowl combine the egg and milk and whisk vigorously.

Brush the egg wash over the hand pies and sprinkle some sparkling sugar on top.

Bake the hand pies for 15 to 16 minutes until the edges start to turn golden. Serve them warm.
---