Summer food gatherings are all about lighter dishes with fresh ingredients paired with easy drinking wines that still manage to bring distinctive flavors to the table. A good warm-weather wine should be able to stand on its own without overpowering some of the more subtle flavors synonymous with summer cuisine. Here are four of my favorite Harry & David summer wines paired with an eclectic mix of lighter fare.
---

---
Harry & David Chardonnay
One of the oldest and most reliable summer wine pairings is Chablis and seafood. Chablis is chardonnay made in the northern part of the Burgundy region in France, and because of its flavor profile and geographic location — the vineyards of Chablis sit on a foundation that is predominantly made of decomposed seashells and other fossilized aquatic material from the age of the dinosaurs — it is a perfect match for fish and shellfish. Combine that with production methods that favor crisp and fresh wine over those with a lot of oak and alcohol, and you have a wine destined to pair well with meat without feet.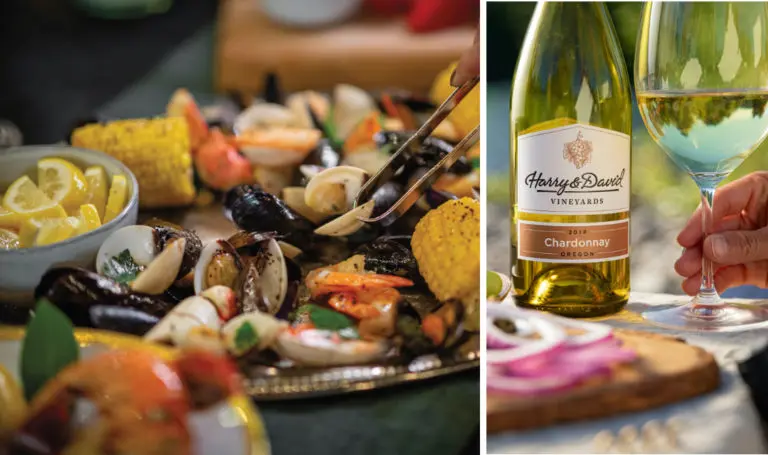 The Harry & David chardonnay reminds me of the wines from the Burgundy region and is the perfect choice to pair with a classic New England clam bake. The wine is light enough to allow each ingredient to shine through without overpowering even the subtly flavored but delicious Jonah crab claws. This should also be your go-to option for lobster tails and/or just crab claws on the grill, as the buttery finish from the wine syncs up nicely with the butter dipping sauce… and who doesn't love butter dipping sauce?
Harry & David Sauvignon Blanc
Most sauvignon blancs are fruit forward in style, and Harry & David's is no exception. However, what separates this bottle from its California and New Zealand counterparts are the types of fruits on your palate. Typically, sauvignon blancs from the Napa Valley and Marlborough regions feature pineapple and grapefruit, whereas this one out of Southern Oregon contains other tropical fruit notes like orange zest, mango, and papaya.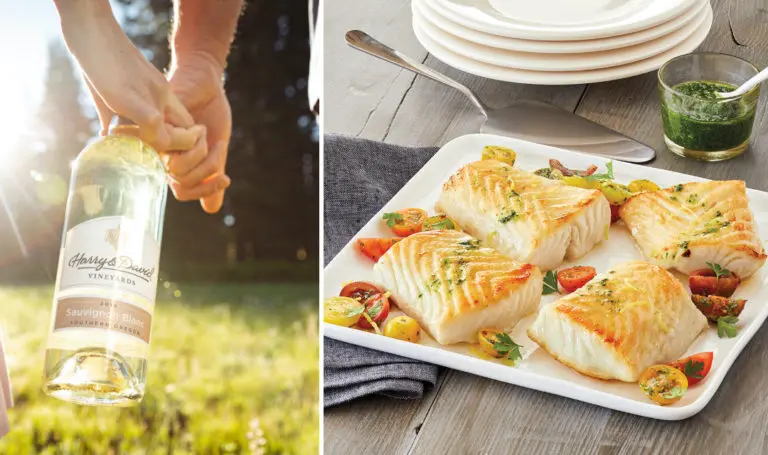 I previously recommended pairing this wine with Chilean sea bass in the spring, and I would do the same for the summer. This time, though, I suggest moving everything outside and having fun attempting some more creative summer preparations. Try wrapping the fish in foil with scallion, ginger, garlic, and spinach and cooking it on the grill. Or place it in a roasting pan, surround it with fingerling potatoes, cauliflower, and carrots, and throw the whole thing right on the grill. Crab cakes also work beautifully with this wine, as the mango and papaya flavors act as another layer of complexity between the sweet crab and the sharp lemon squeezed on top.
Harry & David Pinot Noir
If you are thinking about a summer picnic, a day on the water, or a hike, then this pinot noir should be your trusty companion. The ripe but slightly earthy strawberry and raspberry flavors complement a variety of foods perfect for a picnic basket. The earthy, dusty undertones to the bright fruit make this wine a great match with any cheese and charcuterie plate. It also pairs particularly well with honey and cheese, especially when being enjoyed outdoors — the fresh air makes everything taste better.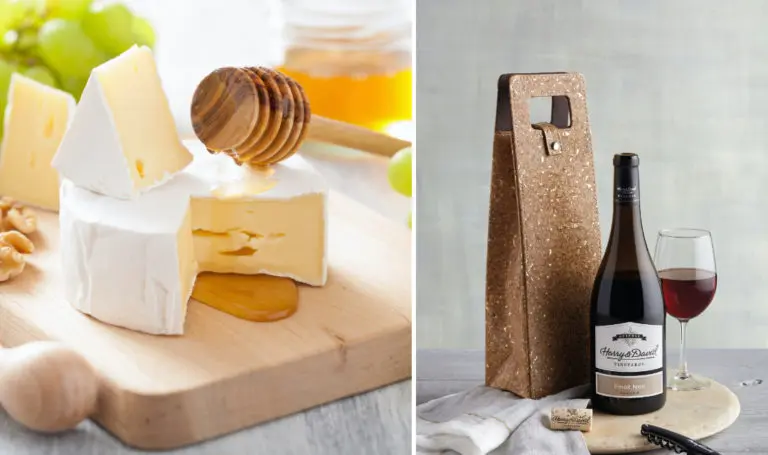 My favorite honey and cheese pairings for this wine are goat cheese, Point Reyes Original Blue, and Wood River Creamery Herbes de Provence. This pinot noir is also a good choice for a post-hiking bottle, as it pairs well with all the outdoor snack staples like nuts, dried fruits, and jerky. I like this bottle best after it has been slightly chilled, so if you throw it in the cooler before you head out on the trail, it should be just the right temperature when you get back.
Harry & David Rosé
It wouldn't be summer if we didn't talk about rosé, and this bottle is about as food-friendly a wine as you could ever find. It looks inviting and smells lovely in the glass, with a flavor spectrum ranging from strawberry and raspberry to orange zest and lemon curd. This wine makes a wonderful pairing with a variety of salads (fresh watermelon salad was my favorite) and appetizers like barbecue pork rolls, spanakopita, and pigs in a blanket.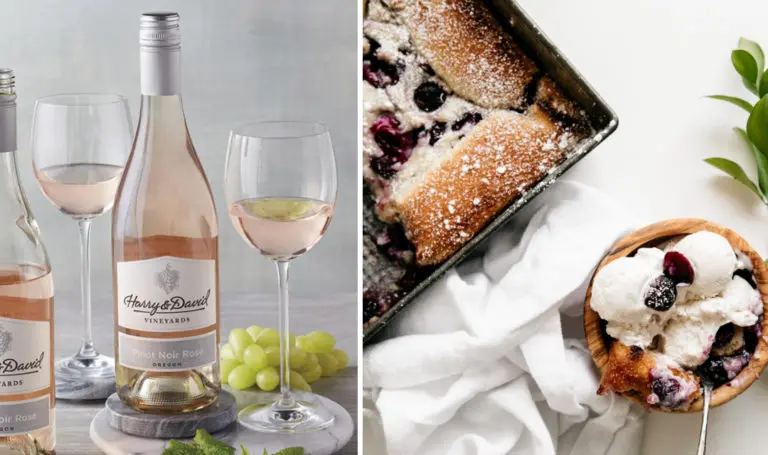 It turned out to be dessert, however — specifically pies and cobblers — that stole the show. For a home-cooked option, the cherry almond cobbler from Heather Templeton of Heather's Home Bakery goes from delicious to next-level amazing when topped with a scoop of vanilla or mint chocolate chip ice cream and paired with this rosé. This also works with the marionberry cobbler as a ready-to-bake option. Cherry pie and rosé are a match made in heaven, but the artisan peach galette, chocolate-covered strawberries, and cheesecake pops paired even better with this wine. The rosé helps the flavor from the chocolate-covered strawberry last longer than usual after each bite and adds another layer of light fruit to every bite of the cheesecake pops.
I definitely have a date later this summer with this bottle of rosé and an assorted cheesecake wheel.