There are very few surprises in life. And even though your birthday repeats itself year after year, there's still a way for it to be memorable and stunning with the ones you love.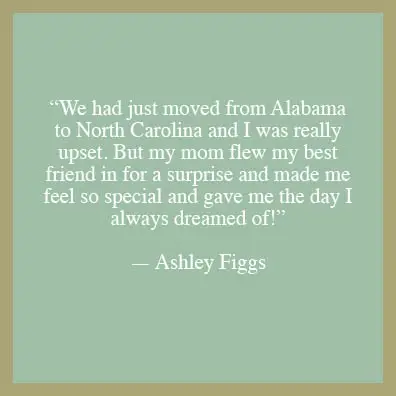 "Everybody wants to be honored and appreciated — and this is the day for it," says psychologist Dr. Gilda Carle, author of I'm Worth Living! Here's Why. "The rest of the year is spent taking care of your responsibilities in your life and the people in it — but this day is the one day where you can enjoy other people's appreciation for who you are."
Carle points out that birthdays are milestones and a time for everyone to take stock of their accomplishments and set goals for the year ahead.
But they are made more special by signs and gestures from friends, colleagues, and loved ones that your accomplishments have meant something to them. "When people go out of their way to make you feel significant and special on your birthday, it shows you mean something to them and that is all the more meaningful for you! How can that not make you feel good?"
Harry & David, along with other 1-800-FLOWERS.com, Inc. brands, asked its community to share their memories of past birthdays. More than 3,000 people responded, each with a tale that proves every birthday is special. Many of the responses centered on surprise parties.
Surprise parties
Surprise parties are the ultimate demonstration of people going out of their way to bring about the kind of celebration that says, "thank you…for being you!"
"A surprise party resonates with everyone because the people in their lives have taken extra effort to not only plan something special to celebrate you — but then gone the extra mile to gather the people who mean the most to you and have them all withhold it from you to make the gesture even more special," Carle says.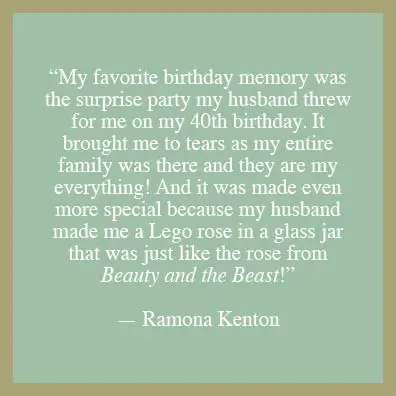 Her take is shared by a slew of 1-800-Flowers.com, Inc. customers who revealed the birthdays that touched them the deepest and resonate with them to this day — some decades later — were tied to surprise parties that they'll never forget.
"My favorite birthday memory was the surprise party my husband threw for me on my 40th birthday," Ramona Kenton shared. "It brought me to tears as my entire family was there and they are my everything!
"And it was made even more special because my husband made me a Lego rose in a glass jar that was just like the rose from Beauty and the Beast!"
Carle fully understood Kenton's cherished memory.
"A 40th birthday is a milestone in life," she explains. "It's a time for an adult to examine where they've been and what they've done and if it's meant anything to the people they have come in contact with along the way.
"The fact that her husband threw her this party and then created a gift that uniquely resonated with her clearly touched her to her core and made this a moment that will resonate with her for the rest of her life."
A surprise lift
For some, the most enduring and comforting memories come from surprises that lift them out from difficult times.
Ashley Figgs recalls how a special surprise party helped melt the difficulties she had adjusting when her family moved to another state when she would normally look forward to a Sweet 16th birthday party. She knew few people in her new hometown and dreaded her upcoming birthday because she had no one to celebrate with.
When people go out of their way to make you feel significant and special on your birthday — it shows you mean something to them and that is all the more meaningful for you!
Dr. Gilda Carle
author of I'm Worth Living! Here's Why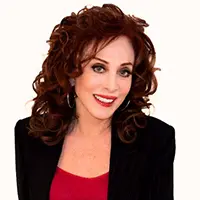 But her mom's efforts for a surprise party will never fade for her.
"We had just moved from Alabama to North Carolina and I was really upset," Figgs recalls years later. "But my mom flew my best friend in for a surprise and made me feel so special and gave me the day I always dreamed of."
"A Sweet 16 party is a rite of passage for every young girl," Carle says. "When a teen girl is torn away from her close circle of friends at that age is traumatic. Her mother bringing her pal for her to share the day with when she's feeling so uncertain and alienated is the greatest gift she could have shared. It's no wonder she cherishes that moment to this day."
Surprise parties for grown-ups
Carol Yemola shared a very adult special surprise celebration that will put a smile on her face for the rest of her days.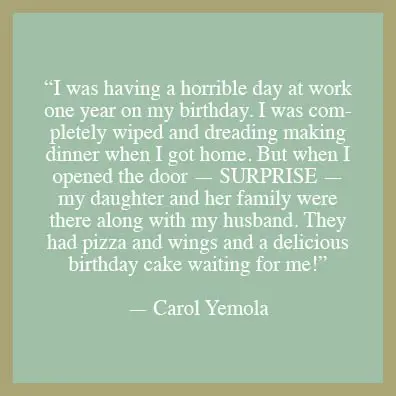 "I was having a horrible day at work one year on my birthday," she remembered. "I was completely wiped and dreading making dinner when I got home. But when I opened the door — SURPRISE — my daughter and her family were there along with my husband. They had pizza and wings and a delicious birthday cake waiting for me!"
Yemola's warm memories weren't focused so much on the food that fueled the family party, but on the rich feelings of love that were delivered along with it, according to Carle.
"This was a show of appreciation and affection that doesn't come with a price tag," she says. "It sums up what is special about birthdays — a real extra effort to make the person celebrating it feel special by the people she loves.
"Carol was going through the challenges we all have to endure in the grown-up world. But the surprise birthday party made her realize that a tough day at work and the challenges in life are worth it because her family made her know they appreciate it.
"That's the best gift anyone could give!"
---