If planning for Thanksgiving turns you into a turkey running around with its head cut off, then at least let me help you make snacking easy. Say hello to your new best snack friend: the Thanksgiving charcuterie board. This one has a mixture of autumn colors and flavors that makes for a beautiful spread that your friends and family will be talking about until — and coming back for — next year.
The cheese and charcuterie from Harry & David makes creating a cheeseboard easier than figuring out which pie to bake for Thanksgiving. You'll start by adding a variety of hard and soft cheeses to please everyone's palate. I chose three cheeses from Jasper Hill Creamery. The Little Hosmer, a new-world style brie, is milky and delicate and pairs exceptionally well with the piquant Pepper & Onion Relish. It offers a soft mushroom aroma, but with a very clean finish that is complemented by the sweetness of the relish. I also added a chunk of Alpha Tolman, a buttery, Alpine cheese that has a nutty, caramelized onion flavor. This pairs beautifully with pears, or you could turn this cheese into a fondue to dip your pears into.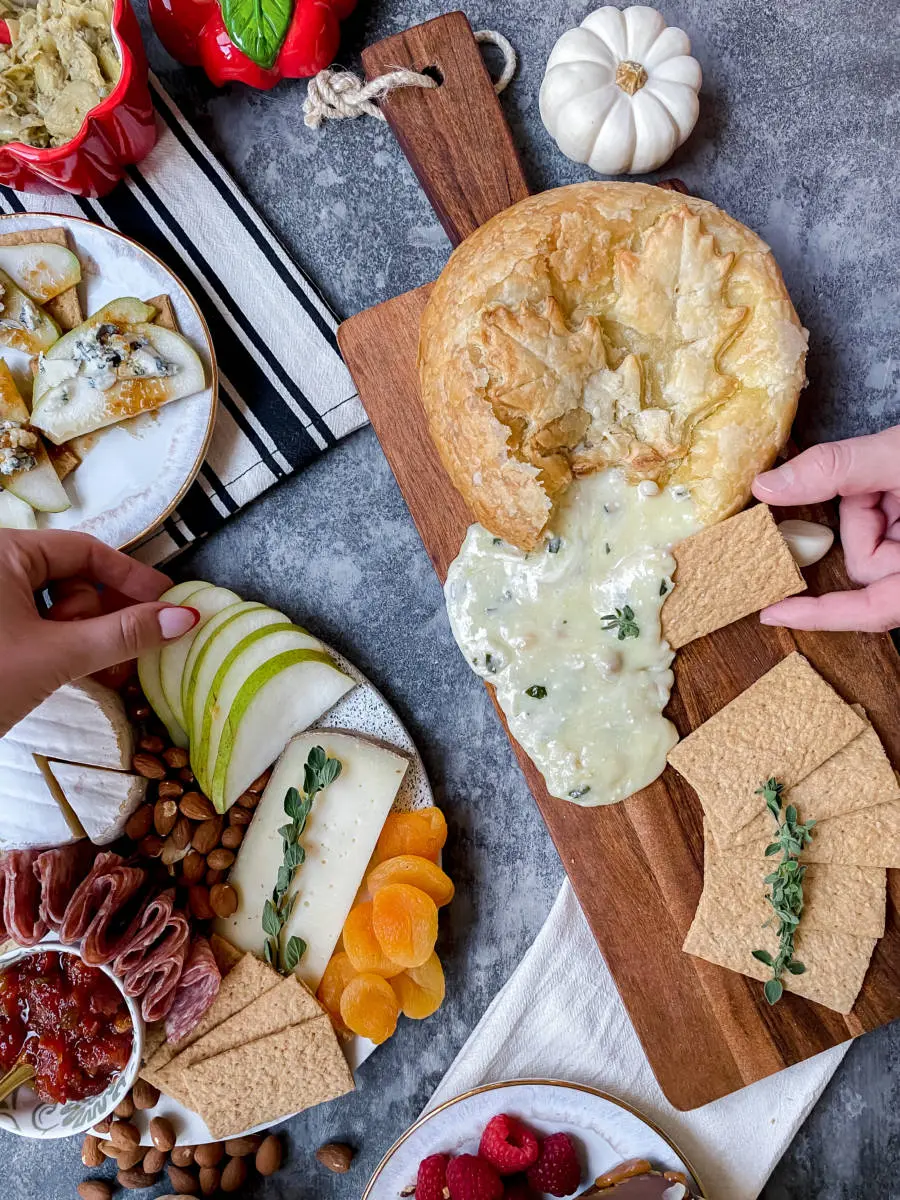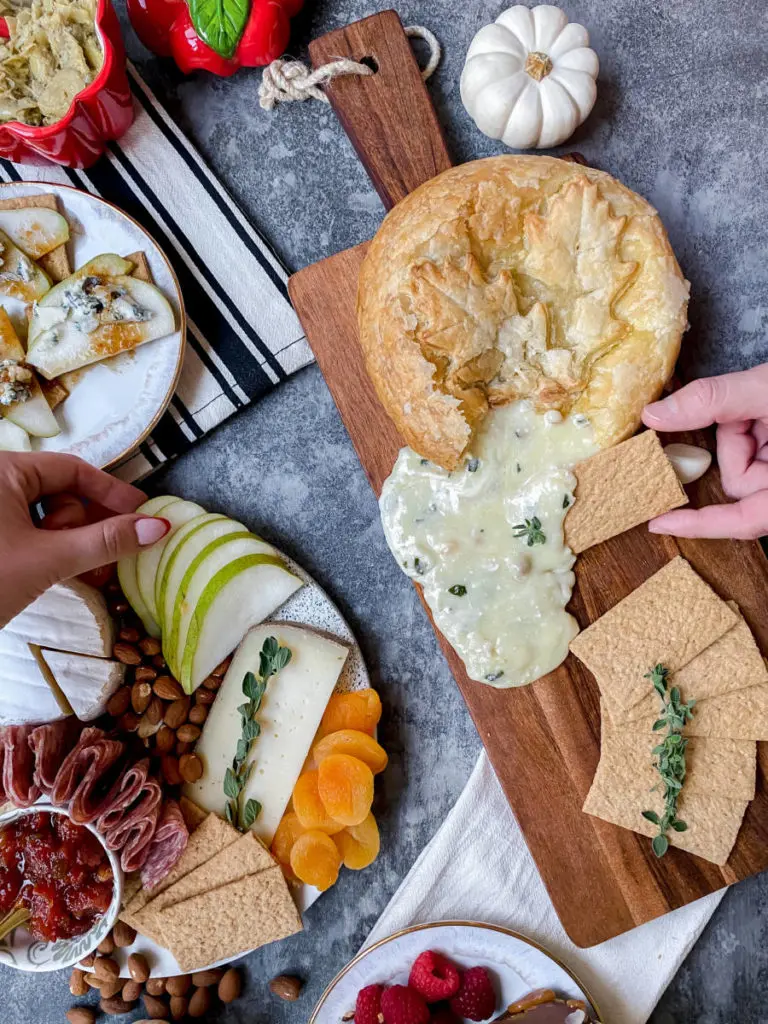 While a stellar spread of cheeses is always a staple, I would be remiss to exclude a few items that will put your Thanksgiving charcuterie board on everyone's list of most memorable holiday moments. One of my favorite parts about this time of year is that we can finally get our hands on the deliciously buttery Royal Riviera Pears. Their sweet flavor and finger-licking juiciness pair perfectly with blue cheese like Jasper Hill's Bayley Hazen blue, which is dense, creamy, and beyond decadent. It's perfect with pears because the sweetness from the fruit brings out the salty, sharp flavors from the cheese. Stack them both on a cracker and then add an extra dose of acidity with a small drizzle of balsamic vinaigrette for a pre-made bite. You'll thank us later.
The pièce de resistance of this board is the Brie en Croute. This hand-trimmed brie is coated in garlic, basil, and pine nuts before being wrapped in a flaky puff pastry crust (making it completely irresistible). Fill up any free space on the board with tasty cured meats, dried fruit, and nuts, all of which come in the Harry & David Chardonnay Wine Pairing Collection. How's that for efficiency?
For a final dash of sweetness, add a few mouthwatering chocolate caramel apples and you have the perfectly balanced Thanksgiving charcuterie board.
Serve this delicious feast (before the actual turkey feast) with a bottle of chardonnay.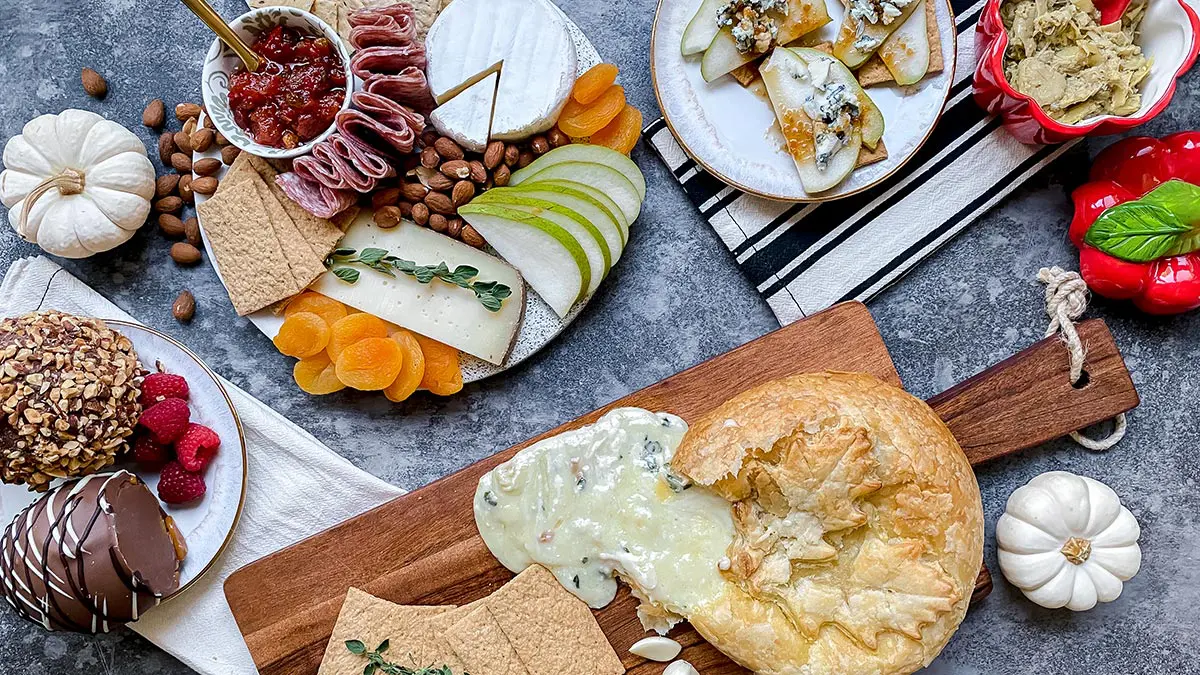 Thanksgiving Charcuterie Board
Instructions:
Preheat oven to 375° F.

Bake the Brie en Croute for roughly 30 minutes or until the top of the puff pastry is a toasty brown.

While the brie is baking, prepare your charcuterie board by first placing your ramekin of Pepper & Onion Relish and two cheeses of choice on the board.

Next, add your sliced Royal Riviera Pears and crackers. Layer in your salami slices, dried apricots, and fill any open space with roasted almonds (from the Chardonnay Wine Pairing Collection). Don't forget to garnish with fresh herbs like rosemary!

For a pre-made pear and blue cheese appetizer, thinly slice the pears and place them on top of the three-seed crackers. Spread blue cheese over the pear slices and drizzle with vinaigrette.

Once fully baked, transfer the brie to your display board or tray and serve with crackers.

Add finishing touches with the chocolate-caramel covered apples.
---