Friendsgiving has become a widely recognized holiday over the past 10 years, particularly among the younger generation. Whether you're trying to avoid the awkward family conversations at Thanksgiving or are unable to travel home for the holiday, Friendsgiving offers a warm embrace, with traditional and new holiday food and fun times with friends and "chosen" family.
It's also a great kick-off to the holiday season, says Alexandra Shytsman, who wrote the book Friendsgiving: Celebrate Your Family of Friends and has hosted Friendsgiving festivities at her home in New York for 12 years.
What is Friendsgiving?
The first mention of "Friendsgiving" dates back to a tweet from 2007, but many give credit to the hit show Friends for the holiday's origin. The holiday's name, which had previously appeared on Merriam-Webster's "Words We're Watching" list, was bumped up to become an official dictionary entry in January 2020.
"It's become a pop culture thing in the last decade or so," Shytsman says.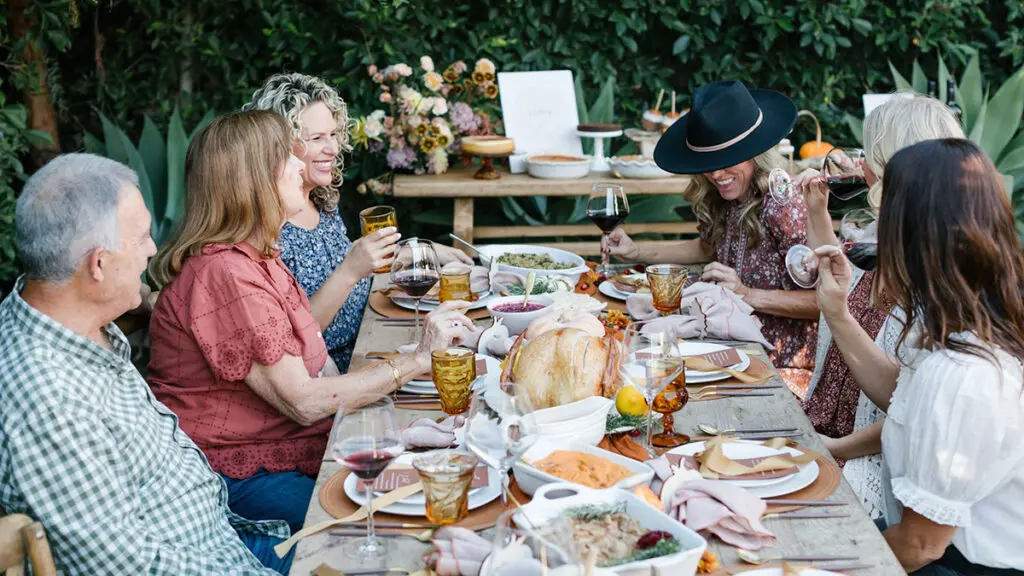 Approximately seven in 10 young Americans prefer Friendsgiving to Thanksgiving. This is due to a variety of reasons, not the least of which is being able to avoid fielding personal questions from family and not having to worry about offending a relative at the more traditional holiday gathering. Because the event is essentially a more casual version of Thanksgiving, Friendsgiving is a good way to gather friends, colleagues, or neighbors who are unable to go back home to their family or are wary to travel.
"The concept of a chosen family is something that's really taken off, especially among communities of young people," Shytsman says. "People get so excited about getting together with [folks] they don't see a lot; maybe they want to do something more special with their friends than just going to a bar or ordering takeout. It gives people a good way to organize a holiday gathering."
When to celebrate Friendsgiving
Although the weekend before Thanksgiving is a popular time to hold the event, some throw their festivities earlier or even later.
"I've been to Friendsgivings that are just in November, even if it's after Thanksgiving or in the first part of the month," Shytsman says. "It's always a good idea [to plan ahead] because people travel and holiday calendars fill up quickly."
The size of a Friendsgiving event is similar to that of Thanksgiving — as big or small as you want (the more the merrier, though, right?) — but the timing of the actual meal tends to be later, with some hosts opting to start serving in the evening at, say, 8 or 9 o'clock. A Friendsgiving brunch is also popular.
Organize the menu
Hosts can make the entire meal, but guests often contribute dishes at a Friendsgiving. One survey found 44% of invitees planned to bring a dish to a potluck-style Friendsgiving fête.
If you're splitting the cooking responsibilities, coordinate the menu online, Shytsman suggests. "You can start a Google Sheet and send it to your friends," she says. Encourage everyone to add the dish they're bringing so you don't end up with three Brussels sprout dishes and zero potatoes. The ability to see what everyone else is bringing may inspire others to think outside the box with their dish.
---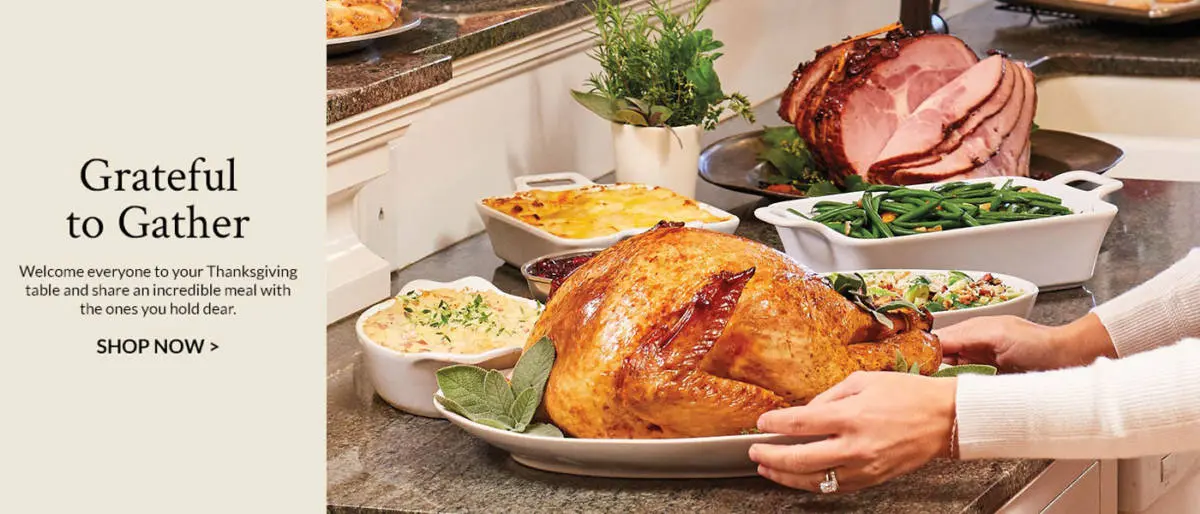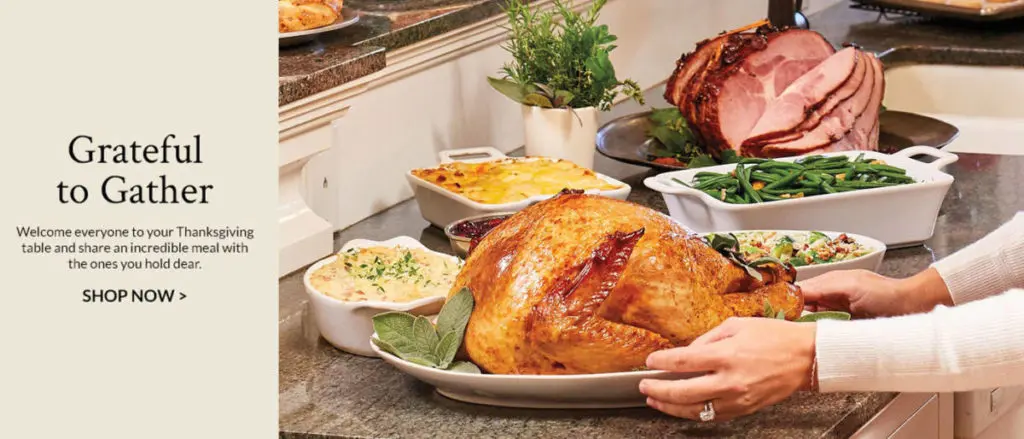 ---
What food to make for Friendsgiving
"You're more likely to have things like dips and crudité — appetizer-style eating," she says. "If it's a potluck situation, people who aren't necessarily cooks might pick up something on the way [like] a store-bought pie, or maybe an order of their favorite buffalo wings from the bar down the street. It's a little bit more of a hodgepodge of items, as opposed to having a set menu. You can also do something like an ice cream sundae bar, if you don't want to eat more traditional desserts."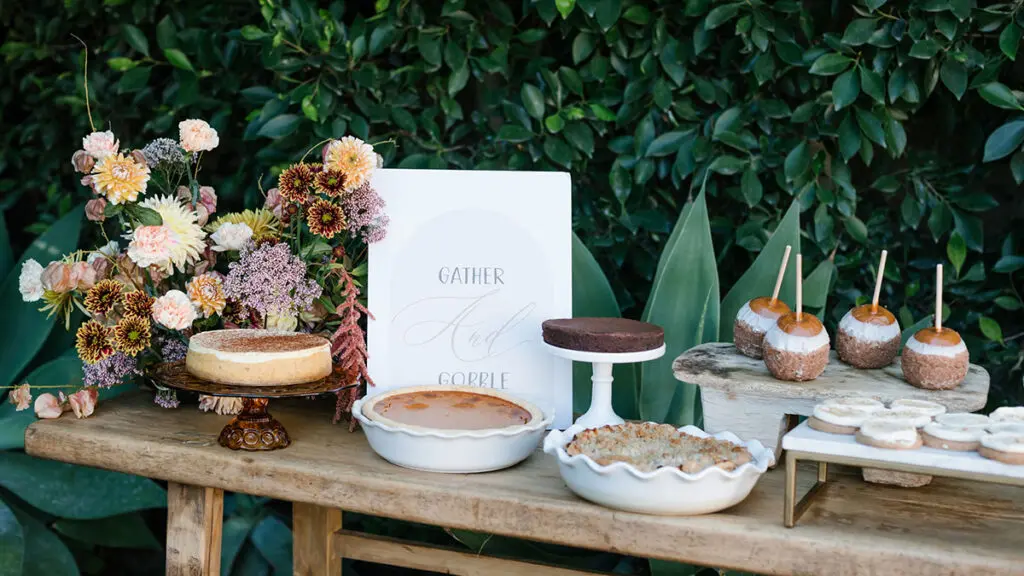 In addition to homemade entrees and desserts, Friendsgiving celebrations can include pre-prepared and budget-friendly foods. With the current high level of inflation and 45% of Americans feeling financially stressed about Thanksgiving this year, many people are planning a more low-key Friendsgiving. A greater number of hosts said they intended to serve pizza rather than turkey.
Speaking of pre-prepared dishes. Make sure to serve any pre-prepared meals in a nicer dish than the one it arrives in. It's not 1980, it is 2022 and we like pretty dishes. Go the extra mile by adding garnish to the dish as well to give some fresh notes and pretty details.
Even though Friendsgiving is a separate event, a lot of millennials — 44% of Americans age 18 to 38, to be exact — say they still expect traditional Thanksgiving fare to be served. Approximately 45% of young revelers want to see mashed potatoes on the table, and 39% would like to dive into some sweet potatoes. Turkey is the most desired Friendsgiving dish; however, more than half (53%) of people surveyed said they feel it's also the most intimidating item to make, so don't count on it being offered at every event.
Regardless of what you serve, instead of a more formal sit-down dinner, Shytsman says, food is typically served buffet-style on kitchen countertops or a coffee table.
Combining old and new traditions
Despite Friendsgiving being a relatively new holiday, many of its celebrants are interested in making parts of it a regular occurrence; 77% say they hope to create new traditions that involve the event.
Giving thanks is one practice that can carry over from Thanksgiving to a friend-focused event.
"In my group, that's something we always do," Shytsman says. "People make toasts and talk about what they're grateful for. I've also seen postcard-sized cards you can buy. Each person writes down what they're grateful for, and it can be a cute memento people take home with them after the party." Create a Friendsgiving-specific version by guessing what everyone is grateful for this year, and see who gets the most correct.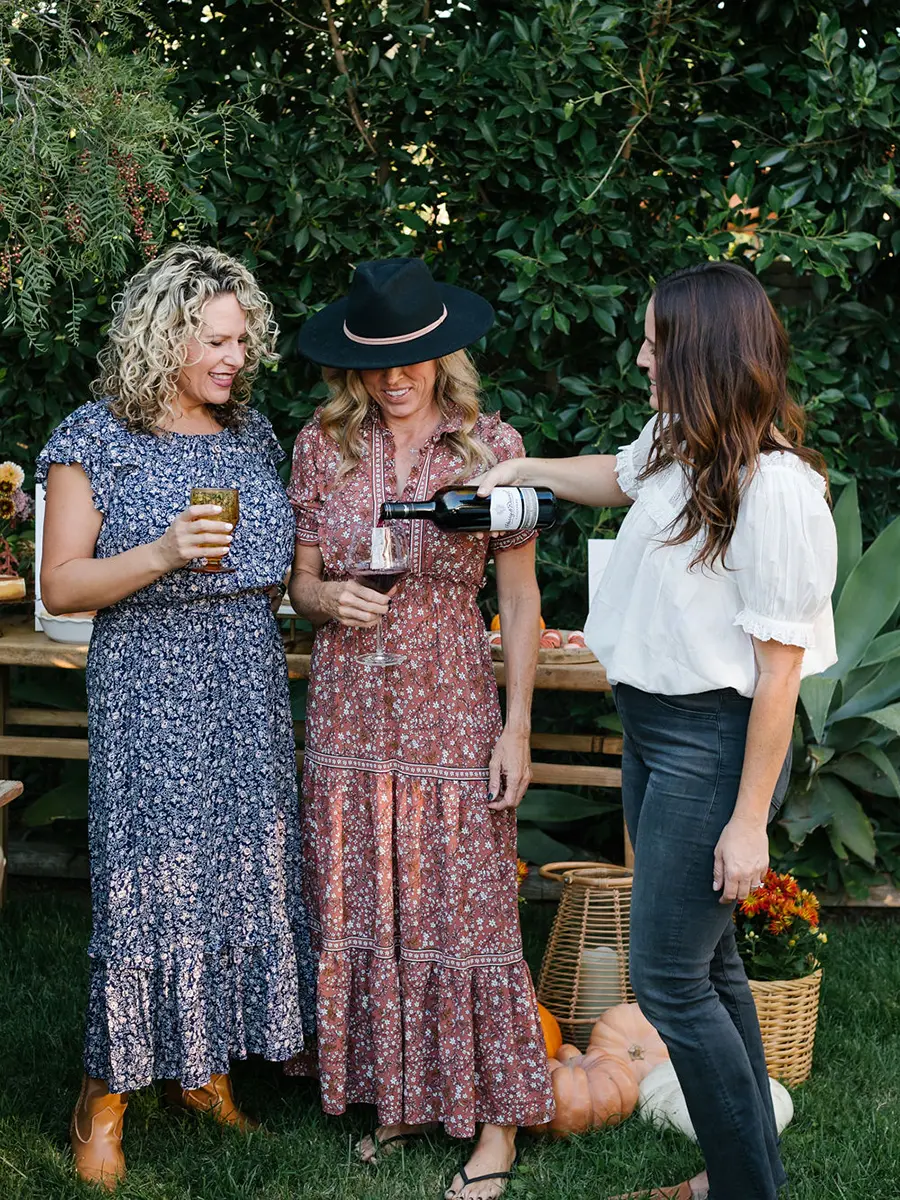 While watching football on TV is a standard pre- and post-meal activity on Thanksgiving, 58% of Americans say they enjoy Friendsgiving more than Turkey Day because it is a more social event. Keep the energy going at your celebration with new traditions, such as voting on the best dish of the night and awarding the chef a trophy (perhaps that final slice — or bar — of pecan pie).
"It's great to think, 'What can we do to keep the energy going?' and have something planned," Shytsman says. "Something like charades is always really fun and a good vintage way to engage people, as is any kind of card game." If charades or card games are not your idea of a fun time, have friends bring over their favorite board game and try something new.
Shytsman has also hosted Friendsgivings that featured a theme, something, she says, you probably wouldn't do with your family on Thanksgiving.
"There's a little bit more room to improvise with the menu and just the whole structure of the event," she says. "You can choose a certain decade [and] do an '80s Friendsgiving. I've done a Mad Men-themed Friendsgiving. We all dressed up in that '60s vibe; it was really fun."
How to decorate for Friendsgiving
Without a plated table, the seating arrangements can be more casual, particularly if the host doesn't have a formal dining room.
"You can definitely get creative about it," Shytsman says. "Ask if one of your friends has a folding table, or pick one up. You can also ask people to bring their own folding chairs or pick up some floor poofs or pillows people can sit on."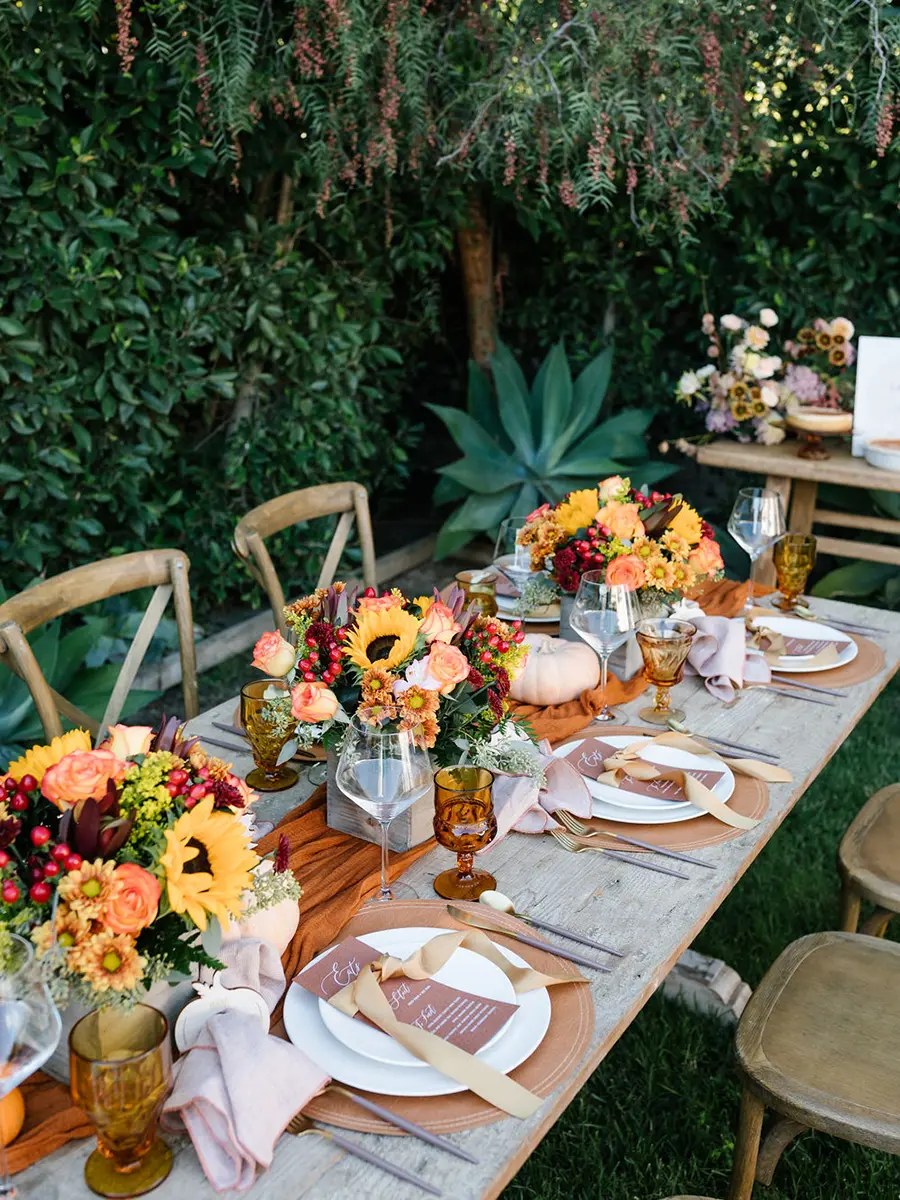 Lighting, such as candles or string lights, can also deliver ample ambiance.
Pick up a few mini pumpkins at your local farmers market and scatter them around, or decorate with seasonal or dried flowers. "It doesn't have to be super fancy," Shytsman says.
Décor, dishes, and other personal touches can add some panache to even the most casual Friendsgiving. Even without those extra elements, though, the main focus is gathering with the people you care about.