Harry & David is known for many delicious products, from wine to charcuterie to chocolate. But the one item they are best known for are their hand-picked Royal Riviera Pears. For over 85 years, from the middle of fall through the holidays, these legendary pears have been delivered near and far, wrapped in their signature gold paper.
Even for those familiar with this fruit, a question may still remain: What kind of pear is a Royal Riviera Pear?
We're here to tell you, it's more than just a luscious fruit — it's a tradition that's rooted in history.
From France to Southern Oregon
Royal Riviera Pears are a special type of Comice (pronounced ko-MEESE) pear that was first propagated in France in 1856. These exquisite pears became known for their succulent, buttery, and exceptionally sweet characteristics. A favorite of royalty, this rare fruit was served in only the finest European restaurants, earning the nickname "The Fruit of Kings."
---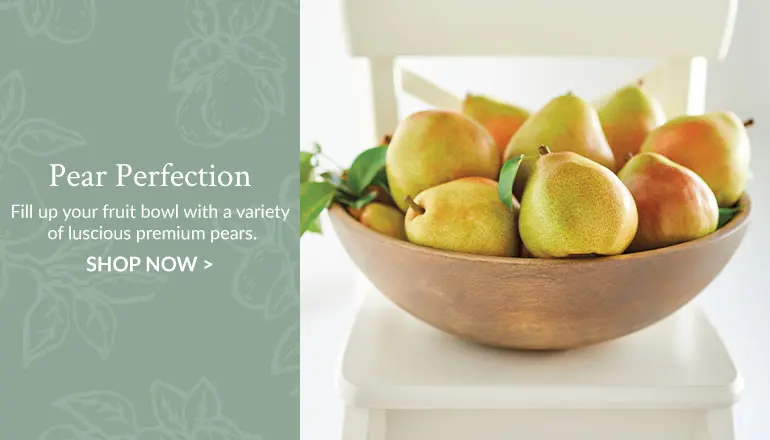 ---
This Comice pear varietal has a reputation for being difficult to grow, however. Only a few regions in the world have the right climate and soil combination to produce this incredible fruit. Luckily, one of those places is Medford, Oregon.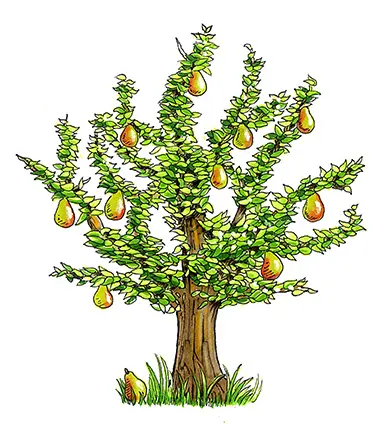 In 1897, these pears were introduced to Southern Oregon's Rogue Valley, and, to everyone's delight, they thrived. Today, these orchards spread throughout the valley supplying pear lovers around the world with their coveted fruit.
"So big and juicy, you eat them with a spoon®."
In 1934, brothers Harry and David Rosenberg had just a few orchards. The two were passionate about their Royal Riviera Pears, though, and wanted to share the actual fruits of their labor. Soon these special pears made their way from Medford to San Francisco and New York. It wasn't long before word spread that these special Comice pears were "so big and juicy, you can eat them with a spoon®."
Comice are also "hands down the best pear when you want to eat a pear out of your hand," says Jane Hunts, Merchandise Manager, Fruit for Harry & David. She says these pears are best eaten uncooked, and recommends using them for meals, as part of the salad course or as part of a fruit and cheese plate for the final course.
They can be cooked, but Hunts advises against it. "They are so juicy that they tend to break down. A much better choice for baking, and especially for poaching, are Bosc pears, the other pear variety that we grow here in our Southern Oregon orchards. If cooking the Royal Riviera Pear, it should be a dish where maintaining shape and firm texture do not matter – think in terms of a streudel, a clafoutis, or compote."
Hunts does point out that since these pears have a subtle aromatic flavors, they're ideal for a pear sauce or pear butter.
Getting back to that fruit and cheese plate, the Royal Riviera Pear is versatile, pairing well with soft cheeses, like blue, stilton, and brie, as well as sharp cheeses like manchego, Asiago, and Pecorino Romano.
From Medford with love
Today, Harry & David owns and farms over 2,000 acres of these exceptional Comice pear trees near their headquarters in Medford, Oregon. Harvested in the fall, Royal Riviera® Pears are a holiday tradition for countless families, friends, coworkers, and colleagues. Whether it's as a golden wrapped gift or a splash of sweetness in a winter salad, these pears always satisfy. They may be the most delicious pears you'll ever try.
The Royal Riviera Pear is the fruit that took Harry & David around the globe and sent to peoples' homes as a delicious way to celebrate every occasion. Now, when people ask "What kind of pear is a Royal Riviera Pear?" they immediately think of the best pear that can be found anywhere.