It turns out brunch, with all its deliciousness, is one of my favorite meals to pair with a variety of sparkling and still wines. With that in mind, I paired three Harry & David white wines and one sparkling wine with a variety of brunch classics — offerings from Harry & David and Wolferman's— as well as a few of my personal favorites.
Harry & David 2020 Sauvignon Blanc
Very fruit forward, this is a wine that all your guests will enjoy. It delivers a wide range of tropical fruit flavors, from mandarin orange to pineapple, ripe melon, and even canned peaches. This sauvignon blanc works best with waffles and pancakes topped or made with fruit in the batter, to play off its own fruity flavors.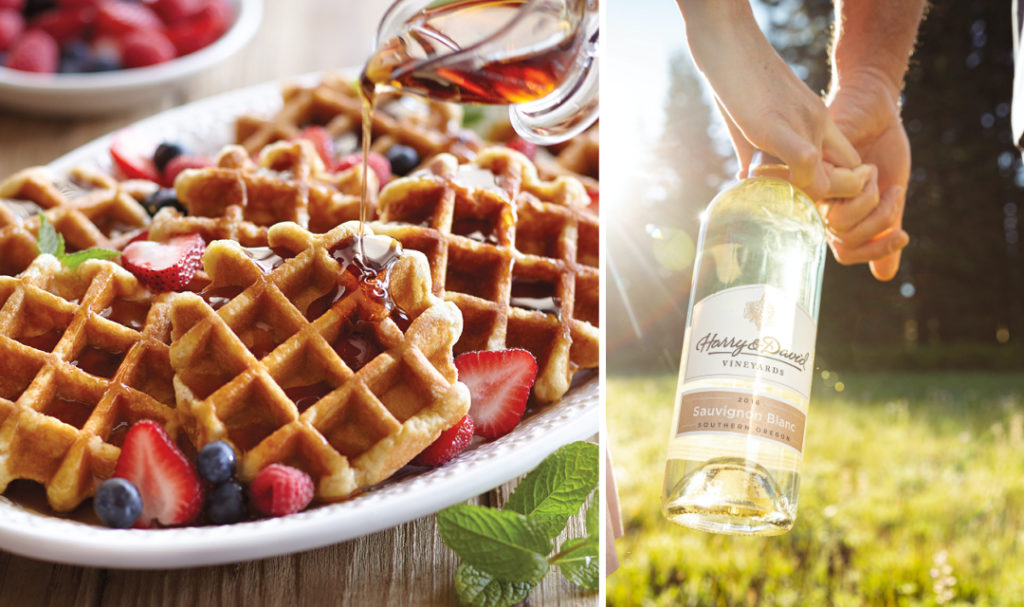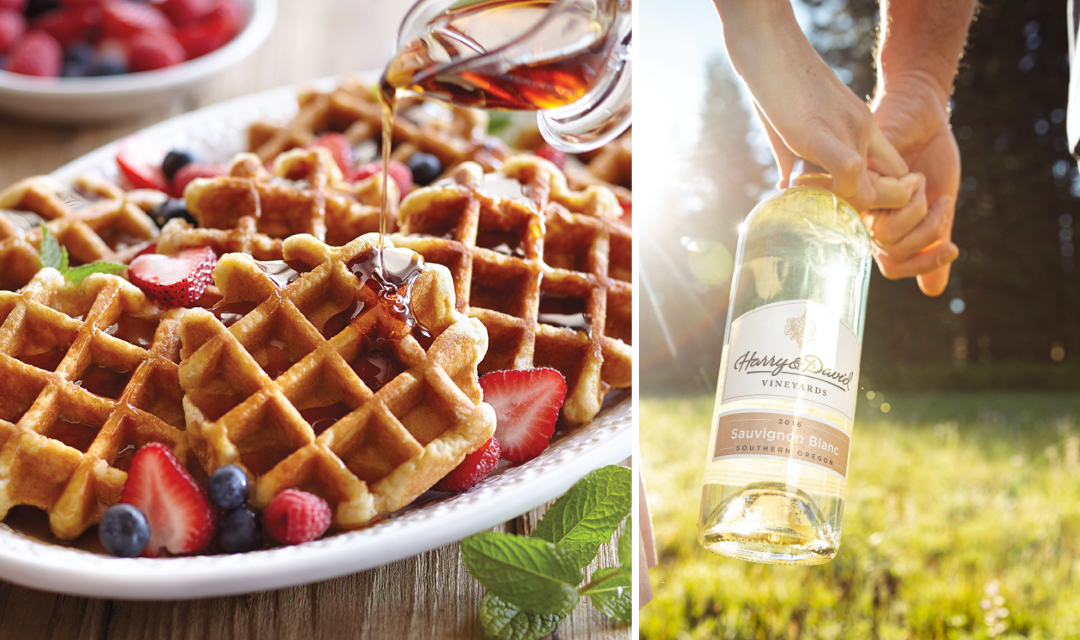 The combination worked perfectly, and the wine paired well with Wolferman's blueberry, chocolate, cinnamon, and maple waffle varieties. (Blueberry was my favorite.) The wine acts as another layer of fruit (a liquid one) on top of the waffles, with every sip adding peaches and hints of orange and pineapple. Can you still use maple syrup, you ask? Don't fret: Maple syrup, with all its sugary, sticky goodness, pairs well with just about any food or beverage.
Harry & David 2019 Chardonnay
With flavors of golden apple, pear, and fresh lemon, this chardonnay pairs with most brunch items. And since it's so versatile, I suggest pairing it with a versatile brunch favorite: eggs. Ironically, eggs happen to be one of the most difficult foods to pair with wine (along with artichokes and asparagus, FYI) — this is due to the glutinous texture of the yolk and the way it coats your mouth, making it difficult to fully taste the wine.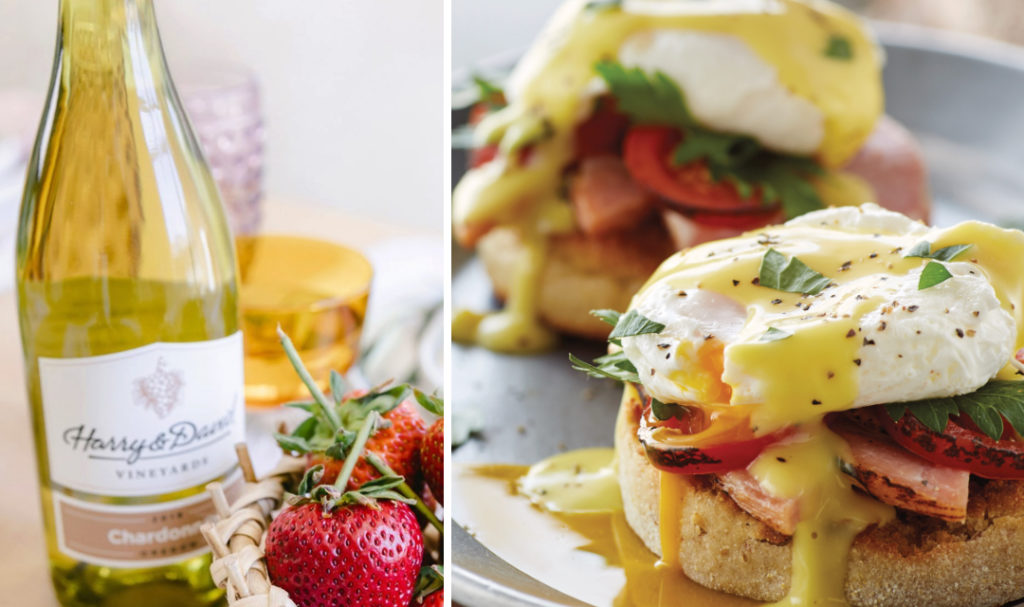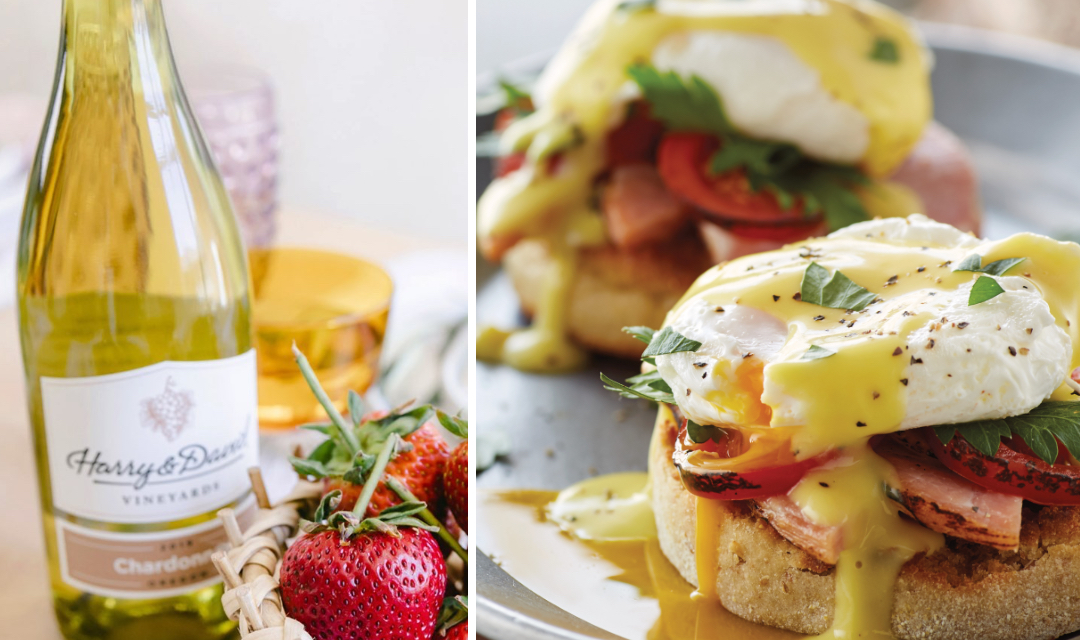 Champagne or sparkling wine is typically the classic pairing with eggs, but the Harry & David chardonnay worked perfectly. Grab yourself some local eggs and make your favorite scramble or omelet. (My personal favorite: a ham and aged-cheddar omelet.) For something more indulgent, prepare the classic BEC — bacon, egg, and cheese — on Wolferman's blueberry or cranberry English muffins. The combination of creamy, runny eggs and salty bacon with the thick muffin is delicious, trust me.
Harry & David 2020 Pinot Gris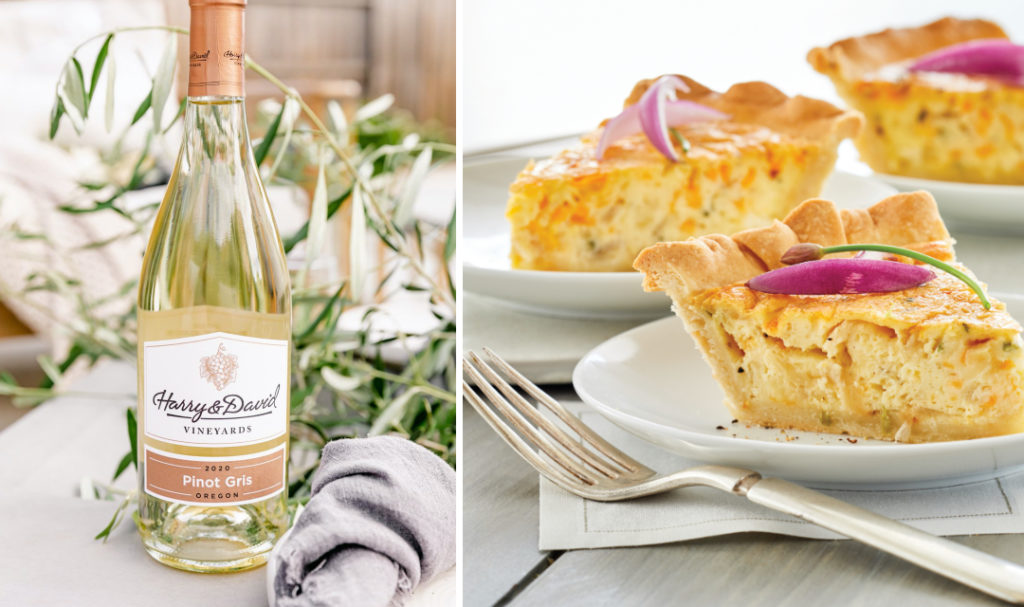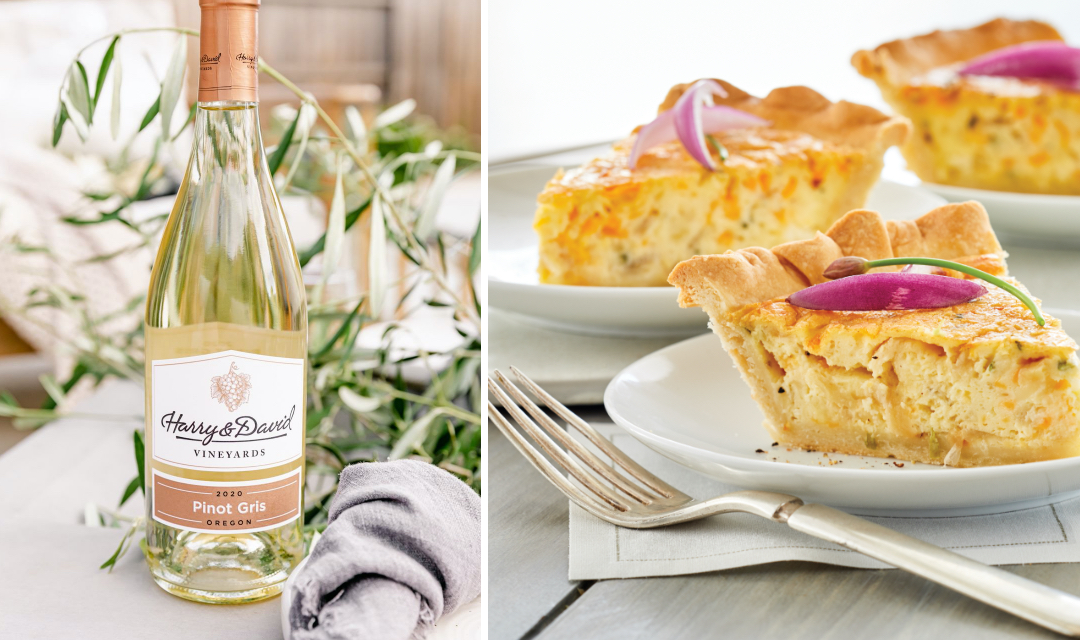 This pinot gris is the kind you'd find in the Alsace region of France, where the wines are lean in body and high in acidity, with neutral fruit flavors like green apple and pear. Regionally, these wines are often paired with goat cheese, honey, and all kinds of sausage. They also pair very well with quiche and casserole. Oh, and did I mention sausage? The wine was good with a quiche Lorraine from my local bakery, but even better with a sun-dried tomato and feta variety. And this wine works well with pretty much any casserole: The bacon, cheese, and potato casserole or the sausage and cheese kind is a quick way to create a memorable wine and food pairing for a group of guests or family. Remember, it's all about the sausage.
Harry & David 2018 Sparkling Wine
Oregon has been producing heavenly sparkling wines for a while, and this bottle from Harry & David had me floating in the clouds. It looks good in the glass, with a yellow hue and fine active beads (bubbles) rising from the bottom, topped off with a lovely aroma of golden apples and lemon custard. A quick taste reveals a plush, creamy texture and prominent flavors of golden apple with hints of peach in the background.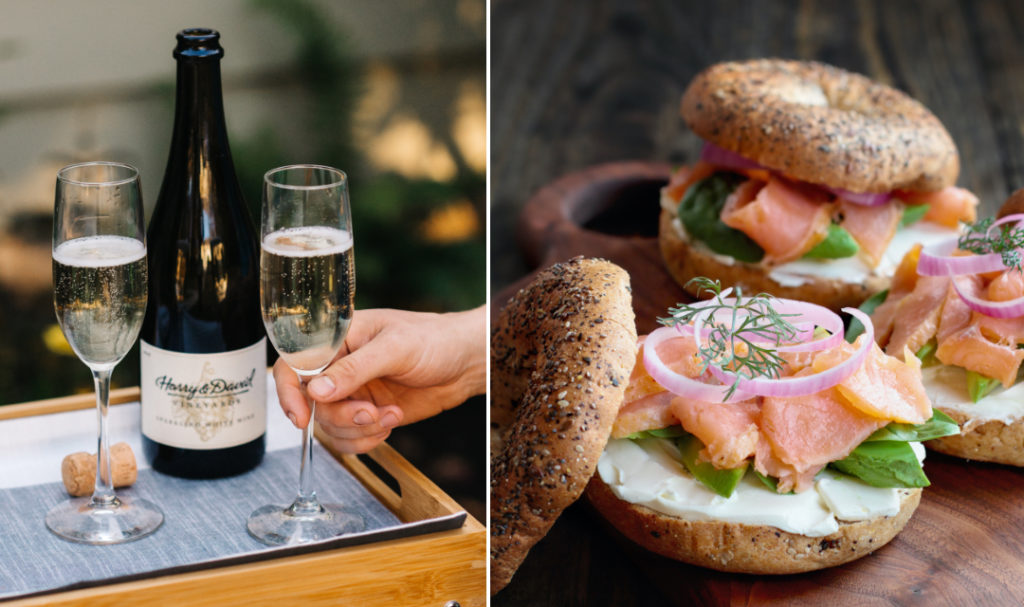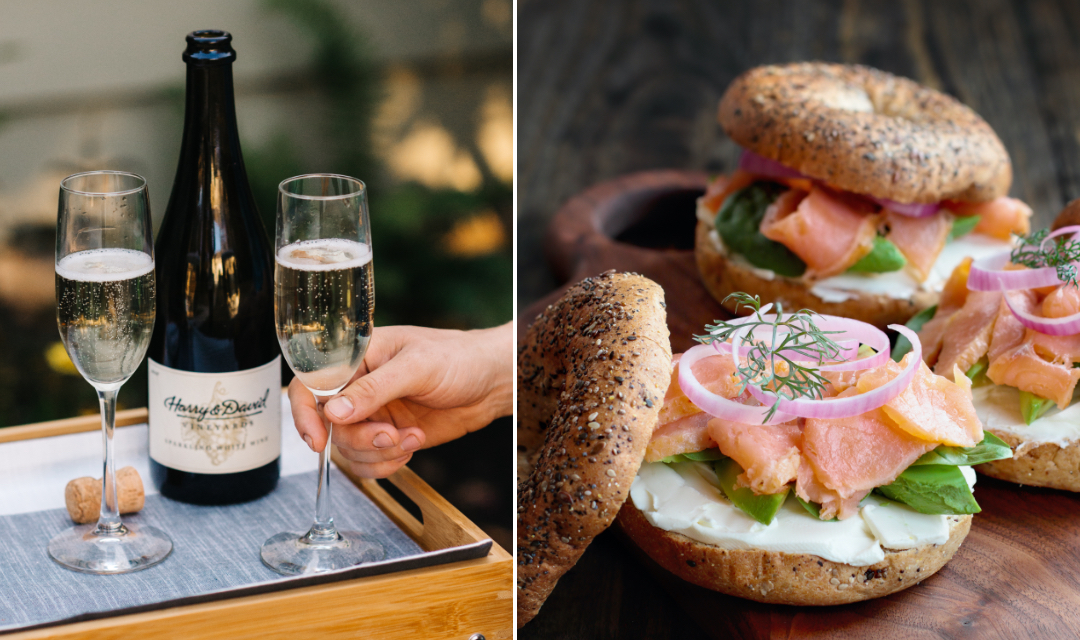 Sparkling wine and brunch make a dynamic duo, and this bottle will pair well with just about anything you can think of. (Quick insider tip: Try sparkling wine with French fries or truffle fries. Thank me later.) A few classic bubbles-and-brunch pairings are scrambled eggs and caviar, ham and cheese croissants, and of course eggs Benedict, with its creamy hollandaise sauce and salty bacon — a perfect match for the wine's bright acidity and subtle fruit profile.
I had two favorite pairings with the sparkling wine. The first was smoked salmon and scallion cream cheese on an everything bagel with onion and tomato. After a bite, a sip of the wine tastes like a slew of complex flavors coming together at once. My second favorite was challah French toast (or any French toast) right out of the pan, with powdered sugar and maple syrup. The crunchy crust is marvelous with the lively bubbles in the sparkling wine.
---