In "Board Games," learn to level up your Sunday brunch, create a holiday board with all your favorite cookies, or style a cheese board for a night in — we have tips for creating all of them. Follow along with these charcuterie board ideas from Ramona Cruz-Peters of Fab Everyday to create a wine and roses charcuterie board perfect for summer entertaining.
My two favorite things about the summer are the longer days and all the beautiful roses in bloom. This is what inspired me to create a simple but lovely "Days of Wine and Roses" themed charcuterie board for summer entertaining.
With just a few steps and a Harry & David meat and cheese basket, you too can make this swoon-worthy spread.
Step 1: Create salami roses and rosettes
To make salami roses, fold a piece of salami over the rim of a champagne flute. If you don't have a champagne flute, you can use a regular glass — I recommend one with a narrow mouth so that the salami roses don't end up too big. Repeat the process with more salami, overlapping as you work your way around the glass.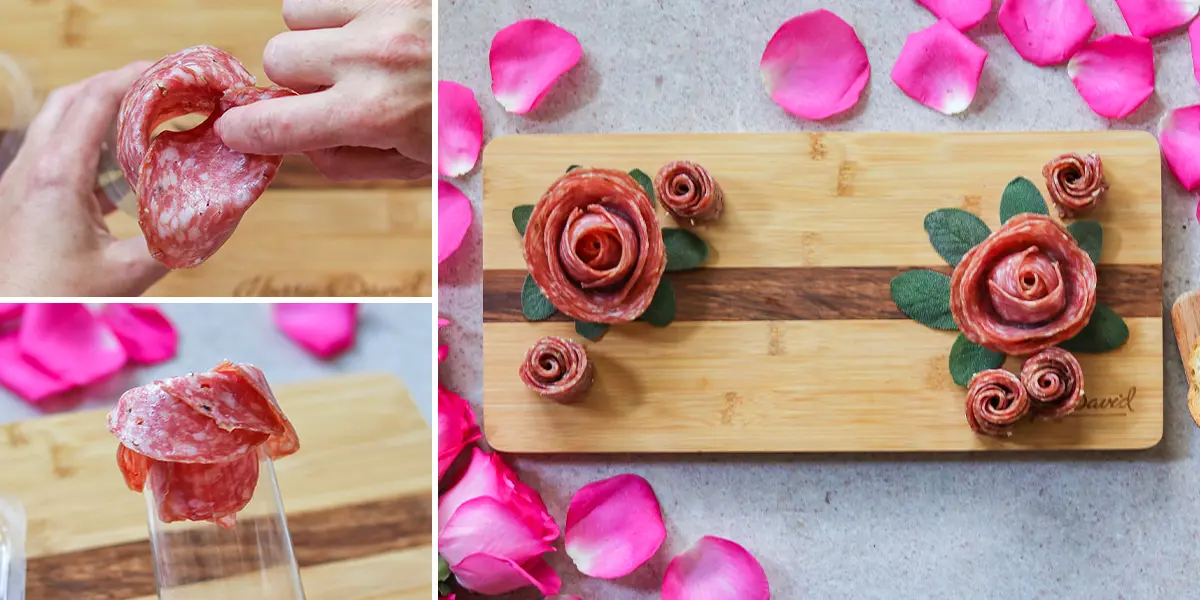 When the ring of folded salami feels tight, invert your glass over the charcuterie board and slide the glass out of the salami rose. Herb leaves like sage can be strategically placed with the roses to bring the floral theme to life.
After creating 2-3 large salami roses, you can create mini rosettes by folding salami pieces in half then rolling a few of them together and securing them with toothpicks. I like to place the rosettes next to the larger salami ones to look like a group of rosebuds.
Step 2: Add cheese to the board
Next, add a few different cheeses to your charcuterie board, like an aged Asiago and a nutty Gruyère. Offering a variety of cheeses accommodates different guests' preferences and provides options for mixing and matching flavors.
Continuing with the floral theme of this board, I sliced the wedge of Asiago into long triangles to mimic petals and placed them in the middle of the board. I cubed the Gruyère and placed them at the corners of the board to provide visual contrast with the circular salami roses.
Step 3: Incorporate your antipasto
Who said you shouldn't play with your food? Displaying the antipasto should be fun! I arranged some of the roasted peppers with garlic and garlic-stuffed olives into floral shapes in small ramekins before adding them to the charcuterie board.

Step 4: Fill the extra space with nuts and fresh herbs
Finally, fill in the open spaces on the board with mixed nuts and more fresh herbs like rosemary in addition to the sage leaves.
Step 5: Cheers!
Now it's ready to party! Serve the charcuterie board with water crackers and baguette crisps for your guests to eat with the meat and cheeses, plus an assortment of red and white wines like Harry & David's pinot noir and chardonnay. If you have a wide variety of wine and cheeses, you could even suggest different pairings for guests to experiment with. For a final touch, I like to set out the charcuterie board with roses or rose petals to pull together the floral theme.
---