A wedding anniversary is a time for spouses to look back on one of the most magical days of their lives. And the tradition of celebrating a marriage on the same day every year is nearly as old as the institution itself.
History of the wedding anniversary
The first recorded wedding ceremony dates back to 2350 B.C. in Mesopotamia, but the practice of celebrating the occasion one year later didn't catch on for quite some time.
While the exact date of the first wedding anniversary is somewhat dubious, some researchers believe the tradition began, as many things did, with the ancient Romans. Others believe the first recorded wedding anniversary happened in Germany sometime between the 16th and 17th centuries.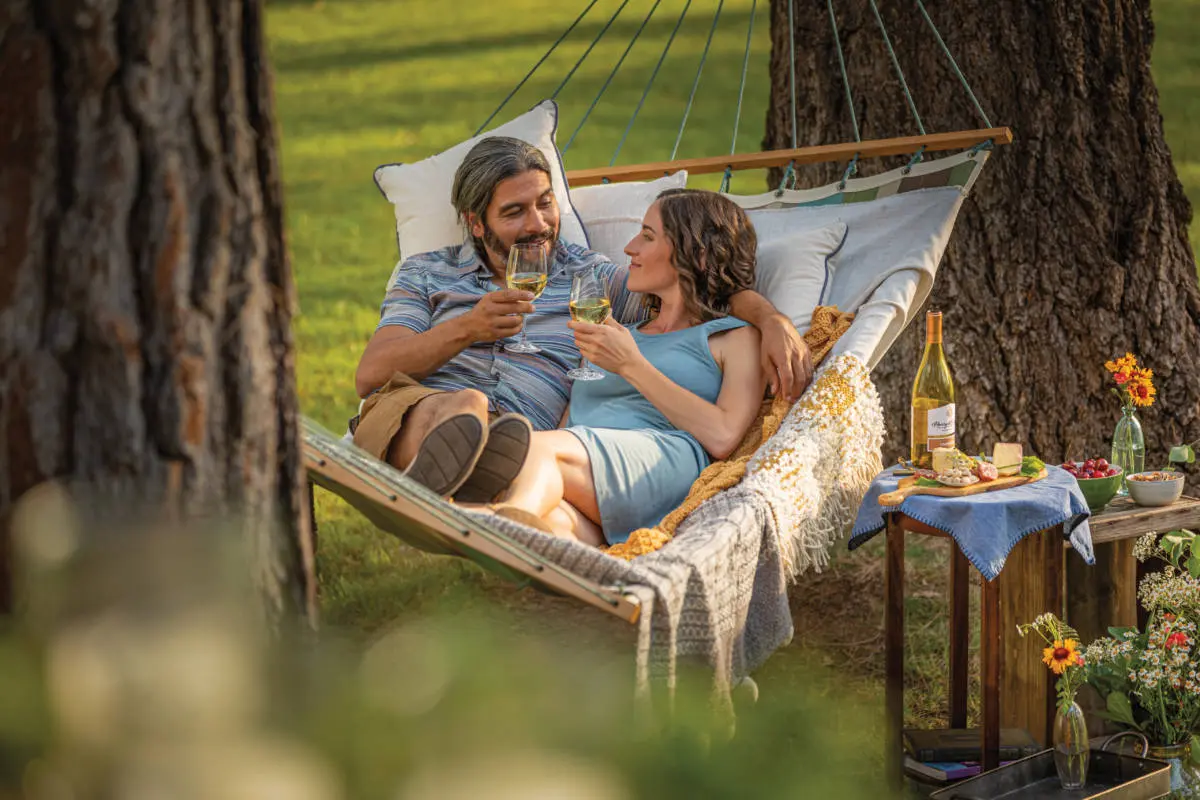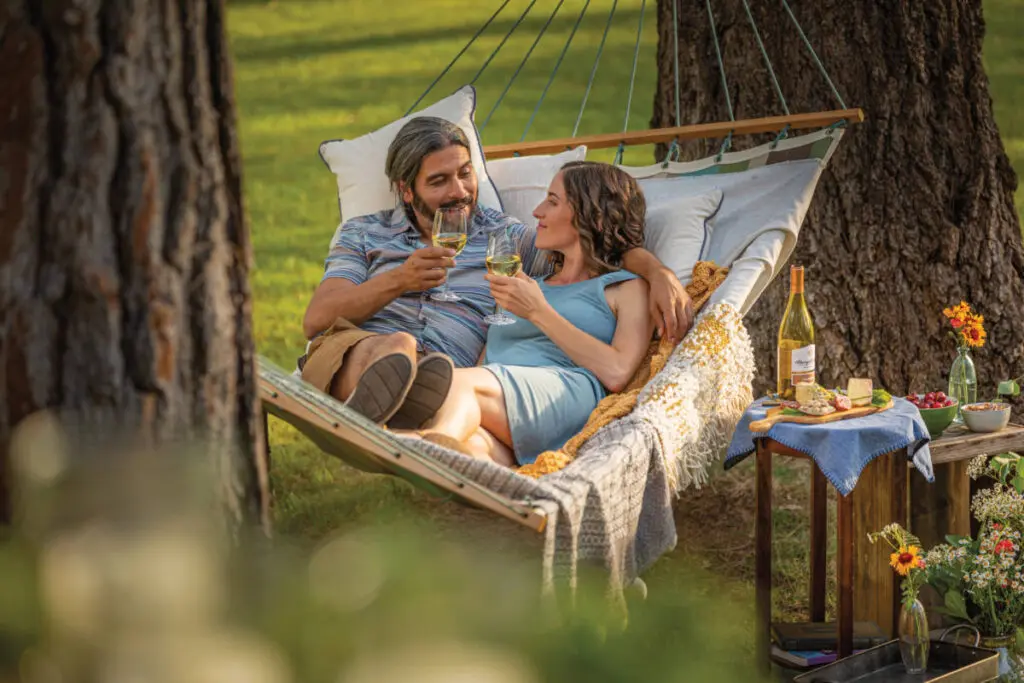 It wasn't until the mid-1800s, in Germany and England, when significant marriage milestones — years 25 and 50 — were celebrated with a gift. In those days, to still be alive and together after that many years was considered quite a feat. (One could argue that still being alive and together for a 50th wedding anniversary is quite a feat even these days.) On the 25th anniversary, couples would be given a wreath made of silver. If they made it to their 50th anniversary, they received a wreath made of gold — each metal representing the strength of the relationship.
Traditional vs. modern anniversary gifts
Silver and gold are still the traditional gift for the 25th and 50th wedding anniversaries today. It wasn't until post-Industrial Revolution consumerism that gifts were given on a more annualized basis, with the value of the gift increasing year after year, as if to say, "Congratulations for staying married another year!" Or, more flippantly, "You're totally worth it, babe!"
---

---
Today, most anniversary gifts fall into two categories: traditional and modern. The notion of "modern" was first introduced in 1937 by the American National Retail Jewelers Association, which saw an opportunity to capitalize on celebrating significant life milestones with fine jewelry. Fun fact: It was this same association that standardized birthstones in 1912. (Mine's emerald, in case you were wondering.)
Anniversary gift guide for the 21st century couple
Not sure if your better half falls into a more traditional or modern gift camp? That's OK. The secret to giving the perfect gift that says "I love you" is simple: Make it personal and unique, just like the couple you are.
1st anniversary | Modern | Clocks
Your first wedding anniversary is a celebration of the year you've spent together since you said "I do." This 3D wooden clock puzzle — a combination of Erector set and jigsaw puzzle — is the perfect modern gift to symbolize the first 12 months that have passed, and the time you have ahead as a couple. And the best parts? The completed clock has two secret compartments, and the timekeeping feature is fully functional.
2nd anniversary | Traditional | Cotton
There's nothing quite like the touch or feel of cotton. It's the fabric of our lives. Why not wrap your significant other in an embroidered bathrobe that's made of luxurious velour on the outside and plush terry cotton on the inside? Unwrap at your own discretion.
3rd anniversary | Modern | Crystal/Glass
Can you even call it an anniversary celebration if there are no bubbles dancing in a Champagne flute? This pair of crystal stemware is uniquely designed with specks of gold in the stem that artfully reflect the light around you. Add a Harry & David sparkling wine and chiller gift set, and you'll be all set for a romantic evening. You can even throw on those robes you bought last year to help set the mood.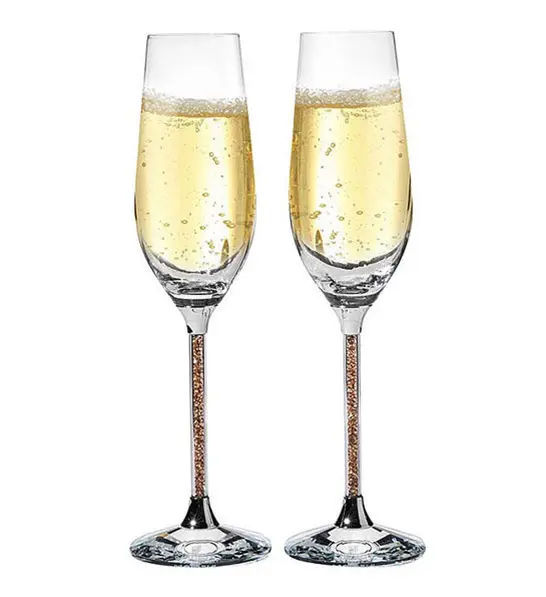 4th anniversary | Traditional | Fruit
Year four is traditionally about fruit or flowers. For this special occasion, we've taken the simple strawberry and given it a coating of decadence by dipping and drizzling each berry in milk, dark, or white chocolate, and then decorating it in seasonal toppings and festive glitter. Don't worry, the glitter is safe to eat. If your sweet isn't a strawberry lover (or glitter admirer), you can also choose gourmet chocolate and caramel-covered apples or elegant Belgian chocolate-dipped dried fruit. Feeding each other is up to you.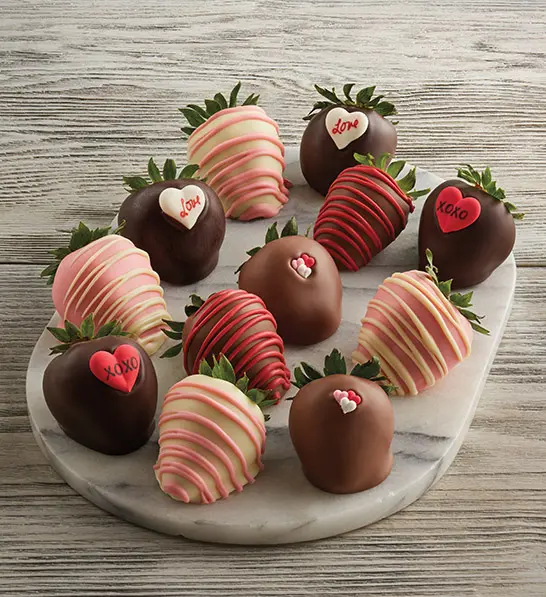 5th anniversary | Traditional | Wood
As author Fran Lebowitz once said, "Vegetables are interesting but lack a sense of purpose when unaccompanied by a good cut of meat." If your spouse has a fondness for straight-from-the grill goodness, consider presenting them an anniversary meal with a perfectly seared bone-in ribeye or juicy shrimp on this live-edge Acacia wood serving board with leather handles.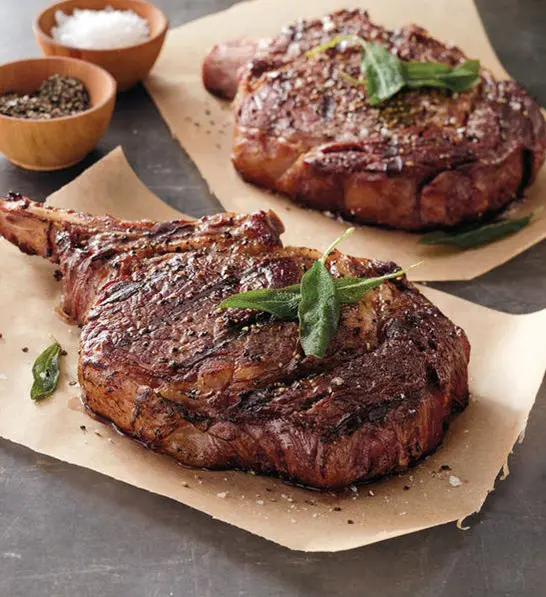 6th anniversary | Traditional | Candy
The gift of chocolate has long meant love and passion. And, according to a study conducted by Dr. Jennifer Nasser at Drexel University, consuming chocolate releases dopamine in the brain, causing feelings of pleasure, excitement, and euphoria. This beautifully gift-wrapped box of artisanal Champagne truffles from world-renowned Belgian chocolatier Neuhaus is just what the doctor ordered.
7th anniversary | Traditional | Copper
Did you know there is actually a scientific reason behind using an authentic copper mug rather than a glass when serving a Moscow Mule cocktail? According to said science, when the vodka begins to fill up the icy cold mug, the copper begins to oxidize, slightly boosting the aroma and enhancing the taste of the vodka. For your partner-turned-home mixologist, this Moscow Mule Kit makes cocktail slinging simple. You can even swap out the vodka for seltzer water for a gingery mocktail.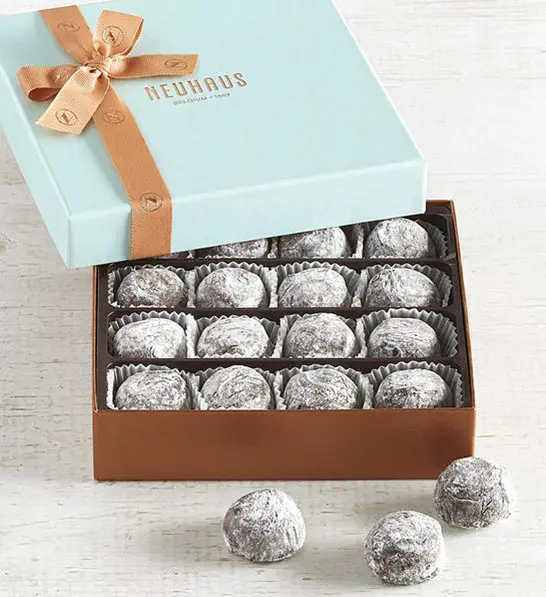 8th anniversary | Modern | Linens
By the eighth year of marriage, you are most likely all set in the linens department. If not, then take one of those coupons that never expire from a certain home goods store and get yourself some sheets. A fresh take on the gift of linen is this fun and flirty personalized love notes pillow complete with a small pocket to slip in a romantic note or card.
9th anniversary | Traditional | Pottery Breakfast Batter Bowl
Sure, you could go to a do-it-yourself pottery studio to make your special someone a hand-painted bowl, but does that bowl come with pancakes, Belgian waffles, and coffee? Well, does it??? This all-in-one gourmet bakery gift includes a ceramic batter bowl with pour spout and all the ingredients you need for breakfast in bed.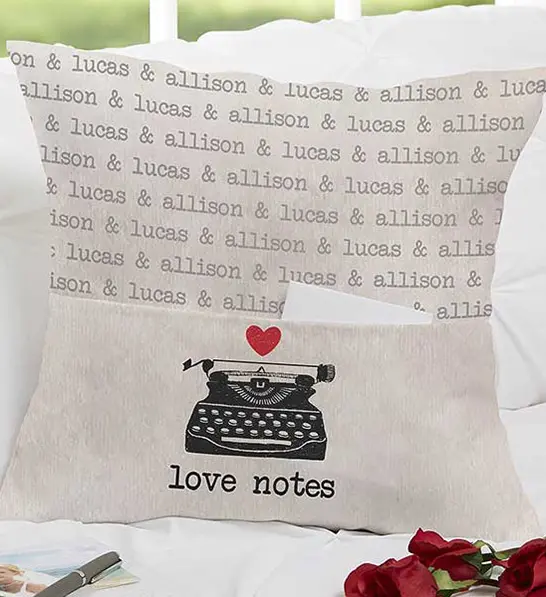 10th anniversary | Traditional | Tin
No matter how you describe it, tin is not a sexy metal. But add three mouth-watering popcorn flavors — butter, cheese, and caramel — into a four-gallon, decorated tin bucket, and you have the makings of the perfect anniversary night of Netflix and chill.
15th anniversary | Modern | Watches
At this point in your marriage, you may be thinking, "My how time flies!" This elegant vegan leather watch box allows you to engrave special dates of the important moments you've shared together into the glass top. Removing the included velvet-like watch cuffs easily converts the watch box into a treasured jewelry box.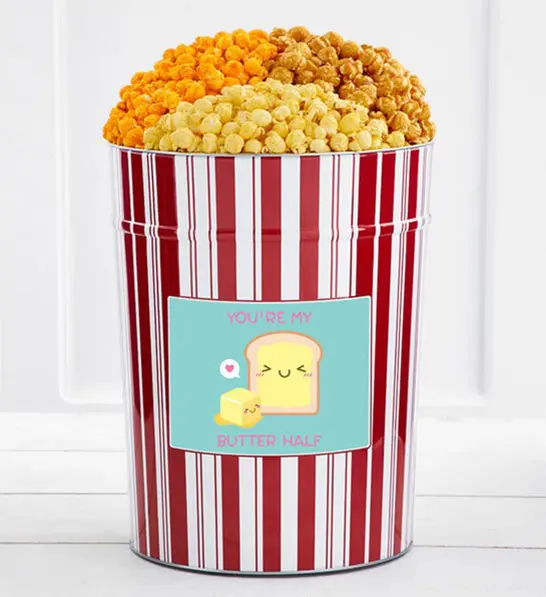 20th anniversary | Traditional | China
You bought the wine, the cheese, the charcuterie, the crackers, and the bread for a romantic picnic at home. Now, what to serve it on? How about these country-chic appetizer plates that will give you the feeling of dining in a Provençal farmhouse? Don't forget the matching metal plate holder. You could forget it, but it's you're anniversary — go for it!
30th anniversary | Traditional | Pearl
Modeled after the art nouveau Lilies of the Valley House of Fabergé egg from 1898, this stunning hand-painted Fabergé music box embellished with 24K gold, Matashi crystals, and pearls will melt the heart of a lifelong or novice Fabergé collector.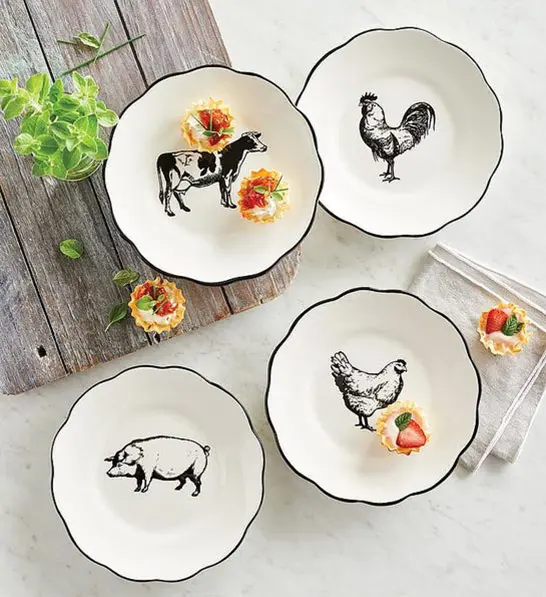 40th anniversary | Traditional and Modern | Ruby
In addition to being a modern symbol of "passion" and "love," the precious ruby is believed to protect its wearer by keeping evil at bay. No wonder Dorothy didn't wear amethyst slippers. Even if it's just folklore, a gift of the Rome Earrings Ruby and Ruby is sure to rekindle the flame. If neither of you is into jewelry but you do have a thing for citrus, then sharing a box of Florida-grown ruby red grapefruits will do the trick. The health benefits of grapefruits are known to help in the romance department.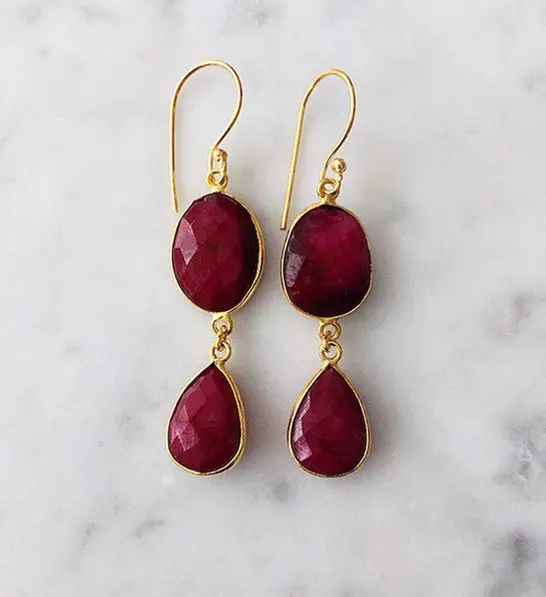 50th anniversary | Traditional and Modern | Gold
Fifty years…congratulations! This golden anniversary milestone will most likely be shared with loved ones of all ages and palates. The Harry & David Ultimate entertaining gift basket offers you, and your family and friends, 40 different gourmet delights and six bottles of premium wine. It's more than a gift — it's an entire celebration. And don't forget to request your free gift from the White House.