More than 8,000 years ago, villagers living in China's Yellow River Valley came up with a revolutionary idea. They found that if they dug a large hole in the ground, buried a massive clay pot filled with rice, honey, and fruit in it, and left it to ferment over time, the mixture would become a rich, robust liquid that was actually quite tasty. Thus, the winemaking industry was born!
And then, as wine production quickly spread to Israel, Iran, Egypt, Greece, Rome, and then the rest of Europe — and wooden barrels replaced those earthenware pots — these new wine-loving aficionados had only one thing on their mind: how to make their already great tasting wine even better. Richer, more robust, smokier, oakier, more nutty or floral — in essence, even more delicious.
This age-old quest for the perfect bottle of wine carries on to this day, and has even led (in part) to the creation of Harry & David's new Appella Cabernet Sauvignon, a years long project that has finally reached completion.
The Appella story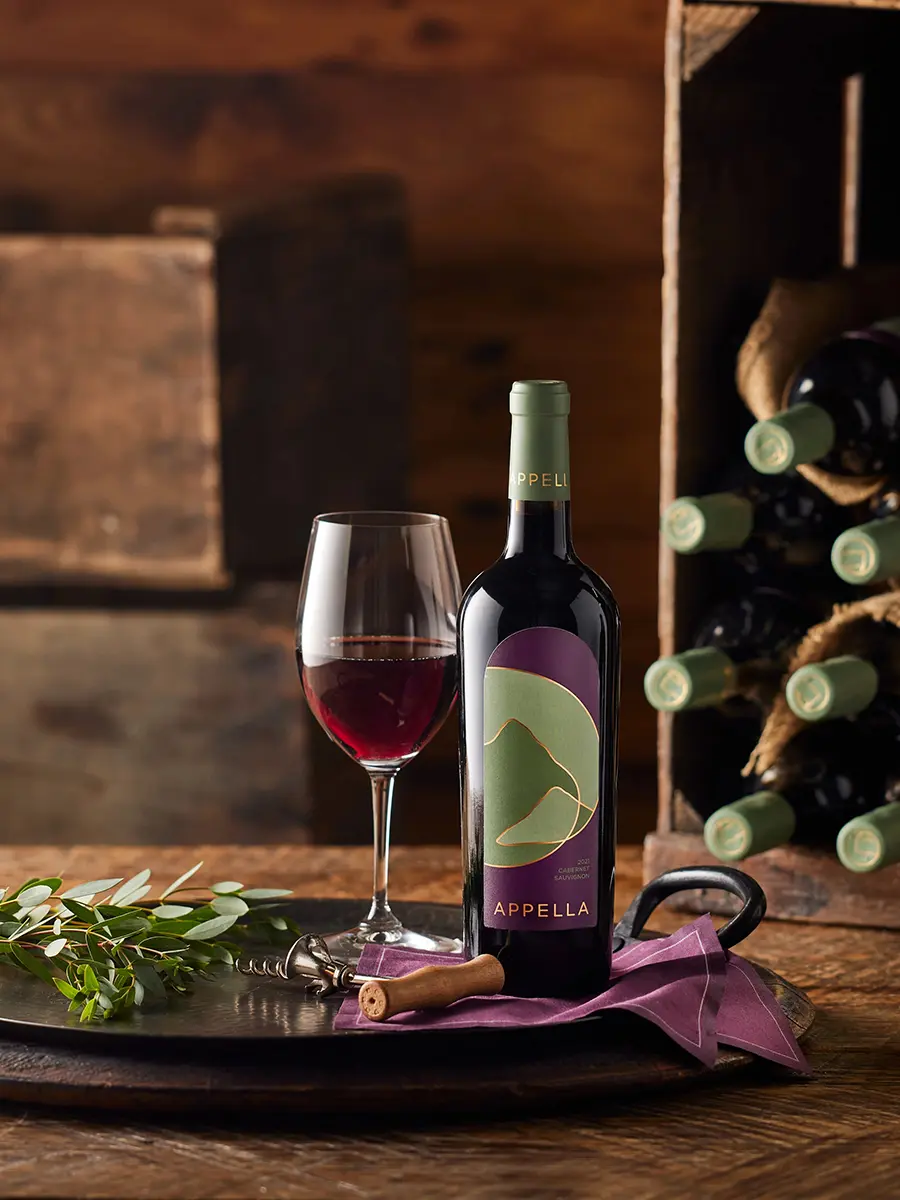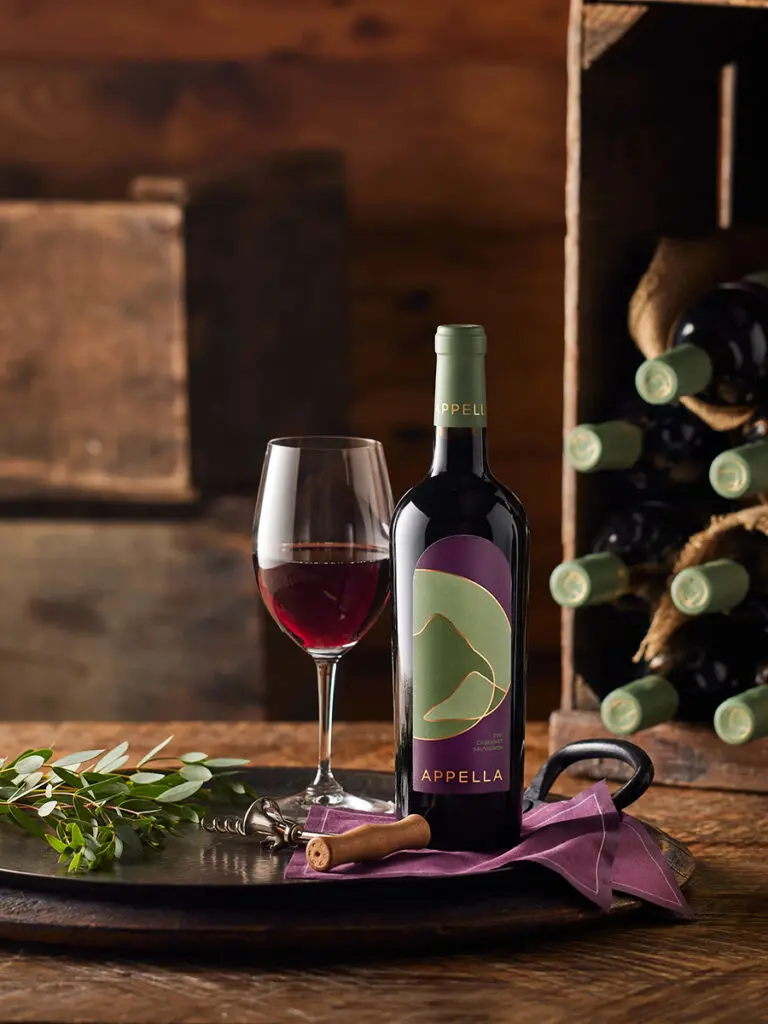 Harvested from mature, decade-old grape vines growing in Oregon's Columbia Valley, Appella is Harry & David's latest premium wine, and the vibrant new star of its award-winning selections.
"Appella is our new high-end brand in our wine portfolio," says Ellen Sorenson, Harry & David's merchandising manager for wine. "It was created for someone who enjoys good wine and likes the story it creates.
"We wanted to showcase the art form that winemaking really is. It's something unique and special that starts with the land — what the land provides and the exceptional care by the growers," Sorensen continues. "It then transitions right to the winery and the winemakers, who are these incredible culinary artists, just like the world's best chefs."
Harry & David is launching the line with a cabernet sauvignon. "It's our most lush and opulent wine to date, with a big, bold flavor," Sorenson says. "I'm so excited it's finally available for customers to try."
MORE: A Wine Lover's Guide to Enjoying Cabernet Sauvignon
Sorenson says she got into the wine industry because of wine's ability to bring people together and create incredible moments and memories, and she believes this cabernet sauvignon is perfect for doing just that.
"I love when people are able to open a bottle of wine and sit down with friends and create memories that they then carry with them and associate with that wine — and Appella is ideal for creating those moments."
What's in a name?
Because the land and artistry of winemaking is such an essential part of Appella's development, Sorenson and her team knew that whatever name they ultimately chose for the product had to reflect those values as well. That's how they ended up with "Appella."
"The name came about as a derivative of the word 'appellation,'" Sorenson says. Appellation is the term to define a specific geographic winemaking region, such as the Napa Valley region here in the United States or the Bordeaux, Burgundy, or Champagne regions in France.
The Pacific Northwest has its own amazing regions, too, where the combination of rich volcanic soil and marine sediment creates an environment in which grapes thrive. It's packed with minerals, drains well, and gives the grapes a deep, earthly flavor you cannot find in other regions.
"It truly is a remarkable place to produce a wine," Sorensen says.
Crafting the look
Inspired by the region in which Appella's grapes were grown, Sorenson says coming up with the right label for this wine was just as important as finding the right name.
The purple swirls and green mountains are really an abstract representation of that artistry, she says. "Winemakers take artistic liberties when they're making a wine; it is what makes a wine special and unique. We wanted to reflect that in the label with this sort of artistic 'kiss' to their work. It's abstract and graphic, with a bold, dominant name at the bottom that really stands out."
Love at first sip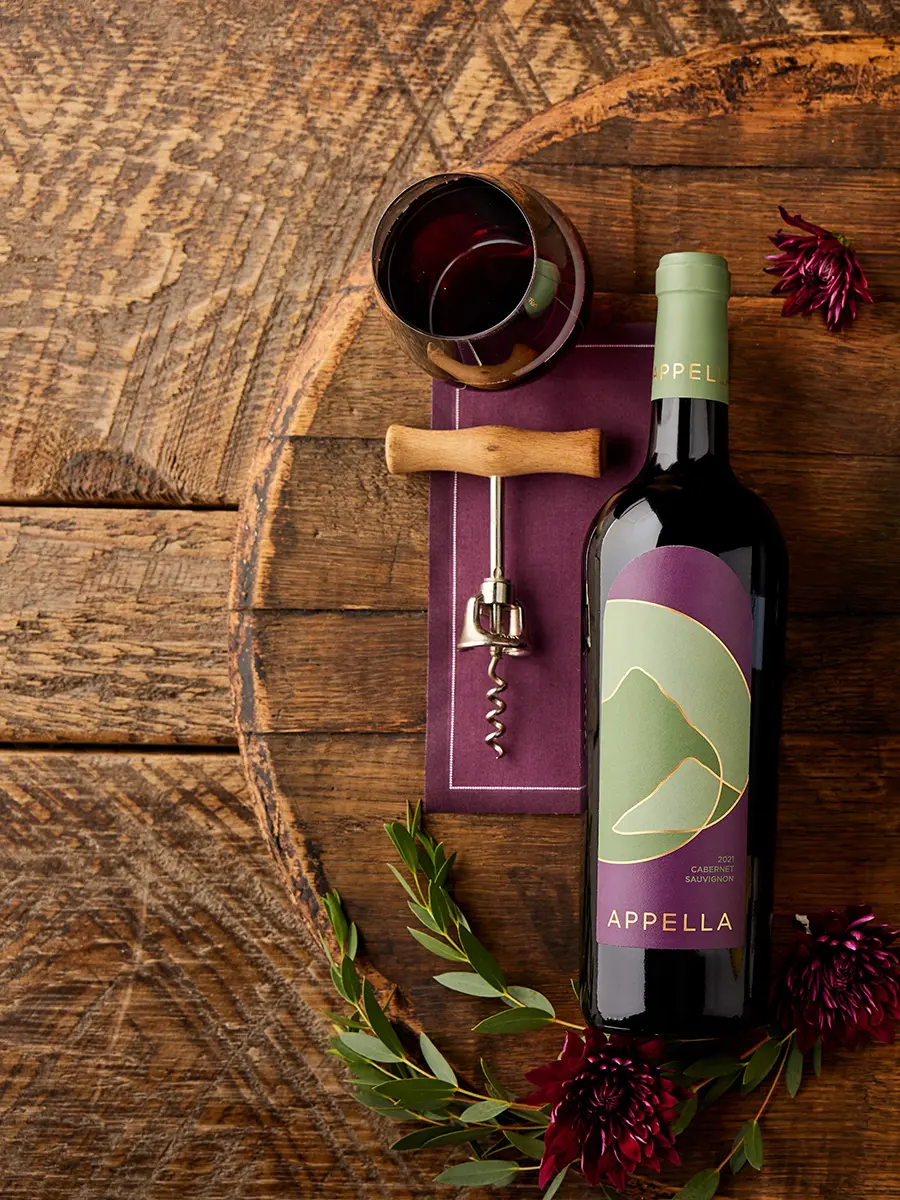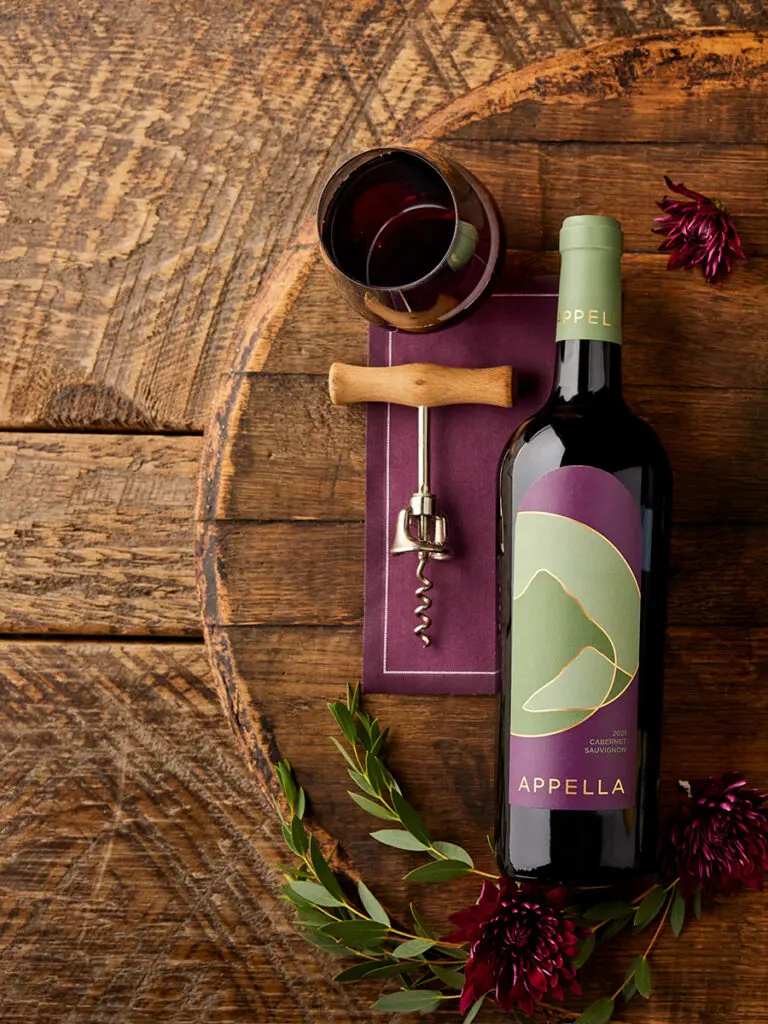 Appella Cabernet Sauvignon is an incredibly rich and robust wine. It features aromas of dark cherry and black currant mixed with nuances of vanilla, fine tobacco leaf, and star anise. Its flavor notes include lush layers of plump blueberry, rich caramel, and dark chocolate, ending in a long, velvety finish.
"When we were developing the wine, we wanted it to be bigger and more opulent than anything else we offered," Sorenson says. "We wanted it to be darker and more complex, so we went with premium grapes harvested from mature plants that could provide that richness and complexity, as well as ample secondary flavor characteristics, like a hint of leather or spice.
"Then we aged it in oak barrels to enhance and integrate those flavors to create even more complexity," she continues. "What it created was this beautiful, deep ruby/purple-colored, lush wine that's plush, has rounded tannins for an incredible mouthfeel, and just enough acidity to brighten and lift the wine all the way through the finish."
The perfect pairing
Some wines you buy are to go with a favorite dessert or complement a special dinner. Appella Cabernet Sauvignon, however, is the star of the meal. And Sorenson believes you should center your menu on its full-bodied flavor profile instead of the other way around.
For a savory treat, pair it with rich cheeses, such as Gouda, smoked goat cheese, or aged Parmesan. Or, if you prefer sweets with your cabernet sauvignon, consider creamy chocolate-covered truffles, dark chocolate-covered espresso beans, or even a Mexican milk chocolate containing hints of cinnamon and chili powder for an added kick of spice.
"If you're having it with a meal, I would pull it out for a holiday dinner of prime rib or any other red meat with a lot of marbling," she says. "The tannins in cabernet and the fat in a high-quality cut of red meat are great friends — they really complement each other well. It would be a lovely addition to any meal like that."
A gift for the ages
"If you can be patient, this wine is only going to get better as it ages," Sorenson declares. "Someone asked me when the ideal time to drink it would be, and I think you could easily give it five years and it still might not be at its peak performance. It's definitely one for the cellar.
"If you have a friend or someone you want to gift a wine to that has a cellar and that enjoys keeping special wines, this is a great option. Of course, you don't have to wait that long — it's also great to drink now too!"
She adds: "For me, it was really cool to be able to make something that people could hold onto for a while or that people could send as a special gift. Or something that makes others feel special with by pulling a bottle out and opening it to share with them.
"To me, Appella does that. And I hope it helps people create and share a lot of special memories now and for years to come."
Appella Cabernet Sauvignon gifts
---