The stuffing has always been my favorite part of Thanksgiving dinner. I look forward to it every single year, so much so, that I could probably just have stuffing for dinner and pies for dessert and be a happy camper. No need to make a fuss over the turkey. I'm just here for the stuffing!
For years now, I've been making the same stuffing recipe that was passed down to me from my great aunt. With this new apple stuffing recipe made with delicious Harry & David apples, I made sure to follow her traditions of plenty of butter and seasonings. And more butter…
The first step to making great stuffing is crisping the bread in your oven. This is a step you don't want to miss. Don't worry about it taking too much time on Thanksgiving Day, though because you can crisp the bread one to two days in advance if necessary.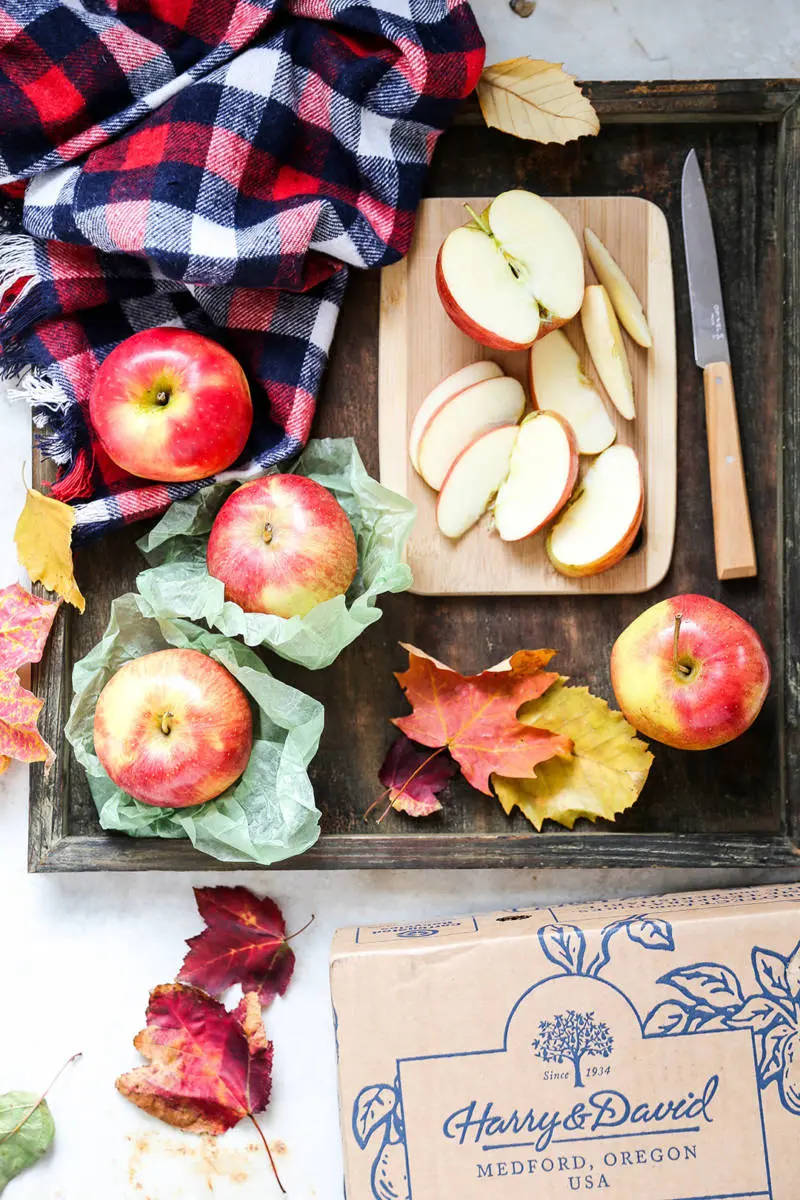 When you're ready to start cooking, you'll need to get out the biggest pot you have and sauté the diced celery, onion, fennel, and apples until they are soft. This is where all the butter comes in. Along with the butter, I also mixed in the seasonal herbs I had on hand, including parsley, sage, rosemary, thyme, and oregano. That may seem like herb overkill, but for Thanksgiving, it's worth going the extra mile. The herbs really bring a lot of freshness to this apple stuffing. Plus, your house will smell amazing as it bakes!
Finally, you'll combine the cooked vegetables and herbs with the crisped bread, broth, and a couple eggs to help bind everything together. The stuffing will go into a 9×13 inch baking dish, where you'll lightly pat it down so it fits snuggly in the pan. But be sure not to compress it too hard, or the stuffing will bake up super dense.
I decided to keep this apple stuffing recipe vegetarian, so I used vegetable broth in the recipe. This is great if you're having a mixed crowd over for holiday dinners. But if you're not concerned, you can certainly replace the vegetable broth with chicken broth. You can even use a few drippings from the turkey pan during basting (be mindful of any added salt). Or you can check out these other easy no-stress Thanksgiving stuffings and appetizers. Enjoy your apple stuffing. And happy Thanksgiving!
Apple and Fennel Stuffing with Fresh Herbs
Ingredients:
2

pounds

loaf country-style bread

(torn into 1 1/2- to 2-inch pieces)

1

cup

unsalted butter

(divided)

¼

cup

extra-virgin olive oil

4

celery stalks

(diced)

1

large

onion

(peeled and diced)

1

large

fennel bulb

(trimmed and diced)

2

Harry & David Premium Apples

(cored and diced)

1

tablespoon

kosher salt

2

teaspoons

black pepper

1

cup

parsley

(fresh, roughly chopped)

2

tablespoons

sage leaves

(fresh, roughly chopped)

2

tablespoons

rosemary

(fresh, roughly chopped)

2

tablespoons

thyme

(fresh, roughly chopped)

2

tablespoons

oregano

(fresh, roughly chopped)

3

cups

low sodium vegetable broth

2

eggs
Instructions:
Preheat your oven to 250° F.

Spread the torn pieces of bread out between two rimmed baking sheets.

Bake the bread, tossing occasionally, until it's dry and crisp, usually 50-60 minutes.

Remove the baking sheets from your oven and set them aside to cool.

Once cooled, transfer the bread to a very large bowl.

Increase your oven temperature to 350° F.

Lightly spray a 9X13-inch baking dish with nonstick cooking spray and set it aside.

In a large heavy-bottom pot over medium heat, melt 1/2 cup of the butter (not all of it!) with the olive oil.

Add the celery, onion, and fennel and cook, stirring occasionally, for 15 minutes.

Stir in the apple, salt, pepper, and the remaining 1/2 cup of butter and cook for an additional 6-8 minutes.

Remove the pot from the heat. Stir in all the herbs. Set aside.

In a medium bowl, whisk together the vegetable broth and eggs.

Slowly pour this mixture over the bread in the bowl.

Then scrape the cooked vegetables/herbs (and any accumulated liquid in the pot) on top. Gently fold/toss everything together, making sure all the bread is moistened and the ingredients are well combined.

Transfer the stuffing to your prepared baking dish, packing it down lightly. Cover the baking dish with aluminum foil and bake for 40 minutes.

Carefully remove the aluminum foil and increase the oven temperature to 425° F. Continue baking the stuffing uncovered for 25 minutes.

The top should be golden brown and crisp. Remove it from the oven and set it aside to rest for 10 minutes before serving.
Notes:
The bread can be baked 1 to 2 days in advance and stored in an airtight container at room temperature until you're ready to make the stuffing.
Leftovers can be stored in an airtight container in your refrigerator for 2 to 3 days.
---