A big-time football game is an opportunity for you to draw up your best party plans and put them into play. Orchestrating the right gathering for the Big Game requires finding the best routes to fun and not fumbling the little details.
Bring these eight key tips to the line of scrimmage when you tune in to professional football's championship game this February.
Drink some team spirit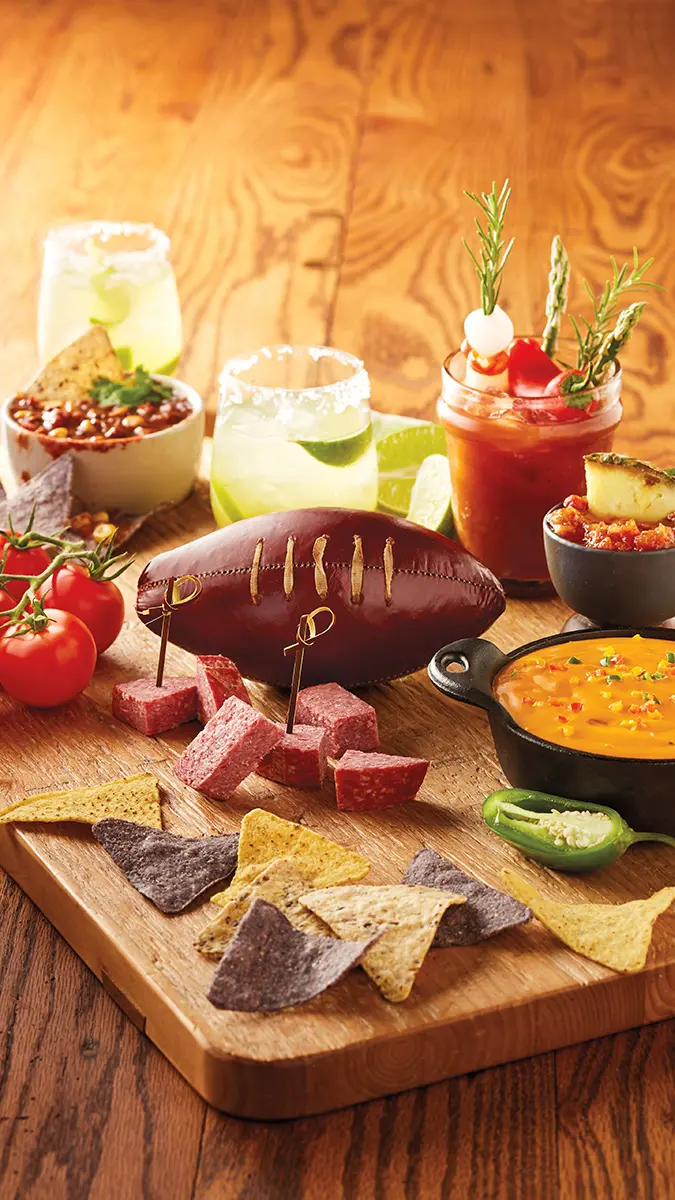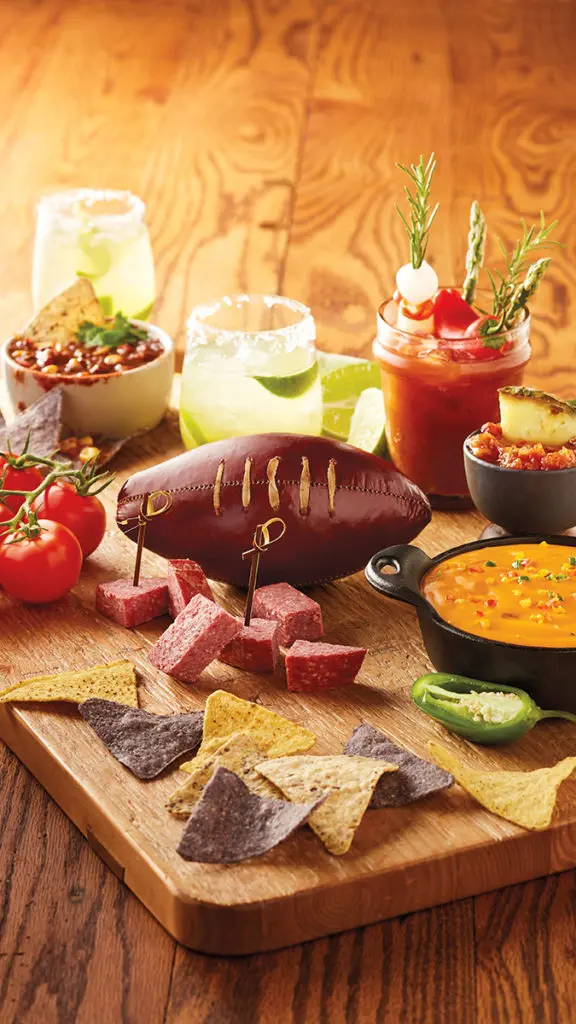 Party guests should always be free to BYOB, but the host can draft a beverage list that highlights the cities vying for the trophy. Craft beer, wine, and coffee from a variety of hyperlocal producers are available to be shipped nationwide. Trying different local beers from the cities of the two conference champs might be a solid pregame for you and your guests.
Small plates = big gains
Charcuterie or antipasto? No matter which team you're on, filling up on small bites is always part of a gourmet gridiron gathering. Want to be extra festive? Create a beautiful meat and cheese spread on a personalized board.
MORE: Recipes for the Big Game
Homemade jumbotron
The way you watch the Big Game (and all the awesome commercials) is almost as important as the food you eat during it. Lyon Porter, owner of Urban Cowboy Hotels, suggests using a projector whenever possible. "We have used an inflatable projector at our Dive Motel in Nashville, and people were able to watch the game from the hot tub." Porter says, "That experience makes watching the [Big Game] more memorable."
Huddle on your chicken wings
Chicken wings are essential to watching sports. These game-day staples come in a variety of flavors, and regardless of how much spice your guests like (or don't like), you should be able to find an option to suit any taste. Tom "TK" Kennedy, owner of TK's American Cafe in Danbury, Connecticut, knows a thing or two about chicken wings. He offers 76 flavors of wings at his legendary sports bar and sells about 17,000 wings for the Big Game. He recommends wings slathered in buffalo hot sauce, honey and teriyaki, and honey and barbecue sauce "because those flavor patterns are really familiar to people."
You can build your own wing bowl using similar sauces. For that traditional hot wing flavor, douse your wings with Signature Buffalo Wing Sauce. If your guests are non-traditional, call an audible by incorporating Pineapple Mango Wing Sauce. For a less saucy alternative, try a dry rub. These choose-your-own seasonings feature a trio of zesty options: Maple Bacon, Chili Lime, and Peppercorn Steak.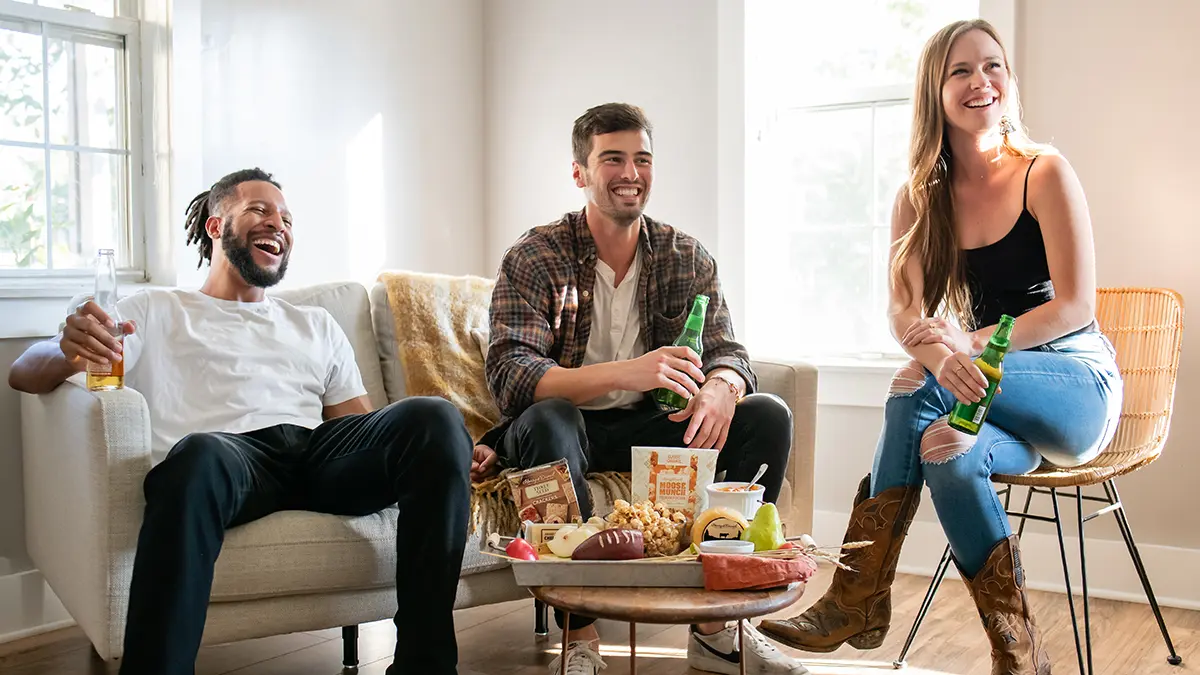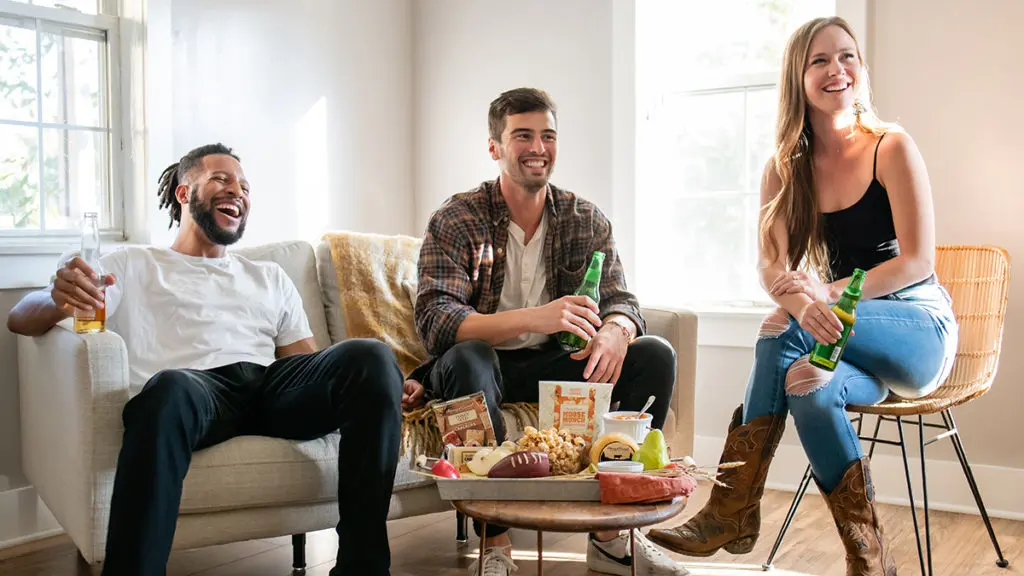 Draw up a main event meal
The best parties have a main course that everyone can munch on at various points of the game — and one that is meat-centric. While Porter, whose hotels are known for throwing epic parties, suggests going as far as having a pig roast, a boneless ribeye roast, stuffed pork crown roast, or London broil are all good options for your culinary depth chart.
Put on your own halftime show
It might be fun to see partygoers trying to outdo each other on the grill wearing chef aprons featuring the logo of your favorite team.
For a great conversation starter, buy a cheap box of vintage football trading cards and pass out the packs to your guests. The familiar names, dated uniforms, and factoids are a great way to discuss and celebrate the game. Nostalgia and sports go hand in hand like tailgating and football.
Overtime
As the host, you're going to want to clean up during regulation time. But once the game is over, you could need a change of scenery. "It's a long day and to keep the party going you may want to head to a bar within walking (or taxi) distance," Porter suggests. "You may also want to invite more people over and open your space up for an after party." Because all the excitement happens in overtime.
---