Humanity's obsession with meat and cheese goes way back — and we mean, waaay back. Thousands of years to be precise.
In those days, before the advent of refrigeration, all meat had to be preserved in some way. Sure, it was inconvenient, but, lucky for us, that process also led to some incredible creations: smoky preserved hams and prosciutto, delicate spicy salamis, hearty sausage and jerky, rich corned beef…the list goes on and on. Pair those with homemade cheeses, jams, jellies, and crackers of the time, and you had a pretty impressive menu, one that was unique and distinct to every home and family living in that period.
And when company would come over, people of that era wanted to be polite and hospitable, just like we do today. Generally, that meant lighting a fire, pulling out a bottle of a favorite drink, and putting out a selection of their very best meats and cheeses as a snack. That's how we came to have one of the most wonderful of all culinary inventions: the meat and cheese tray, or the charcuterie board, as it was called in France, where it started in the early 15th century.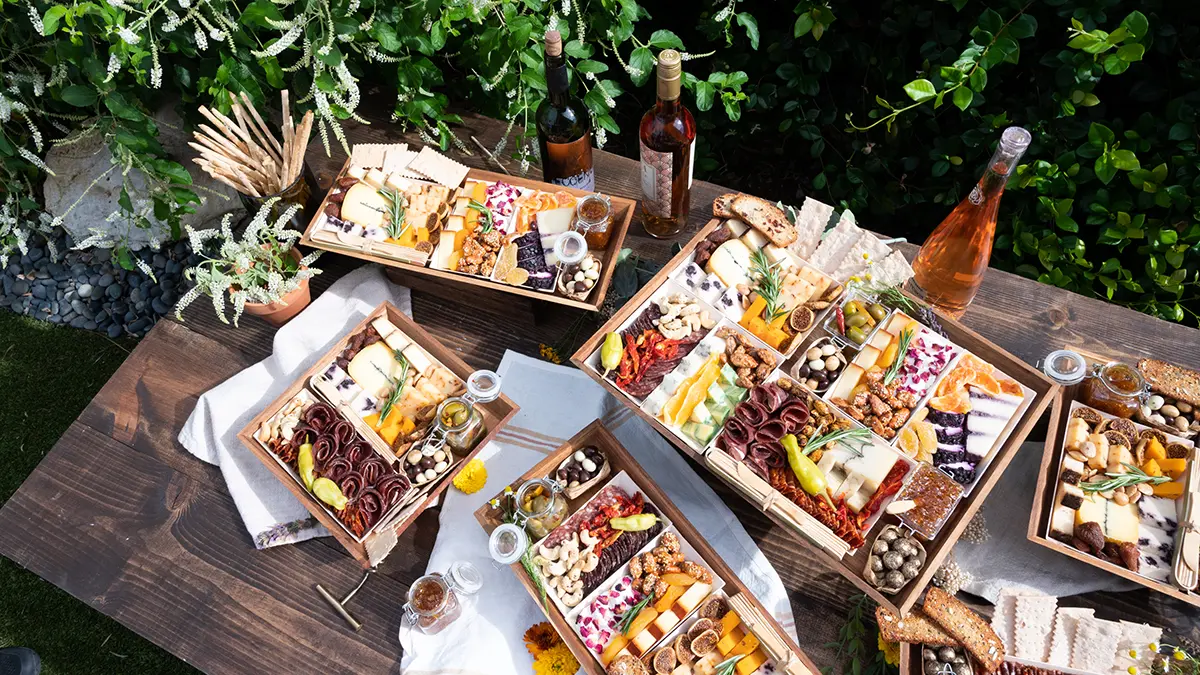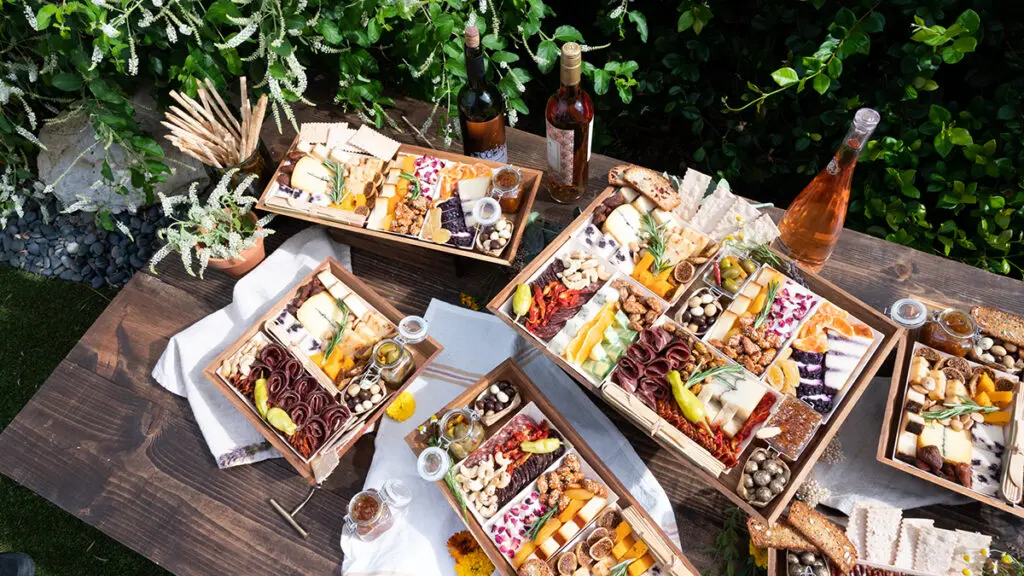 The rebirth of charcuterie
Fast forward 500 years and charcuterie boards are just as popular as ever, if not more so. Take a quick spin around social media and you'll find countless posts celebrating charcuterie boards of all shapes and sizes, some of which don't even have charcuterie (blasphemy!). These include recipe suggestions, DIY tutorials, shopping lists, and more.
But there's also one big drawback when it comes to charcuterie boards: Laying out a great platter can take a lot of work. Sure, you're not actually cooking anything, but you do have to find and source all those different ingredients, slice them up, and make them look picture perfect. And the better the board, the more diverse and varied the meats and cheeses on it need to be.
That's where Boarderie, a family-run business famous for taking the hassle out of charcuterie, comes in. It makes incredible, jam-packed meat and cheese boards that are delivered fresh overnight right to your doorstep — already assembled.
Let me repeat that: ALREADY ASSEMBLED.
The Boarderie story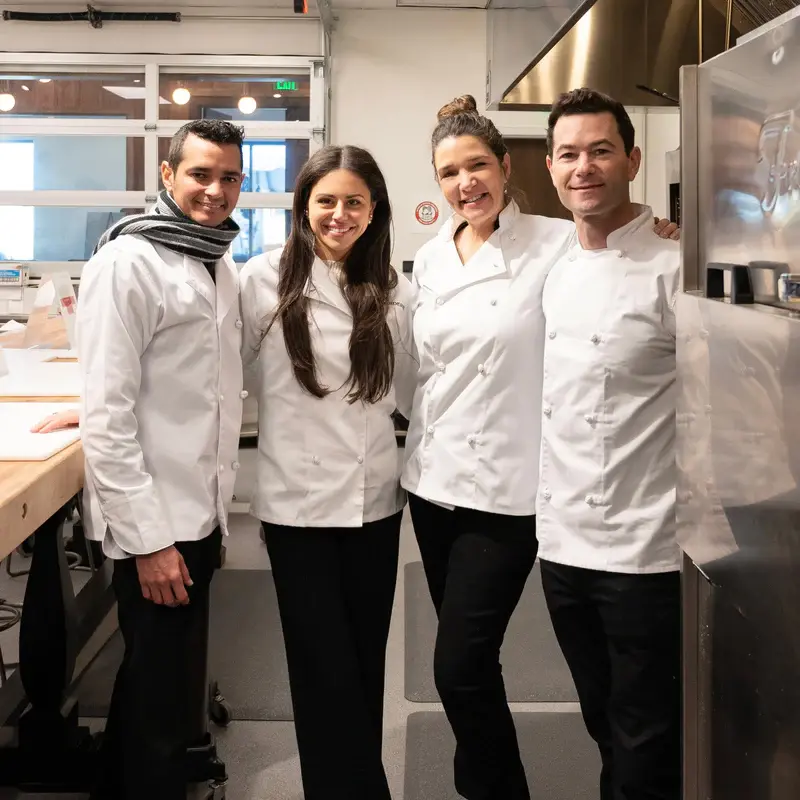 Twenty years ago, married couple Julie and Aaron Menitoff decided to open the gourmet catering company of their dreams in Palm Beach, Florida — and their efforts paid off big. Before long, they were serving luxurious, over-the-top meals to some of the world's most elite customers, including Bruce Springsteen and Prince Harry. Then the pandemic hit, lockdowns started, and all their business disappeared almost overnight. But instead of giving up on what they loved, the couple decided to refocus their efforts on an emerging new passion.
"We'd always loved meats and cheeses, and worked with them a lot in our catering," Aaron says. "Around this time, we noticed that there were all these local cheese and charcuterie shops starting up. They were doing local delivery, but there was nobody that was shipping meat and cheese trays nationwide. So we decided to try doing it ourselves, and we created the first ever shippable, prearranged, ready-to-eat artisan cheese and charcuterie boards."
The business took off quickly thanks in part to being a winning product on Shark Tank and named to Oprah's Favorite Things List in 2022. Now, Boarderie is for sale at Harry & David. There, you can buy one of five different prepared assortments of meat, cheese, nuts, and dried fruits, each of which comes artfully arranged on a reusable acacia wood serving tray.
World-class ingredients
A typical mail order meat and cheese tray tends to top out at eight to 10 different ingredients. But Julie and Aaron wanted their boards to be a celebration of the widest possible range of artisan foods, collected from producers from across the globe. That means that even their smallest boards top out at nearly 20 different featured ingredients (!), with larger trays packing in almost twice that amount. It's an awe-inspiring selection of meats, including black truffle salami, peppered salami, Italian bresaola, and salami piccante; plus incredible cheeses, such as espresso pecorino, fig and rose goat milk cheese, apple-smoked cheddar, mobay, wasabi horseradish cheddar, maple bacon cheddar, and so much more.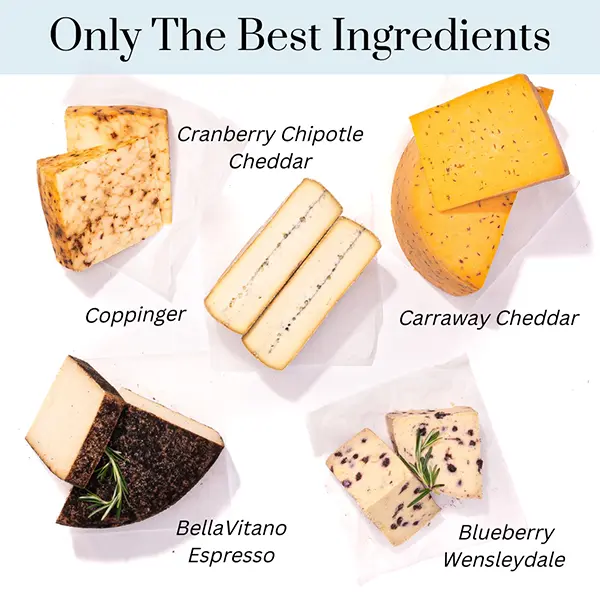 "We use products from all over the world," Aaron says. "We focus on putting as many unique artisan items as possible on each tray. We have producers from France, England, Germany, Spain, a lot of cheese producers here in the states, in Wisconsin. And a lot of them are making things exclusively for us, creating really interesting, unique flavors and products that you're not gonna find in your local grocery store."
"In addition to meats and cheeses with unique flavors, we also look for products that are beautiful to look at," Julie adds. "We try to look for different textures and shapes and colors to make our boards as beautiful as possible. We have so much fun putting the boards together, and we want the people who buy them to have that same enjoyment as they try everything."
Perfect for gifting and entertaining
Boarderie's charcuterie trays are ideal for parties. Instead of hiring a caterer, Aaron advises just setting up a grazing table and ordering enough trays to feed all your guests (smaller trays serve 2 to 3 while larger trays pack enough for 9 to 10). Once the box arrives, there's a simple two-step process:
Open the box.
Unwrap the tray.
That's it! It's now ready to go — no cutting or arranging needed.
Trays can be ordered up to a year in advance and are made the day they are shipped, so they arrive fresh on your doorstep the next morning, ready to eat.
---

---
"The picture that you see when ordering is exactly how they come," Aaron says. "There's no extra work required."
In addition to parties, family gatherings, and event hosting, Boarderie trays are especially popular as gifts, for events like birthdays, anniversaries, and graduations, according to Julie.
"We also do a lot of condolence gifting, baby showers, and engagement parties," she says. "The boards are perfect any time you want to show someone you're thinking of them. And they can just open it up and enjoy it — there's no extra effort needed, like you sometimes get with care packages. It's just a really fast, easy way to order, something that looks beautiful, and that everybody's gonna have fun trying."
The big reveal
True to Julie's promise, the Boarderie Arte Cheese & Charcuterie Board we tried showed up looking just like a real-life social media post. Perfectly packaged in a large cardboard box, with ample padding and plenty of freezer packs, the board was ready to try as soon as it came out of the box. Just remove the plastic wrap cover and dig in!
All the dozen-plus different meats and cheeses on the board appeared as if they were just sliced and arranged; the flavors were still sharp and fresh, and each tasted like a gourmet treat. Nothing was hard or soggy or looked like it had been prepared days in advance. And while the highlight of our Boarderie experience was, of course, all those delicious meats and cheeses, we were also pleasantly surprised by the incredible assortment of extras that came with them: mouthwatering dried strawberries, Turkish dried figs, crystallized Thai ginger, dried tangerines, candied walnuts, caramelized pecans, amazing Dijon-seasoned pistachios, and more — enough to feed a small-to-medium-sized army, in fact.
Definitely the makings of an incredible gift anybody would be sure to get, perfect for sharing on social media, and exciting enough to keep fueling the public's ever-growing love for charcuterie boards!
Meet the boards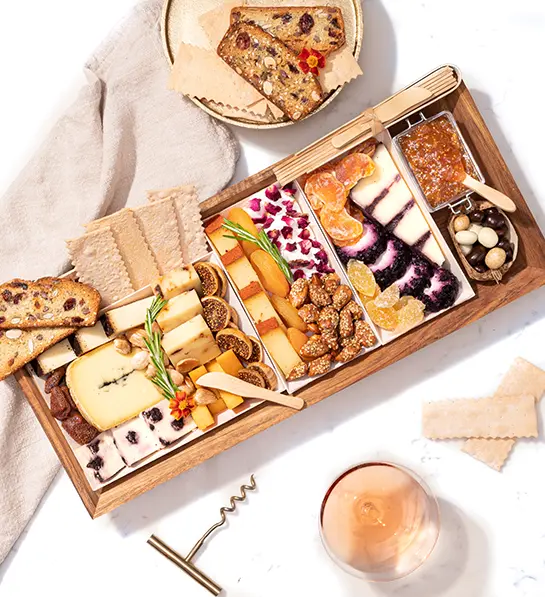 Serves 4-5
19 ingredients
9 artisanal cheeses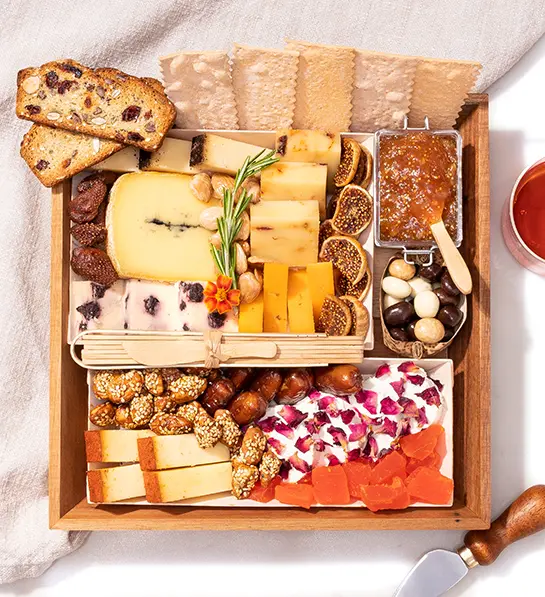 Serves 2-3
16 ingredients
7 artisanal cheeses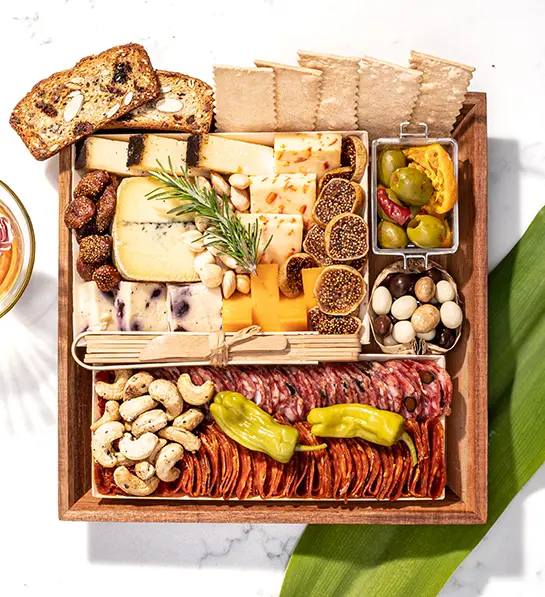 Serves 2-3
15 ingredients
5 artisanal artisanal cheeses
3 artisanal meats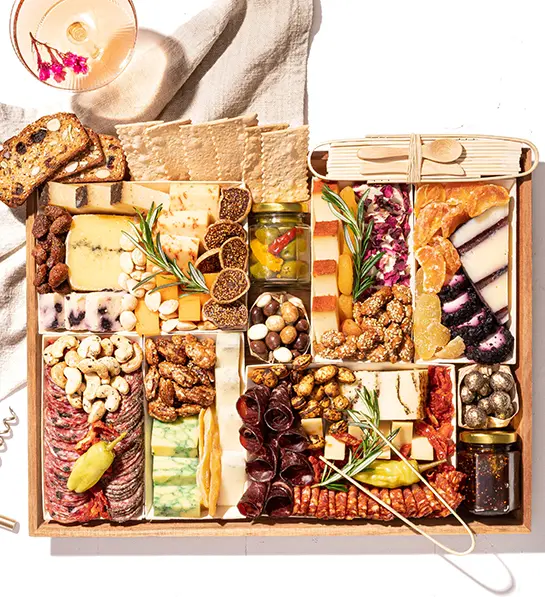 Serves 9-10
34 ingredients
13 artisanal cheeses
Each board may be kept in the refrigerator for up to 10 days.