Since I was a child, my favorite candy from Harry & David has been its truffles…and what better way to celebrate Mother's Day than to share these sweet and dreamy treats that bring back such fond memories!
Truffles melt very easily, making them perfect in this decadent brownie cookie recipe that will be the focal point of your Mother's Day dessert board. I used the truffles to make a dark chocolate reduction, which I then mixed into the cookie batter, making these cookies deep, rich, and impossible to resist.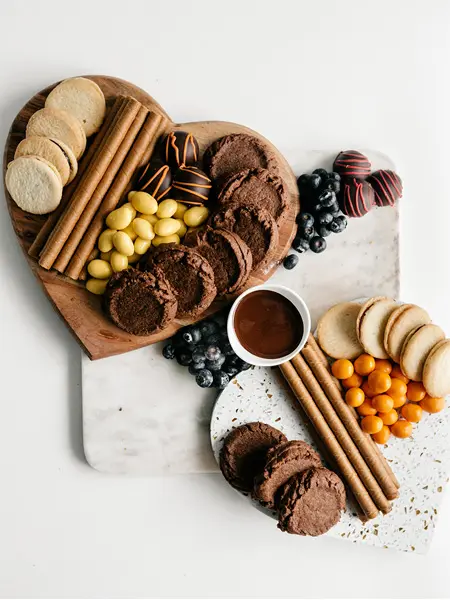 Making the truffle brownie cookies
Reduce the truffles by melting and whisking them into a smooth, deliciously drip-worthy consistency. This is the only chocolate these cookies need, and the truffle flavor shines through brilliantly. Just make sure to check the chocolate often when using the microwave (or melt it slowly over low heat if using the stove) since chocolate can burn easily.
Besides the melted truffles, you only need seven other simple ingredients to create these little chocolate gems. The cookies come out perfectly soft and are wonderful either eaten plain or dipped in melted chocolate. You could even top them with fruit and ice cream and turn them into a base for a delightful sundae.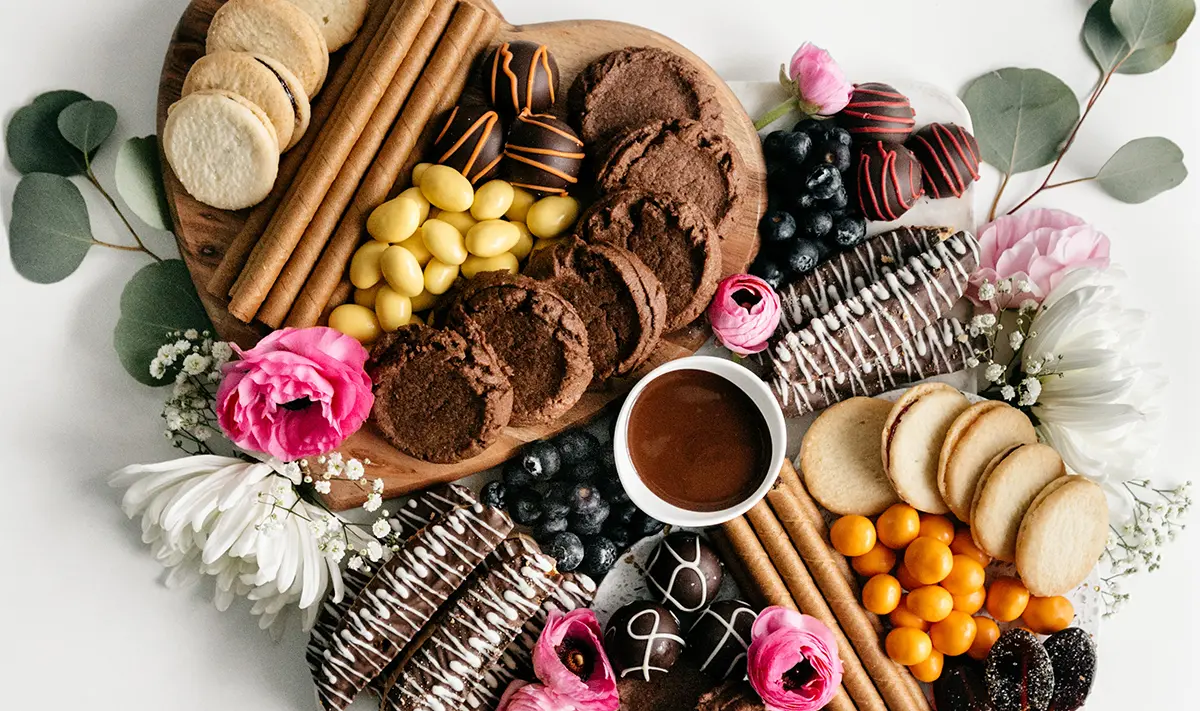 The Dessert Board
Ingredients:
Homemade truffle brownie cookies

(recipe below)

Chocolate hazelnut wafer rolls

Chocolate dipped almond biscotti

Harry & David signature truffles

(melt half of them for a dipping sauce)

Hazelnut coffee spoons

Lemon almonds

Milk chocolate enrobed apricots

Blueberries

(or your favorite seasonal fruit)
Notes:
Start with your main items, which, in this case, are the brownie cookies. Place the cookies in the center so they draw the eye. You can add a few extra in a different spot to create balance across the board.
Place everything else anywhere you want on the board. I used wafer rolls on both sides of the board facing in opposite directions. The diverse flavored truffles and raspberry galettes in different spots across the board bring an array of colors.
Add some greenery and florals to give it a fresh, vibrant feel and match the season.
---


---
Truffle Brownie Cookies
Ingredients:
½

cup

chocolate truffle reduction

(8 Harry & David dark chocolate truffles melted)

⅔

cup

salted butter

(melted)

¾

cup

granulated sugar

1

large egg

2

teaspoons

pure vanilla extract

1¾

cups

all-purpose flour

½

teaspoon

baking powder

¼

teaspoon

salt

½

cup

melted chocolate chips for dipping

(optional)
Instructions:
Preheat oven to 350° F.

In a medium-sized bowl, melt eight dark chocolate truffles in the microwave on high for about 60 seconds, stirring at the 30-second mark and adding time until smooth and lump free.

Mix the melted truffles with the melted butter and sugar.

Mix in the egg and vanilla until fully incorporated.

Add the flour, baking powder, and salt until just mixed.

Scoop out 2 tablespoon-sized cookie dough balls and place them on a cookie sheet. Press each cookie down with the back of a measuring cup to about ¾-inch thick.

Bake for 10-11 minutes. Allow to cool for a minute on the baking sheet, then transfer to a wire rack to cool completely.

For dipping/drizzling option, melt chocolate chips on high in a microwave-safe bowl for 45-60 seconds or until fully melted. Be cautious, as the bowl can come out hot. Whisk until chocolate is free of lumps. Dip each cookie halfway into the chocolate, or drizzle the chocolate onto each cookie. Place on parchment paper to dry; chocolate will harden as cookie cools.

Store cooled cookies in an airtight container for up to four days.
Notes:
These cookies can easily be made gluten free. Just swap out regular flour for a gluten-free flour blend.