It's not fair to judge, but it's ok to judge when it comes to burger toppings. And we LOVE to find different, tasty ways to enjoy a juicy burger. This burger recipe uses our Country Cranberry Relish, so get ready to impress the fam this grilling season. It's a must-try burger recipe from Julia Mueller of The Roasted Root, and we can't wait to fire up the grill and know you can't wait either.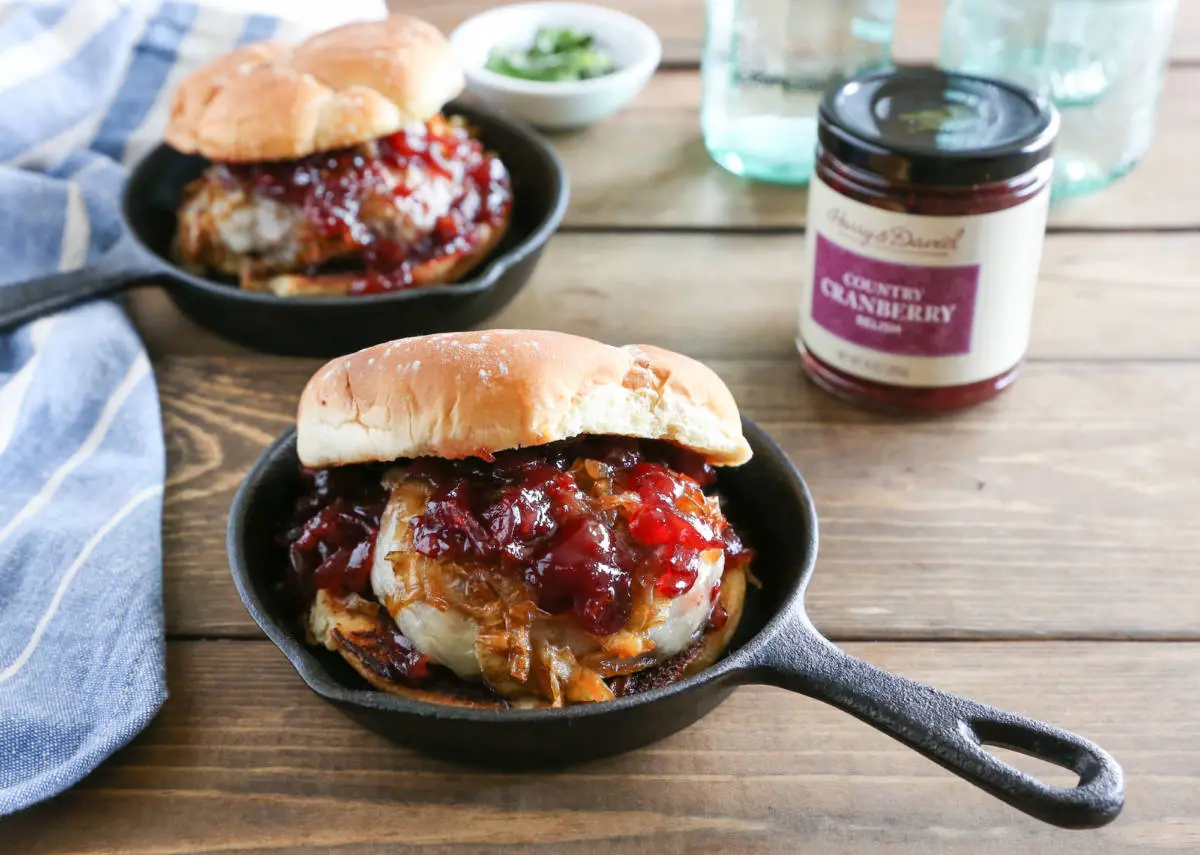 Grilled Burger with Caramelized Onions and Cranberry Relish
Ingredients:
3

tablespoons

olive oil

2

large

yellow onions

(sliced)

1

pound

ground beef

1

teaspoon

oregano

(dried )

1

teaspoon

parsley

(dried )

½

teaspoon

paprika

¾

teaspoon

sea salt

4

slices

Havarti cheese

(or cheese of choice)

4

potato burger buns

(or bun of choice, toasted)
Instructions:
Heat olive oil at medium-high in a large skillet and add the sliced onions. Sauté, stirring occasionally, until onions are translucent and begin to brown on the sides, about 10 minutes.

Reduce heat to medium-low and continue cooking, stirring occasionally, until onions become deep brown and are caramelized, about 40 minutes. Add sea salt to taste. Note: if onions begin to stick to the skillet at any point, add a few tablespoons of water to de-glaze the pan.

Add ground beef, oregano, parsley, paprika, and sea salt to a mixing bowl. Use your hands to mush everything together until ingredients are well-combined. Form three 1/3-pound patties, or four ¼-pound patties.

Preheat grill to high heat. Carefully place patties on grill and cover with the grill lid. Grill for 3 minutes until first side is golden-brown and slightly charred. Flip patties, cover, and cook 2 minutes.

Add the sliced cheese to the burgers and cover. Cook until cheese has melted, about 1 minute. Note: for well-done burgers, cook an additional 2 minutes. (Note: See instructions below for cooking burgers in a skillet).

Spread just 2 to 3 teaspoons of Harry & David Country Cranberry Relish on each slice of toasted burger bun. Top burgers with caramelized onions, and serve alongside your favorite side dishes.
Alternative Tip — How To Cook Burgers in a Skillet:
Heat a large cast iron skillet to medium-high, and add enough cooking oil to generously coat the surface, about 1 to 2 tablespoons.

Carefully place the burger patties on hot skillet, giving them at least 1 inch of space between for even cooking. Note: To avoid fat and oil splatter, place a fine mesh splatter screen over the skillet.

Cook 3 minutes, or until first side is browned and crispy. Carefully flip and cook another 3 minutes. Continue cooking and flipping every one to two minutes, until burgers reach desired doneness.

For medium-rare burgers, cook burgers a total of 6 minutes. For medium, 7 to 8, and for well-done burgers, 9 to 10 minutes total.