In "Cooking up Comfort," we're walking you through all the classics, whether you want to curl up with soup on a rainy afternoon or bake something delicious to celebrate the weekend. Jacqueline Vignona of Spread the Grub takes the classic shepherd's pie recipe and modernizes it with an aromatic cauliflower risotto.
If you've ever had the pleasure of popping into a pub for a pint and some grub, you've probably seen shepherd's pie on the menu, a classic, belly-warming mixture of beef, gravy, veggies, and mashed potatoes. And if you're also a stickler for proper food history, you might be inclined to take a red pen to that very menu and change it to cottage pie.
What's the difference between shepherd's pie and cottage pie?
Cottage pie dates back to 18th-century England and Ireland, where poor, country-dwelling families — not wanting to waste a single morsel of their Sunday supper — would repurpose leftover beef roast and gravy by baking it in a dish topped with potatoes. The modern cottage pie has evolved to include vegetables, lentils, and even a cheesy topping.
Around the same time, Scottish sheep farmers (aka shepherds) were putting a similar dish on their tables, only with minced mutton or lamb instead of beef. They also topped the meal with mashed potatoes, which were said to represent a sheep's fleece, thus earning the moniker "shepherd's pie."
Today, chefs and home cooks alike still argue (politely, of course) over what to call a baked meat pie of gravied beef topped with mashed potatoes. Cottage pie? Shepherd's pie? The debate rages. But whatever the name is, one thing is for sure: It's delicious.
Modern spin on a classic recipe
Food blogger, recipe developer, and private cook Jacqueline Vignona has taken the dish to even new, healthier heights. Her recipe swaps out buttery mashed potatoes for a tangy topping of cauliflower risotto, which is made with a blend of diced asparagus, Asiago and Parmesan cheese, lemon, herbs, and a hint of fresh mint. Just before baking, Vignona adds a layer of finely grated Gruyère cheese to give it a little kick.
Don't have Gruyère on hand? Don't fret. You can substitute it with grated Swiss, aged cheddar, or jack cheese. And if you're looking to save a few calories, you can skip the cheese altogether. The cauliflower risotto will still deliver a show-stopping, golden-brown topping.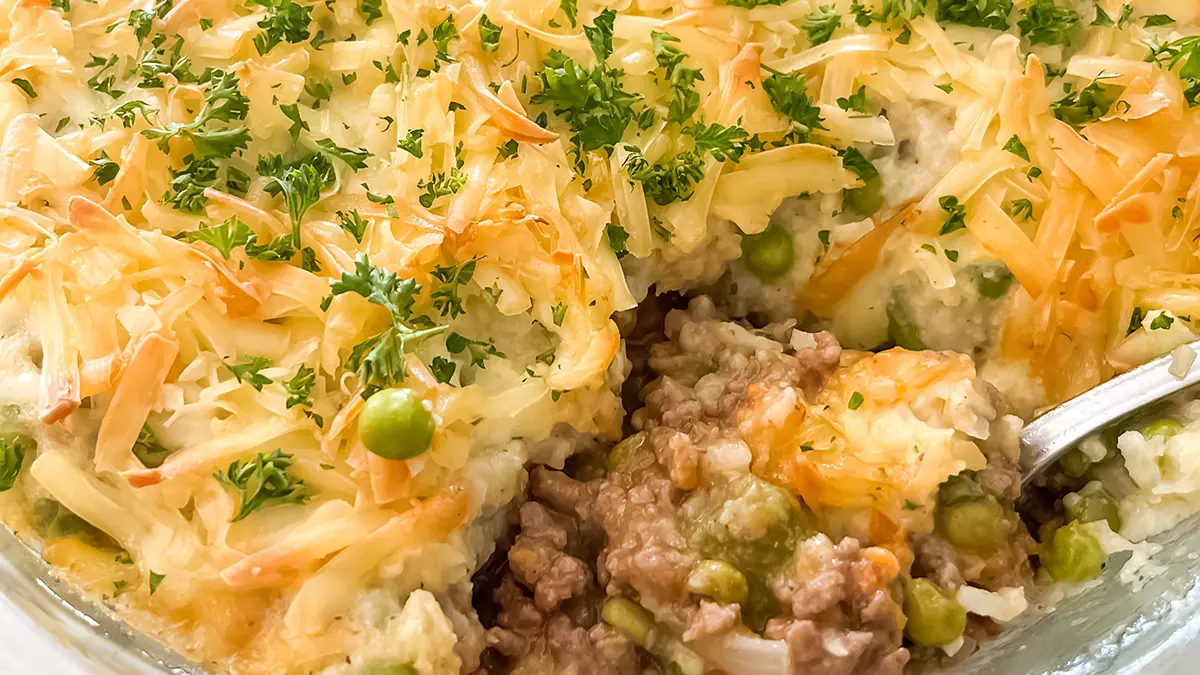 Cauliflower Risotto Shepherd's Pie
Ingredients:
2

tablespoons

avocado oil

1

cup

onion

(chopped)

1

pound

ground beef

(90% lean 10% fat)

1

tablespoon

Dan-O's Seasoning

(original)

1

teaspoon

salt

1

can

mixed carrots and peas

1

tablespoon

Worcestershire sauce

2

tablespoons

canned tomato sauce

( or paste)

1

cup

beef broth

2

tablespoons

all-purpose flour

(gluten-free)

1 ½

cups

smoked apple Gruyère cheese
Instructions:
Preheat your oven to 350° F.

Place your cauliflower risotto in the oven for about 45 minutes or until cooked all the way through.

To make the meat mixture, add the avocado oil to a skillet on medium-high heat for two minutes.

Add the onions. Cook for two minutes, stirring occasionally.

Add the ground beef to the skillet and break it apart with a wooden spoon.

Add the seasoning and salt. Stir well. Cook for about 5 to 6 minutes or until the meat is browned, stirring occasionally.

Add in the peas and carrots, Worcestershire sauce, tomato sauce, and broth. Then add in the flour. Bring the liquid to a boil then reduce to a simmer. Simmer for five minutes, stirring occasionally. Set the meat mixture aside.

Once the cauliflower risotto is done, begin to add the meat mixture to a baking dish and flatten with your spoon. Then add the cauliflower risotto mixture on top and flatten with a spoon. Sprinkle the Gruyère cheese on top. Put in the oven for an additional 10 minutes or until the cheese is golden brown.