I've always believed in the phrase "food is love." I grew up hearing those words spoken around my house, and, since I love to cook, I now live my life according to that sentiment. There is no better way to show someone you love them than by preparing and sharing a home-cooked meal for them.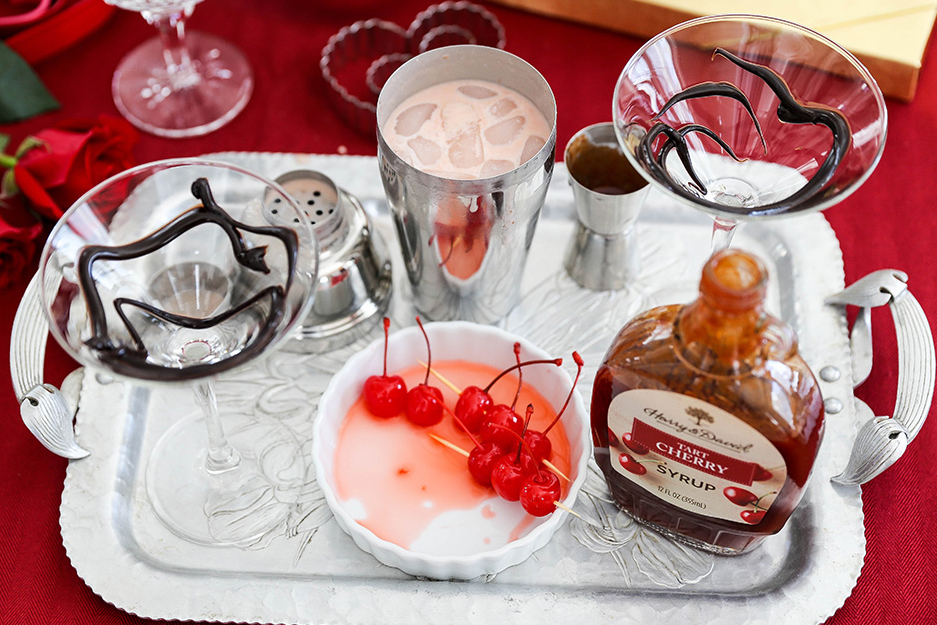 Today, I'm extending that phrase to also include cocktails. If you're ready to embrace my new mantra "cocktails are love," then you're ready to check out this Valentine's cocktail: sweet chocolate-covered cherry martinis.
These decadent martinis were inspired by one of my favorite treats: Harry & David Chocolate-Covered Maraschino Cherries. Vodka, dark chocolate liqueur, heavy cream, and tart cherry syrup combine into an easy yet impressive cocktail that's reminiscent of those delicious chocolate cherries.
The tart cherry syrup is what gives these cocktails all their delicious cherry flavor. It also turns them a very light "blushing" shade of pink, making them oh so festive for Valentine's Day. The syrup isn't cloyingly sweet, so it keeps these cocktails well balanced. It's a great ingredient to keep both in your pantry (it's delicious drizzled on pancakes or yogurt) and on your bar cart.
This Valentine's cocktail is just the thing to kick off date night at home and is sure to knock the socks off your sweetheart. (More than one of these and it'll be more than just socks that get knocked off.) It will knock the socks off your sweetheart!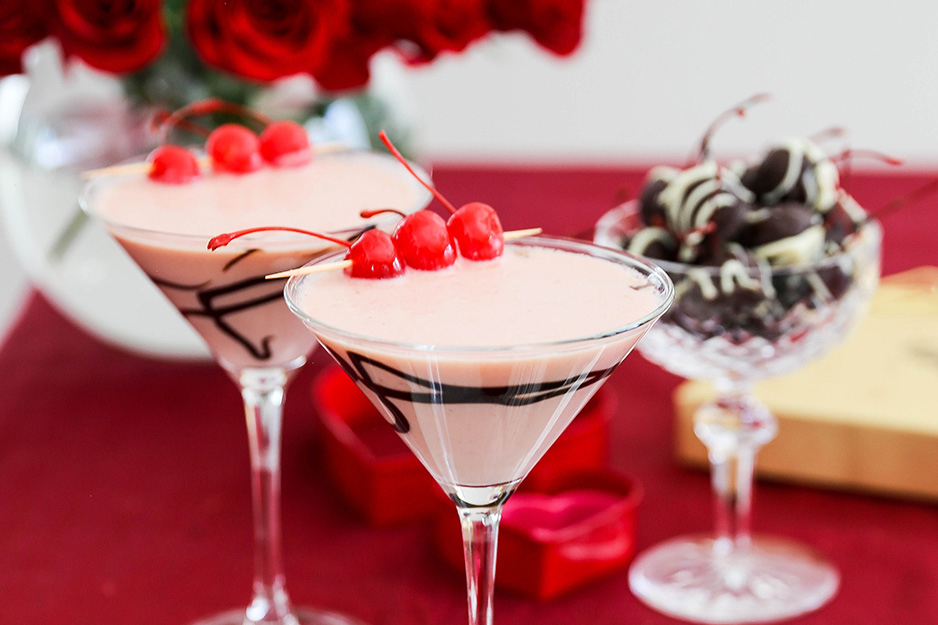 Chocolate-Covered Cherry Martinis
Instructions:
Fill your shaker about a third of the way with ice.

Add all of the ingredients for the martinis to your shaker.

Cover and shake until well combined and chilled, about 10 to 20 seconds.

Squeeze a ribbon of chocolate syrup around the inside of your glasses.

Strain the martini mixture into your prepared glasses, dividing it evenly between the two glasses.

Garnish each with maraschino cherries. Enjoy immediately.
Notes:
If you don't have a cocktail shaker, then you can use a mason jar filled partway with ice and strain the martinis into your glasses through a mesh strainer.
These martinis are easy to customize, so feel free to experiment with them. Try using white chocolate liqueur or coffee liqueur in place of the dark chocolate liqueur. You can also use coconut milk in place of the heavy cream for a subtle tropical undertone.
---