In "Board Games," learn to level up your Sunday brunch, create a holiday board with all your favorite cookies, or style a cheese board for a night in. This spread for a Christmas charcuterie board comes from Olivia Carney of That Charcuterie Chick.
It's time to start planning what we'll be noshing on at Christmas this year. I'm all about putting everything on a board and calling it a day (it's less work ) and I love creating a festive spread that my family and friends can share laughs around. This year, I wanted to incorporate savory and sweet elements, so that the spread was fun for everyone — and it also helps with the transition from dinner to dessert.
The holiday offerings from Harry & David make it incredibly easy to pull together a fun and festive Christmas charcuterie board. The Specialty Christmas Banquet is one of my favorites because it offers a wide variety of products that make for a balanced board of salty and sweet items. On the savory side of the board, we have Calabrese salami, Rogue Creamery® Smokey Blue® cheese, sharp white cheddar cheese, three-seed crackers, mixed nuts, and the beloved Royal Riviera® Pears. If you haven't tried a schmear of blue cheese over a sweet, juicy slice of Royal Riviera® Pear, please take this as your sign to do so — immediately! Then go get yourself a glass of red wine.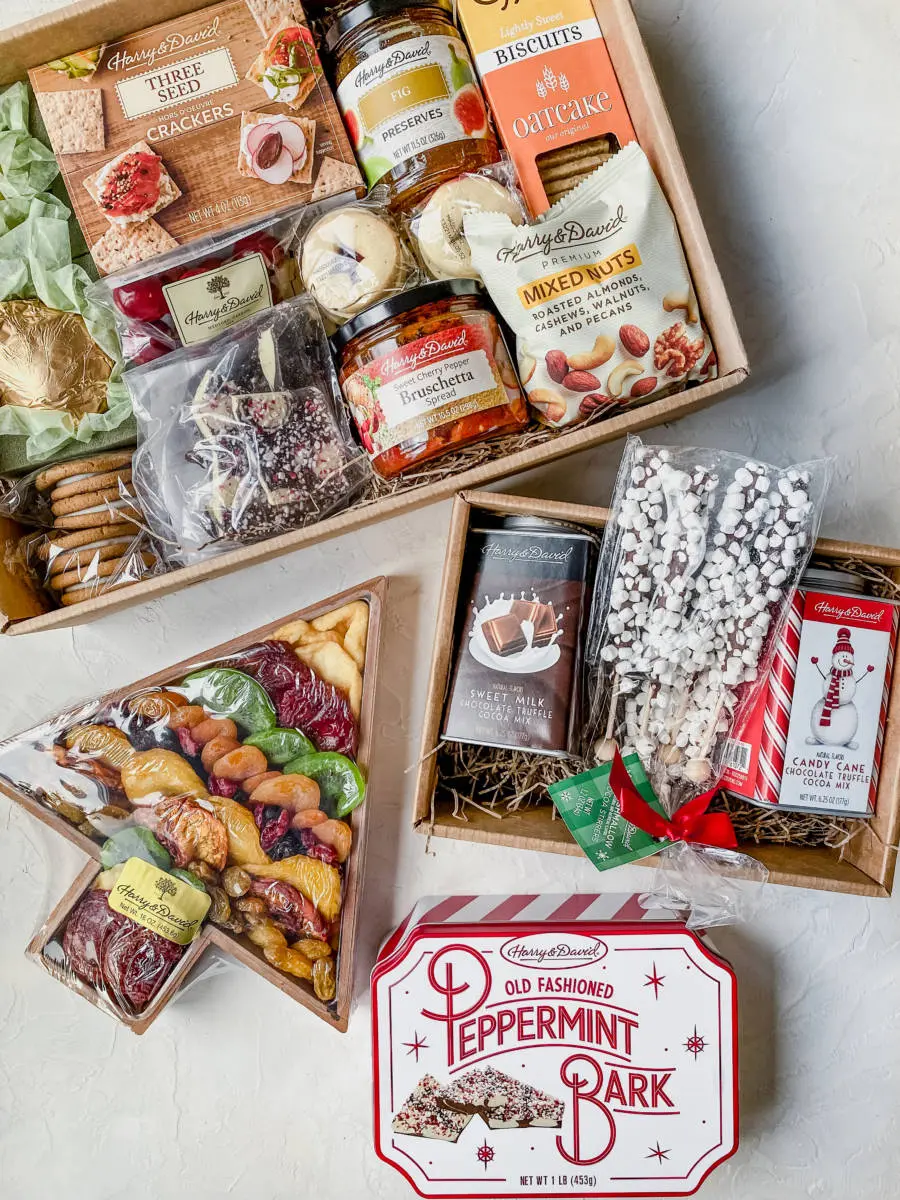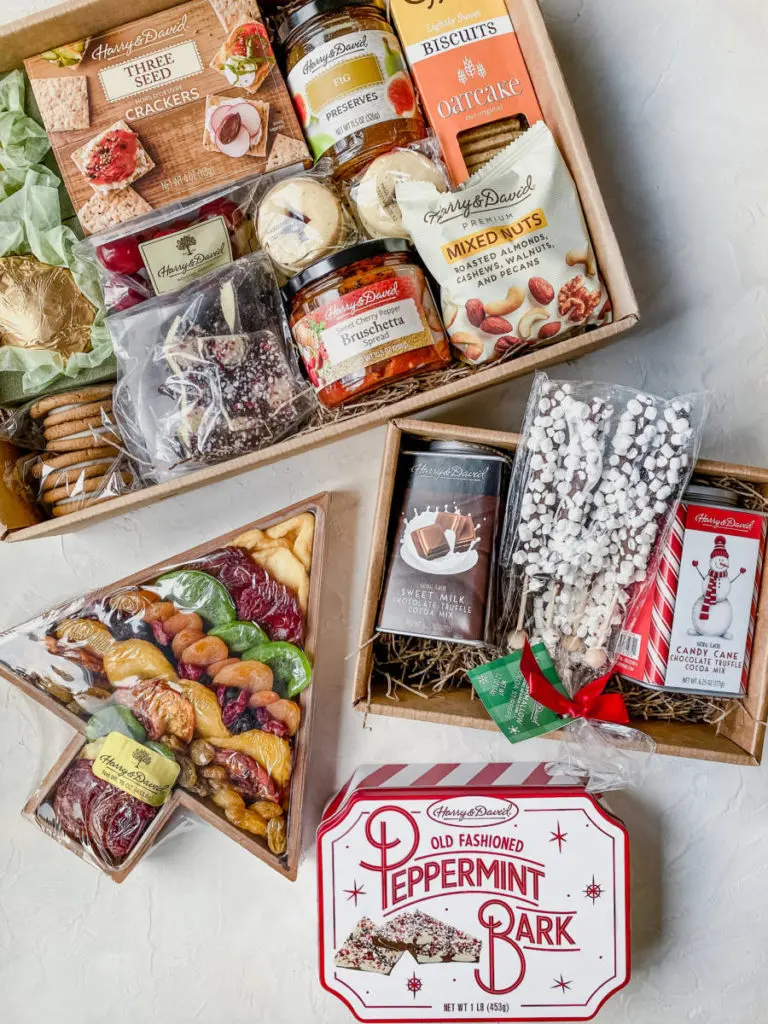 On the sweet side of the board, we have a few of my favorite holiday goodies to make a BYO (build your own) hot cocoa station. The Holiday Hot Chocolate Duo Gift Box is a must-have for this sweet setup. Guests can choose from two different cocoas — milk chocolate or candy cane peppermint — and can use the adorable marshmallow candy stir sticks. I used the peppermint bark, gingerbread sandwich cookies, raspberry shortbread cookies, and milk chocolate-covered cherries from the Specialty Christmas Banquet, and added a ramekin of crushed peppermint sprinkles and a few sprigs of sugared rosemary for an extra special touch.
Another tasty option for your spread is the Dried Fruit Holiday Tree which offers a beautifully arranged assortment of dried fruits like apple rings, Mediterranean apricots, cranberries, kiwis, peaches, plums, and much more. The whole thing comes pre-arranged in the cutest Christmas tree-shaped wooden box that is perfect for the holidays and can be repurposed as part of next year's decorations.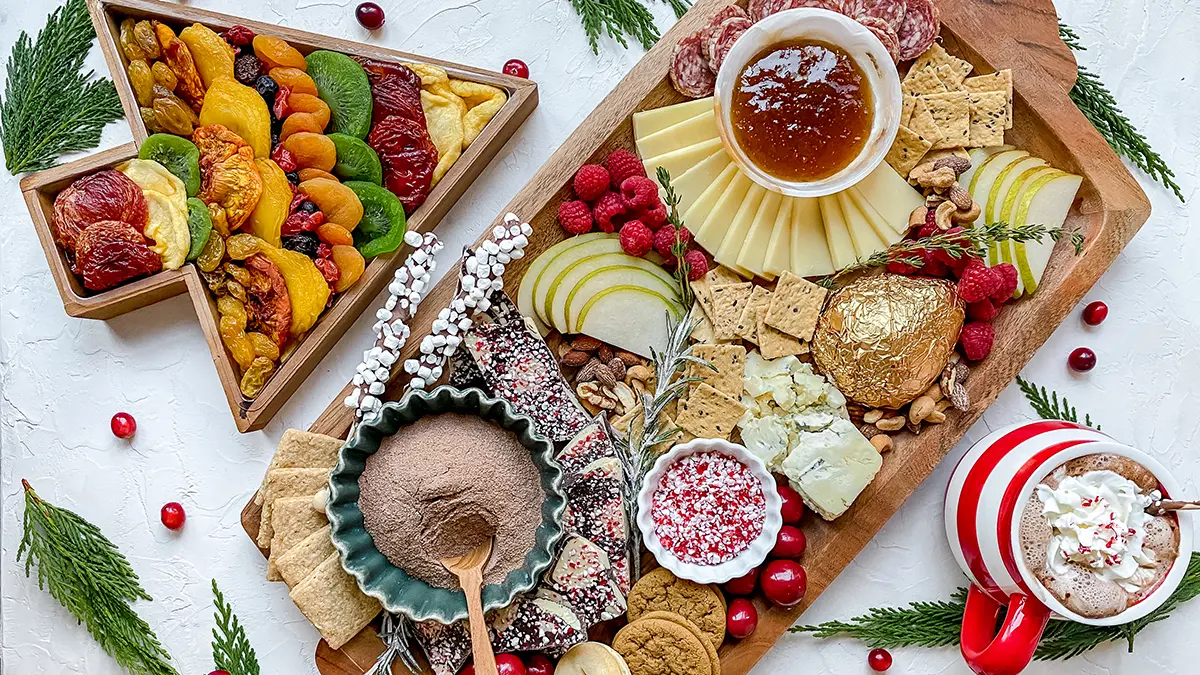 Christmas Charcuterie Board
Equipment:
2 small to medium ramekins

1 bowl for the hot cocoa powder

1 wooden board (large enough to hold the ramekins and other ingredients)
Ingredients:
For the sugared rosemary
2

cups

granulated sugar

(split)

1

cup

water

3-4

sprigs

rosemary
For the charcuterie board
Instructions:
For the sugared rosemary
In a saucepan over low-medium heat, heat water and 1 cup of sugar until the sugar is completely dissolved.

Add rosemary to sugar mixture and warm for about 3 to 4 minutes, or until fully coated and fragrant.

Remove rosemary with a fork or tongs and place on a drying rack overnight, or at least 4 hours.

Once rosemary is sticky, but not wet, begin dipping them in 1 cup sugar until fully coated. Place on a parchment paper-lined baking sheet and let dry until hardened, about 6 hours.
For the charcuterie board
Prepare the board by first placing your ramekin of fig jam and crushed peppermint, and a small bowl for the hot cocoa powder.

On one side of the board, add your sliced pears and two cheeses of choice. Layer in your crackers, salami slices, and raspberries, and fill any open space with mixed nuts.

On the other side of the board, layer the peppermint bark, placing one piece on top of the other, around the hot cocoa bowl. Add cookies, milk chocolate-covered cherries, and marshmallow stir sticks.

Garnish the savory side with fresh thyme. Garnish the sweet side with sugared rosemary (fresh rosemary is fine too!).

Serve the entire dried fruit holiday tree on its own. Enjoy!