Topped with crushed Moose Munch® Gourmet Popcorn, this effortless cheesecake bon bon dessert recipe is a feast of textures and delicious flavors that's sure to be a hit.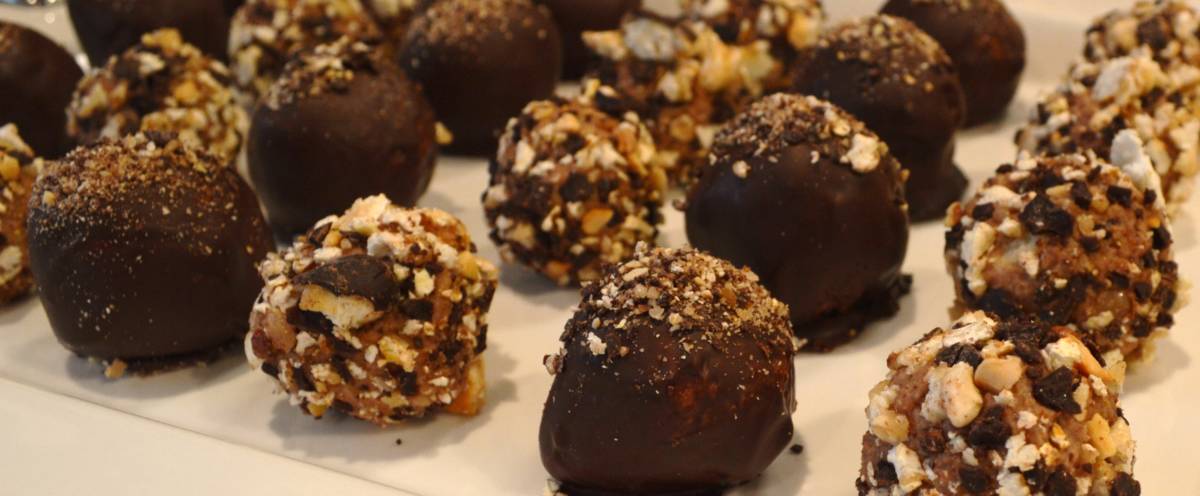 Crunchy Chocolate Cheesecake Bon Bons
Ingredients:
2-

pound

Harry & David® New York Style Cheesecake

6

Harry & David® dark chocolate truffles

10-

ounce

package of Harry & David® dark chocolate-covered Moose Munch® Gourmet Popcorn
Instructions:
Place the cheesecake (defrosted) into a medium-sized mixing bowl.

Place the truffles in a small microwave-safe container and microwave for 40 seconds. The truffles will not be fully melted; stir with a spoon until the consistency is very smooth.

Add the melted chocolate truffles to the cheesecake, thoroughly mix, and refrigerate overnight.

While the bon bon mix is "resting," pour the Moose Munch® Gourmet Popcorn onto a large cutting board or clean flat surface. With a clean pan or bowl, press downward onto the popcorn, gently crushing it into smaller pieces. Reserve the crushed popcorn in a small mixing bowl.

Once the cheesecake bon bon mix has thoroughly chilled, portion into half-ounce balls and roll in the crushed popcorn.

Place the bon bons in an airtight container or tightly plastic wrapped pan, refrigerate for 20 minutes, and serve.

To make ahead, it's best to roll the bon bon mix, refrigerate or freeze, and roll in the Moose Munch® Gourmet Popcorn just before serving.