Traditional Easter Sunday entrées are some of my favorite foods to pair with wine. The inherent saltiness of roasts and ham make these meats prime candidates for fruit-forward wines that help refresh the palate. Lamb, on the other hand, is more suited to wines with heavier tannins and stronger secondary characteristics. This opens a wide range of potential pairing options across multiple price points and regions, making the wine selection for Easter a welcome task for sommeliers and casual wine enthusiasts alike.
Below are three of my favorite options from the Harry & David wine selection that pair well with a range of Easter table classics.
For baked honey ham and sides: Harry & David Sauvignon Blanc
When pairing white wine with a honey glazed ham, it is important to choose a varietal with ripe fruit undertones that can stand up to the sweetness of honey. If you don't, the honey will overpower the wine, making it seem more acidic and drier rather than light and fruity.
Thankfully, this sauvignon blanc is bursting with an array of tropical fruit flavors, making it a fantastic choice to pair with either a honey glazed ham or baked ham with pineapple. The wine's fruit profile helps temper a bit of the saltiness while accentuating the sweet taste of honey, and its prominent pineapple flavors make it a natural pairing for any ham and pineapple preparation (even Hawaiian pizza. Yes, we know, but check out No. 10).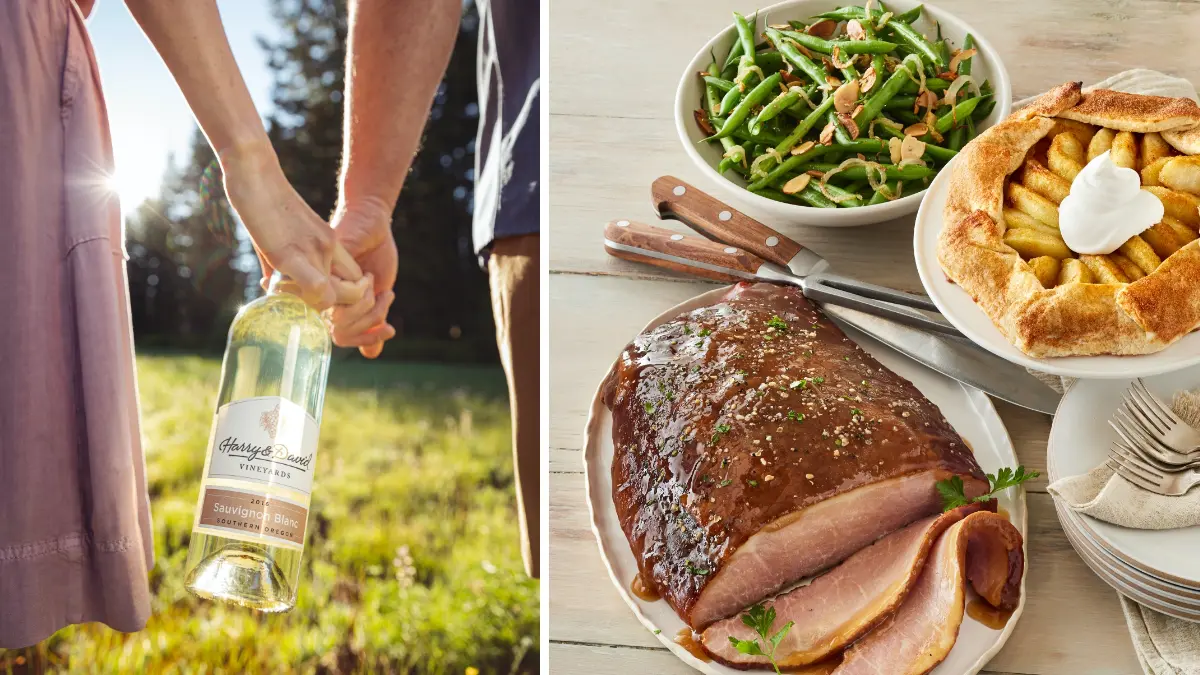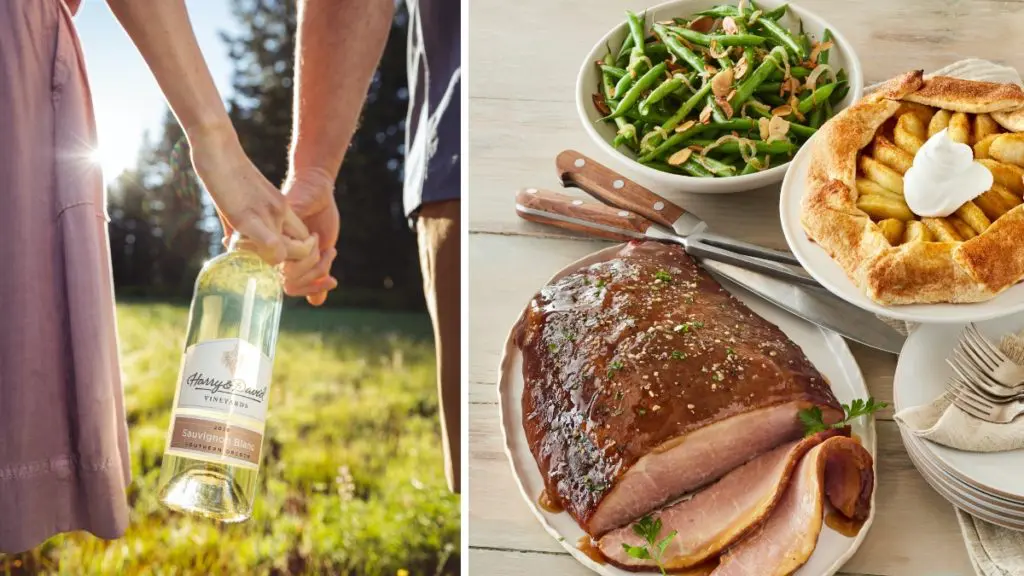 I also recommend this wine with some of my favorite Easter side dishes. It lifts up the earthy undertones of black truffle and almond green beans while still leaving you with the unmistakable flavor of truffles on your palate. It has a similar uplifting effect with parmesan creamed spinach, as it won't overpower the subtle flavor of the cheese.
For pork: Talbott Kali Hart Pinot Noir or Harry & David Pinot Noir
Pinot noir and pork have been a natural pairing for a long time. The wine's structure of bright acidity and medium tannins complement both the lean and fattier cuts of "the other white meat." In terms of fruit, its light profile of cherry, strawberry, and raspberry notes settle in nicely around the natural sweet and savory flavors of the pork itself.
For Easter, the Talbott Kali Hart is a no-brainer with a five-bone natural pork roast, regardless of which direction you decide to go in terms of seasoning and preparation. The wine has enough body and herbaceous notes to stand up to any herb crust or garlic and mustard rub while also being light enough to pair with a preparation of honey, apples, and onions.
For a more dramatic option, and an equally indulgent pairing, opt for the stuffed pork crown roast with Harry & David Pinot Noir. This perfectly seasoned and ready-to-cook roast is a stunning centerpiece to any Easter dinner, and its combination of sweet and savory make it a natural choice to pair with this wine, which effortlessly play off these same flavors.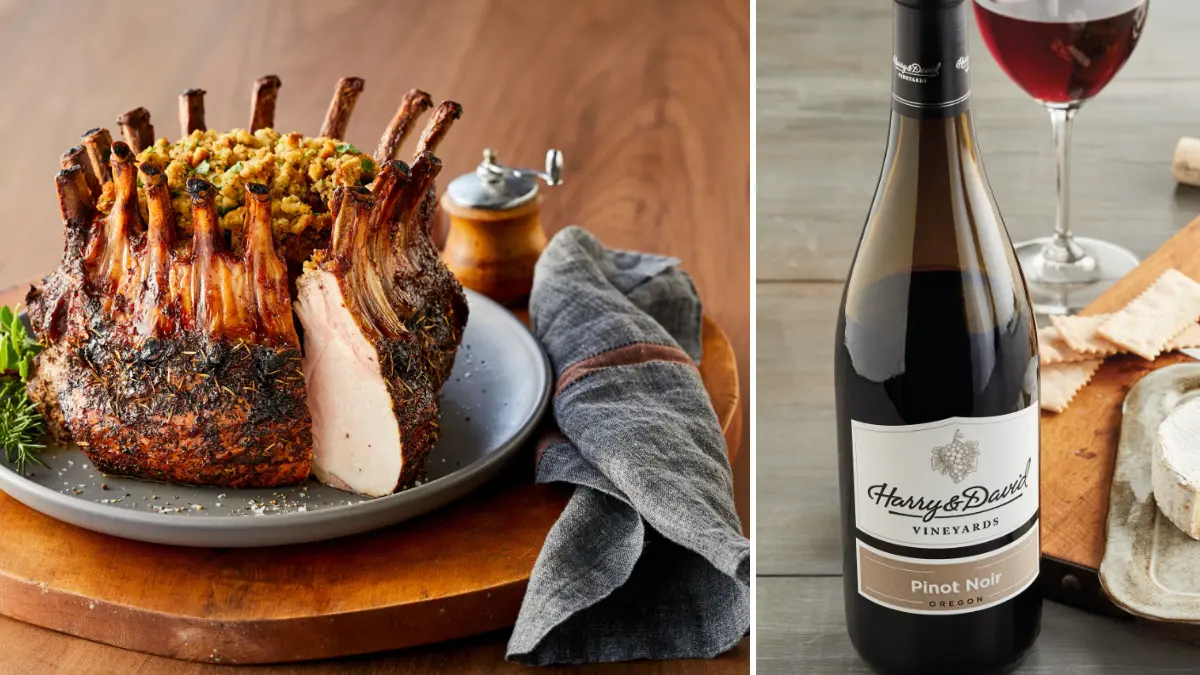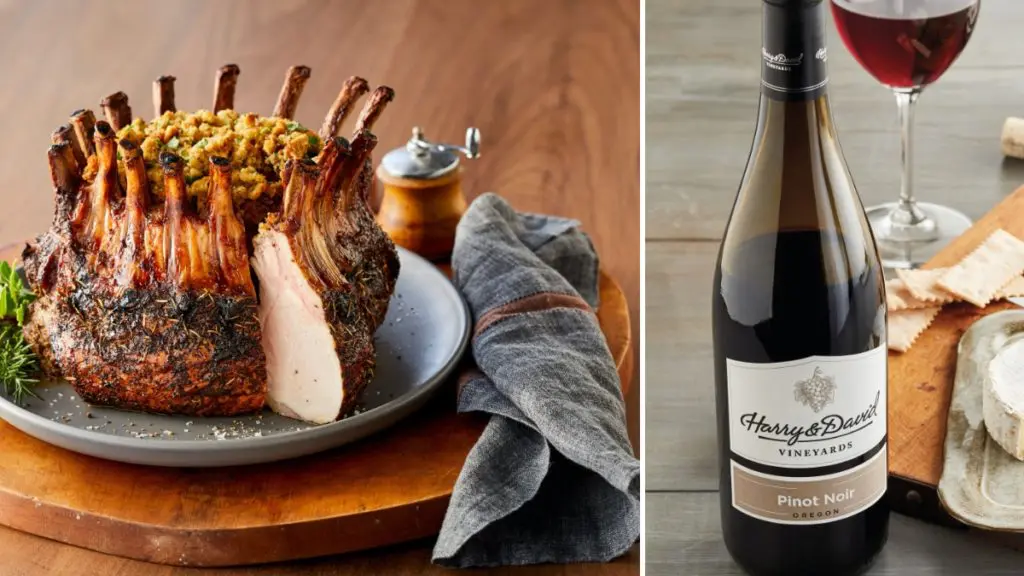 I chose this wine instead of the Talbott for the crown roast because Oregon pinot noirs have more prominent herbaceous, earthy, and mushroom notes than their California counterparts (Talbott). For a dish this bold in flavor, it helps to have a wine with the complexity to match.
For rack of lamb: Harry & David Cabernet Sauvignon
A staple on many an Easter spread, a properly frenched rack of lamb crusted in seasoning and placed in the middle of a crowded table certainly signifies a special occasion.
Traditionally, you pair lamb with Bordeaux blends — the history of this pairing is well chronicled. I, however, chose to go in a different direction, with a straight cabernet, as Harry & David's reserve happens to be a near-perfect pairing for all things lamb.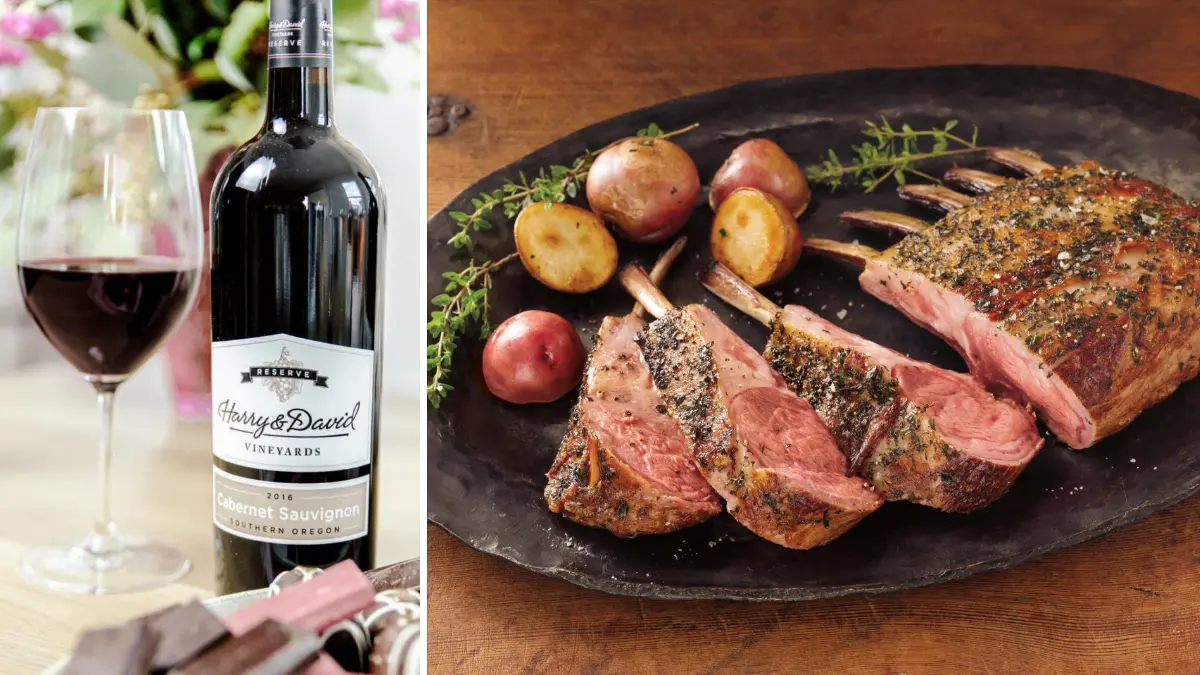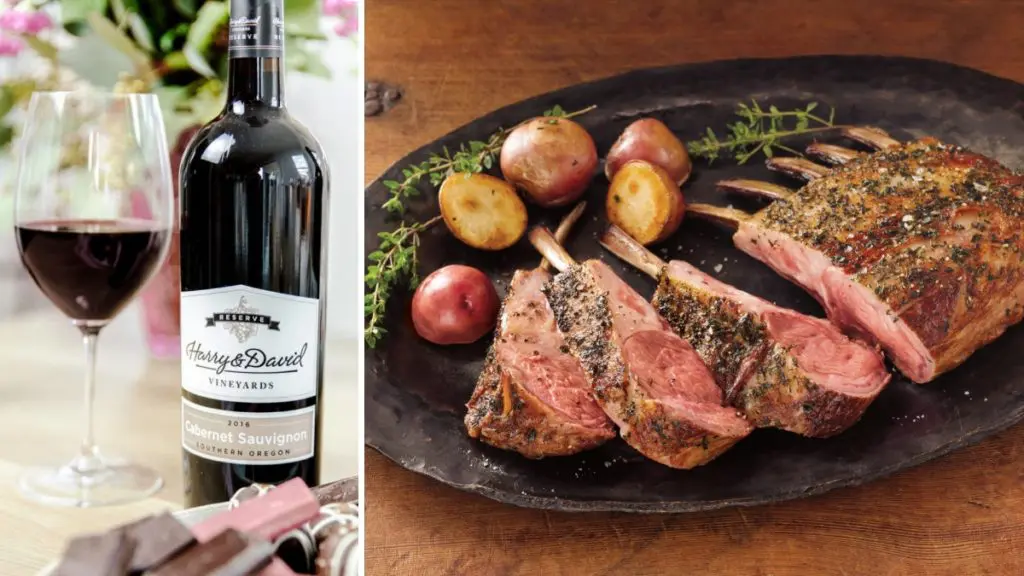 While this wine would be too heavy for a lightly seared, medium-rare, spring lamb chop (though nobody's going to stop you from pairing the two), it's just right for a medium- to medium-well roast. This cut of meat is not quite as tender and, thus, can handle a heavier-bodied wine with more tannin. The lush flavors of cassis and blackberry, backed by a smattering of spiciness and soft notes of vanilla from the oak, are a wonderful complement to the rosemary, thyme, and garlic, while the heavier tannins (the stuff that makes your tongue dry after a sip) help cut through the richness of the meat itself.
This is a pairing to savor slowly. Take small bites and sips, letting the flavors evolve gradually on your palate and develop long after the meat and wine leave your mouth. Don't be alarmed if your entire table falls silent for a few minutes once everyone digs into this delicious combination; that means it's working.
As for dessert, wine and chocolate are a natural pairing, especially with all those chocolate bunnies and eggs and other Easter sweets. Be sure to save a glass of the sauvignon blanc to pair with buttercream-filled white chocolate Easter cupcakes. They come by the dozen, so maybe save more than one glass.
---