Just as cheese comprises a range of textures and flavors — think soft, milky young cheeses or semi-hard cheeses offering piquancy or smokiness — so too does a wine's character: light/crisp or rich/full, brisk or soft acidity, and aromatics that range from earthy or fruity to beautifully floral. Indeed, an excellent cheese and wine pairing begins with knowing how the personality of one complements and brings out nuances in the other. This know-how of pairing cheese and wine also applies to fruit and cheese pairings.
Take the classic pairing of watermelon and feta: The light, juicy-sweet watermelon contrasts with the salty chunks of mild feta. And, in turn, the feta's saltiness elevates the melon's sweetness — these two are a match made in heaven! And each summer, we run toward ripe, brightly acidic tomatoes to balance a soft and milky fresh mozzarella to make a perfect Caprese salad.
Here, we show you how the season's best fruit selections — from winter citrus to summer stone fruits, including peaches, plums, and cherries; and pome fruits, such as apples and pears, to tropical mangoes and pineapples — offer a range of sweetness, acidity, and brightness from which to draw when paired with extraordinary award-winning cheeses. Add our recommended wine pairings (because wine goes with everything), and you'll create a lasting impression at your next gathering, and on your palate!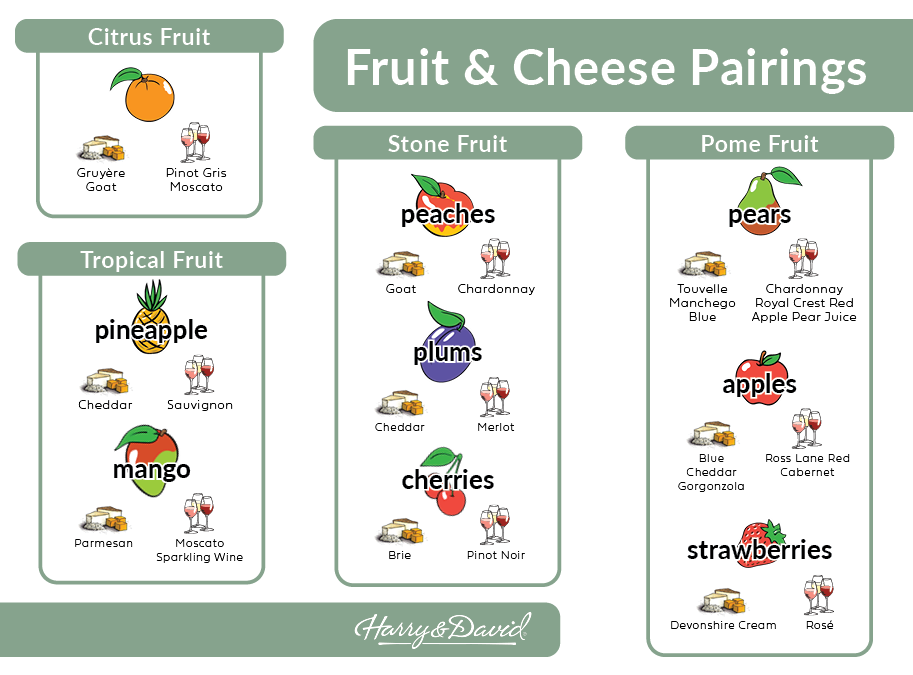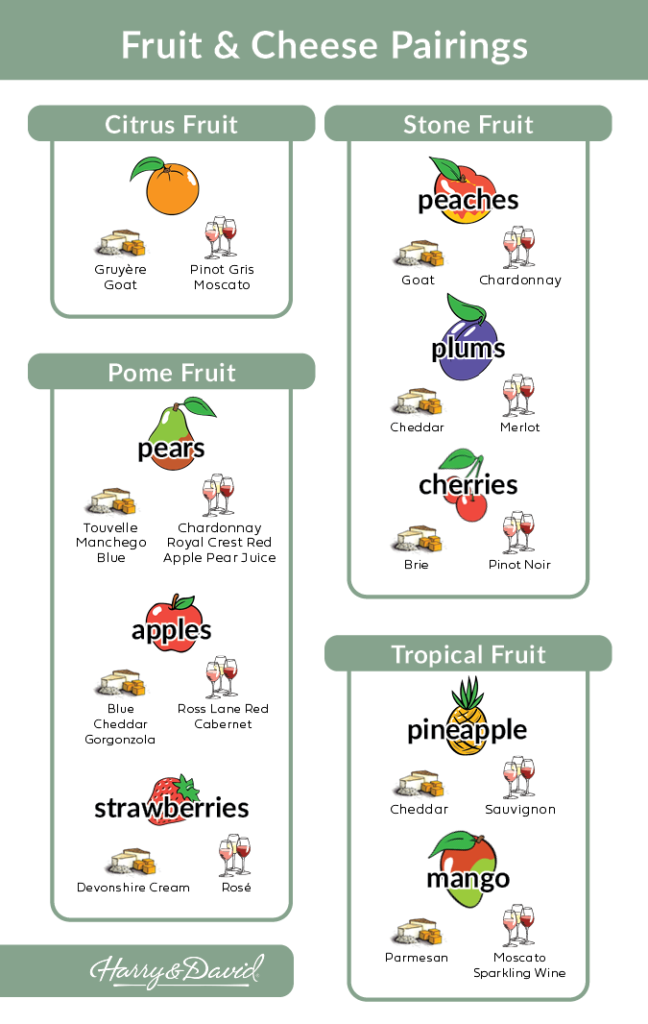 Citrus pairings: hybrid varietals
Winter citrus fruits, such as the grapefruit-tangerine hybrid Honeybell or its cousin, the Mandarin, are a great paring with Wood River Creamery Cheddar Gruyère— a fusion of cheddar and Gruyère full of rich, salty, and nutty flavors. The fruit's intense honey-sweet flavors play with the salty and nutty tones in the cheese, and its gentle acidity is just at the right level to cut through its fat.
The wine: Pinot gris offers a crisp body with light acidity that doesn't compete with the citrus.
Cara Cara oranges are a seedless varietal with a distinct reddish-orange flesh. They burst with red fruit flavors reminiscent of cranberries or blackberries, making them a delight to enjoy with Laura Chenel Grapefruit Fig Goat cheese, a lightly tangy, crumbly, sweet, and spreadable goat cheese.
The wine: Moscato is a lively, light wine with complementary aromas of citrus.
Tropical fruit and cheese pairings: Pineapples and mangoes
The juicy and sweet tropical flavors of pineapple contrast with savory, salty cheeses, such as the sharp and nutty flavors of Seahive Cheddar Cheese, making them right at home on a cheeseboard.
The wine: Sauvignon blanc brings tropical aromas to this pairing, and its refreshing acidity works with the pineapple to balance the rich fat from the cheese.
Mangoes, like Ataulfo varietals, offer sweet honey flavors and a small pit for easy slicing. Pair any mango with award-winning Fiscalini Farms San Joaquin Gold to bring out the nuances of this buttery, intensely flavored aged Parmesan-style hard cheese.
The wine: Look for a lighter-bodied wine with gentle aromatics, such as moscato, or try sparkling wines, which offer an effervescent mouthfeel and a crisp, clean finish that balances the fruit and fat.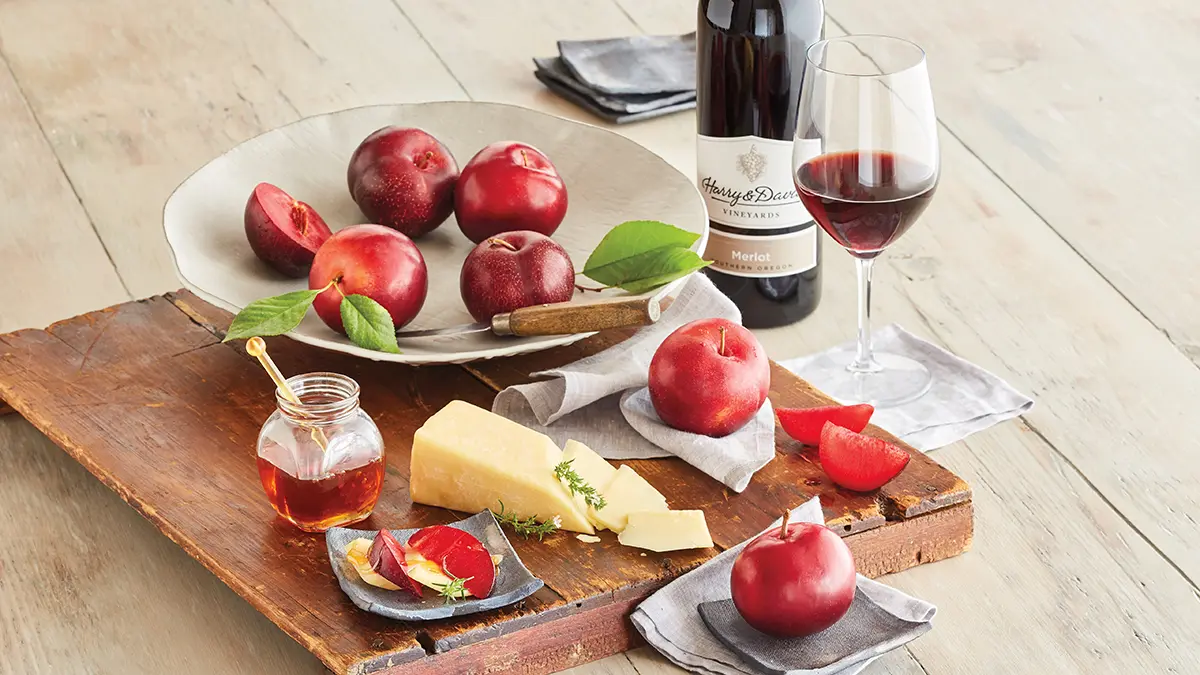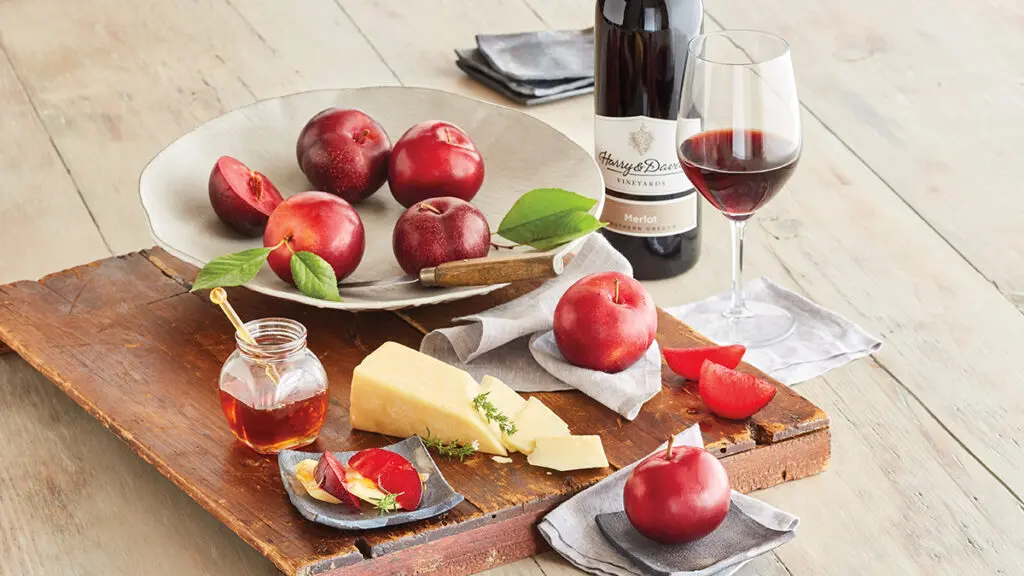 Stone fruit pairings: Peaches, plums, and cherries
Plump, juicy Oregold peaches, grown in Southern Oregon, have a deep sweetness and light tang, making them a terrific match for bright-tasting, tangy, soft, and creamy goat cheese. Slice fresh peaches, or serve dollops of Oregold peach preserves alongside Laura Chenel Coney Chévre.
The wine: A white wine with stone fruit aromatics and a medium-bodied to fuller mouthfeel, such as chardonnay, is just "peachy!"
Fresh plums offer dry, tannic, slightly bitter flavors in their skin — just like wine — and their flesh is sweet-tart, making them a great pairing with buttery, rich cheeses, such as Beehive Cheese Co. Promontory cheese, an Irish-style cheddar. Or enjoy tree-ripened and dried Angelino plums for a more intense, sweet plum flavor. Create beautiful texture and variety, and add fresh and dried plums to a cheeseboard.
The wine: Merlot is lush with complementary dark fruit and spice that pair well with the dark fruit bouquet and tannic skin of fresh and sweeter dried plums.
Early spring cherries, such as Plump-Sweet Cherries, offer fresh, sweet, bright cherry flavor that is perfect for pairing with velvety rich cheeses, such as triple crème brie, and baked brie with herbal notes, such as Garlic, Basil, and Pine Nut Brie en Croute.
The wine: Maximize the cherry notes with the soft tannins and complex layers of cherry and wild raspberry notes in pinot noir.
Pome fruit and cheese parings: Pears and apples
Pears are a "pear"-fect foil for original Touvelle cheese from Rogue Creamery. The pleasures of eating this cheese, which combines the creaminess of a Jack and the tangy, nutty flavor of cheddar, are enhanced by the sweet, crisp slices of pear. Or enjoy Royal Verano pears and Royal Riviera pears, both known for their superior sweetness and buttery texture. Match each with a buttery sheep's milk Spanish Manchego, or try a salty, creamy Caves of Faribault St. Pete's Blue Cheese.
---

---
The wine: Medium-bodied chardonnay has a creamy mouthfeel for creamy cheeses, or try something non-alcoholic like sparkling apple pear juice for a festive beverage that highlights the pears in this winning combo. For red wine lovers, blue cheeses and pear combos are elevated by the deep black fruit bouquet of Harry & David Royal Crest Red blend.
Juicy, sweet, crisp apples balance the spicy, smoky flavors of Rogue Creamery's blue cheeses, such as soft, crumbly, Italian-style Oregonzola, for a classic fruit and cheese pairing. Or try them in a classic pairing of aged white cheddar or Grafton Village maple-smoked cheddar.
The wine: Unlock blue cheese's salty, umami flavors with sips of rich, fruit-forward red wines, such as Harry & David's Ross Lane Red blend or Cabernet Sauvignon.
Classic berry pairing: Strawberries and cream
Handpicked fresh, sweet strawberries are perfect for dipping in delicate Devonshire cream from southern England's Devon Cream Company. This lightly nutty clotted cream's richness will remind you of a cross between softened cream cheese and butter. Drizzle the berries and cream with chocolate sauce for an elegant dessert.
The wine: Rosé elevates the pairing of sweet berries and mild cream with cherry, strawberry, and melon aromas.
Our favorite fruit and cheese gifts