When it comes to game day, my favorite way to celebrate is with a delicious snack board with dips. The possibilities are endless: queso, hummus, seven-layer, OH MY!
Harry & David's jarred dips make assembling and consuming a game day-winning snack board a breeze. Homemade dips like pepper relish and cream cheese dip are always delicious, but sometimes I don't want to spend the time in the kitchen or I need a wide variety for entertaining. Jarred dips are quick, easy, versatile, and tasty. Flavors like raspberry honey mustard, spinach avocado, or bacon beer cheese are great not only for game day, but for snacks or dinner. A little bit for breakfast hasn't hurt anyone, either. You can even cook with them by using them in salads, pasta, or as a filling in savory pastries.
Today though, we are creating a snack board filled with dips to share on game day. It's large enough to share with the family or a few friends.
For this board I used five of my favorite Harry & David dips:
Raspberry Honey Mustard

Spinach Avocado

Bacon Beer Chees

e

Savory Jalapeño
By following just a few easy steps, you'll be ready to snack all through the 4th quarter!
Tips for Making a Game Day-Winning Snack Board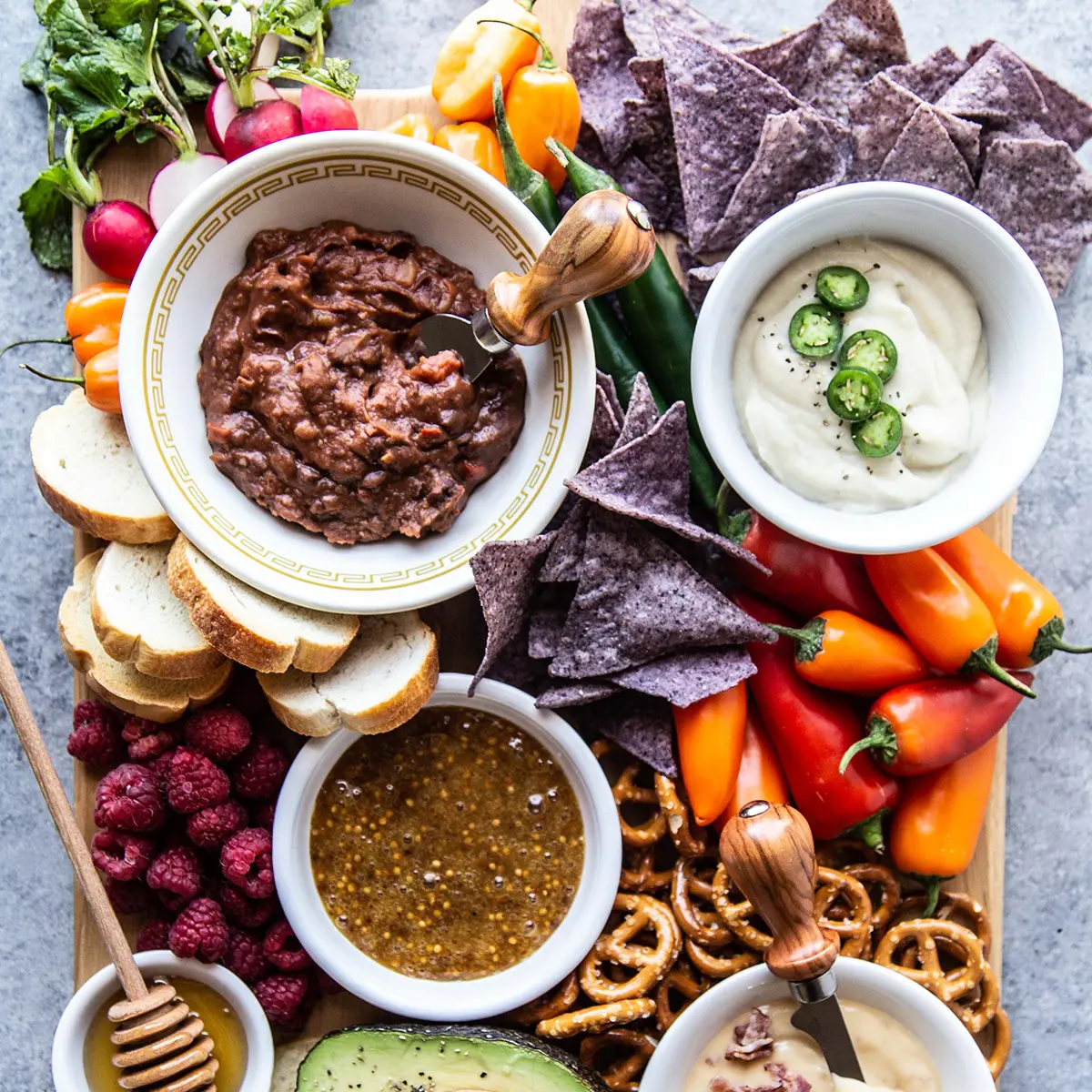 Odd Numbers
To make an aesthetically-pleasing snack board it's good to work with odd numbers to give it a more dynamic look. Since this board is all about the dips, I chose five flavors. Depending on the size of your snack board, you may want to choose more or less—the dips should fill out the space, but there should still be room between for the other snacks!
Bowls for the Dips
Depending on the look you're going for, you can use a variety of colored bowls or keep the bowls the same color. I used white bowls because the color highlighted the variety of dips while offsetting the bright colors of the snacks. You can also use bowls in the color of the team you're rooting for, or use all different colors for extra flair.
Accents
When decorating the board, use ingredients in the dips to help highlight their flavors. For example, you can place spinach leaves and avocados around the spinach avocado dip. This gives the board a more cohesive color scheme, as well as provides complimentary flavors within grabbing distance when you take a scoop.
Dippers
Get creative when choosing a vehicle to enjoy your dip. Try vegetables, crackers, chips, pretzels, or anything else you can think of that can be used for scooping. Once you have your snack board assembled, shake up some fancy mocktails or cocktails while you cheer on your favorite team. Happy snacking!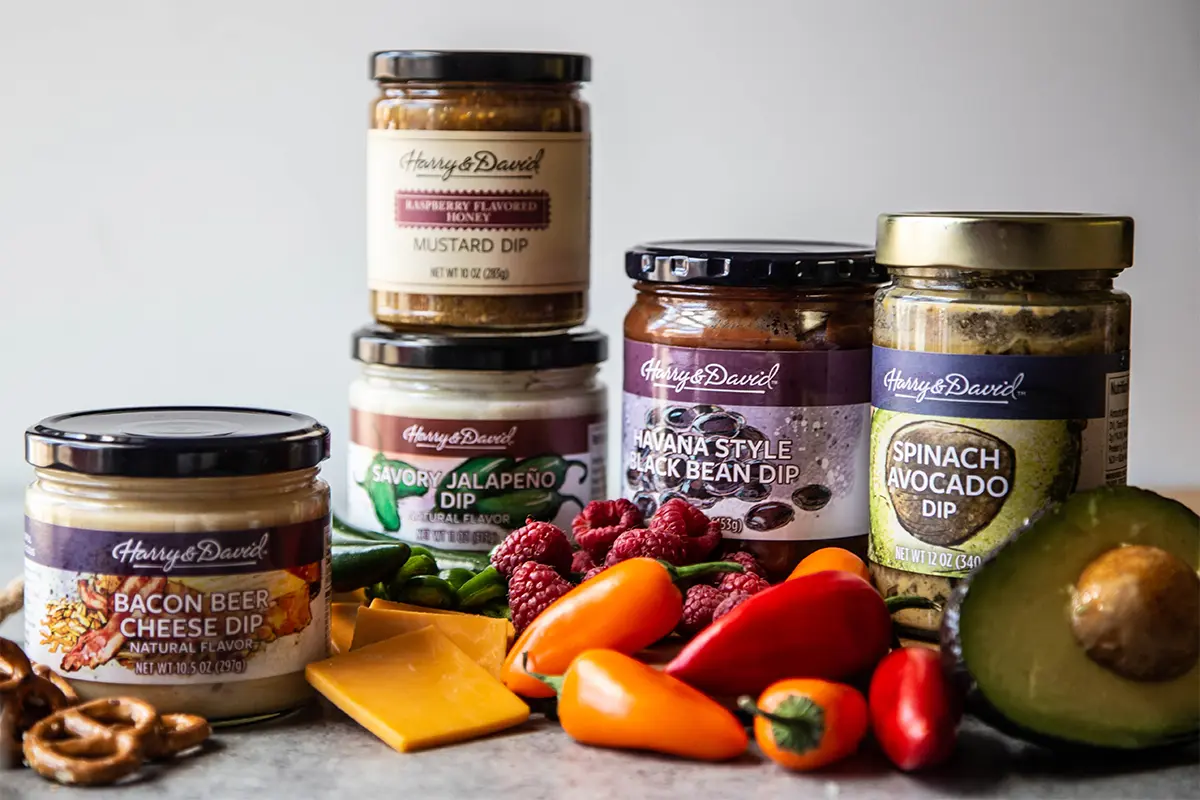 Game Day Snack Board
Ingredients:
Fresh raspberries

Crostini

Potato chips

Fresh spinach leaves

1

Avocado

(halved or in slices)

Chopped cooked bacon

Cheddar cheese slices

Pretzels

Radishes

(freshly sliced )

Fresh baby peppers

Jalapeño

(freshly sliced)

Blue corn tortilla chips
Instructions:
Arrange the bowls on the board. Add the Harry & David dips to the bowls.

Grab a handful of each ingredient and arrange them around the dips.

Serve immediately and enjoy!
---