The recipes in our series "Homemade Gourmet" take the thought and time out of cooking without sacrificing their flavor or gourmet appeal.
Chef Geoffrey Zakarian loves his espresso in the morning, but when it comes to starting a Sunday morning, nothing is better than a beautiful brunch. And the go-to brunch recipe for the Iron Chef is his "Greek Sunday Morning" — an elevated yogurt parfait that includes rich Greek yogurt, dried fruits, almonds, ripe avocado, seedless grapes, and citrus.
The mélange of ingredients, including fresh and dried fruits, hits his brunch sweet spot.
"I grew up in an Armenian household, eating dried apricots, prunes, dates, and papayas," he says. "My Greek Sunday Morning has a nice textural combination — some crunch, chew, the luxury of the yogurt, sweet honey, and great citrus — fantastic flavor — and when you get it in one bite, you're going to be so happy."
Indeed, true to its name, each of its ingredients is part of the Mediterranean diet.
While strong coffee and wholesome Mediterranean-inspired offerings may be on this award-winning chef's mind when he wakes up on a Sunday morning, still, he says, "no brunch is complete without a bloody mary."
Zakarian says the original bloody mary was made with gin, but you'll fare well with a generous amount of vodka to get your brunch party started.
While your guests enjoy their brunch libation, you can get started on his Greek Sunday Morning since he advises making it fresh. And while it's very easy to create, for beauty and professional polish, you'll have fun making citrus supremes — those glorious citrus segments with all of the pith and peel removed. "It takes time, but I find it very satisfying," Zakarian says.
Greek Sunday Morning
You'll get the knack for making citrus supremes for Zakarian's "Greek Sunday Morning" in no time. "You need the real heft of a big knife," he says, "for that real sharp edge that a smaller knife doesn't have." He also suggests layering the citrus over the avocado, as the citric acid in the fruit will prevent any browning. To balance and contract flavors in each bite, make sure that there is not too much of one item scattered across the yogurt.
Ingredients:
2

cups

Greek yogurt

(full-fat)

1

cup

Harry & David dried fruit mix

(or assorted dried mango, pineapple, apples, kiwi, plums, pears, peaches, and apricots, thinly sliced)

¼

pound

seedless grapes

(halved)

¼

cup

raspberries

(fresh )

1

whole

avocado

(ripe )

1

whole

pink grapefruit

(cut into supremes)

1

whole

Harry & David® Orange

(cut into supremes)

½

cup

almonds

(roughly chopped)

Harry & David Sweet Clover Honey

(for drizzle)

fresh basil

( or mint leaves, for garnish)
Instructions:
Spread the yogurt out on the bottom of a wide, glass bowl, as your canvas.

Scatter the dried fruit across the top, followed by the grapes and raspberries.

Next, pit and halve the avocado. Fan it out so that it's evenly dispersed. Next, layer the grapefruit and orange over it so the avocado doesn't brown.

Scatter the almonds across the top, followed by drizzles of honey.

Garnish with basil leaves.
---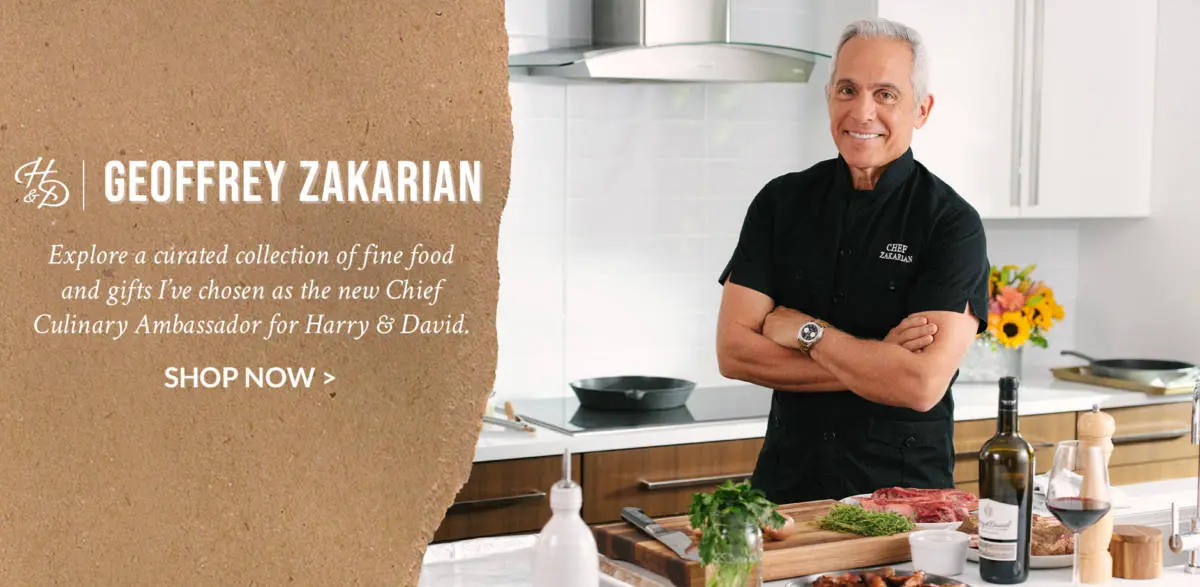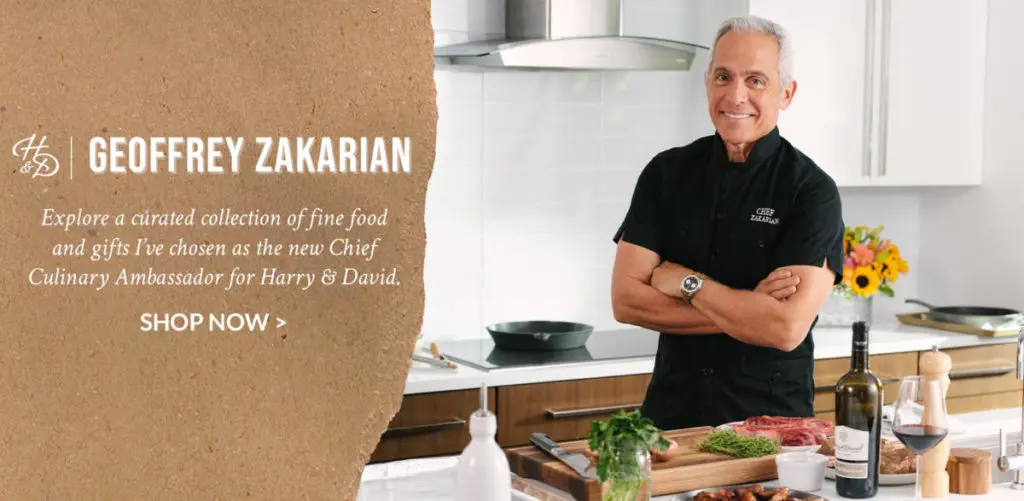 ---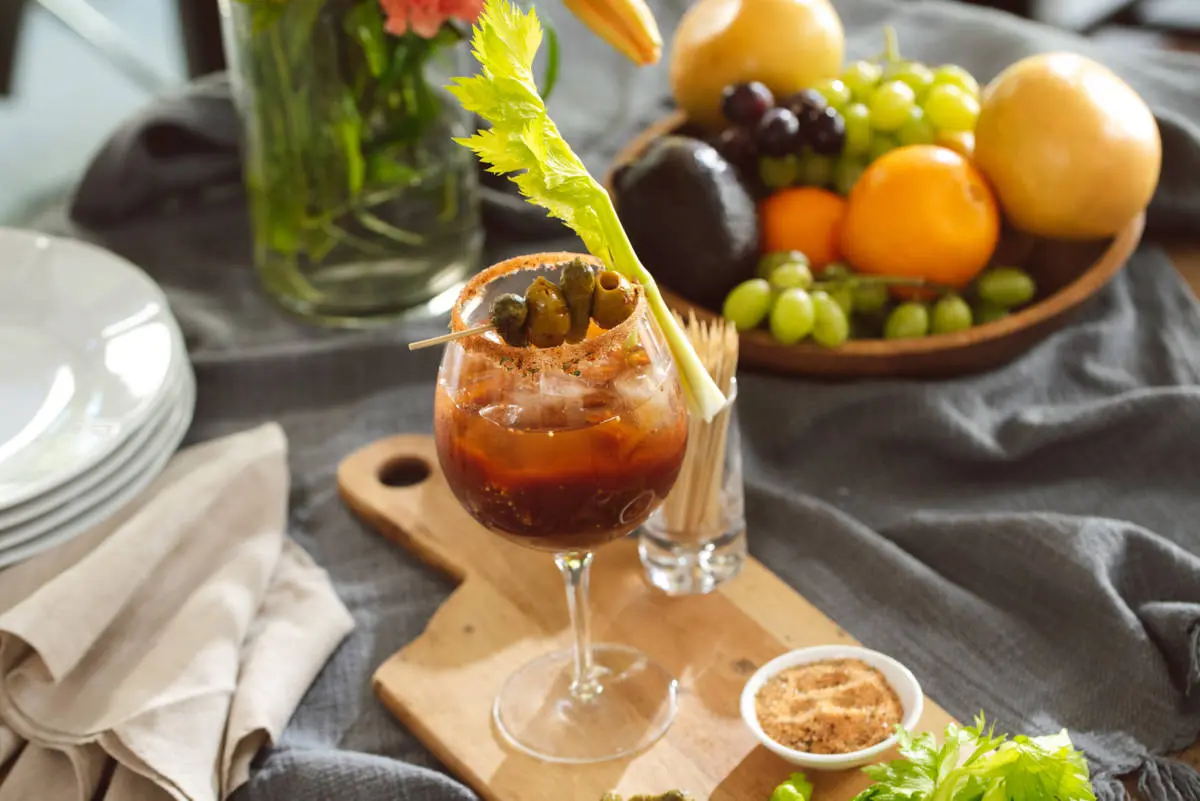 Bloody Mary
"One of the biggest mistakes people make when making Bloody Mary's," says chef Zakarian, "is they use ice in the mix. That's a no-no — you'll have dilution."
Instead, he advises making a batch of bloody mary that you can refrigerate, and then, once chilled, pour and garnish for your guests. "I like to use a burgundy glass or a big bulb glass," he says. "You want to get your nose in there and smell it. And it's more festive!"
For his bloody mary recipe, Zakarian uses Harry & David Bloody Mary mix as its base, adding several signature touches from the garnish kit. "But my secret," he says, "is a generous amount of whole grain mustard." Once stirred, the mustard seeds are suspended in the glass, making this bloody mary — whose garnishes include smoky green olives, tiny pickles, and long hearts of celery stalks — even more attractive.
When it comes to garnishing, Zakarian is all about keeping it simple. "I take olives and cornichons and put them on a skewer and place it on top of the glass." The reason? "After every little sip, I take an olive. Another sip, I take a cornichon. Put as many as you want, but I think four is perfect." Then take your celery stalk and put it right at the edge of the glass so it sticks a half-inch above the rim of the glass. "I think that's beautiful."
Ingredients:
1

quart

Harry & David Bloody Mary Mix

dill pickle hot sauce

(A few dashes or more to taste, if you like it spicy!)

garlic dill cornichon juice

(A few tablespoons plus cornichons for garnish)

2

tablespoons

whole-grain Dijon mustard

8-12

ounces

vodka

2

tablespoons

chile-lime seasoning

(or more as needed)

4-6

lemon wedges

4-6

celery stalks

(the hearts are best, for garnish)

8-12

Pitted green olives

(grilled, for garnish)
Instructions:
In a large glass pitcher, pour the Harry & David Bloody Mary mix, hot sauce, cornichon juice, and Dijon mustard. Stir thoroughly, but don't shake. Add the vodka. Refrigerate until cold, about 1 hour.

Scatter the chili-lime seasoning onto a plate. Working with one glass at a time, run a lemon wedge along the rim of the glass. Turn the glass upside down onto the plate to coat the rim with the seasoning, shaking off any excess. Repeat with the remaining glasses, saving the lemon wedges as a garnish, for each glass, if you like.

Working with one glass at a time, fill them with ice. Place a celery stalk in the center of the glass, then fill with the chilled bloody mary mix.

Skewer the green olives and cornichons and serve with each glass.
Chef Geoffrey Zakarian has teamed up with Harry & David to share his passion for fine food, entertaining, and healthy living. The Iron Chef known for his award-winning restaurants, TV appearances, and podcasts will wear another type of toque: Chief Culinary Ambassador for Harry & David. In this role, Zakarian will curate a collection of Harry & David products that reflect his philosophy and approach to cooking and entertaining. He will also share his insights and advice in Harry & David's digital magazine, The Table, and host in-person and virtual events.