Harry & David Culinary Ambassador Geoffrey Zakarian kicked off the summer season by spreading the good word about summer entertaining recipes during a live cooking demo. He shared ideas for gathering with friends and family, complete with tips and tricks to make hosting a breeze. "I'm here to help you do everything as effortlessly and easily as possible!" he explained.
Wake up with Benny
The 45-minute show covered a complete day of summer entertaining recipe options. "I'm going to start with breakfast… I'm an egg hound," Zakarian said, cueing up his spin on eggs Benedict. He used spiral ham on a Wolferman's English muffin as the base for lightly poached eggs. (Turns out he's been a fan of Wolferman English muffins for 30 years, having used them in one of his early restaurants, 44 Royalton, and uses them for burgers as well as eggs.) Top the eggs with hollandaise sauce and chopped chives, then crack pepper over them. Zakarian stressed the versatility of hollandaise: It can be adapted for a variety of recipes, such as by adding hot sauce, and you can prepare it about an hour before serving.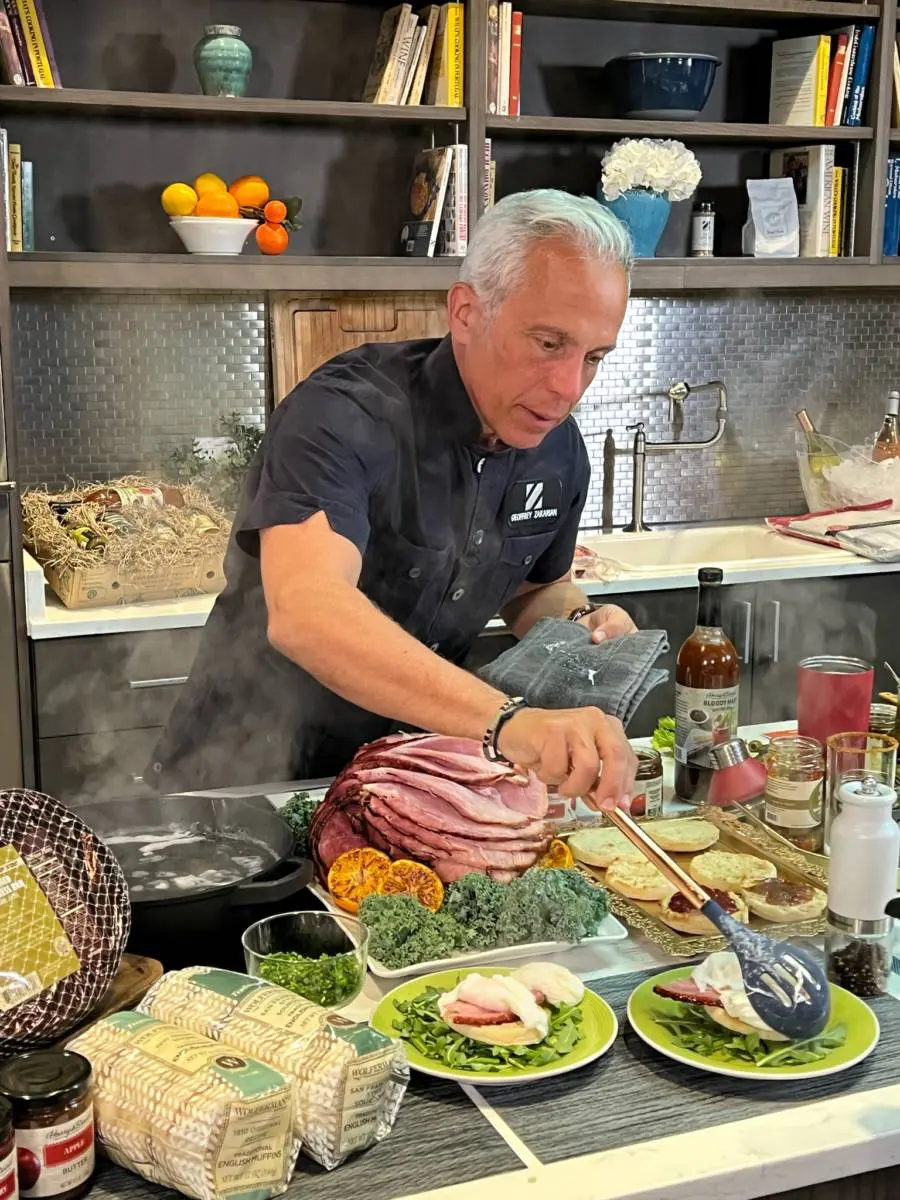 He shared two tips for perfect poached eggs. First, crack the eggs into a glass in case the yolks break; second, follow restaurants and make the eggs ahead of time — simply put them in ice water when they are almost cooked, then put them back in hot water just as you're ready to serve them.
Make it a bloody one
"For me, without a bloody mary, a summer brunch doesn't exist," Zakarian confessed. And he's a purist when it comes to the drink. Some people go over the top he feels. "The garnishes are way too much," he said. He keeps it simple: bloody mary mix, dill pickle hot sauce, olives, and chili lime seasoning to rim glasses. He said it's important not to fill the glass, and his garnish is simply a celery stick, a slice of lime slotted on the glass, and a toothpick with pickle-olive-pickle-olive across the top.
Meat your match
Zakarian raved about the Supreme Meat and Cheese Box, which allows you to mix and match a variety of meats, cheeses, crackers, and condiments. "It's all about balance," he said, explaining that you can serve items that cover the gamut, from salty, sweet, pickled, cured, preserved, fresh, crisp, baked, sharp, and sour to unctuous. "It really can count as dinner; it's a full meal."
This wasn't the only carnivorous item the man known as GZ fawned over. "I love meat! I'm a meat fanatic!" he exclaimed. Holding aloft a huge cowboy rib eye steak on the bone ("I think this is how the West was won," he joked), he demonstrated how to slice it correctly — cut it straight down into half-inch wide strips. He topped the steak and some black Angus burgers with his favorite cherry peppercorn sauce and sprinkled finely chopped chives on the steak. Other condiments he favors: Charred Pineapple Relish and Hot & Smoky Pepper & Onion Relish.
Zakarian had a few meat secrets to share. When you grill filet mignon and pork filet, let them rest before serving. Sprinkle them with salt, he said: "I season a little at the beginning, a little in the middle, and a little at the end — it's really important." Another trick? "One of my secrets is fresh lemon to squeeze on top," he said, adding that the lemon juice "awakens the meat and balances the fat." You can do the same with grilled salmon. Remember that salmon is the star — "it is such a healthy fish" — he reminded, suggesting that perfect sides can be a great corn salsa, arugula salad, beautiful kale Caesar salad, simple sautéed greens, or roasted tomato salsa.
Father knows best
"Everything about this is Father's Day," he raved about the meal. "This screams Father's Day!" He admitted that he loves to share a simple, relaxing day with family and friends, with golf, grilled meat, wine, and chocolate featuring strongly.
And chocolate was included in Zakarian's dessert offerings — in the form of creamy, smooth truffles. (He managed to resist eating them, at least during the demo!) He also showed how to use fruit preserves as a delicious topping for vanilla ice cream.
---
---
Each dish Zakarian presented was a study in simplicity. Nothing fancy, no crazy bells and whistles. Just order meat, charcuterie, and dessert, he suggested, and make a couple of your foolproof dishes. "Presentation is the after-burner of taste," he said with a smile. Make your food delicious first!
"Entertaining is about taking care of your guests. It's not about showing off who you are," he stressed. "It's your house, you decide what's there." Let people get their own drinks: Provide a selection of wines (he's partial to rosé, though he loves red wine with chocolate), sparkling water, and one cocktail. Then you can have fun at the event too. "You want to be able to walk around and talk to people," he said, not stuck in the kitchen.
After all, Zakarian's motto is "Life is around the table." Words to live by, especially in the balmy days of summer entertaining.
---
Chef Geoffrey Zakarian has teamed up with Harry & David to share his passion for fine food, entertaining, and healthy living. The Iron Chef known for his award-winning restaurants, TV appearances, and podcasts will wear another type of toque: Chief Culinary Ambassador for Harry & David. In this role, Zakarian will curate a collection of Harry & David products that reflect his philosophy and approach to cooking and entertaining. He will also share his insights and advice in Harry & David's digital magazine, The Table, and host in-person and virtual events.